Is Priceline.com (PCLN) overvalued or does it still have room to grow? Is J.C. Penney (NYSE:JCP) set to bounce or fall in this week's earnings report? Join us in our weekly market outlook as we dive into looking at PCLN and upgrading the stock's 2014 price target to $1475. We will take a stab at the important earnings developments for JCP. Further, we will examine the market's overall look, key data/earnings/news to watch, and give our take on what's next for the market!
Summary
After what appeared to a market that was starting to show some signs it would fall apart, things have turned much rosier over the last several weeks. Markets are trading at key resistance levels and could breakout to yearly highs this week. Despite a bevy of weak economic data reports, markets have mostly ignored bad news in January/February, noting that it is mostly due to bad weather. Yet, as the market hits these resistance lines, we will need better news to catalyze the market to a higher move. It is a busy week with key domestic and foreign data, earnings reports, and significant Fed reports and speeches to watch. Overall, we are looking at a market that could be ready to break out to new highs as this continues to be the "most hated" rally" of all time.
Chart Overview
S&P 500 (NYSEARCA:SPY)
Resistance lines to watch:
1st - 1850 2nd - 1880
Support lines to watch:
1st - 1800 2nd - 1730
Current Sentiment:
Rangebound at Inflection Point
Analysis:
The S&P retook 1800 and is seeing key resistance at 1850. A test of that line this week will be key to see if we are chugging higher or staying range bound. 1800 is now support with another key line now until 1730.
Dow Jones Industrial (NYSEARCA:DIA)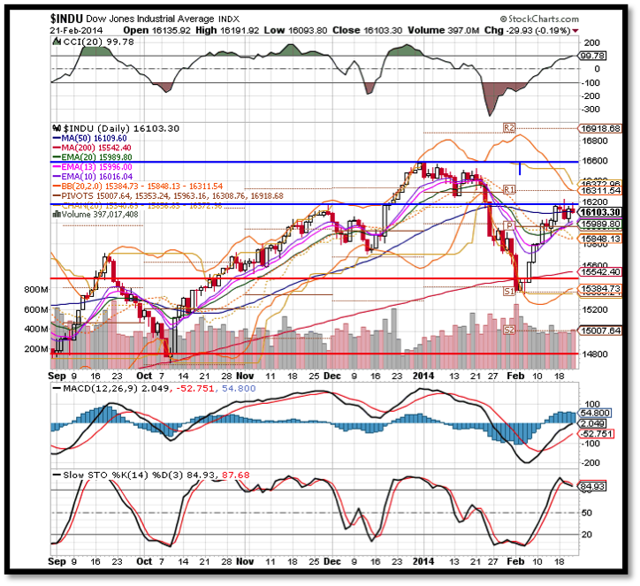 Resistance lines to watch:
1st - 16150 2nd - 16500
Support lines to watch:
1st - 15500 2nd - 14800
Current Sentiment:
Bottoming of Correction
Analysis:
The Dow Jones has struggled to take out 16150 and break above its 50-day MA. 16500 sits as the next resistance with support around 15500. This week is key to see if it can get over that level or will be stuck with support.
Deeper Look
Ticker: Priceline.com
This coming week, we are definitely putting PCLN on our watchlist. This past week, the company reported a strong earnings report and it has broken out this year, up almost 15% already YTD. The question is how much are shares worth now and what is the main catalyst that will move the stock in 2014?
Coming into this report, we had rated Priceline as a Buy with a $1215 price tag. This report came out in September, and the stock has increased nearly 40% since then. So, the question is whether or not it should continue higher or is it going to start to move more flatly from here. In the report, we will discuss the company's main catalyst for 2014 as well as reprice the company.
After updating our model, we have come up with a price target at $1475 for 2014.
Main Catalyst
In our last report, we identified the key catalyst as the company's adoption and growth of their business outside of the USA:
With the domestic travel market losing ground in its growth rates, the company has searched outside the USA for some solid potential with investments/acquisitions into two companies that we believe can supply strong upside to shares moving forward. The two major catalysts that we see for PCLN are their subsidiaries Booking.com and Agoda. These two initiatives along with decent value for a growth name will provide solid potential for the company moving forward. Further, these two fit well inside of the company's hotel booking platform, which provides very solid margins compared to car rentals, aircrafts, and cruises.
The company seems to also understand that while the USA is still the biggest part of the pie, Asia and Europe represent the future for them as far as major growth and potentially becoming the larger part of the puzzle. Here is the company's CEO Darren Hutson on that shift:
I would say at a regional level, Asia shows tremendous promise obviously with the population, as does Europe more broadly defined if you include Eastern Europe. So, I think each one of those regions has tremendous potential. In terms of country markets and in the U.S. there's a quarter likely of the world's GDP still and likely a quarter of all travel expenditures. So we would have expected to be truly global. At least today that the U.S. is our largest market, maybe 20 years from now it will China. But at least today that would be a reasonable expectation. But the fact that it's just now becoming our largest destination market still means that there's a lot of growth ahead of us in the United States because it deserves to be significantly larger than it is today.
The country will continue to grow in the USA, but we like Europe and Asia to outperform as they did in the latest quarter, and when we think Asia and Europe - the keys are Agoda and Booking.com.
Priceline acquired Agoda in 2007. The company specializes in properties in Australia, China, Japan, Singapore, Thailand, and other Southeast Asian nations. Instead of the company growing organically, Priceline chose to acquire a company like Agoda to get exposure in these high-growth markets. Agoda is well positioned in other strong growth markets, such as Indonesia, Singapore, Malaysia, and Thailand. In 2011, these countries made up 12% of all Asia-Pacific (including Japan and Australia) online travel sales. Today, that area makes up 14%, and we believe that these areas will continue to grow market share over low-growth markets like Japan and Australia.
In the latest quarter, the company did not mention a ton about Agoda, but the company did note that they saw a strong amount of growth in Asia-Pacific and Agoda was a major part of this push:
Over the course of the year, Agoda strengthened its position in the fast-growing Asia-Pacific market making great strides in mobile functionality, accommodation supply and localization efforts. The Group's Q4 results benefited from the increasing mix of APAC business from both Agoda and Booking.com, which seasonally peaks in this quarter.
In our last report, we noted that Agoda was ranked #1 in Thailand for travel and was #42 overall. They were 131st overall in Indonesia and 66th in Malaysia. They were #1 in Singapore for online travel and 43rd overall. Finally, they were 128th in the Philippines. So, where does the company rank now?
After pushing for mobile as well as adding supply, here are the new rankings. The company is now #29 overall in Thailand, #117 in Indonesia, #56 in Malaysia, #70 in Singapore, and #111 in the Philippines. The company is trending in the right direction. Further, we have noticed that they are seeing more growth in India, South Korea, and Taiwan, which were not markets with strength in the past quarter. They rank 963, 278, and 200 in those nations, but India is now the 3rdlargest market that visitors are coming from.
We aren't the only team that believes that Agoda and the Asian approach is a big chance and opportunity for PCLN. S&P's Scott Kessler commented after the latest earnings report:
Although we have concerns related to Europe, we think positive secular trends are in- tact, such as a growing percentage of travel purchases being made online. PCLN hopes it can replicate its European success in Asia, with Agoda (which was acquired in 2007) and an alliance with Ctrip (NASDAQ:CTRP) announced in Au- gust 2012.
On top of Agoda, we also believe that Booking.com gives the company another compelling growth division outside of the domestic market. Booking.com, acquired in 2005, was a standout in the latest report. The company reported mobile transactions increased from $3B to $8B in 2013 for Booking from 2012. It was, along with Agoda, part of the 41% international booking growth, which outpaced the 27% growth in domestic markets. The reason Booking.com and the European market remain attractive is that the European market is a fragmented landscape with less chains and more hotels that do not have the capability to attract clients to their own websites. Online portals that can attract clients are important for these hotels, and that is why OTAs play an even more important role in these industries.
In our last report, we noted:
According to a survey by Morgan Stanley (NYSE:MS), Booking.com accounts for 47% of European online bookings while Expedia (NASDAQ:EXPE) only accounts for 21%. The company has tremendous market share in the continent. According to the analyst, the reason for their success is their agency hotel model, which was recently copied by Expedia. Through the agency model, Booking works directly with independent hotels as a travel agent, while Expedia works more with the chains as more of a vendor. This model is very helpful, as it allows Booking to have higher takes due to chains more easily creating their own demand and traffic on their own websites. Further, the company is moving Booking.com into the USA market to compete with EXPE's Hotwire for deals on hotels as well as moving into Australia. We believe that Booking will remain a very sharp asset that can provide strong growth.
After the latest report, MS raised its price target to $1450 noting that they believe that PCLN can continue to outperform EPS estimates due to the strength of their international presence, and we agree.
We still believe Agoda can provide 20-30% growth in revenue, consistently, for the next few years, while Booking can provide 10-15%, consistently, in that same timeframe. We foresee the company being able to grow total operating income by 15-20% per year. In the latest quarter, PCLN laid out their own predictions. For Q1 2014, the company noted 23-33% growth in bookings with 15-20% growth in the USA and 25-35% growth in international markets. The company expects 15-25% growth in revenue and 22-32% growth in gross profits. The company noted FY 2014 advertising will be around $220-$240M, and that Q1 gross margin will be lower due to Easter coming later this year. EBITDA will come in at $420-$450M for the Q1, showing 18% growth.
Growth keeps coming, and the company will keep outperforming with these growth divisions. The question, though, is that at a 38 P/E and over 10x sales pricing, is PCLN too expensive.
Price Target Analysis
Revenue: We are expecting around a 25% growth rate in revenue for 2014 as backed by Booking and Agoda growth as well as stronger domestic growth through Booking's move here and new revenue catalysts in vacations. The company should hit around $8.5B in 2014. From there, we expect a growth rate to decline some to around 20% in 2015 and drop to 15-18% for 2016-2017. The company's comps will get harder as well as growth should decline as the businesses mature given their current structure.
Margins: The company continues to expand operating and gross margins, but we should expect these to start to flatten out. The company's cost structure is flattening as they have built out SG&A, but the company will have to keep marketing costs at about these levels if not higher as they have to keep competition at bay and expand their current businesses. We expect operating margin to stay around the 35-36% range moving forward.
Taxes: Moving forward, we predict an 18-20% tax rate as the company will maintain favorable tax rates due to large international revenues, but they will start to enter higher tax brackets as they make more money. Yet, they should stay down since international is growing as percentage of revenues.
CapEx: The company has low capital expenditures due to no dividend and using cash to service a lot of their acquisitions. We estimate that CapEx will maintain a slow growth level to around $100M in 2014 to $175M in 2018.
Shares Outstanding: We will use 53.3M shares due to added shares for the Kayak acquisition.
Discount rate: We used a 10% WACC and 4% cap rate for discounting the stock. The cap rate is low to represent the strong growth model of the stock.
Price Target: When we use this model, we come up with a price target of $1475 for the year, which is a very strong best-case scenario. Our mid-case scenario is around $1360. With that said, we still see upside, but the stock is pricing in a lot of the future growth. For that reason, we are moving our recommendation to a Hold and look for a drop to $1200 or lower to add to the position.
Economic Data
| | | | |
| --- | --- | --- | --- |
| Date | Data Report | Market Expectations | Previous Report |
| February 25 | Case-Shiller 20-City Index - December | 13.6% | 13.7% |
| February 25 | FHFA Housing Price Index - December | N/A | 0.1% |
| February 25 | Consumer Confidence - February 25 | 80.8 | 80.7 |
| February 26 | New Home Sales - January | 400K | 414K |
| February 27 | Initial Claims - 02/22 | 335K | 336K |
| February 27 | Durable Orders - January | -1.1% | -4.2% |
| February 28 | GDP -Second Estimate - Q4 | 2.6% | 3.2% |
| February 28 | Chicago PMI - February | 56.0 | 59.6 |
| February 28 | Michigan Sentiment - February | 81.5 | 81.2 |
We have a busy enough week that is key to the market especially in light of recent weakness. The keys to the market to us, this week, are things that show how we are developing in February as the story has already been written for December/January. Therefore, the keys to us are going to be Consumer Confidence released on Tuesday as well as the Chicago PMI released on Friday. Other important reports are going to be Case-Shiller on Tuesday, which shows housing prices for December. New Home Sales on Wednesday will be key as well, but it's likely to be very weak. On Thursday, we will get to jobless claims as well as GDP on Friday. That final report will be key, but the Q4 setting has already been set it appears.
Foreign Markets
Outside of the USA, Europe and Asia have been important to the market getting on track. While China had a weak blip with their HSBC Flash Manufacturing PMI last week, things seem to be bottoming here in weakness. Europe remains likely to put together their best quarter in Q1, and that is key as well. This week, we are going to get more key information starting with the German IFO report on business and consumer climates. On Tuesday, we get Germany's final Q4 GDP report. Germany is the most important economy in Europe right now, so it's crucial to watch them. On Wednesday, German Consumer Confidence for March as well as Great Britain GDP for Q4 will follow that news. On Thursday, we get German Unemployment Rate as well as key reports on consumer and economic confidence as well as business climate for the Eurozone for February. Finally, we get a lot of data on Japan on Friday including joblessness and industrial production. Further, we get unemployment figures for Italy and the Eurozone. All in all, it is a major week for Europe data. If this week is strong, it will definitely allow for the market to see some upside, as Europe's recovery is very beneficial to a lot of American markets.
Earnings
| | |
| --- | --- |
| Date | Key Company |
| February 24 | EOG Resources (NYSE:EOG) |
| February 25 | Home Depot (NYSE:HD) |
| February 25 | T-Mobile USA (NASDAQ:TMUS) |
| February 26 | Baidu.com (NASDAQ:BIDU) |
| February 26 | Lowe's (NYSE:LOW) |
| February 26 | Target (NYSE:TGT) |
| February 26 | TJX Companies (NYSE:TJX) |
| February 27 | Salesforce.com (NYSE:CRM) |
| February 27 | Gap (NYSE:GPS) |
Earnings this week are lighter than the previous week, but we have a number of key reports to watch especially on the retail side. Those reports are definitely unlikely to be strong with such weak weather in January and February. We believe that reports from HD, BIDU, LOW, TGT, and CRM are the five key reports to watch this week. Those reports will definitely be important to the market with none likely able to move the market as a whole, but HD/LOW/TGT are key retail bellwethers. BIDU is very important to Chinese Internet stocks and Chinese stocks. Finally, CRM is they key tech earnings report to watch for the Nasdaq (NASDAQ:QQQ). We covered CRM last week and talked about their potential strength this year as a company but why we do not like them as an investment overall.
The wild card earnings report that we will be most closely watching this week is J.C. Penney on February 26. We have been working on our coverage of JCP a lot lately, and we have a lengthy report coming out this week from the company, but this earnings report will be a very important report for the company. The keys for us to watch are:
- Gross Margins
- Liquidity
- Comp Sales Breakdowns
- 2014 Outlook
In 2014, it is imperative that JCP improve their gross margins or the company will have some very negative impacts on their ability to rebound and improve their capital structure. Moving forward for J.C. Penney, margins are the key for the company. A rebound in margins can suppress a lot of the liquidity and valuation issues the company currently has. From 2010 to the TTM, the company has seen gross margins drop from 39.4% to 27.9%. On the operating margin side, the company has seen a decline from nearly 10% in 2007 to -17% in the TTM. The decline of margins is in many ways the most identifiable factor for the company - inventory that does not agree with customers, selling items at deep discounts, problems with selling goods that customers want, and liquidity concerns. We believe the ability for the company to return to historical margins is imperative to the company's ability to return to some sense of normalcy as well as avoid potentially critical liquidity issues.
In this report, we will need to see improvement from the 27.5% TTM gross margin to something closer to 30%. Additionally, the company's outlook on margins for the year will also be crucial. The company has several initiatives that are expected to improve margins including pricing structure with markups and deep discounts, completion of home goods overhaul, fixing inventory with more private brands to more similarly match what consumers want, and continuing to see strength in their "mini-shops." This number will be very important to watch in the report.
The other key to watch is liquidity. The company has to get their capital structure back on track if they want to see a rebound in shares. Its actually almost imperative that they get this correct because they could potentially see bankruptcy if they don't fix it. The company needs to see margins improving, sales increasing, and costs being cut on the SG&A as well as gross margin front in order to improve their capital position. The keys to this are seeing SG&A as a percent of sales start to decline as well as seeing gross/operating margins improve.
Finally, we already know that comps were strong in November at about 10% followed by weakness in December and January. December and January were slightly weaker, though, with flat in December and negative in January. November and December were up over 3%. Yet, as we look at some similar businesses like Kohl's (NYSE:KSS), Sears (NASDAQ:SHLD), and Macy's (NYSE:M) we can put these numbers into perspective. Obviously, JCP has easier comps, but many dogged JCP after their quarterly numbers came out a bit under expectations. As we have seen in recent data, January was a very weak period for the market, though.
JCP has actually done quite well in comparison to their competition, which suggests to us that the company is performing well in a very tough retail marketplace. KSS saw only a 0.8% rise in November and December along with a very strong decline in January. The company cuts its outlook for the year due to such weakness in January. SHLD was even worse with a 7.4% Q4 comp decline. Finally, Macy's saw a 3.6% growth rate in November to December with 2.3% - 2.5% rise in Q4, which puts JCP just slightly below what many would rate as a fairly strong, balanced retailer in M. We believe the company is starting to see the right sales momentum they will need.
Overall, it is a crucial report for JCP as CEO Myron Ullman tries to save the JCP business. The company has a long, uphill battle, but the stock is very cheap at this point. The stock is being valued at 0.12x sales and 0.54x book, so the stock is priced at next to nothing. Any signs of improvement will definitely mean that JCP stock can bounce back from these lows.
Fed Outlook
The Fed has a busy schedule this week with a number of keys to watch including speeches and data reports. Here is the schedule: Monday we get the Chicago Fed Activity report for January along with Dallas. Both are expected to weaken from December. On Tuesday, Richmond reports, and they are expected to see a drop from 12 to 3 in their Manufacturing Index. On Wednesday, we get a speech from Fed's Eric Rosengren. Thursday is a busy day of speeches with Pianalto, Lockhart, Stein, Plosser, Evans, and Kocherlakota all having speeches. Additionally, we get February's Kansas City report on Manufacturing. Overall, it's a busy week of data/speeches, and it will be important to see how these develop for the market overall.
Conclusion
Overall, the market needs to start to see some improvement in data and earnings throughout the week if it wants to improve on its current levels. We are at resistance as we can see on our charts, and it means that it will take a better catalyst to get moving higher. Without some strength in data, earnings, etc. we could see the market falter a bit from these levels. Key data reports, earnings from leading retailers, and foreign markets as well as Fed reports will all make for some very important reports for the market to decide where it wants to go next.
Disclosure: I have no positions in any stocks mentioned, and no plans to initiate any positions within the next 72 hours.
Business relationship disclosure: I have no business relationship with any company whose stock is mentioned in this article. The Oxen Group is a team of analysts. This article was written by David Ristau, one of our writers. We did not receive compensation for this article (other than from Seeking Alpha), and we have no business relationship with any company whose stock is mentioned in this article.