Part of an ongoing series of articles focused on 3D printing
3D printing has the potential to revolutionize industrial manufacturing perhaps in the same scope similar to how assembly lines revolutionized industrial manufacturing. Here, supply side constraints disappeared and the world changed the way it produced everything. Along the way upgrades to manufacturing processes have been made but the overtones remain consistent. In the same way, 3D printing is now being ushered in.
In the past few years, an influx of startups has forced many large and incumbent firms to step back and look at their strategies for product development and testing. Lessons learned from hardware startups and 'lean processes' have spurred rapid prototyping and concept testing through 3D printing. 3D printing allows ideas to be thoroughly tested in the real world without exhausting development budgets and energy.
The 3D printing process, also referred to as additive manufacturing (AM), enables the creation of physical models, prototypes, tools and parts based on 3D data derived from computer-aided design software, medical and industrial scanners. (Additive: The technology joins material together in three dimensions. Compare with CNC routers, injection molds, and industrial milling - which all are "subtractive" in nature).
If 3D printing technologies can spillover to mass consumers - there could potentially be massive disruptions in what people buy and what businesses sell. Consumers could order (and even customize) a template to have it printed at home. Businesses could skip the overhead of brick-and-mortar stores, servicing, and defect costs to focus on delivering better templates and more innovative products.
This first release of our 3D printing series will provide background on the current landscape, followed by insight on where this industry is headed in the future. Our next releases will delve deeper into specific issues that will further shake up this industry, along with quantitative analysis relating to specific industry players. Finally, we will end our series with a profitable trading strategy.
Current 3D Printing Landscape
Main Customers
Manufacturing: 3D printing allows manufacturing of increasingly complex plastic or metal components with very little increases in time added. This asymmetrical time-complexity tradeoff will be key to its success.
Health Sector: While overlaps with the medical field will tug at heartstrings, you should keep a clear mind and be as objective as possible, the following is a TED presentation "Anthony Atala: Growing New Organs".
The bladder was 'printed' a decade ago and is fully functional. A less emotionally stimulating use case includes Invisalign braces. Clearly each set of teeth are unique and the benefits of 3D printing shine here. The printers can adjust for different topologies of the mouth instantly.
Aerospace and Defense: The benefits of precision manufacturers are enormous, resulting in:
• Customer satisfaction through near flawless renditions of complicated parts
• Little to minimal retooling of processes
• Consolidation of tools and processes further eliminating the need for molds, milling, and injections altogether
• Modular and industrial standards in materials and coating through improvements to support material, coating, and base materials without adjustments to everything else
The Process
A video by ExOne on 3D printing metal:
Pricing
As explained earlier, the asymmetrical trade-off between complexity and time lends 3D printing to concept modeling and rapid prototyping. Most professional machines cost within $15,000 to $500,000. Given the extreme range and high cost, it's unlikely to see them used in anywhere but professional (ie. aerospace, medical, etc.) and industrial contexts.
There are cheaper entry-price models available for purchase (MakerBot is a popular and successful printer) to DIY/mass consumers. One of the leading research firms, Wohlers, estimates that over 50,000 systems (production, printers, personal systems) have been shipped since the 1980s.
Industry Players
3D Systems (DDD)
With a market cap of $8.3B, leading technologies include SLA with iPro and Viper products, SLS systems for plastic and metal materials with sPro and Sinterstation products, and scanning technologies. As well, 3D Systems has the service business Quickparts.
Stratasys (SSYS)
With a market cap of $6.2B, leading technologies include Fused Deposition Modeling for prototype and production parts, wax-based inkjet printing used in Solidscape and inkjet based Polyjet used in Objet. As well, Stratasys has the service business RedEye.
Other Players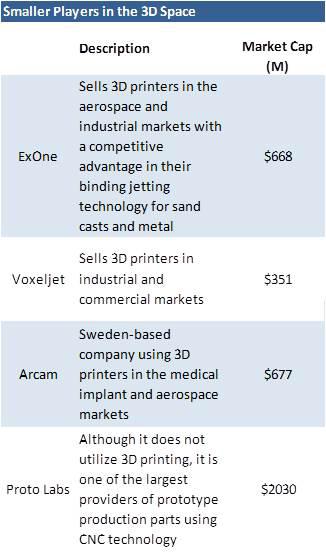 3D Printing as a Service
Capitalizing on the 3D printing trend for ordinary consumers are companies that are beginning to offer this type of printing as a service. Some of these companies include Shapeways, Staples and UPS. This segment competes directly with 3D Systems and Stratasys' similar service offerings.
Customization: "A 3D printer in every home".
An adage in the 3D printer community, supporters of 3D printing envision that these printers will find their way in every home - from 'everyday items' to 'imaginative works'.
Before penetrating the consumer market, this technology will have to be FDA approved. The FDA does have 3D printers to "develop standards and set parameters", but there is a significant lag time. It's clear that most of the materials and processes will pass through (short of very obvious design flaws - which can be amended, and poisonous materials if handled improperly).
The bigger and more pertinent question is whether there will be mass demand for the 3D printing vision.
The Future
Is this all a Hype?
Next, we'll draw on a historical precedent to look at how previous technology has been hyped and vaunted to change the world: CDs (and Rewritables).
"CD-ROM will give birth to the multimedia revolution by offering the capacity to store digitized audio, video, animation, and images. It is an alternative to paper distribution and with software distribution; an alternative to tape cartridges...With the low cost, efficiency, standardization, good durability/data integrity, ease of use, control, security, environmental-friendliness, CD's will make paperless a reality…The opportunities are endless; people can create their own CD's with rewritables, creating images, videos, music, data, and whatever they like…Usage will become increasingly discretionary in the future and there will be a vast market potential for years to come".
Redacted from an article written in the late 90's, consolidating various sources about the CD-Rom industry.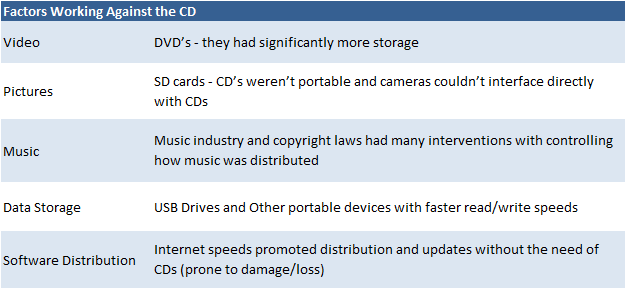 "It's Different this Time"
Proponents of 3D printing say that prices will lower and become more affordable for the masses. At CES 2014, XYZ Printing already revealed one of the latest consumer printers, da Vinci priced at only $499. This represents a significant drop from consumer printers costing around $1000. Moreover the race is on with key patents expiring, such as Laser Sintering and SLS machines, traditionally used to manufacture the more expensive high-end printers.
Notice the similarities in CD-RWs that allowed people to 'unleash their creativity'.
It's not different this time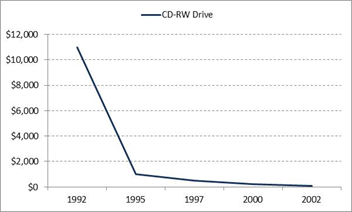 The above comparison demonstrates the similarities between the 3D Printing market to the CD market, revealing that the 3D Printing market may be hyped in the same way.
Do-It-Yourself Markets (DIY)
While some believe that the future of 3D Printing lies with their focus on DIY customers, this thinking is incorrect. Everyone wants to be creative and build cool stuff- Not quite. While it's impossible to come up with a number of how many people want to 3D print plastic models at home, a quick glance at Lego and other DIY markets might help.
First launched in 1949, Lego has been around for a long time. They've sold more Lego people figurines than the population of Earth. By 2003, the company's sales had dropped an average of 30% worldwide. Now, we can't equate Lego aficionados to the potential 3D printing retail consumers but we personally played with Lego as younger children, it's pretty close in regards to the creative aspects. We simply wouldn't bet on 3D printing eliciting a fiery passion of creativity and unfulfilled aspirations of creating 'cool things' in people worldwide.
Moreover, most DIY markets simply cannot sustain a mid-cap or larger sized company. For instance, the American Homebrewers Association has approximately 40,000 members. Even being generous and saying there are 150,000 unique, recurring, homebrewers, this market size is not big enough as a standalone customer base. The company only provides a fraction of the total services/materials used in homebrewing.
Do-It-Yourself (DIY): SparkFun
The decline in growth in DIY market can be further exemplified through SparkFun. SparkFun is a startup that was created to satisfy the demand for circuit boards, kits and general hardware trinkets. These are places commonly frequented by hardware enthusiasts that build and tinker with older and newer technology.
As with most startups, the growth stage peaks and tends to fall (this happened to Facebook as well). You can see below that it seems as if SparkFun has reached its full customer base already and new additions will have to be organic conversions. The company has resorted to penetrating the schools/hosting competitions to grow its base organically and we'll have to wait 2-3 more years before we see whether those efforts will spillover into renewed growth.
Using the Technology
Next, we'll list a few assumptions/prerequisites the technology must have to be pervasive to consumers:
1. The software must be easy to use
2. The support and base material must be easy to purchase and available in a reasonable variety
3. The material itself must be consumer friendly
4. The cumulative cost of materials/printers/plans must be less than purchasing an item outright
5. The printer can't be seen as trying to replace shopping
We'll take a closer look at each one:
1. Most average consumers are not experts in using computer-aided design software. 3D printing must be made easy, like it's cousin, video recording which simply requires pointing the camera and clicking the button to record. As well, 3D printing software must allow an acceptable level of customization (that's what a lot of supporters purport) without alienating the consumer.
Using increasingly powerful software is becoming easier for the average consumer as more and more people are exposed to technology. However, writing software that satisfies creative needs is still very difficult (Ie. Photoshop - way too advanced. Paint - way to limited)
2. It's a commonly known business model for printers to be cheaper than ink at times. It's quite possible this would work in 3D printing as well.
3. This isn't an issue with industrial customers but it is a very touchy with retail customers.
a. Handling of materials if needed
b. Storage of materials
c. Toxicity of materials
d. Spillage
As an issue that cannot be ignored, how many families would like a machine burning plastics and nylon in their house (even if it's within safety and health limits)
4. Given that you could fully replicate something at home (ignoring the fact that most products today are a combination of electronics, plastics, nylons, felts, metals) the limited subset of items must be lower or reasonably acceptable in price.
5. This has to do more with marketing by startups and advocates of 3D printing to solve the 'problem' of physically shopping. A common example is to print a shoe at home and not have to go out shopping. Shopping is fun; it's a way of relieving stress, and being social. Proven both anecdotally and scientifically. Positioning 3D printing as an antithesis to shopping is just incorrect and will probably force people to unconsciously divide the two.
Putting it All Together
Unsurprisingly, Wohlers (the de-facto source for all 3D related research) believes that growth is expected to continue: "The 3D printing industry is expected to continue strong double-digit growth over the next several years. By 2017, Wohlers Associates believes that the sale of 3D-printing products and services will approach $6 billion worldwide. By 2021, Wohlers Associates forecasts the industry to reach $10.8 billion. It took the 3D printing industry 20 years to reach $1 billion in size. In five additional years, the industry generated its second $1 billion. It is expected to double again, to $4 billion, in 2015."
This growth will:
• Not be derived from the DIY market
• Contingent on how easily the technology can be used, along with the types and costs of input materials used in printing
• Depend on factors relating to partnerships/ acquisitions, growth in the medical sector, and patent use (will be expanded on in sister articles)
Disclosure: I have no positions in any stocks mentioned, and no plans to initiate any positions within the next 72 hours. I wrote this article myself, and it expresses my own opinions. I am not receiving compensation for it (other than from Seeking Alpha). I have no business relationship with any company whose stock is mentioned in this article.