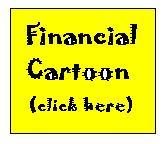 Outlook: Including the South Sea Bubble of 1720, there have been 33 so called "stock market panics", i.e., a sharp, rapid and fulsome decline in stock prices. Such "panics" can be separated into two broad categories: 1) short, emotional bursts of indiscriminant selling followed by rapid price recovery; 2) the commencement of a longer secular revaluation of assets and stock prices. (Financial Cartoon Footnote Hyperlink[i])
Category 1 Panics: Most of the 33 "panics" fell into Category 1. However, 8 such panics (24%) were the gateway to longer-term stock price corrections. The most severe stock market correction occurred in Japan in 1991 and lasted a 13 years—some say the correction is still going on today. The common theme of many of the 8 gateway "panics" is a secular revaluation of assets—predominately property (real estate).
Is This a Category 2 Panic? In order to conclude that we're at the precipice of a secular asset revaluation and a global stock market crash, an investor would have to subscribe to a culmination of global events of remote but conceivable occurrence. While the European debt woes are weighing on the minds of investors, the example of a forceful U.S. response to a similar crisis should provide a template for dealing with the immediate nature of this crisis.
China Bubble: Of more concern is the "property bubble" building in China. This has a huge "panic quotation". U.S. investors would have no clue of the depth and breathe of that market and uncertainty leads to panic. A collapse of property values in China would be consistent with the origins of major asset price revaluations and stock market collapses—if it were to occur.
The "1", "2" Punch: This coupled with an inadequate response to the sovereign debt crisis in Europe could thrust the world economies into a "Panic of 1873" which plunged the U.S. and European into a depression until 1879.
Uncertainty is Our Enemy: Since the adequate responses to these potential crises are political in nature, investors are leaving the realm of risk management to one of uncertainty. This makes it hard to quantify.
However, investor sentiment is taking on some of the characteristics of the sub-prime crisis of '08 against a backdrop of improving U.S. economic fortunes. Domestic large cap dividend paying U.S. stocks may provide temporary refuge as this crisis may ebb. The iShares Dow Jones Select Dividend Index (NYSEARCA:DVY) continues to be a favorite place to hide currently generating a 3.8% current yield. (See: The Case for DVY: Income & Potential Capital Appreciation (4/28/10)[ii])
Naming Rights: Most of the stock market panics of the 19th century were just designated as the "Panic of____" and followed by the year. In the 20th Century we became creative and began to give such panics unique names: "Silver Thursday" (1980), "Black Wednesday" (1992), "Tech Wreck" (2000), etc. It seems we haven't come up with a descriptive name for Thursday's market dive. How's about, "Glitch Thursday"? Where is CNBC when you really need them? Please submit other contenders.
CEF Weekly Review: The 13 closed-end fund types on average posted a 6.1% decrease for the week ending 5/7/10. The high-low spread was 9.1% vs. 2.4% the previous week. On an aggregate, unweighted basis the weekly average price change for the 500 plus CEFs was off 4.8%.
The PowerShares CEF Income Composite (NYSEARCA:PCEF), an ETF that invests in taxable income CEFs, decreased 7.6% for the week. The S&P 500 declined 6.4% for the week erasing any gains YTD.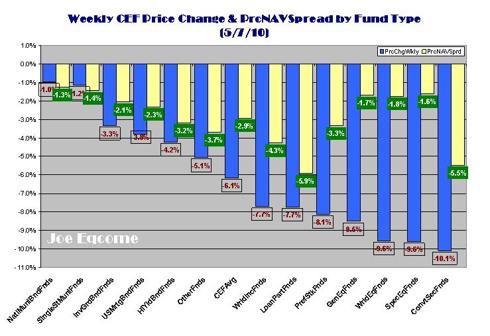 (Click Here[iii] for YTD CEF Performance. The table is based on a smaller CEF sample size as all the data fields are not available for the CEF universe.)
The Eqcome CEF Fear Index spiked as retail investors scampered for the door. The average price decreased 4.8% versus a 2.4% decrease in the NAV. The CBOE Volatility Index (VIX), which typically moves inversely with the stock market—but is more a measurement of volatility based on stock options' premiums, spiked 85.7% to 41.62 for the week on top of the 32.7% the previous week. This is the first close above 40 since April of 2009.
The S&P 500 average daily trading volume reflected sellers' conviction with volume leaping 21.6% to 7.6 billion shares. On Thursday alone, volume was almost 11 billion shares.
CEF Weekly Fund Type Performance: The fear trade not only spilled-over from the previous week, it intensified. Anything that "smacked" of equity was shunned. It was clearly any port in a storm. Investors gravitated towards muni bonds CEFs despite a parade of stories regarding state budgets (Illinois being a prime example) being woefully out-of-balance with few near-term prospects of recovery.
ConvSecFnds were particularly hit hard, plunging 18.1%. Their hybrid status provided little shelter as US treasuries were the only preferred mode of debt. WrldEqFnds continued to suffer as banks, the backbone of many stock bourses, withered under valuation uncertainty of sovereign debt holdings.

The PrcNAVSprds[1] which typically move in the direction of stock prices adhered to the rule after an atypical pattern last week. The biggest spreads occurred in LoanPartFnds and ConvSecFnds indicating in these cases a much deeper drop in price than NAV. Despite the improving economic environment, investors who might have considered coming back into the stock market are now paralyzed as they watch the markets gyrate with grave suspicion.

CEF Winners and Losers: Gabelli Utility Trust (NYSE:GUT) was one of the CEFs with the greatest positive PrcNAVSprd. Despite GUT's NAV dropping 8.2%, its share price only fell by 0.5% generating a positive PrcNAVSprd of 7.7%. Investors typically consider utility stocks a safe bet in times of turmoil. However, the other Utility CEFs did not fair as well as GUT on a price basis. This was also true of the utility ETFs whose share price on average was down 4.7%.
If you couple this with GUT trading at a 58.5% premium to NAV and its dividend being almost 90% being a return of capital, I would think this stock would lose altitude next week.
The CEF having one of greatest negative PrcNAVSprd for the week was Western Asset Global Partners I (NYSE:GDF). GDF share price was off 15.6% while its NAV was off a more modest 3.7% generating a negative PrcNAVSprd of 12.1%. While there was no news, GDF's portfolio holdings are a combination of high yield bonds and riskier sovereign debt which suffered this week. The stock is currently yielding close to 11% and selling at a discount of 7.1%.
Economic & Earnings Outlook: (Click here[iv] for next week's economic calendar; click here[v] for earnings announcements and estimates.)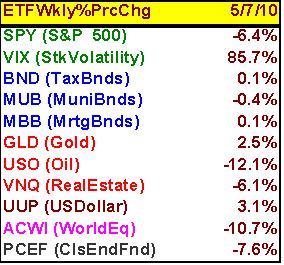 ETFs: For a more detailed EFT performance by sectors, click here[vi].
Insider Trading: For the first time in a recent memory, the Horejsi Group (Horejsi) was not involved in any insider trading activity. Whether this was a function of stock market prescience, the lack of funds, or a "time out" as it focuses on the recent derivative lawsuit—alleging that BIF's advisors and its Board breached its fiduciary duties—is a subject of speculation.
The greatest insider trading activity was on the sell side in The Mexico Fund (NYSE:MXF) where a director Eugenio Clariond sold a total of 81,529 shares at an average price of $25.08 for total proceeds of $2,187,247. According to an SEC filing, Mr. Clariond is a general partner of the Dutch investment partnership that owns MXF. He still retains 135,000 shares of MXF.
The other major transaction was 200,000 shares purchase of Pimco Income Strategy Fund (NYSE:PFL) by Pimco's founder, Bill Gross, for an expenditure of $2,114,200. The purchase was mostly likely in connection with its recent rights offering. Interestingly, to-date, Mr. Gross was the only officer, director or advisor employee who participated in the rights offering. Maybe they'll show up later.
There continues to be insider buying in TCW Strategic Income Fund (NYSE:TSI). As reported here last week, since the beginning of this year the newly installed officers and managers have been aggressive buyers. Bryan Whalen, an officer and portfolio manager of TSI added an additional 10,000 shares to his holdings at an expenditure of $48,287.
Lastly, Martin Cohen, Co-Chairman of Cohen & Steers Total Return Realty Fund (NYSE:RFI) has been a consistent seller of the stock since March of this year. (Click here for a hyperlink to the Joe Eqcome's CEF Weekly Insider Report.)
CEF Distribution Announcements This Week: The following is a link to a table of CEF distribution announcements this week as well as the previous week's with yet expired ex-dividend dates. The list is not intended to be inclusive. (Click Here for Joe Eqcome's Weekly CEF Distribution Announcements.)
Significant CEF Corporate Events: ASA Limited (ASA) fixed May 3, 2010 as the commencement date for the 12-week measurement period for the purpose of determining whether ASA will conduct a tender offer for its common shares in its fiscal year ending November 30, 2010. If ASA's shares trade during this 12-week measurement period at an average discount of 10% or greater from NAV, ASA, at its discretion, would conduct a tender offer for 10% of its shares at the purchase price of 98% of NAV.
Liberty All-Star Growth Fund (ASG) issued a press release on Wednesday regarding a tender offer described in materials that have been filed with the Securities SEC by Bulldog Investors General Partnership ("BIGP"). ASG does not believe that BIGP has yet complied with all the requirements of the SEC to publish, send or give stockholders certain information in order to commence and disseminate a tender offer and, therefore, has not yet properly commenced any offer. ISS, an independent proxy analytical service, has recommended that shareholders vote with management.
CEF Focus for the Week: It's a "toss up" for the best CEF "staring in a dramatic role in a 'White Card'/'Gold Card' Proxy Contest". The two contenders are Equus Total Return (NYSE:EQS) and DWS Strategic Income Trust (NYSE:KST).
The Envelope, Please: On the basis of sheer intrigue, EQS has all the elements of a bitter divorce. You have ousted employees (jilted spouse), each claiming conflicts-of-interest (infidelity) and SEC violations (illegitimate children). Each side claiming proxy solicitation services supporting their respective position (high-priced lawyers).
Gold Card Seems Sketchy: While I haven't studied the matter, a cursory review of the situation appears that much of the claim's advanced by the "Gold Card" dissident slate of poor management by EQS may be a function of its own previous administration. The Trulite investment by a former employee of EQS, who was on the Board of the Trulite, now in default, seems sketchy—particularly as the other members of the dissident's slate is associated with Trulite. This may just be a "back door" strategy to make the loan current.
"Vote for Me, Al Frankin!" Anyhow, each side has "lifted" portions of Glass Lewis and RiskMetrics—independent proxy voting research firms—supporting their respective positions. Since the "Gold Card" proxy folks own 11.2% of EQS, one would wonder if they'd dump the stock if they lost the contest.
The Board Meeting is next Wednesday, May the 12th, and candidly, given the level of acrimony, this might be best settled with dueling pistols at twenty paces.
[1] All things being equal, price and NAV should move in tandem. A price movement greater than the NAV generates a positive PrcNAVSprd and may be interpreted as negative on a near-term basis and indicate that the stock is overvalued relative to its NAV which in theory is the stock's intrinsic value. The opposite would be true for a negative PrcNAVSprd.
[i] http://www.bing.com/videos
[ii] http://joeeqcome.web.officelive.com/.pdf
Disclosure: Long a diversified portfolio of CEF and DVY