Executive summary
Stephen Elop's Nokia (NOK) bet the farm on Windows Phone with no plan B, and lost. Microsoft (NASDAQ:MSFT) had to come to the rescue and buy out Nokia's handset business.
Microsoft-owned Nokia now introduces three forked Android-based smartphones, Nokia X, Nokia X+ and Nokia XL, targeting the low- and mid-end market.
The strategy shift underlines the many missteps made by old Nokia, but makes perfect sense for Microsoft.
The new Nokia phones don't rely on Google's (GOOG) services but direct customers to Microsoft's email, cloud, messaging and search services.
Nokia's new phones allow local markets to use their own third-party Android app stores, and make converting apps as easy as 1- 2 - 3 - however, Nokia's Android phone's won't lead to Lumia sales in the long term.
_________________________________
Nokia's forked Android phones not really a surprise for the market
Nokia's rumored budget Android-based smartphone is finally out:
Previously codenamed Normandy, Nokia has used its MWC conference to unveil the Nokia X - a phone that's technically running Android, but with more than a few tweaks.
The device is described by Nokia as "the perfect phone for emerging markets".
All about bringing customers to Microsoft's services, and admitting a defeat as to apps
Here is the best commentary we've found so far to describe Microsoft-owned Nokia's strategy with the X range:
Bottom line: Nokia X is a Trojan horse stuffed with Microsoft services, pushed inside Android's app-rich empire
As Saamer Singh noticed, Microsoft makes no secret about it: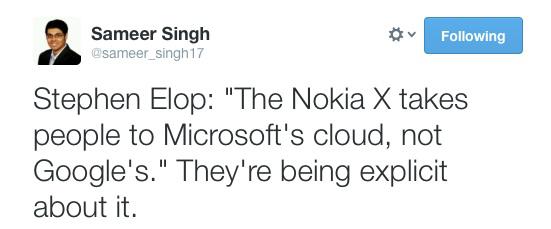 The big challenge for Nokia was to make this new Trojan horse as appealing as possible to customers. Allowing the use of third-party Android app stores, which are very popular in many emerging markets, and making converting apps for this new device range as easy as 1 -2 - 3 was the answer:
While most developers will be able to simply drag and drop their apps into the Nokia Store to make them work, some will have to change certain features to tie them into Nokia/Microsoft services instead of Google's. Here are the three APIs that Nokia is giving developers to work within the Nokia X:

Location: Nokia will provide developers with a new location API to replace Google Maps. The Nokia X's location service API will be the Nokia HERE Maps.

Notifications: Nokia uses the classic drop-down notification bar in Android, but app notifications have to run through Nokia, not Google. As such, Nokia has its own custom-made notifications API that will also integrate into the phone's home screen.

In-app payments: Nokia couldn't use Google's robust international payments system to help app developers get paid, so it built its own. The Nokia X will support payments in every country that the phone is distributed to, often using direct-carrier billing with cellular partners across the world.
Nokia's X phone range unlikely to lead to added Lumia sales
Will Microsoft succeed in bringing more customers to a more complete Windows phone experience, over the long term?
We doubt it. Unfortunately, Nokia's forked Android strategy is an admission of defeat: so far, Microsoft hasn't succeeded in making its app ecosystem appealing enough to developers and consumers, even the less sophisticated ones (emerging markets).
We share Ben Thompson's opinion: the new Nokia X Trojan horse strategy is smart as far offering customers a great app ecosystem, and making it easy for developers to participate, but will unlikely lead to any Lumia update in the long term (I, II):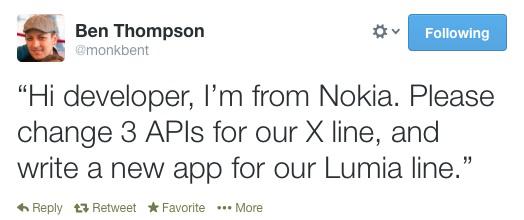 The new Nokia X range likely to generate positive sales, unlikely to solve Windows Phone strategic problems
The new Nokia X range will most likely bring good sales results in several emerging markets, where the Nokia brand still has strong appeal. This may represent a positive for Microsoft in the short term, as it may give the possibility of closing the acquisition of a stronger Nokia, enjoying good sales momentum in the low end market.
Over the long term, however, we doubt that Nokia's forked Android move will lay the groundwork for customers to upgrade to the Lumia range, in spite of the effort from the company to create a similar look to the Windows Phone platform. It's all about the ecosystem, and that's the weak area restricting Windows Phone popularity.
Creating apps for unaware companies is also unlikely to win new participants in the Windows Phone ecosystem:
In fact, the existence of the Redfin app for Windows Phone was a surprise to Redfin.

"Redfin did not authorize Microsoft to do this," said Redfin spokeswoman Jani Strand in an email to GeekWire today.

Redfin is far from alone in experiencing Microsoft's web-app wrapup. This is part of a broader initiative by the Redmond company to stock its app store with more of the popular services that consumers have come to expect on smartphones.
Solving the mobility conundrum remains a priority for Microsoft's new CEO, Satya Nadella, but the Nokia X move is unlikely to give the market the confidence that the company is already moving in the right direction.
We remain on the sideline as investors, and will continue to be skeptical about Microsoft shares until we will see the Redmond company developing a clear strategy for its mobility unit both in the high (Lumia, Windows Phone powered) and low (Asha and now forked Android powered) market.
Disclosure: I have no positions in any stocks mentioned, and no plans to initiate any positions within the next 72 hours. I wrote this article myself, and it expresses my own opinions. I am not receiving compensation for it (other than from Seeking Alpha). I have no business relationship with any company whose stock is mentioned in this article.