I previously wrote an article on February 3rd, describing the history of Demand Media and providing high level thoughts on valuation. This article will dive deeper into the numbers and will provide my opinion on valuation.
In addition, DMD posted The Rightside prospectus, which provides indepth financials and risks as would any other IPO prospectus would (source: SEC). I took the financials of The Rightside and extracted it from DMD's financials to derive the content business. The prospectus was helpful in determining how much capital expenditures were used for both businesses.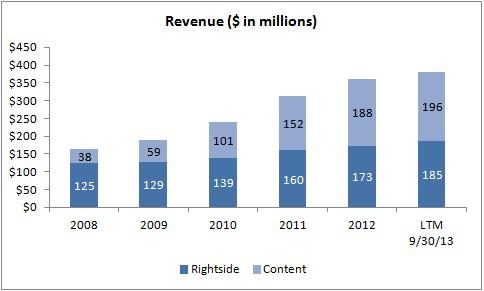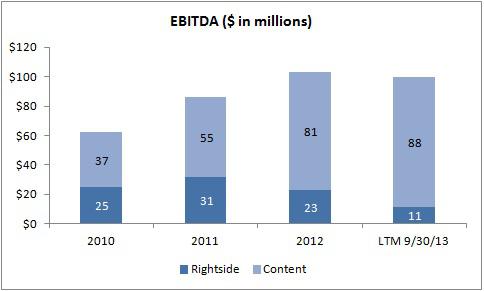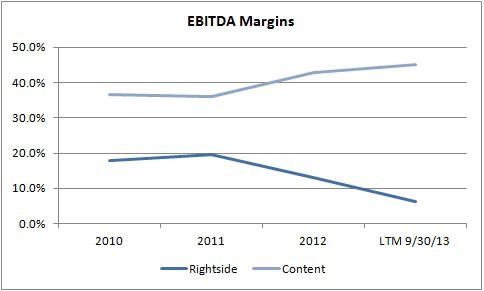 Based on these charts, it appears DMD generated most of it's revenues in 2008 from Rightside. Content steadily represented more of the Revenue and EBITDA. It appears Rightside EBITDA margins has gradually deteriorated. As mentioned before, the domain business is a commoditized business with GoDaddy undercutting the competition. So it should be of no surprise. We see the content business EBITDA margins increase. Based on the most recent 10-Q, it appears that Network page views have declined significantly, thus the product mix has shifted towards the higher margin Owned and Operated (O&O) sites.
As mentioned in my previous article, DMD capitalizes its content expense. With the prospectus, I was able to bifurcate the capital expenditures for both businesses.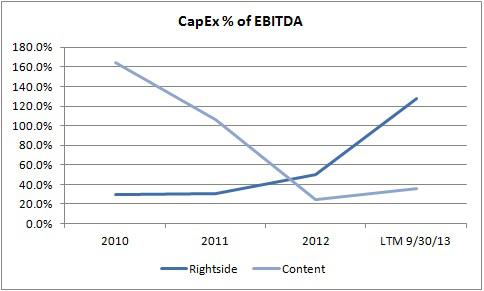 Demand Media went IPO in 2011, and the Company steadily decreased the CapEx for their content business. The primary driver would be the fall in viewership due to Google Panda, thus they were not able to generate "evergreen articles," and they cut their capital expenditures. However, Rightside CapEx has increased steadily. The CapEx excludes the gTLD investment; however, EBITDA margins have deteriorated, resulting in ~128% CapEx % of EBITDA for the LTM 9/30/13 period.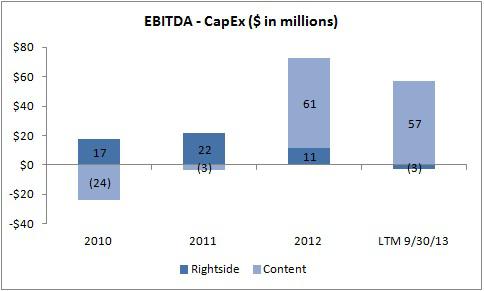 EBITDA - CapEx is the more appropriate measure to use when computing valuation with content comps. The comps do not capitalize content expense. In my exercise, I calculate EV / EBITDA-Capex. On the face of it, it appears that the content business could have significant value. Furthermore, it seems logical to divest the Rightside, as it has become more unprofitable for Demand Media as a whole.
The Bull Case
Demand Media Investor Base
According to WhaleWisdom, Indaba Capital Management initiated a large position in Q4. They purchased ~1.6mm shares for $9.2mm (source: WhaleWisdom). Indaba appears to be an event driven hedge fund. You will notice some larger institutions sold part of their holdings.
Secondly, it appears there is only 3% short interest in the stock (source: ShortSqueeze).
Both of these are usually positive signs that there could safely be some upside.
Sum of the Parts Analysis (SOTP)
Hedge funds love finding value by doing a SOTP analysis. You can read it in several investor letters. DMD is in that boat, since it is spinning off the Rightside.
The Rightside is unprofitable, as seen by the EBITDA-Capex. When looking at specific content companies and comps, I chose Bankrate (NYSE:RATE) and IACI.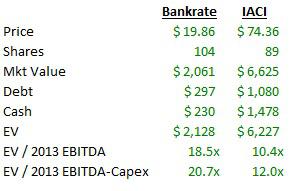 As stated above, the content business generates about ~$57mm of EBITDA - Capex (many coin this term unlevered free cashflow uFCF).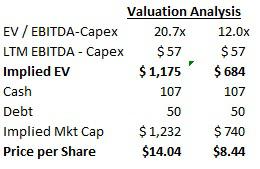 With a current stock price of $5.59 as of 2/21/14, it appears like a no-brainer. Maybe private equity should try an LBO again! Is this what Indaba Capital Management is seeing? The value of the Rightside will be added gravy to the valuation?
The Big Bad Bear
As mentioned in my prior article, flagship site eHow.com has fallen off a cliff.

Source: Compete.com
In the Q3 earnings release, the Company guided about $16mm to $19mm of EBITDA for Q4 2013. In this analysis, I took 9 ME 9/30/13 financials for the Rightside and divided it by 3, and I was able to derive a Q4 2013 EBITDA and EBITDA - CapEx for the Content business. Since content is not really a seasonal business, taking LQA could give an accurate picture of the current state of the business. LQA might actually be a little bit optimistic since EBITDA has declined from LTM 9/30/13 EBITDA-Capex of $57 to LQA $30mm!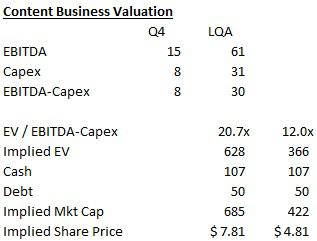 Basically, the Bear valuation is half of the Bull valuation. As mentioned above, I think the valuation of the content business might be optimistic, since it appears the content business is also deteriorating.
Conclusion
As mentioned in my previous article, I think this is a stock to just stay away from. There is a lot of private equity dry powder that could scoop this business up. Yahoo has a price target of $6.64. As I previously stated, there is a reason why the short interest is only 3%. There is not much liquidity in the stock, and there is extreme M&A risk. Indaba is an event driven hedge fund, and they may be expecting some type of acquisition of the Rightside or the Content business.
However, I am not comfortable in investing in a public company without a stable management team, and with both lines of businesses deteriorating. It does look ripe for a PE investment in my opinion. It will be an interesting Q4 investor call on 2/25/14. The research analysts really need to figure out the future of both the content business and the Rightside.
Disclosure: I have no positions in any stocks mentioned, and no plans to initiate any positions within the next 72 hours. I wrote this article myself, and it expresses my own opinions. I am not receiving compensation for it (other than from Seeking Alpha). I have no business relationship with any company whose stock is mentioned in this article.