Editor's Note: This article covers a stock trading at less than $1 per share and/or with less than a $100 million market cap. Please be aware of the risks associated with these stocks.
There's nothing more frustrating than watching a viable concept in retail go absolutely nowhere. Anyone who followed dELiA*s (NASDAQ:DLIA) for the past several years know what I'm talking about.
However, last May, shoppers and investors were given a glimmer of hope when the company announced that long-time CEO Walter Killough and Dyan Jozwick (President of dELiA*s Brand) would be stepping down. In their wake, Tracy Gardner was brought onboard as dELiA*s Chief Creative Officer (CCO).
The initial CCO role was meant to bring her well-regarded branding expertise to bear. It was also meant to pave the way for Gardner to take over as CEO.
On May 30, that's exactly what happened…but who is Tracy Gardner? And why should we care?
Quite simply, Ms. Gardner is a rock star in the fashion industry. Her pedigree includes success-filled senior merchandising positions at Banana Republic and Lands' End. Most recently, she spent a year advising The Gap (the previously-hated shares of GPS rose 40% during this time).
Most notably, Gardner is best-known for her tenure at J.Crew from 2004 to 2010. There, she was President of Retail & Direct - an instrumental member of management at the time of J.Crew's highly successful IPO. The company was later acquired for $3 billion.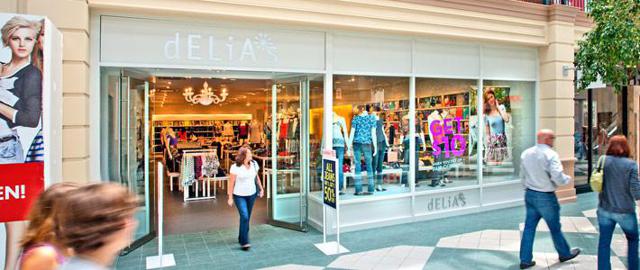 Why dELiA*s?
When a retailer fails to make progress, it is typically because of a poor concept, poor management, or both. In this case, we have always felt that dELiA*s held great potential: a pre-teen/teen apparel store that a parent didn't have to feel embarrassed about. Clothes in which the words 'cute', 'respectable', 'fashionable' and 'quality' would come to mind.
There has always been room in the sector for a company like dELiA*s. It's not as risqué as bebe (NASDAQ:BEBE), nor as "mature" as Urban Outfitters (NASDAQ:URBN). It's not as preppy as Abercrombie & Fitch (NYSE:ANF), nor as lacking in style as Aeropostale (NYSE:ARO). DLIA is probably most similar to American Eagle Outfitters (NYSE:AEO), but solely focused on teenage girls.
Despite its differentiated place in the world of retail fashion, DLIA hasn't actually given itself a chance to compete (until now). Inventory issues, merchandising issues, streamlining issues (some apparel is extremely young and other items lean more towards later teens) and poor management kept this name from ever fulfilling its promise.
It faded from the minds of consumers and investors alike. Not even one investor asked a question on the earnings call just prior to Gardner coming on board. In April of this year, the stock finally got washed out, bottoming at just 63 cents (after peaking at $12 in 2006).
One can conclude that Tracy Gardner joined DLIA because she saw a massive opportunity. After assisting in J.Crew's ascent to $3 billion acquisition target, the idea of doing the same with a $50 million entity had to be irresistible.
Since her appointment, the company has been in transition. Gardner is in the process of clearing out old inventory and reshaping the company to match her vision. Accordingly, the past few quarters have looked like something one would expect from a Spring-cleaning yard sale.
But this is good news for new investors.
On Tuesday, the company pre-announced disappointing December-quarter numbers, along with a $44 million round of funding. Investors reacted aversely, driving the shares as low as 60 cents. However, in the hours that ensued, the shares rallied 25% and closed up for the day.
In my estimation, savvy investors were waiting on the sidelines for the rough December results (which plagued many retailers) and fresh round of funding. The company wisely chose to handle both situations at once…and decisively. The $44 million will presumably be enough to complete DLIA's makeover.
Looking 12-24 months down the road, the company's recent numbers aren't nearly as important as the company's progress toward becoming a viable contender in the retail fashion industry. When looking to invest in a turnaround story, it is almost always best to wait for rock bottom. This may be it.
That doesn't mean that things will be rosy from here on out. The stock may rise or fall (or both) in the coming months, but I personally don't want to risk missing out on the potential reward to come. DLIA is effectively a start-up in public-company's clothing (no pun intended). Investors rarely get to invest in a management team of this caliber at such an early stage of its life cycle. Indeed, institutional investors took the opportunity to heart by participating in the most recent round of funding (the terms of which were surprisingly solid).
At this point, Gardner is prepping the company to emerge. There's still a lot of work to be done, but much of the old inventory is gone. On the Q3 conference call, Gardner spoke excitedly about 10 locations that they've been using to test their new concepts.
"We've identified 10 of our best stores to speed up the turnaround and create an incubator for our future strategies. We have made adjustments to our merchandising windows and fixtures that more closely reflect how we envision our stores in the future. We are highly encouraged by the initial results, with sales trending significantly above the company average."
This should be a sign of things to come, as the company rolls out these successes across its entire base of stores. Accordingly, I believe that the company's potential justifies a higher share price for speculative investors.
Comparative valuations validate this assertion. Until recently, even middling retailers like Wet Seal (NASDAQ:WTSL) attracted valuations exceeding 3x DLIA's. While it's true that WTSL has a lot more stores, DLIA has significantly more potential for store growth in our opinion. We believe dELiA*s locations could grow by more than seven-fold, from ~100 stores to 750+.
Also, we view WTSL as being stuck in the ultra-competitive fast-fashion segment, while DLIA is playing in a higher-margin segment, giving it the potential for much higher profitability than WTSL. At present, Wet Seal operates 520 stores (including its 62 Arden B locations). They average close to 4,000 square feet in size and $250 in sales per square foot. However, Wet Seal also incurred $70 million in operating losses last year.
dELiA*s stores are also around 4,000 square feet in size. However, as of Gardner's hiring, they were generating $300 in sales per square foot (20% more than WTSL's units). Part of this stemmed from DLIA's look-and-feel, which received a positive endorsement from PTT Research's fashion consultant, Jamie Nuss. Keep in mind, this was before Tracy Gardner even took over. Given her pedigree, she should vastly outperform her predecessors.
Looking at each company's expense structure, WTSL and DLIA both produced 30%+ gross margins in the prior fiscal year. The big difference between the two is in SG&A. Presumably due to its greater economies of scale, WTSL's SG&A has typically represented about 27% of sales. For DLIA, SG&A has exceeded 40% of sales.
| | | | |
| --- | --- | --- | --- |
| Wet Seal | 02/01/13 | 01/27/12 | 01/28/11 |
| Annual Sales | 580,397 | 620,097 | 581,194 |
| | | | |
| Gross Profit | 140,501 | 195,436 | 179,907 |
| % of Sales | 24% | 32% | 31% |
| SG&A | 183,790 | 165,933 | 150,432 |
| % of Sales | 32% | 27% | 26% |
| Operating Income | -70,289 | 25,000 | 25,247 |
| % of Sales | -12% | 4% | 4% |
| | | | |
| | | | |
| dELiA*s, Inc. | 02/01/13 | 01/27/12 | 01/28/11 |
| Total Revenue | 222,699 | 217,152 | 220,697 |
| | | | |
| Gross Profit | 73,153 | 68,336 | 73,455 |
| % of Sales | 33% | 31% | 33% |
| SG&A | 89,264 | 90,783 | 95,271 |
| % of Sales | 40% | 42% | 43% |
| Operating Income | -20,754 | -22,942 | -29,427 |
| % of Sales | -9% | -11% | -13% |
The path and implications are clear. As compared to WTSL, a fast-fashion retailer, DLIA should garner higher gross margins. Also, as the company expands its store count, it can begin to enjoy similar SG&A cost advantages as WTSL. Ultimately, DLIA could support more stores than WTSL, with much more profitability per store. Ultimately, we believe it could hold a 40% advantage in store count and a 50% advantage in profitability. If it gets there, DLIA should justify a valuation of $600 million.
Beyond that, Ms. Gardner's team could expand into new target markets and go after an even greater prize.
As we mentioned earlier in this article, we see dELiA*s as being a much closer comp to AEO. The difference is that AEO caters to girls and boys. Also, its age demographic is 15-25, a bit broader than DLIA's teenage audience. Of course, AEO also has over 1,000 stores and a $2.7 billion market cap, more than four times the interim potential we see for DLIA. Of course, we don't expect DLIA to become as big as AEO anytime soon (if ever). However, the market opportunity is there, which illustrates DLIA's potential for growth - AEO's market cap exceeds that of DLIA by more than 20x.
For DLIA shareholders, becoming as big as AEO shouldn't be considered (yet). However, achieving the same valuation multiple is feasible. As a reminder, DLIA traded as high as $12 in 2006 (shortly after Walter Killough joined the company).
The company also hired an entire team of industry stars. In July, Whitney Randall joined dELiA*s as its Vice President, General Merchandise Manager. Randall has worked with Tracy Gardner at The Gap and J.Crew. Prior to joining DLIA, she was the Divisional Vice President of Global Merchandising for Coach (COH).
In August, DLIA hired Daphne Smith as its Executive Vice President of Operations. Smith was previously with J.Crew for 16 years and most-recently spent 18 months at New York & Company as its Senior Vice President of e-commerce.
These moves give DLIA the management firepower to properly navigate a turnaround. Attracting Gardner, Randall, and Smith demonstrates that the company has great potential. It also provides hope that DLIA can begin to compete with its rightful peers. Gardner has plenty of incentive - the company awarded her with 750,000 options to purchase shares of DLIA for about $1 per share.
To be clear, there's still a lot of heavy lifting to do. DLIA's Q2 and Q3 results revealed the mess that Gardner is working to clean up. Based on the personnel changes, store remodelings, and inventory clear-outs, it's evident that Gardner is "gutting the place" with the intent of building a mansion where a shack once stood.
If they fail, the company could eventually go under. However, if they succeed, investors could be looking at a $5.00 stock before the company even sets its sights on expanding into new demographics. In other words, the risk and potential reward are both significant. Thus, investors should size their positions accordingly and adjust it based on shifts in risk and reward (see our Methodology section for more on this).
Bottom Line: An industry all-star is calling the shots and she has just been handed $44 million to get the job done. The stakes are high, but the opportunity is too great to ignore. Accordingly, we're happy to hold DLIA in the Poised To Triple Speculative Portfolio.
Disclosure: I am long DLIA. I wrote this article myself, and it expresses my own opinions. I am not receiving compensation for it. I have no business relationship with any company whose stock is mentioned in this article.