Tupperware Brands (NYSE:TUP) is a direct seller of products across several brands and categories via an independent sales force of nearly 3 million across the globe. TUP is probably best known for its serving and storage products for the kitchen and home, as well as cookware, utensils and microwavable products sold under the Tupperware brand.

The company also makes and sells beauty and personal care products under the Avroy Shlain, BeautiControl, Fuller, NaturCare, Nutrimetics and Nuvo brand names. TUP current trades at $77 per share, has a market cap of $3.91 billion, a current dividend yield of 3.5% and trades on average just under 600,000 shares per day.
Tupperware Brands Falls, Creating An Opportunity For Investors
Tupperware Brands was hammered beginning in late December and continuing into 2014 after experiencing a great run up during the holiday shopping season for 2013. A Q4 earnings miss sent the stock reeling from a high of $96 in December to a low of $75 during the first few days of February. TUP has since seemed to find its footing and has rebounded slightly to $77 in recent weeks. Although TUP missed Q4 2013 earnings estimates of $1.84 by posting a final figure of $1.81, which sent the stock lower, year over year Q4 earnings were still up 6%. Ironically, this was roughly the same year over year increase (5%) seen in Q3 earnings, which actually sent TUP shares higher in late October, despite the fact that the these quarterly earnings also missed the analyst target of $1.03 (vs. $1.00 delivered). Before missing estimates for its last two quarters, Tupperware had beaten estimates in six straight quarters.

Lower than expected guidance for FY 2014 from Tupperware has also weighed heavily on the stock. TUP expects to see sales fall between 1% and 3% in Q1 of 2014, with overall 2014 growth to be flat to up 2%. Full year earnings are expected to come in between $5.51 and $5.56 per share, below original estimates of $6.02.
Pent up pressure from two straight quarterly earnings misses along with lower than expected 2014 projections have taken $19 or about 20% off of TUP in the last two months. I believe that at this point, Tupperware has been oversold and now represents an attractive risk/reward trade off and buying opportunity.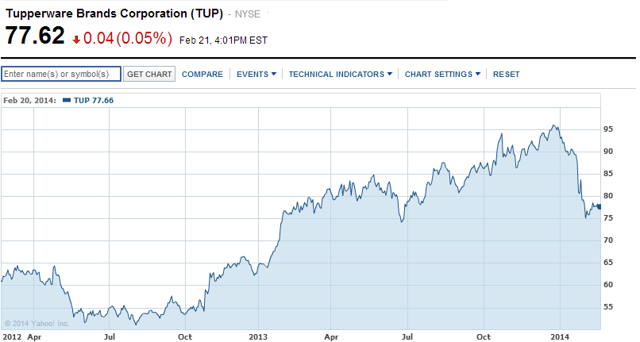 Courtesy of Yahoo! Finance
What is TUP's Upside? And Downside Risk?
Aside from being an equity, I believe Tupperware's downside risk is relatively small, with a floor of $75 or about 2.5% lower than current levels. TUP has tested the $75 price level twice since first crossing it in February of 2013, but has seemed to find support here each time, ultimately receiving a slight bounce both times that the stock tested these levels. Tupperware's continued earnings growth along with management's 10% dividend increase to $2.72 annually (3.5% yield) and the announcement of $185 million dedicated to share repurchases in 2014 will offer additional support for the stock at the very least.
As far as upside, I believe Tupperware will yield 15% to 20% over the 6 to 12 months just to get back to fair value, with any additional growth in earnings outside of the expected 3% for 2014 adding to TUP's overall yield. I believe that at current levels, Tupperware has been oversold and represents an attractive value investment, and I maintain a price target of $89. Until TUP's recent decline, and since beginning 2013, the stock has traded at a price to earnings multiple of 15x to about 18x, with the multiple continuously expanding through 2013 as earnings continued to increase QoQ, ultimately finishing 9% higher for FY 2013 compared to 2012. FY 2012 increased 11% YoY compared to 2011, and 2014 is expected to grow at a slower 3% year over year, but grow nonetheless. Although earnings have decelerated they continue to expand fairly steadily with growth in sales in emerging markets such as South America, Asia and South Africa really setting the pace for the company. Emerging markets made up 65% of sales for TUP in 2013, and with this segment growing 13% in 2013 year over year, expansion opportunities offered by these locations are clearly key to Tupperware's success. Despite the expected slowdown in sales growth, TUP remains in a strong position, with solid cash flow highlighted by management's consistent dividend increases (raises every year since 2010) including a 10% increase in 2014, in addition to the $560 million total set aside for share repurchases in 2013 and 2014.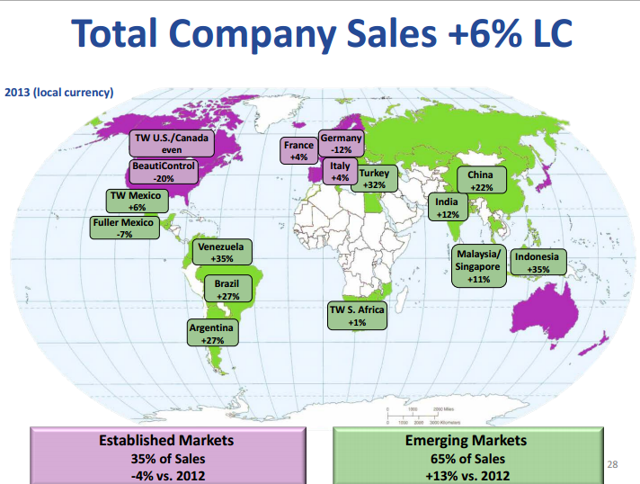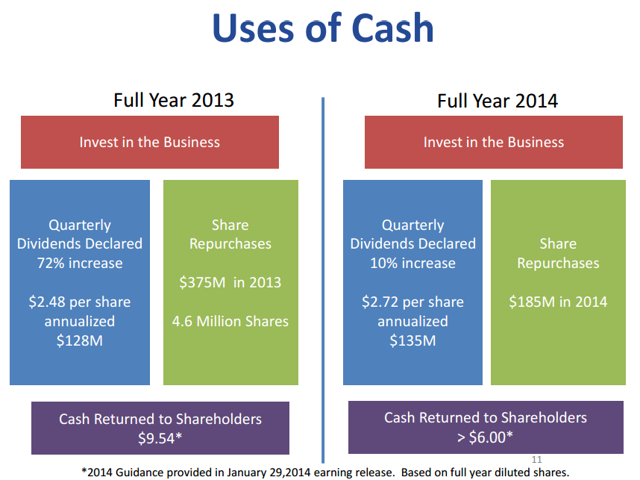 With Tupperware now trading at virtually the same level as it did after delivering $5 EPS for FY 2012, TUP seems like quite the bargain since delivering $5.45 in 2013, and especially with $5.59 expected in 2014. I see appreciation coming from several places for TUP:
Multiple expansion: Tupperware now trades at 14.3x earnings, the lowest level the stock has seen since beginning 2013. Over the next couple of earnings seasons I believe TUP will meet and exceed the low bar set by management to begin 2014. A swing back to positive earnings releases that Tupperware had become so accustomed to should help drive TUP back to a more respectable 15x-16x earnings, still well below the nearly 18x earnings that the stock hit in Q3 of 2013. Solid and expanding profit margins (10.3% ttm), considerable ROE (74.6% ttm) and respectable revenue growth should aid in the return to this slightly higher multiple as investors gain confidence with each passing earnings release. A return to 15x-16x earnings from the current 14.3 would result in a price target of $81 to $87 based on 2013 earnings and $84 to $89 based on 2014 earnings expectations.
Share buybacks: From a purely mathematical standpoint, the $185 million set aside for share repurchases will also help to drive Tupperware higher. At TUP's current price, the company could buy just over 2.4 million shares, which would reduce the total outstanding to 48.26 million. With Tupperware's 2013 earnings spread across this smaller number of shares, EPS would move to about $5.72 (from $5.45). At TUP's current 14.3 P/E, the stock would be valued at just over $81. 2014 earnings would equate to about $5.87 per share, resulting in a price of $84. A modest multiple expansion as described previously would move the price target to $88 (15x earnings) and nearly $94 at 16x earnings.
Income Seekers: With Tupperware's respectable 3.5% yield on top of what appears to be a fairly cheap valuation, I believe income/yield seekers will start to take a serious look at TUP. This buying will help to maintain that $75 floor for the stock and should offer some upward momentum as interest rates remain low and many equities look expensively priced.
The next couple of quarters will offer great opportunities for better than expected earnings deliveries for Tupperware after the company did a great job of managing 2014 expectations as part of its Q4 2013 release. Better than expected earnings combined with the implementation of even more share buybacks as well as a favorable yield will begin to attract buyers from the value and income arenas, as investor perception not only improves, but as more investors simply become aware of the TUP opportunity.
Conclusion
While an investment in TPU likely won't make anyone rich overnight, investors who are looking for good values in what many believe to be an increasingly overpriced market should definitely consider giving Tupperware a look. Tupperware has been hit hard since management lowered 2014 guidance in January, but it seems as though investors may have gone overboard with the selling. Now trading at a multi-year low P/E despite strong cash flow highlighted by an increasing dividend and more share buybacks, TUP now offers a compelling value proposition. As investors look to take advantage of this opportunity for multiple reasons (earnings growth, buybacks, dividends), I expect the stock's P/E to normalize which will allow Tupperware to return to the $90 mark, ultimately yielding a total of nearly 20% with inclusion of the dividend over the next 12 months.
Disclosure: I have no positions in any stocks mentioned, and no plans to initiate any positions within the next 72 hours. I wrote this article myself, and it expresses my own opinions. I am not receiving compensation for it (other than from Seeking Alpha). I have no business relationship with any company whose stock is mentioned in this article.
Additional disclosure: This article expresses the opinion of the author and is not a solicitation to buy or sell any security. Before making any investment decision you should always consult your personal financial advisor.