NPD Claims Android's Army Passes iPhone OS
Devices with the Android passed Apple's iPhone platform to be the No. 2 smartphone operating system in the U.S., according to NPD.
NPD, which tracks retail sales puts the rankings like this:
RIM's BlackBerry OS at 36 percent;
Android at 28 percent;
Apple at 21 percent.
If those figures pan out among other research firms such as IDC and Gartner it's a stunning turnabout. NPD in a release says Verizon Wireless (VZ) has forced the issue. Clarification: NPD's market share for Android was already high relative to other research firms such as Gartner and comScore. At the end of 2009, NPD had Android at about 20 percent of the smartphone OS market.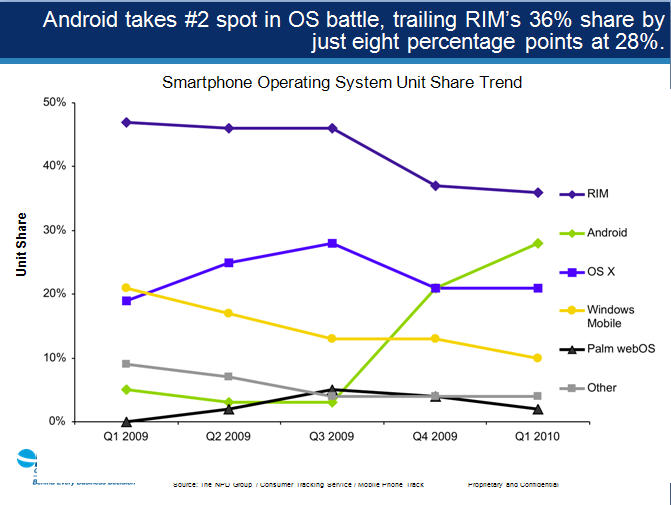 So why the jump in the first quarter?
According to NPD's Ross Rubin:
In order to compete with the iPhone, Verizon Wireless has expanded its buy-one-get-one offer beyond RIM devices to now include all of their smartphones.
That's largely true given that Verizon Wireless has buy one get one deals for Android devices like the Droid and Droid Eris. Previously, Verizon Wireless saved those promotions for the BlackBerry.
With this data, it's fairly clear that Apple could use a Verizon Wireless partnership.
For what it's worth, I'm skeptical about these NPD stats. The outcome (Android at No. 2) isn't surprising, but the timing is. For instance, comScore put Android share at 7 percent or so in January. That's a massive jump if NPD is correct. I reached out to NPD for clarification.
In addition, Gartner gave Android market share of 3.9 percent in 2009. Gartner will have its first quarter smartphone share data out in the next few weeks. Here's how Gartner put the 2009 stats:

This article was written by
Larry Dignan is executive editor of ZDNet news and blogs. Larry was most recently executive news editor at eWeek. Prior to that, he was news editor at Baseline, and also served as the East Coast news editor and finance editor at CNET News.com. Visit: Between The Lines (http://blogs.zdnet.com/BTL/)