There is a famous political quote that goes something to the effect of "Senator, I knew Jack Kennedy, and you are no Jack Kennedy", which has become a standard method in knocking down a candidate a notch. Well, in the investing world, this applies to companies that compete in the same space. "I know Caterpillar (NYSE:CAT), and Joy Global (NYSE:JOY), you are no Caterpillar". The heavy equipment sector is a very capital-intensive and tough business to compete in. I believe that unlike CAT, JOY is not positioned well, nor does it have a diverse enough portfolio of products to weather a cyclical downturn unscathed. My point is not that JOY will go out of business, but instead, it is more likely that share price will decline over the coming months than rise.
Shares of Caterpillar at the moment are on a tear because of the added fuel from Deutsche Bank (NYSE:DB) recommending it as a buy recently. It appears that much is being made over the fact that there was a 9% rise worldwide in retail sales to end users in the construction industry. While 9% is a good figure, the rest of CAT's business lines did not fare as well, other lines such as railroad cars, power generation equipment and earth moving equipment were all down. In fact, earth moving equipment, which CAT is really famous for, was down worldwide by some 8% in the last report. Dear reader, I am not picking on CAT, nor given the current momentum would I recommend going short the stock; my point is to use the bellwether as a type of indicator. In this case, I like to paraphrase an old saying, "if CAT sneezes, JOY will catch a cold".
JOY has a market cap about 12 times smaller than CAT and has significantly higher profit margins, operating margins and return on assets, with a comparable return on equity. Now as an investor, one could argue that it would be easier for JOY to grow, as doubling a market cap from $6 billion to $12 billion is easier than doing so from $67 billion. While it is potentially easier for JOY to accomplish this feat, there are significant roadblocks. Like CAT, one of the selling points for JOY is the expansion demand from China, however, I believe this is a leap of faith argument.
Much has been made of the fact that China's January imports rose 10% year-over-year and they imported record amounts of crude oil, iron ore and cooper. The leap being made here is twofold: 1) that this trend will necessarily carry forward and 2) this will drive demand for heavy machinery that benefits the likes of CAT and JOY. What if this is just a pull forward in demand as a result of preparations for a potential crisis over the China/Japan dispute. In other words, China is stockpiling because a bird in the hand is better than two in the bush. If a crisis were to erupt, their economy would be less affected if they had needed materials on hand rather than having to procure them on the open market, much like the theory behind the US's SPR (Strategic Petroleum Reserve). I know you are thinking that is a crazy thought, but don't let your ethnocentric bias color your view; just because our leadership does not think in these terms does not mean the Chinese, with their multi-year plans, think like we do.
Looking at JOY specifically, it is in the position of depleting its backlog and has had declines in orders. Moreover, over 60% of its primary market is widely believed to be tied to the coal industry, which has not exactly been the picture of health. In its 3rd quarter fiscal reporting, JOY literally "dimmed its 2014 outlook due to an increasingly "challenging" coal market". As a result, JOY's management has looked at the problem and is working hard to cut costs and optimize its business and manufacturing processes to cope with a slowdown in orders. Investors should applaud its drive toward capital efficiency, as all shareholder-friendly businesses should consistently pursue that goal. But I don't think over the longer term this will be enough to overcome the headwinds of declining earnings of 47% year-over-year, 25% collapse in sales year-over-year and a 20% decline in bookings year-over-year. Given that according to Deutsche Bank's Vishal Shah, "we expect mining capex to decline by 55% from 2012 peak and trough in 2016-17", the pie is getting smaller.
Add to the current mix the Chinese machinery manufacturers, and you have another recipe for more pain at JOY. Right now, not much attention is being focused on the Chinese manufacturers like SANY, XCMG and ZoomLion. These manufacturers are being dismissed, as their share prices have fallen and there is a glut of their machinery in China. This is a mistake, as one of the arguments for the likes of JOY and CAT going forward is their ability to capture Chinese market share. It is possible that they could capture share, but at what cost? Are they going to undersell the Chinese, who supposedly have ended their building boom? Another argument that has been made in the past was that JOY, CAT or other well-known manufacturers would do well against Chinese competitors because their quality is better. Just like so many other industries, the quality gap myth is being closed and soon enough will not exist. For the right price, Chinese machinery will sell in many places in the world, and CAT or JOY will be unable to match the pricing and stay profitable.
You see dear reader, in a prior life I ran a small machinery company that manufactured US-made hot chamber die casting machinery and witnessed a China invasion first-hand. For years, my manufacturing company enjoyed great margins and a loyal customer base, but things began to change slowly starting in 1999. At first, a trickle of competitor machines showed up at the major die casting show, but by 2001, they had multiplied. Not only was there more selection for the consumer, but also the quality had improved dramatically. Initially the Chinese machines did not pose a real threat to our business because we could always point to our materials and quality as being superior. The advantage declined in only 3 years, to the point where the Chinese competitors were driving us out of business. As a company, we did everything to become more capital-efficient and lower our costs as well as reduce the cost to the consumer. Doing all those things only staved off the inevitable. One cannot compete when there is an unfair cost advantage. The selling points of our machinery were high-quality, technologically up-to-date and American-manufactured, however, our biggest cost was labor, and we could not compete with the Chinese on that. The net result was the company was squeezed to death and sold to another company that eventually went completely belly-up. One of our best customers summed it up with the following: "I like you guys. You make a hell of a machine but the Chinese machine still costs ½ of what yours does. So even if the quality is somewhat less I can buy 2 of them and have one for a spare". Needless to say, we never sold another machine to one of our best customers again.
So today JOY finds itself in a market where the quality gap is closing, there is a glut of machinery available and Chinese manufacturers with capacity, inventory and a lower cost structure. What makes analysts believe that the Chinese, who have subsidized businesses and have been more than willing in the past to flood markets with cheap items, would be unwilling to fire sale heavy equipment to garner market share and inflict more damage on the US economy?
In its latest quarterly report, JOY's revenue decreased from $1.32 billion to $1.18 billion, but its expenses did not proportionately decrease; cost of revenue was $826 million vs. prior $880 million, a 6% decrease on a 12% loss of revenue. From a balance sheet perspective, JOY makes enough to more than adequately service its liabilities, even so total shareholder equity has declined year-over-year. The company is doing a share buyback over the next 36 months of $1 billion worth of shares, which may help the earnings picture a bit in the future, but that growth would be engineered, not organic. Moreover, the company, at the end of August, reiterated guidance of $5.60 to $5.80 a share on $4.9 to $5 billion in revenues, but what is key in a softening market is it also lowered the 2014 outlook.
On other metrics, JOY is not overly pricey, trading at a price-to-sales ratio of 1.15 and price-to-book of 2.02 times vs. CAT trading at a P/S of 1.11 and P/B of 2.97. On a forward basis, JOY and CAT stack up very closely on price-to-earnings, at 14.98 times and 14.08 times respectively. Of course, one of the things one learns in investing is that things can be cheap for a reason and can easily get cheaper still. I remain unconvinced, given the economic data, that there will be a justification for greatly improved earnings for JOY, and the forward PE of 14.98 will reflect a falling E (earnings) more than a rising P (Price).
Given the fundamentals and the market backdrop, I look to the technicals to confirm or deny this outlook.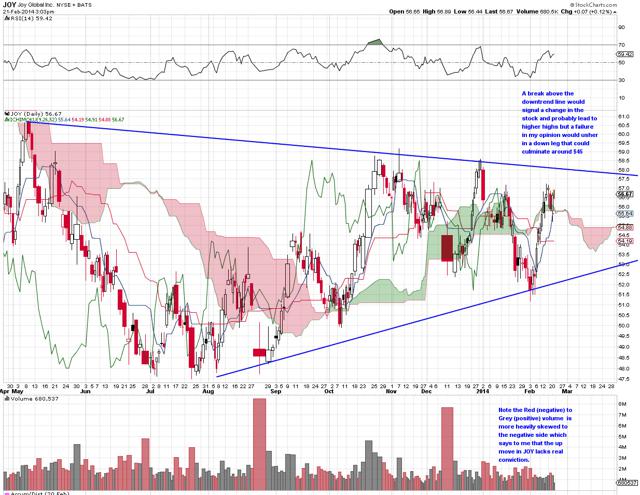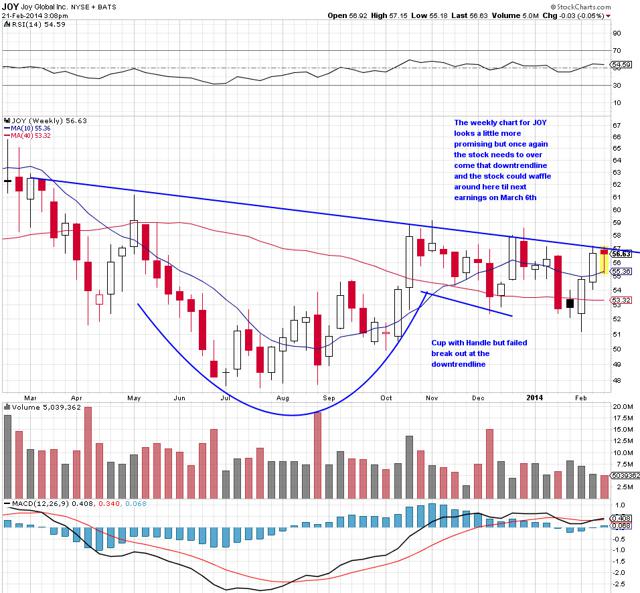 (Source: StockCharts)
As you can see in the charts, above the outlook is murky for JOY and I would not recommend a long position. If on the 6th of March, JOY were to have a poor earnings report and guidance does not improve, it could be on the list as a short candidate. I believe there are other stocks and sectors that would provide a better risk-reward ratio. If one has to be long JOY, then it might be prudent to purchase some downside protection.
Disclosure: I have no positions in any stocks mentioned, and no plans to initiate any positions within the next 72 hours. I wrote this article myself, and it expresses my own opinions. I am not receiving compensation for it (other than from Seeking Alpha). I have no business relationship with any company whose stock is mentioned in this article.