Executive summary:
Dream Unlimited [(DRM.TO)(OTC:DRUNF)] reports solid 2013 results, provides road map for dramatically improved profitability by the end of 2016.
Dream remains under the radar, due in part because it is less than a year-old spinoff from parent company, Dundee Corporation [(DC.TO)(OTCPK:DDEJF)] and is domiciled in under followed Canada.
Two disparate businesses (1) land/real estate development and (2) asset management are both attractive, but difficult to value on a consolidated basis.
_________________________
I have been on the record a couple of times here and here, discussing my bullishness on shares of Dream Unlimited, a little known land/real estate developer and asset manager in Canada. The recent pullback in the share price, and a solid earnings report makes the opportunity more appealing.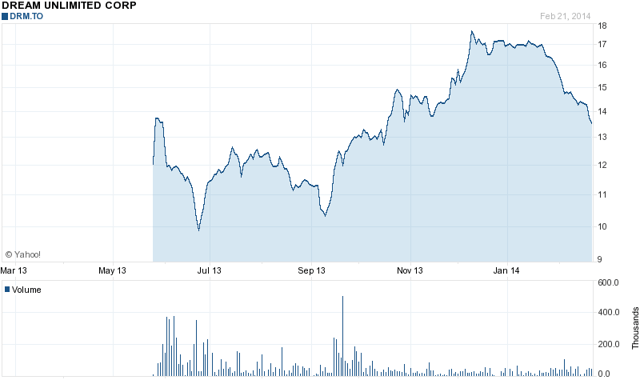 The investment thesis is simple: Dream exhibits many of the classic inefficiencies that create compelling investment opportunities.
First, Dream was spun out by Dundee Corporation because the managers believed the market was mispricing Dream's asset base and operating businesses for lack of visibility under Dundee's conglomerate structure.
Second, Dream trades in the Canadian market, which lacks the same depth of international investor interest relative to publicly traded companies in the United States. Only about 30,000 shares trade daily.
Third, shareholder's interests are squarely aligned with CEO Michael Cooper, who owns a 30% equity interest in Dream.
Fourth, Dream is difficult to value given it has a wide array of assets and operating businesses underlying the value proposition. I view Dream's operations in two segments: (1) land/real estate development and (2) asset management. The land/real estate operations are driven by Dream's expansive land bank in Canada(9,600 acres in development or under contract), while the asset management business throws off annuity-like cash flow and is tied to a perpetual and growing asset base (currently $10.6 billion as of year-end 2013, up from $8.2 billion in the prior year) as the external asset manager to the Dundee namesake REITs, Dundee REIT (OTC:DRETF), Dundee International (OTC:DUNDF), and Dundee Industrial (OTC:DREUF). While there has not been an explicit mention of this, I think one compelling opportunity to grow Dream's asset base will be for the development of a residential and retail REIT as Dream develops apartment, condo, multi-family and retail properties on its lands in the coming years. This would give Dream a buyer for its properties (two new Dundee REITs), and Dream would benefit from the advisory, transaction and incentive fee's for serving as the external asset manager
Where Are We At Now?
After a significant pullback to start 2014, Dream continues to be an asymmetric investment opportunity given the solid earnings report it posted for year-end 2013.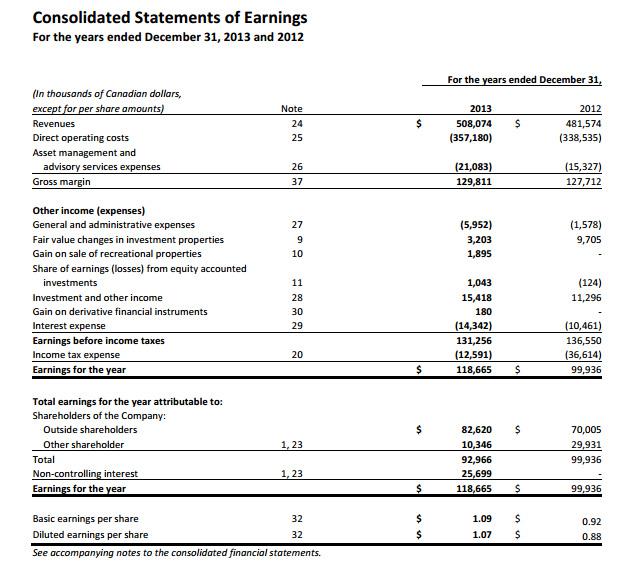 While reported earnings were up 18% year-over year, investors should note that 2013 earnings were affected by one-time favorable tax transactions. But for the one-off tax adjustment, statutory earnings would have been $97 million. While the like-for-like earnings were down slightly year-over-year, this is on account of Dream's fairly lumpy earnings stream which is predicated on weather patterns for lot sale development and the timing on consummated real estate deals, which can affect when earnings are realized.
To that end, Mr. Cooper indicated he doesn't worry about profitability on a quarterly, or even yearly basis. Rather, he is focused on generating significant returns by 2016, when many of Dream's recent growth investments should come to fruition. That is what I like to see in a CEO and owner, a long-term perspective.
I understand Dream is currently applying for building approvals on significant swaths of new land in its key markets, and is focused on extending its real estate activities into commercial real estate development and new types of residential real estate on its lands in Western Canada, including apartments, condos and multi-family homes.
Like I indicated above, I think it makes a lot of sense for Dream to establish two new Dundee REITs in the residential and retail property sectors, thereby creating pure play investment vehicles in those asset classes. It would make a lot of sense as there would be a natural buyer for Dream's real estate development business, and add to Dream's fee earning asset base, creating new, high-margin revenue streams the asset management business. According to Dream's website, it established Dream Centres, which includes significant retail opportunities within many of Dream's master-planned residential communities. The synergies here are easy to see, and the strategy makes a lot of sense to me.
Valuation
In terms of valuation, I'll keep it simple. In my view, the asset management business makes up the entire market capitalization of Dream at the current $1 billion price tag the market is currently assigning to Dream.
To derive an indication of value of the asset management business, a good rule of thumb is to assign a 0.1x multiple to the AUM. That indicates a value of $1.06 billion for the asset management business. Alternatively, one could value the cash flow stream as a low risk, growing perpetuity. My model indicates a cap rate of 2.5% on $25 million in cash flows, valuing the asset management business at $1.25 billion.
Given I can justify the entire current market capitalization based solely on the asset management business, there is considerable value in Dream's land (as evidenced by the consistent 30 - 35% margins) and the real estate business which includes significant scale and should lead to considerable equity value accretion over the next several years. Using recent performance as a historical marker, Dream grew tangible book value 50% over the last two years. Looking out to 2016, Mr. Cooper expects earnings to increase significantly over that time frame, likely adding considerable retained value to the business. Putting it together, this is a business I want to own and tuck away in long-term accounts.
Preferred Shares
One catalyst that exists within Dream's capital structure is the extinguishment of certain preferred shares. Dream issued 6 million, 7% coupon preferred shares as part of its separation from Dundee. I understand the preferred shares can be redeemed at any time by Dundee (holders) at $7.30/share this year; $7.23/share in 2015; or $7.16/share in 2016.
The preferred's currently trade at $7.53, so it is unlikely holders will redeem at the lower price. Alternatively, Dream can call back the shares if certain price thresholds are met, but generally under the same terms described above.
This will have a minor impact on the business, and Dream is well capitalized to make the ~$42 million payment when it occurs. That said, the removal of the Dundee preferred's will clean up the capital structure for the common.
Dividends On The Way?
Once Dream dials back the reinvestment in the various high-return projects it is currently engaged, Dream's cash generation profile will likely set it up to return significant cash to shareholders via a regular quarterly dividend.
The question was asked by an analyst on the most recent conference call. Mr. Cooper indicated that there are a number of attractive opportunities for reinvestment in 2014, but hinted that a dividend is something Dream will consider in the future.
My guess is that shareholders will see a dividend sometime in 2015 or 2016, at which time Mr. Cooper indicated that Dream will throw off considerable cash flow.
Conclusion
Dream is what I consider to be an "Inevitable." The term was described by Warren Buffett in his 1996 Annual Letter, where he candidly discusses what makes successful (inevitable) investments: great management, exposure to an attractive industry, a solid competitive position and, of course, low prices relative to an estimate of value.
To that end, Mr. Buffett explains:
Your goal as an investor should simply be to purchase, at a rational price, a part interest in an easily-understandable business whose earnings are virtually certain to be materially higher five, ten and twenty years from now. Over time, you will find only a few companies that meet these standards - so when you see one that qualifies, you should buy a meaningful amount of stock. You must also resist the temptation to stray from your guidelines: If you aren't willing to own a stock for ten years, don't even think about owning it for ten minutes. Put together a portfolio of companies whose aggregate earnings march upward over the years, and so also will the portfolio's market value.
Dream fits the bill for my portfolio. Investors are getting an attractive, high-margin, growing perpetuity in the asset management business and vast portfolio of land assets and a real estate development business "for free."
Accordingly, Dream is a cornerstone investment in my long-term retirement account. I expect it to be worth appreciably more in 3 years (and 20 years).
Disclosure: I am long DRUNF. I wrote this article myself, and it expresses my own opinions. I am not receiving compensation for it (other than from Seeking Alpha). I have no business relationship with any company whose stock is mentioned in this article.