Midwest regional First Defiance Financial (NASDAQ:FDEF) has shined serving small-town USA in places like Lima, Defiance, and Bowling Green. First Defiance has been getting more than its fair portion of the pie in the hinterlands of the Rust Belt. For instance, the bank's market share of Defiance County dwarfs that of powerhouse KeyCorp (NYSE:KEY), Huntington Bancshares (NASDAQ:HBAN), and Fifth Third (NASDAQ:FITB). Needless to say, there aren't any TBTF banks providing financial services to the 3500 people who live in Hicksville, Ohio, leaving that tiny community's $27 million of deposits to First Defiance. The $2 billion asset bank plays in the low population communities of Northwest Ohio, Southeast Michigan, and Fort Wayne, Ind. - areas that are "relatively" underserved by larger banks.
The small-town model has worked: Assets under management have climbed over 350% in the last 20 years and the stock is up over 380% in the last 5 years, outperforming its regional benchmark (NYSEARCA:KRE) by a wide margin. Despite the star performance, not too many investors are paying attention: Only 51 readers at SeekingAlpha have requested First Defiance Email alerts. To put that unusually small interest in perspective: Sixty-six thousand readers signed up for Citigroup (NYSE:C), a bank that underperformed the regional bank index by 7000 basis points and underperformed FDEF by a whopping 35,000 basis points. Perhaps those 51 subscribers are onto something. Certainly, this off-the-beaten-track Rust Belt regional bank has been minting money for savvy investors these past 5 years. Of course, dwelling on the past doesn't make anyone a dime - it's only a stock's future performance that counts.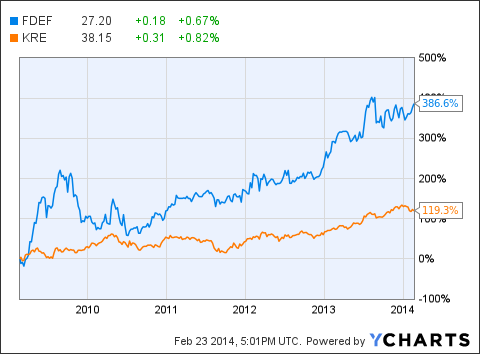 Background
First Defiance's 32 branch offices operate as the First Federal Bank of the Midwest making commercial real estate and C&I loans with a smattering of noncommercial loans. The bank does run an insurance division but that's small potatoes, generating only 10% of the overall revenue.
The New Direction: M&A
Last October, First Defiance declared its intention of expanding in Northwest Ohio, Northeast Indiana and Southeast Michigan. This piqued my interest - the bank hasn't made an acquisition since 2007. This week, FDEF announced an acquisition of Columbus-based First Community Bank. While I like that FDEF is elbowing its way into the new Columbus market, I don't think the First Community acquisition is the way to do it. For those unfamiliar with First Community, this is a tiny 4-branch community bank in Columbus, Ohio with $91 million in deposits and $65 million in deposits.
First Community has been struggling to stay relevant in over banked Columbus. Despite a 111-year history, First Community has only managed to generate $10.6 million of tangible equity, no doubt feeling the weight of blistering competition. Twenty-seven other financial institutions blanket Columbus with over 250 competing branches: U.S. Bancorp (NYSE:USB) has over 20; PNC (NYSE:PNC), J.P. Morgan Chase (NYSE:JPM), and Fifth Third each have over 35; while Huntington National has inundated Columbus with over 60. Up against the heavy competition, it's a wonder First Community made it this far. I think First Community was hanging on by a thread and is wise to take the money and run. The First Community acquisition gives FDEF only a miniscule toe-hold in the Columbus market - and I am left wondering: "Why take on 27 firmly entrenched banks from the weak First Community?" The purchase price isn't particularly compelling for a 0.59 ROA bank - First Community is going for $12.9 million in cash, or 1.22X TBV, not counting merger costs.
To date, FDEF has avoided highly competitive markets like Columbus and instead centered on the small towns of the MidWest. I believe FDEF should have stuck to its knitting and expanded the rural footprint that has served the company so well.
Where First Defiance Is Now: Fairly Valued
After climbing more than 380% in 5 years, First Defiance is no longer cheap. Valued at 1.4X TBV, the bank is fairly priced considering its middle-of-the-road 0.95 ROA and 7.5% ROE. Like so many other banks, First Defiance has experienced falling loan yields and weak mortgage lending, creating headwinds to any chance it can raise its returns. While it is likely FDEF can again deliver low-digit loan growth this year, the continued drop in loan yields will more than offset that increase.
For the last 5 years, First Defiance has salvaged its net interest margin by reducing the cost of its deposits. First Defiance is unlikely to squeeze depositors any further, setting up a net interest margin disappointment. And, while First Defiance will probably reduce overhead costs, I do not expect any dramatic results. All in all, the bank is not going to deliver enough good news to move the stock much higher.
Bottom Line
Share prices have outpaced the bank's ability to grow its revenues and earnings. First Defiance should track its regional banking benchmark. I would keep my eye on further M&A activity. A transformative merger could add considerable upside. For now, barring a pullback, I would hold off investing in the stock. AVOID.
Disclosure: I have no positions in any stocks mentioned, and no plans to initiate any positions within the next 72 hours. I wrote this article myself, and it expresses my own opinions. I am not receiving compensation for it (other than from Seeking Alpha). I have no business relationship with any company whose stock is mentioned in this article.
Additional disclosure: The opinions in this document are for informational and educational purposes only and should not be construed as a recommendation to buy or sell the stocks mentioned. Past performance of the companies discussed may not continue and the companies may not achieve the earnings growth as predicted. The information in this document is believed to be accurate, but under no circumstances should a person act upon the information contained within. We do not recommend that anyone act upon any investment information without first consulting an investment advisor as to the suitability of such investments for his specific situation.