Last week I wrote a Seeking Alpha article on 13 REITs that pay monthly dividends. I explained that "many income investors are looking for monthly dividend payments to support their income during retirement… and by investing in REITs that pay monthly, you're able to better match fund your living expenses and create a more disciplined approach to saving and investing."
I also explained that other investors prefer "putting their money back to work" by reinvesting the dividends much "like owning a free share machine." I explained that many pre-retirement investors, like me, want monthly dividend stocks for their IRAs, for faster compounding.
Many of the 13 REITs that I listed (in the previous article) are "Triple Net REITs," meaning that they lease to companies under long-term leases. More than 50% of these monthly paying REITs generate income by renting space to tenants that have contractual leases that increase rent on a set time frame, generally every five years or so.
Accordingly these REITs are more stable in their income characteristics because their tenants have built-in rental increases making the cash flow much more stable and predictable. These Triple Net REITs that pay monthly include: American Realty Capital Properties (ARCP), Chambers Street (NYSE:CSG), EPR Properties (NYSE:EPR), Gladstone Commercial (NASDAQ:GOOD), Gladstone Land (NASDAQ:LAND), Realty Income (NYSE:O), STAG Industrial (NYSE:STAG).
During the REIT sell-off last year that began in late May, the Triple Net REITs were the hardest hit. Accordingly, because the Triple Net REITs have "bond-like" leases, the market reaction was more significant than the other sectors, with leases that are more unpredictable. The correction in pricing sparked an opportunity for investors to take advantage of the "over reaction," and many people increased exposure in the more defensive Triple Net category.
However, although the Triple Net REITs remain fairly cheap - or what I would refer to as "soundly valued" - the Hotel REITs are on the cheaper end of the spectrum. Of the 14 Hotel REITs sampled, nine of them are trading at a Price to Funds from Operations (or P/FFO) of 13.2x or less. In other words, 64% of the Hotel REITs are trading well-below the average equity REIT valuation multiple (of 16x).
In 2013, the Hotel REITs out-performed all other REIT sectors (and sub-sectors) by generating Total Returns of 27.18%. The other sectors did not even come close, and the only other sector that generated a double digit return in 2013 was Manufactured Homes (at 10.46%). However, so far this year (2014), the Hotel REITs have under-performed ranking in next to last place (for the month of January) with a Total Return of negative 2.57% (source for data: NAREIT).
Of the list of 13 REITs that pay monthly dividends, there is only one Hotel REIT. That REIT, Chatham Lodging Trust (NYSE:CLDT), managed to produce a Total Return in 2013 of 39.27%.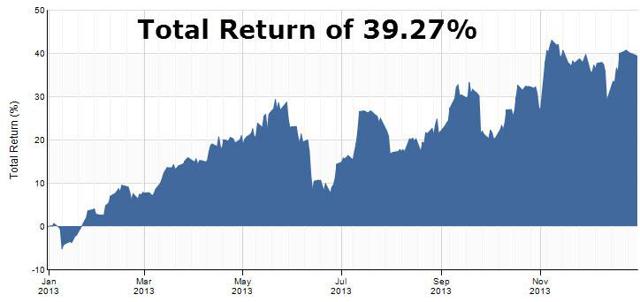 Chatham shares are currently priced at $20.63 with a P/FFO multiple of 11.6x. The current dividend yield is 4.07% and the return since Jan. 1, 2014 is 1.22%. Chatham is the smallest Hotel REIT today with a Market Cap of around $543 million.

Chatham Lodging: A REIT Brand Unfolding
In just less than four years, Chatham has grown in assets from around $222 million to more than $673 million (as of Q4-14). The Palm Beach-based REIT listed shares on April 2010, and since that time the company has successfully acquired more than 24 hotels. The company's room count has grown from 813 to more than 3,431 (as of Q3-13). Chatham invests in many of the premium brands located in the Top 25 MSA (approximately 83% of hotel EBITDA from top 25 MSAs).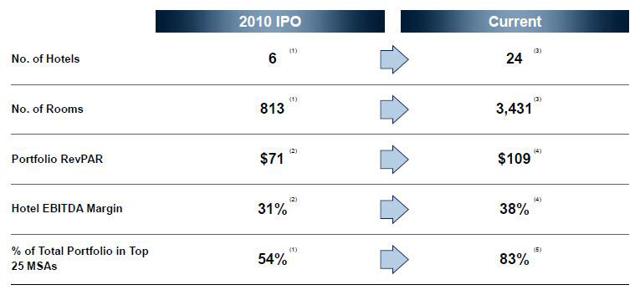 Approximately 83% of Chatham's EBITDA is generated from the 25 largest MSAs, such as Boston, Washington, DC and Los Angeles. Not surprisingly, the best earnings are from areas that are seeing job growth, and where there's job growth there's pressure on supply, and people want to be there. Chatham has demonstrated its ability to selectively target certain hotels within certain very specific markets and target markets with high barriers to entry and growing demand generators.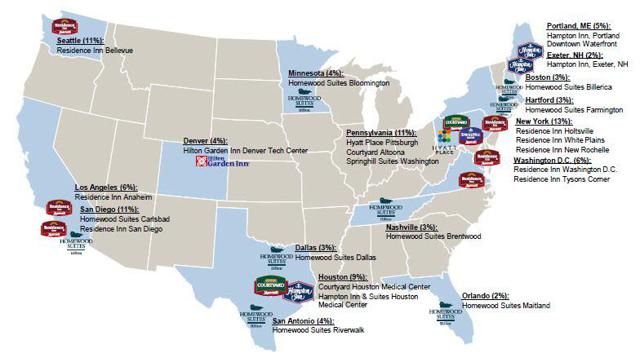 Chatham pursues a unique strategy of focusing on premium brand select service hotels such as Residence Inn, Homewood Suites, Hyatt Place, Courtyard and Hampton Inn. Chatham concentrates on upscale extended stay properties that generate a 10% to 15% occupancy premium.
By focusing on these "premium brand select" hotels, Chatham earns higher RevPAR and market share than other select service hotels. That means higher margins and lower cost and attractive cash flow that is not dependent on group business models. Here is a snapshot of Chatham's premium brand select service hotels compared with Full Service.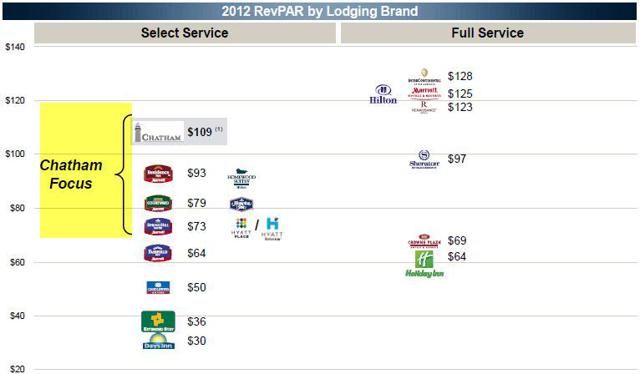 More than two-thirds of Chatham's portfolio is in the upscale extended-stay segment. Homewood Suites and Residence Inn account for more than 68% of Chatham's EBITDA.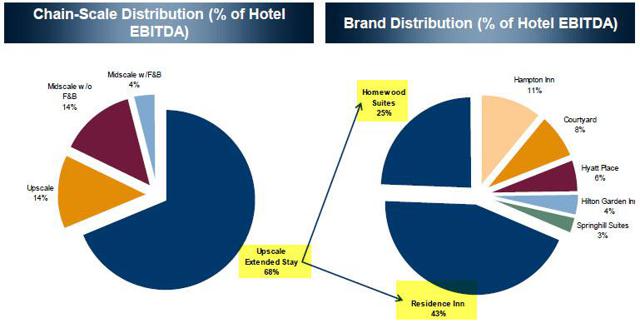 Other well known flags owned by Chatham include: Hampton Inn (11% of EBITDA), Courtyard (8% of EBITDA), Hyatt Place (6% of EBITDA), Hilton Garden Inn (4% of EBITDA), and Springhill Suites (3% of EBITDA).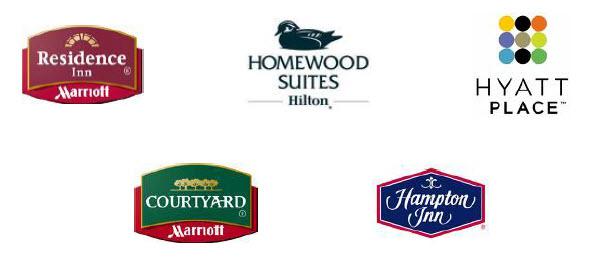 Why Do Upscale Extended Stay Hotels Outperform?
Upscale extended-stay hotels outperform the industry occupancy, creating the potential for outsized room rate and flow-through growth. Chatham's hotels, mostly extended stay and select service hotels, run high occupancies, and their markets command high rates and occupancy.
As evidenced by the snapshot below, the upscale extended-stay segment is the segment of choice for many travelers. In 2013, Chatham's occupancy has climbed to almost 25%, and given that the hotels had a significant market share premium, Chatham should be able to drive rates higher while maintaining or raising occupancy levels.

During the latest quarter (Q4-13), one-third of Chatham's portfolio saw RevPAR growth more than 10% - in strong growth markets like Houston, Boston, Nashville, Brentwood, Minneapolis, Bloomington, Portland, Maine, San Antonio, and Savannah. The company-wide portfolio is showing really consistent strong RevPAR growth, and as evidenced below most of the growth has been in the upscale extended-stay segment.

Also as evidenced below, Chatham generates market leading occupancy rates. Here is a snapshot of occupancy rates (in 2012) for Chatham and the peer group: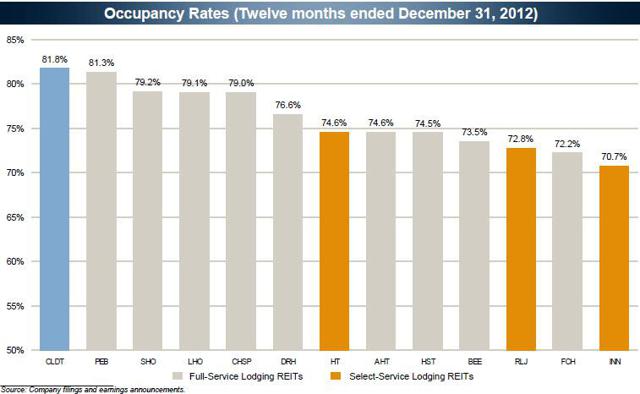 Chatham's fourth quarter operating margins expanded pretty significantly, up 170 basis points to 43.6% and, as referenced above, the company's uniquely-positioned operating model is the primary reason that Chatham has leading EBITDA margins. The increase in the latest quarter is attributable not only to the differentiated investment strategy but also the acquired hotels where margins increased 220 basis points to 44.5%.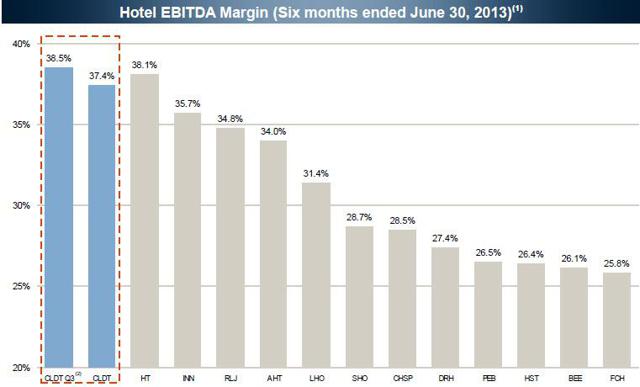 Most Hotel REITs utilize a high degree of secured debt, so it was no surprise to see Chatham with around 100% in mortgage-based debt. However, compared with the peer group, Chatham has a reasonably safe leverage ratio of around 33% debt to market cap: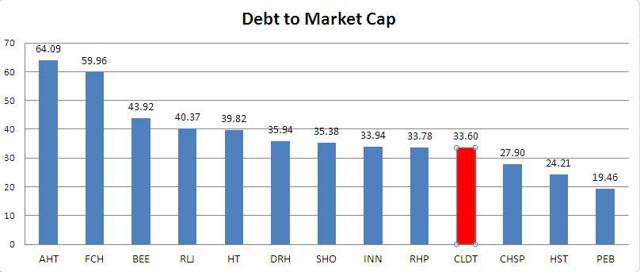 In addition, Chatham's Net Debt + Preferred 2014 Estimated EBITDA of 4.9x is considered conservative as compared with the peer group: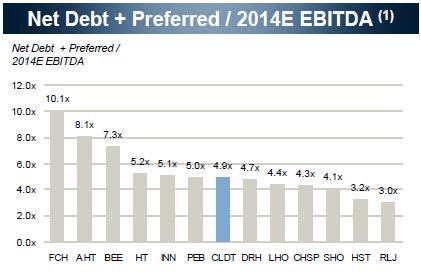 Chatham has no debt maturities through April 2015, and the majority (95%) of the debt is fixed rate.
During the fourth quarter, Chatham upsized its revolving line of credit from a maximum capacity of $115 million to $225 million while maintaining very attractive credit spreads. Average borrowing costs are approximately 4.5% (as of December 31), and the weighted average rate on fixed rate debt was just under 5% to 4.99%.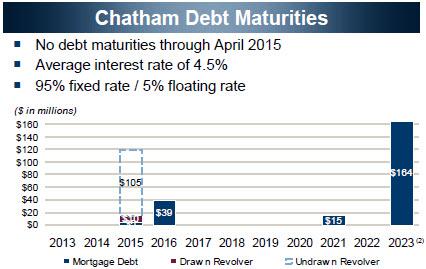 During the fourth quarter, Chatham closed an approximately $48 million loan on the downtown Bellevue Residence at a rate of 4.97%. The weighted average dent maturity is around 7.3 years (for the Chatham loan portfolio):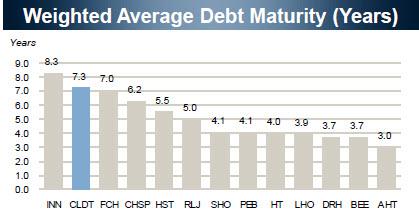 During the latest earnings call Chatham management said that it "can make at least another $200 million of acquisitions and still be comfortable using the balance sheet to take advantage of those opportunities as they arise and looking at fixed rate loans to lock in rates on a ten year basis." Commenting on the latest conference call, Chatham's CEO and Chairman, Jeff Fisher, explained:
These last two acquisitions capped off a round of incredible portfolio acquisitions and additions that I said since late 2012 acquiring seven hotels comprising 1179 rooms for approximately $260 million. We've grown our rooms owned approximately 50% from 2412 rooms to 3591 rooms.

Chatham's Reliable Monthly Dividend
Driven by Chatham's unique operating strategy, the company continues to deliver market leading Funds from Operations (or FFO) growth, as explained by the company's CEO (Jeff Fisher):
With strong top-line revenue growth and continued margin expansion combined with the significant reduction in borrowing costs, we've been able to significantly expand FFO up 150% to $7.6 million.
Chatham's Adjusted FFO (or AFFO) jumped almost 160% to $7.6 million, up $4.7 million from the 2012 fourth quarter, and on a per share basis, FFO per share rose almost 40% to $0.29 compared to $0.21 in 2012.
That solid earnings growth ranks Chatham as one of the top performing Hotel REITs as compared with periods 2011-2014E. With an estimated 24% CAGR for that period, Chatham is considered a top pick for small cap REITs in 2014.

Chatham is currently paying a MONTHLY dividend of 4.07%, and that rank is in the higher range of the peer group: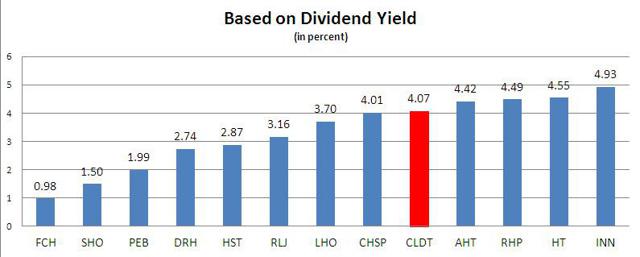 Chatham has increased its dividend significantly since the 2010 IPO, driven by strong free cash flows and by using conservative leverage.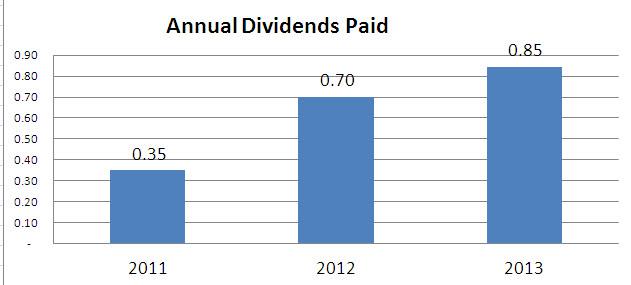 Chatham has stated since its IPO that it would continue to grow dividends in tandem with earnings. As a percentage of FFO per share, Chatham paid out approximately 60% in 2012 and 56% in 2013. Here's what the company's CFO, Dennis Craven, said on about dividends during the latest earnings call:
Our confidence in the overall health of the hotel industry remains very positive and our Board of Trustees will reevaluate the 2014 dividend for the second quarter. We know the dividends make up the primary component of REIT returns over time and our goal is to continue to build a successful company that produces strong cash flow that will provide such dividends to our shareholders.

Is Chatham a Buy?
First, let's analyze the current Price to Funds from Operations (P/FFO). As you can see below, Chatham trades a multiple of 11.6x, making the REIT a relatively safely REIT and one I would describe as "soundly valued."

As evidenced by the FAST Graph below, Chatham appears to be trading at an attractive price ($20.63) and a relatively sound dividend (of 4.07%). However, given the more recent run-up in price (over the last 6 month), I would wait until Chatham falls in price to around $18.00, yielding around 4.75%.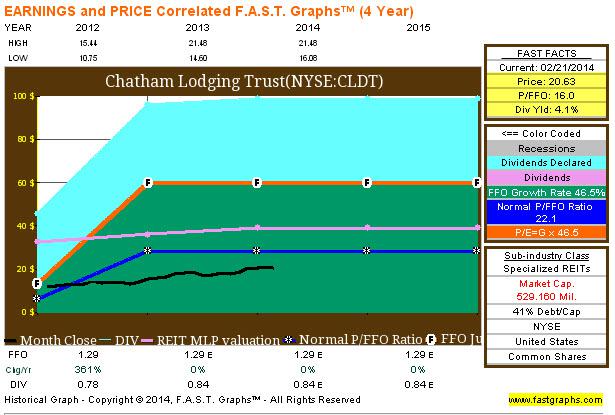 Chatham has certainly turned in an excellent report card by returning more than 97% since Nov. 2011.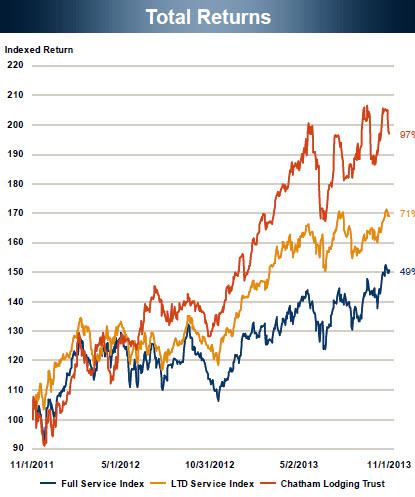 Furthermore, Chatham appears to be on a continued growth trajectory that should enhance the likelihood of future dividend increases. I wish I would have gotten in earlier (in early 2013); however, I think there's an opportunity when shares get a little less frothy.
I currently have no exposure in Hotel REITs, and I believe that Chatham's investment strategies are well-aligned with mine. I do like the fact that Chatham pays a monthly dividend, and I really like the fact that this REIT has a uniquely-positioned model that has the potential for quantifiable out-performance.
I will remind you that hotels are much more cyclical than many other REIT sectors as occupancy levels can be volatile at times. As a frequent traveler and a Hilton Honors member, I have grown to appreciate the select service hotel brands and one of my favorites is Hampton Inn. The current slogan for Hampton Inn is "We love having you here."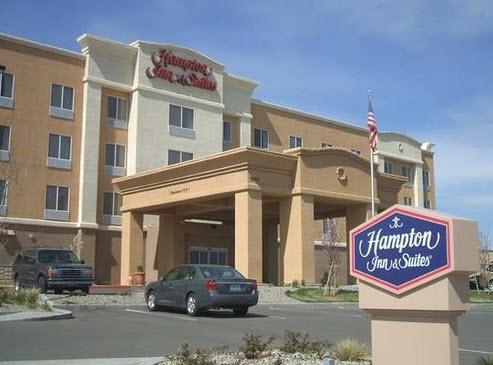 I would love having Chatham Lodging in my investment portfolio. I can't call Chatham a "sleep well at night" REIT yet; however, there may be a comfortable place for this Hotel REIT in my SALSA portfolio. My TARGET BUY price is $18.00 with a dividend yield starting at 4.75%. I'm including Chatham in my SALSA portfolio (see my newsletter HERE).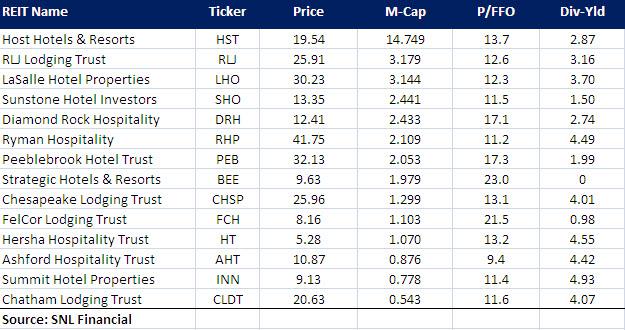 Source: SNL Financial, FAST Graphs, and Chatham Investor Presentation.
Other REITs referenced: (NYSE:INN), (NYSE:CHSP), (NYSE:HT), (NYSE:AHT), (NYSE:LHO), (NYSE:RLJ), (NYSE:DRH), (NYSE:HST), (NYSE:PEB), (NYSE:SHO), (NYSE:FCH), (NYSE:BEE), and (NYSE:RHP).
Disclaimer: This article is intended to provide information to interested parties. As I have no knowledge of individual investor circumstances, goals, and/or portfolio concentration or diversification, readers are expected to complete their own due diligence before purchasing any stocks mentioned or recommended.
Disclosure: I am long O, DLR, VTR, HTA, STAG, UMH, CSG, GPT, ARCP, ROIC, MPW, HCN, OHI, LXP, KIM. I wrote this article myself, and it expresses my own opinions. I am not receiving compensation for it (other than from Seeking Alpha). I have no business relationship with any company whose stock is mentioned in this article.