J.C. Penney Sales
Q4 2013 sales of J.C. Penney (NYSE:JCP), the distressed retailer, rose 2% over Q4 2012, adjusted to a comparative 13 week period. This should result in 2013 Q4 sales of $3.75 billion. Until 2013 reporting is published, the following information cannot be known:
▪ JCP's gross margin for this period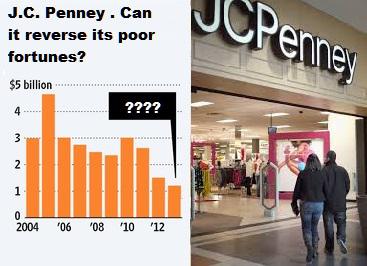 ▪ How JCP's declaration of $2 billion Q4 liquidity is calculated.
▪ What is JCP's gain or loss?
Liquidity
Before we continue, let us discuss liquidity. When I finish you will understand why I say that liquidity has a dark side. "Liquidity" may be defined in many ways since it is not a GAAP metric. "Liquidity" may be anything that one says, very much like the cartoonist Al Capp's Schmoo that would jump into a frying pan and become a rare steak if an observer desired such food. When assessing the financial health of JCP, one should have a good notion of how the term "liquidity" is used, otherwise be lost in a forest of conflicting ideas. Some definitions of liquidity may be:
Liquidity equals working capital plus available short term borrowing commitment. Working capital is 'Current assets less current liabilities."

"Liquidity" equals cash and cash equivalents plus short-term borrowing commitment.

"Liquidity" means how quickly a business may get its hands on cash.
I could not write this article without the assistance of Rolando Ghedini, MSIA, who explained many liquidity concepts to me. I must point to the fact that he may not agree with many of my conclusions.
Meaning of Liquidity
I cannot justify JCP's claim of $1.71 liquidity at the end of Q3 2013. I cannot duplicate this amount by viewing JCP's 10Q. I invite my readers to explain how this amount was calculated. I will use my first definition (working capital) in my discussion since it is a better indicator than the other two that for predicting a distressed business's survivability. The Bloomberg link states that this amount is cash plus what funds JCP may still draw from its short-term borrowing commitments. I see the cash amount to be $1.227 billion and the unused credit line to be $666 million. This adds to $1.893 billion and does not resolve my confusion.
My purpose is to tell how, using my definition, liquidity cannot increase in a business that has no profit, unless an outside cash infusion is made.
If one uses $3.75 billion as a sales amount, calculates gross margin based upon a sales markup of 30% ($1.125 billion), reduces the result by SG&A, one should arrive at the addition or reduction to liquidity (assuming no other exceptional financial events have occurred.) An examination of JCP's SEC filings do not indicate any such unusual transactions. Unexceptional events like further inventory purchases that are offset by increased payables don't change liquidity within my system.
Financial Metrics
J.C. Penney's year 2012 Q4 SG&A was $1.395 billion. Since then JCP has reduced staff and lowered other expenses. I estimate that SG&A has been reduced by 10%, resulting in year 2013 Q4 SG&A being $1.26 billion. These calculations indicate JCP would have a liquidity reduction measured by the addition of 30% GM, or $1.125 billion, then reduced by SG&A of $1.260 billion, netting a $135 million reduction in liquidity.
If these amounts are close to actual events then how could JCP's liquidity increase to $2 billion, a rise of $290 million from its Q3 2013 stated $1.71 liquidity, instead of falling by $135 million?
Let's assume that JCP GM rose to the limit of what would seem possible, 36% GM. This would infuse $225 million more cash into liquidity. It would still be $200 million short of JCP's claim that liquidity is $2 billion in Q4 2014.
Each 1% change in GM would alter cash flow by $37.5 million. The following chart shows approximate possible Q4 2013 ending liquidity values:

The JCP initial claim of a $290 million increase in liquidity is a mystery. It may indicate some change in value that has not been stated or it may mean that JCP and I use different methods to calculate liquidity.
With my definition, a sell-off of inventory, if a business is not profitable, does not positively affect liquidity. Ignoring other metrics, a profit is required to increase liquidity. For example: Under the cash as liquidity definition, JCP could be near bankruptcy because all inventory might be sold off while investors think all is well.
How has liquidity increased? This is a controversial question because there is no single answer. My calculations and methods will display dangers long before some liquidity evaluation methodology that may be used by others
Wednesday's year-end report will tell much.
Disclosure: I have no positions in any stocks mentioned, and no plans to initiate any positions within the next 72 hours. I wrote this article myself, and it expresses my own opinions. I am not receiving compensation for it (other than from Seeking Alpha). I have no business relationship with any company whose stock is mentioned in this article.