Last week I closed out positions in Helmerich & Payne (NYSE:HP) and Caterpillar (NYSE:CAT) at a profit, and plan to redeploy a part of the proceeds by adding to an existing position in Occidental Petroleum (NYSE:OXY).
OXY is a book value play, with abundant evidence of management's determination to unlock value. Briefly, shares trade at a Price/tangible Book of 1.8, vs. a five year average of 2.0, which includes the financial crisis.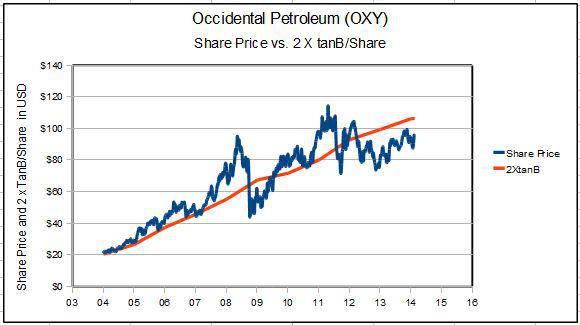 CEO Steve Chazen, in a ten year old interview given when he was CFO, mentions that the ratio of undeveloped proved reserves to total proved reserves is an indication of how conservative the accounting is. Speaking shortly after the Shell debacle, he states that 20% is conservative, while 50% would be aggressive.
OXY as of the 2012 10-K stood about 24% on this metric, compared to approximately 45% for Exxon (NYSE:XOM) and ConocoPhillips (NYSE:COP). The conclusion: OXY's reserves are booked conservatively, and may merit a 20% premium compared to the more aggressive accounting used by the two peers mentioned.
The company has gone public with plans to slim down by divesting non-core assets. A portion of their MENA operations is for sale, with negotiations ongoing. They sold some mid-continent assets, and state that the proceeds will be returned to shareholders in the form of buybacks. Now they have announced that they will spin off the California operations and move their HQ to Houston, Texas.
I was able to locate articles detailing the regulatory regimes in CA and TX, with exactly the information you would expect. CA regulation is obstructive and dilatory, while TX regulation is non-existent. I see a trend where the company focuses on assets that are subject to minimal political/regulatory risk.
In the previously mentioned article, then CFO Chazen remarked that West Texas assets would deplete more slowly than GOM assets, like 7-8% vs 20% annually. I conjecture that OXY has accumulated assets that deplete according to his preferences. Again, this would argue that the assets are premium quality.
Chazen will continue as CEO through 2016. He is 66 and owns shares worth $199 million. His credentials include a PhD in Geology, long experience as a CFO, and a stint at Merrill Lynch. I suspect he has deferred a well-earned retirement because he's good at what he does and expects to finish his career with a fine performance.
Valuation
After putting all of this through the blender, I will be investing on the basis that the current tangible book around $53 per share will serve to underpin a price as high as $140, including the California spin-off. The heavy lifting will have been done by 2016, when Chazen will ride off into the sunset.
From a recent price in the $95 area, annualized capital appreciation could be as high as 20% for the two year period.
Dividends and Buybacks
From a recent press release:
The Board raised the Company's dividend by $.08 to $.72 per quarter, or an annual rate of $2.88 per share, from the previous annual rate of $2.56 per share. Occidental has now increased its dividend every year for 12 consecutive years, and a total of 13 times during that period. The total increase in the annual dividend rate from 2002 is 476 percent. The Company has paid quarterly dividends continuously since 1975.

The Board also has authorized the repurchase of an additional 30 million shares of the Company's common stock. The share repurchase authorization remaining at the end of 2013 was 7 million shares. The program does not require purchases to be made within a particular timeframe. Share repurchases will continue to be funded from available cash from operations, excess cash on hand and proceeds from asset sales as part of the previously announced strategic review. Occidental expects to announce additional increases to its share repurchase authorization as the strategic review progresses.
The stock is suitable for dividend growth investors. In addition to a realistic expectation of an increasing flow of dividend payments, the investor may look for capital appreciation, fueled by buybacks and operations focused on profitable opportunities after non-core assets have been divested.
Spin-offs Unlock Value
Anecdotally, my personal experience with spin-offs has been that they are positive for investors. There have been academic studies done, which confirm this impression. From ablogaboutfinance:
But is there empirical evidence on the benefits of spin offs? A broad range of empirical studies demonstrate that both the mother company and the spun off unit on average increase in value after being separated; while such research has traditionally focused on developed markets (Veld and Veld-Merkoulova, 2004), research has recently found similar results in developing markets. Md Hamid (2010), for instance, has analyzed 25 corporate spin-offs in Singapore and has quantified the overall benefit as an increase in the value of the parent company by 15.73 percent. This is made up of a 6.62 percent increase, which accrues to the spun off unit, and a 9.11 percent increase that accrues to the original firm.
The planned California spin-off will create a situation where the investor will be able to get purely US oil and gas assets in a well-capitalized company. It would be good insurance against Mideast conflict, for example.
Disclosure: I am long XOM, COP, OXY. I wrote this article myself, and it expresses my own opinions. I am not receiving compensation for it. I have no business relationship with any company whose stock is mentioned in this article.
Additional disclosure: I'm a retail investor, and blog in order to expose my thinking to critical examination and comment from readers, and as a way of talking shop. I'm writing about what I do with my discretionary investments, and not giving advice of any kind.