AT&T (NYSE:T) isn't the sexiest name in the market, but if you're looking for steady income at a reasonable price, it does have some compelling attributes as a stock at the current valuation. The company is the largest player in the US cell market, but continues to lose landline subscribers at a faster rate than Verizon (NYSE:VZ). Revenue is essentially unchanged over the last few years and free cash flow fluctuates from year to year. However, with an attractive dividend and some positive signs in the wireless and broadband businesses, I think buying at today's valuation, with dividend reinvestment, could be a great entry point for a long-term holder.
Business Developments
Data continues to be a driver of revenue growth with 4Q13 data revenue increasing by almost 17% relative to 4Q12
Total 4Q13 wireless revenue increased 4.5% over 4Q12
Postpaid ARPU (average revenue per user) increased 2.1% in 4Q - marking 20 consecutive quarters of growth
Customer churn hit a record low of 1.1% in 4Q for postpaid customers and was 1.43% overall
Added 529k net new smartphone customers and 809k total net new customers
Added 2.7mm net new U-Verse customers in 2013 and 630k in 4Q13
U-Verse now represents 57% of wireline revenues
Big Drag - Wireline voice revenue continues to decline, dropping over 11% in 2013 to $28.5bn from $32.2bn
Cash Flow Generation
The company has been a strong, steady cash flow generator for years. Over the last six years, average annual free cash was $15.5bn. The company expects this to drop in the next few years to the $11bn a year range as capex remains high from project VIP and operating activities produce lower cash flow. That said, the company paid out $9.6bn in dividends in 2013, giving it some cushion to continue with moderate dividend increases. It has also been generating cash flow from asset sales, which has helped fund buybacks and dividends and will likely continue to do so over the next few years.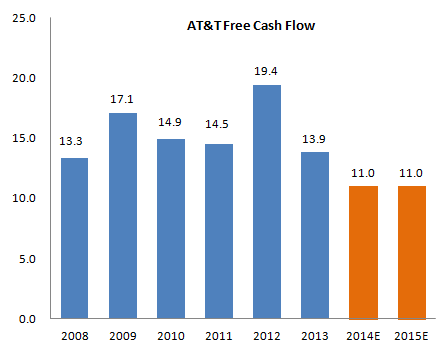 Share Buybacks
The company has been a prodigious buyer of its own stock over the last two years, repurchasing more than $25bn, or over 10% of the shares outstanding. I'm generally a fan of share repurchases, but one thing I really like seeing is a company repurchasing its shares at attractive prices. Throughout 2013, when AT&T's stock was flat to down on the year, the company continued buying shares. It bought almost $13bn in shares last year at what looks like an attractive price to me.
The company has added about $10bn in new debt in the last two years to partially fund the buybacks. The company has stated its desire to maintain its current debt ratios and credit rating, so while the company has about $5bn left on its current buyback authorization, it will likely have to slow the rate of buybacks over the next couple years. That said, the company has also talked about divestitures as a way to generate non-operating cash flow, providing additional funding for buybacks without having to fund them with debt. The company has stated its commitment to retain A-rated credit and is currently only 1.8x net debt/adjusted EBITDA.
The Dividend
At the current price, AT&T is yielding an attractive 5.6%. That's almost 300 basis points over the 10-year Treasury rate and I think very attractive for a $175bn market cap company that has strong and relatively stable free cash flow generation. AT&T has raised its dividend for 30 straight years. The increases are steady and stable in the low digit range (average 2.4% over the past five years) and I would expect that to continue going forward. The company has sufficient free cash flow coverage for the dividend. In 2013, FCF/dividend was 1.4x and has fluctuated between 1.4x and 1.9x since 2010.
Relative Underperformance
AT&T stock has significantly underperformed over the last year. Including dividends, T has returned a negative 3.2%. By comparison, Verizon is up 8.6% over the same time period while the S&P 500 is up over 21%. Over the last 12 months, that's ~25% relative underperformance to the S&P 500. AT&T trades at an attractive 8.0% LTM cash flow yield and a reasonably low 12.3x forward P/E multiple. Given mid-single digit EPS growth, which could potentially improve from share repurchases, and a 5.6% dividend yield, buying AT&T in the low-mid $30s presents an attractive entry point for a long-term income-seeking investor.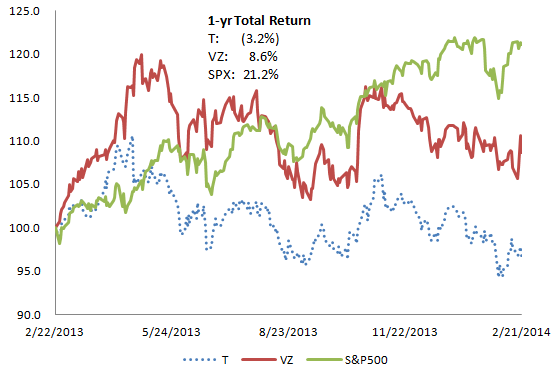 Disclosure: I have no positions in any stocks mentioned, but may initiate a long position in T over the next 72 hours. I wrote this article myself, and it expresses my own opinions. I am not receiving compensation for it (other than from Seeking Alpha). I have no business relationship with any company whose stock is mentioned in this article.