Company Diagnostic Series: Nike, Inc. Overall Rating: ★★★★☆
| | | |
| --- | --- | --- |
| Closing Price | | $ 76.34 |
| Fundamental DCF Value | | Hold |
| Relative Value | | Sell |
| Technical Analysis | | Hold |
| Growth & Dividends | | ★★★ |
| Investment Returns | | ★★★★★ |
| Debt Levels | | ★★★★★ |
| Profitability | | ★★★ |
| Liquidity Ratios | | ★★★★★ |
| Insider Transactions | | ★★★ |
Description
NIKE, Inc. (NYSE:NKE), together with its subsidiaries, engages in the design, development, marketing, and sale of athletic footwear, apparel, equipment, and accessories, as well as in the provision of services to men, women, and kids worldwide. The company offers products in seven categories, including running, basketball, football, men's training, women's training, NIKE sportswear, and action sports.
Valuation
Fundamental DCF Value
We employ a multistage DCF model, which aims to deliver an approximation of the fair value of the share price. We used a short-term growth of 14.63% decreasing to a long-term growth of 2% within the next 10 years) in our discount cash flow valuation model. Based on the DCF model, the fair market price of Nike stock is $81.57. The company is currently trading at $76.34. For this stock, we use a safety margin of a 20% discount, meaning that we will be looking to buy the stock at levels below $65.26. Based on the relative analysis we issue a sell recommendation.
Relative Value
In determining the company's fair share price using relative analysis, we took the price ratios of the industry average. The share estimate when averaging the different estimates is $57.05. We apply 25% discount on each estimated price. Based on the relative analysis, we will be looking to purchase the stock below $42.79. Based on the relative analysis we issue a sell recommendation.
| | | | |
| --- | --- | --- | --- |
| PRICE RATIOS | COMPANY | INDUSTRY | PRICE |
| Current P/E Ratio | $ 25.77 | $ 23.20 | $ 68.73 |
| Price/Sales Ratio | $ 2.62 | $ 1.99 | $ 57.98 |
| Price/Book Value | $ 5.90 | $ 4.54 | $ 58.74 |
| Price/Cash Flow Ratio | $ 25.45 | $ 14.25 | $ 42.74 |
| | Average Price | | $ 57.05 |
Technical Analysis
The company trades close to its 50-day simple moving average. The company trades above its 200-simple moving average, which is perceived as a bullish indicator. The stock is trading close to its average volume levels. The relative strength index is at 62.65, which indicates the stock is neither oversold nor overbought. The short ratio is relatively low indicating little effect on the price. It should be noted, however, that high short ratio may be viewed as a contrarian bullish indicator, especially if the days-to-cover are more than eight.
Although the share price is approaching overbought conditions we estimate $79 as a major resistance. Based on the technical analysis we issue a hold recommendation.
Click to enlarge image.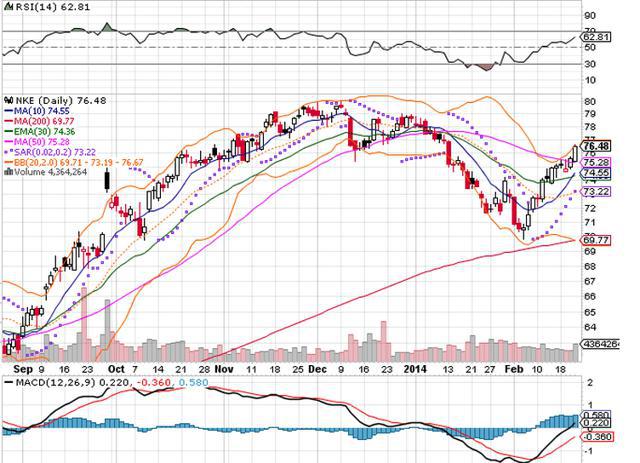 Financial Analysis
Growth and Dividends
We are not impressed with the historical sales growth over the last few years. We will be looking for any management hints that suggest revenue growth: introduction of a new product, acquisition or geographical location. Projected net income growth is above our expectation, which is really good sign that the company may have found new ways to increase revenues. The company has increased their dividend over the years. We look at that trend as beneficial for the shareholders.
We will be looking at any development of the company's innovative strategies. For example, the Nike's digital initiatives are an area we follow closely. Mark Parker, the CEO of the company is very bullish on digital potential that can drive both innovation and strong growth. Indeed the e-commerce segment delivered an exceptionally strong quarter with 33% revenue growth. In our opinion this segment has a lot of opportunity to grow.
We will also be looking at how the next generation of NIKE+Fuelband -- the Fuelband SE will sell. (As an aside, this is a really cool gadget.) Regarding apparel innovations, the company has introduced several new models and will be looking to boost revenues during the World Cup in Brazil this year. The company introduces Dri-Fit technology which allows for better cooling.
In relation to manufacturing and product modification Nike establish their leadership once again. The introduced a new fabric dyeing process called ColorDry that replaces water with recyclable carbon dioxide. The new technology delivers brighter and more consistent colors in the fabric.
Investment Returns
The company has a healthy return on equity of 25.7%, which is also above the industry average. However, we will test the quality of the equity return by comparing it to another measurement of return: the return on investment. The return on investment is impressive. With return on equity of 25.7% and return on investment of 19.5% Nike satisfies investor demands. These are very healthy level, which should be maintained.
Let's look at the gap between the return on equity and return on investment. If the difference is significant it is likely that the company has unhealthy level of debt on their books that need to be reduced. The difference between both return is not that substantial. This speaks of high quality returns and healthy debt levels. The debt levels are reviewed below, but I do not expect them to be off the charts.
Debt Levels
Nike has healthy debt levels. In fact, they may even borrow a bit more in order to finance profitable project, which would help them maximize their revenues. It should be noted that return on the investment should exceed the cost of borrowing at all times.
Profitability
Gross Margin
The gross margin meets our expectations. It is at relatively healthy level of 44.3%. It should be noted however that gross margin can vary drastically from business to business. More importantly the gross margin experiences an upward trend, which is a very positive sign. It shows the ability of the management to control the production costs by securing extra funds for marketing and R&D.
Nike's strategy in Western Europe proves to be very beneficial. They reset their strategy in 2012. The new approach demonstrates that we the right strategy and right execution, the company can deliver tremendous results. The new order growth demonstrates a clear momentum in that market.
Operating Margin
The operating margin does not impress. The company does not make enough money on each dollar of sales. Unfortunately, the operating cost experience a downward trend, which is an indication for poor cost control. We would be looking trend reversal before changing the company's rating. The company's operating margin exceeds the industry one. We will pay particular attention on any comments from the management regarding segments profitability and capital allocation. Another way to reverse the downward margin trend is to modify the product adding to its uniqueness. Unique products have higher prices.
Net Profit Margin
Net profit margin can be quite volatile and also vary from business to business. Nike's net margin meets our expectations. It is also above the average for the industry. This level of margin is comforting and it is a clear indicator that the company has a clear advantage over its competitors.
Liquidity Ratios
Current Ratio
The current ratio is above the desired level. Companies should have a current ratio of at least one in order to meet their short-term obligations within a year.
Quick Ratio
The quick ratio is above the desired levels. The company is able to meet their short-term obligations with their most liquid assets.
Ownership
There is a large institutional ownership which indicates strong corporate governance. An insider recently sold some shares.
Disclosure: I have no positions in any stocks mentioned, and no plans to initiate any positions within the next 72 hours. I wrote this article myself, and it expresses my own opinions. I am not receiving compensation for it (other than from Seeking Alpha). I have no business relationship with any company whose stock is mentioned in this article.