A stock that has recently popped up on my watchlist is MKS Instruments (NASDAQ:MKSI). MKSI is a stock that is loaded with potential going forward. This article will give a synopsis of the company, and why I think MKSI is ready to continue moving upward. MY system triggered a buy recently, and thus, I initiated a position around $30.
The company
MKSI is a leading worldwide provider of instruments, subsystems and process control solutions that measure, control, power, monitor and analyze critical parameters of advanced manufacturing processes. These help to improve performance and productivity.
MKSI also provides services relating to the maintenance and repair of products, software maintenance, installation services and training. The semiconductor business contributes to the company's growth strategy as seen below: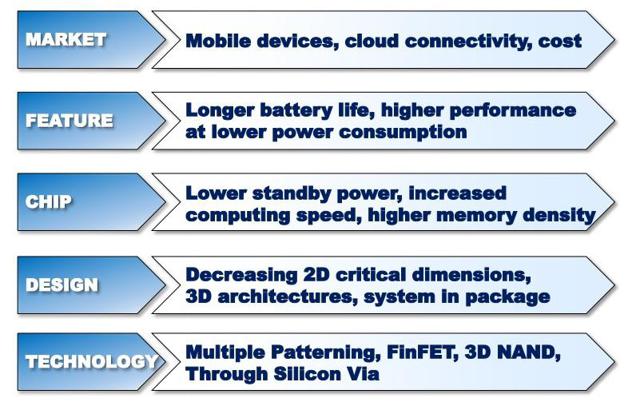 MKSI products can be grouped in four main groups. These include Instruments and Control Products, Power and Reactive Gas Products, Vacuum Products and Analytical Solutions Group Products. MKSI also leverages technology into other markets with advanced manufacturing processes including medical equipment, pharmaceutical manufacturing, energy generation and environmental monitoring.
MKSI remains a leader in its technology as the chart below shows.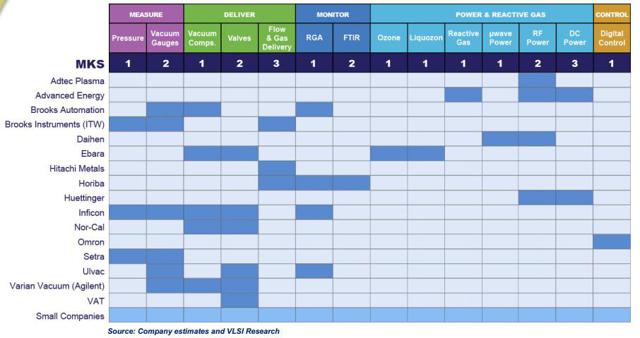 Recent earnings
The recent earnings call was a stellar one. Some of the highlights were:
Revenue for the quarter was $204 million, an increase of 23% compared to Q3 revenue of $166 million and a 53% increase from $134 million a year ago.
Revenue for the quarter was above the high end of its guidance range due to shipments for the first phase of a new memory fab in Asia, the continued strength in its OEM business and growth in other advanced markets.
Cash and investments increased by $24 million in the quarter to $650 million, or approximately $12 per share.
Total book value, net of goodwill intangibles, increased to $857 million or approximately $16 per share.
I also like companies that manage to beat analyst estimates consistently as this shows strength in numbers.

(Adapted from finance.yahoo.com)
Fundamental analysis
There is a number of factors why I believe MKSI is cheap at these levels. Firstly, the cash, MKSI has $650 million in cash and $0 debt. That is impressive and allows the company to continue to invest in other smaller companies and thus drive growth. Furthermore, MKSI delivers a nice 2.2% dividend to investors, something institutions like. This is in fact seen when one delves deeper into the float. The float is only composed of approximately 52 million shares, and over 98% is owned by institutions. The company is currently valued at $1.58 billion, and with revenues coming in at over $600 million per year, and cash in hand of $650 million, this company is definitely cheap at these levels.
Competitors and Challenges
MKSI is a market leader in the semiconductor industry. The only company that is growing strongly that can challenge MKSI is Advanced Energy Industries (NASDAQ:AEIS). However, one has to remember that MKSI sells systems in pressure, vacuum, ozone and monitoring of gases while AEIS focuses primarily on RF/DC power and reactive gases.
I do not foresee major challenges in MKSI's future. However, one must remember that MKSI has a new CEO, effective January 1, 2014. It will be interesting to see what the new CEO brings to the table. The good news is that the new CEO has been working at MKSI for over 30 years, so he definitely knows a thing or two about the company.
Technical analysis
The technicals of MKSI are quite strong and what triggered me to look deeper into this story. The moving averages both in the daily and the weekly are trending higher.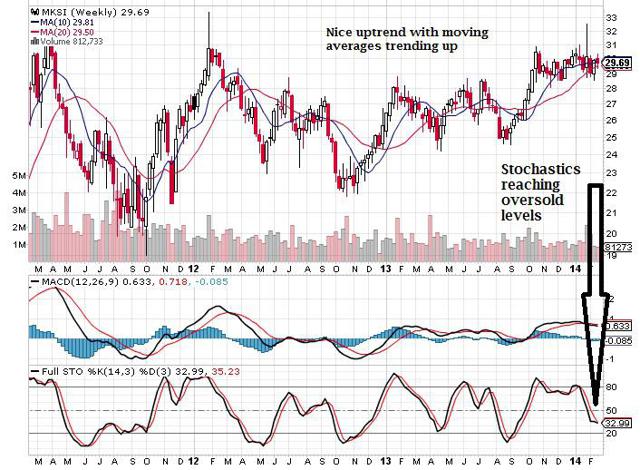 (Adapted from stockcharts.com)
The weekly chart is impressive as stochastics are reaching oversold levels while the chart shows a ice bullish consolidation, and a flag formation on the weekly.
Conclusion
The question many investors ask is what upside does MKSI potentially have? If you look at a chart of MKSI over the years, one can see resistance above $32-$34. I believe the chart is setting up for a massive breakout, to take it to highs of $50 seen in the early 2000. With a float so small, a company growing year over year, a healthy $650 million in cash, the potential is there and I will be holding MKSI over 2014.
Disclosure: I am long MKSI. I wrote this article myself, and it expresses my own opinions. I am not receiving compensation for it (other than from Seeking Alpha). I have no business relationship with any company whose stock is mentioned in this article.