As part of an experiment comparing a real-world Dividend Growth Investing portfolio vs. a High-Yield Income portfolio (you can see both portfolios here and here), I came across Walgreen (WAG), a long time favorite Dividend Growth stock of mine. The more I researched into the business, the more it became clear to me that this is one company that should at least be on every Dividend Growth Investor's watch list and at the right price, in their portfolio, as well.
Walgreen was founded in 1901 in Deerfield, Illinois. In its 112 year lifespan it has grown into America's largest pharmacy chain and, by 2016, with the possible merger with Alliance Boots, could become the world's largest pharmacy brand, with over 11,000 stores in 12 countries, 370 distribution centers and a presence in 25 nations across 3 continents.
The company has expanded beyond just general pharmacy and is now rolling out clinics within its pharmacies, (thus far at 400 and growing). The company is partnering with a company called Theranos to offer wellness centers; both where customers can focus on general health issues, but also where they can get blood tests done, (using just 1/1000th the amount of blood of a traditional test). In addition, the company is branching out into wellness centers that offer spa like accommodations and sell beauty products and health supplements.
Take Care, a subsidiary of the company, is one of the nation's largest workplace health managers. When a company wants to provide a clinic at the office, they call Walgreen to set it up and help run it.
Meanwhile, the company's main focus remains on rapidly growing the number of pharmacy stores around the country. In 1996, there were approximately 2250 stores; in 2013 that number had increased to 8582, representing an incredible 8.2% compound annual growth rate, (CAGR). As its store count has increased, so too has its same store sales, (average of 3.8% in last 5 years). The combination has made for strong, consistent sales and earnings growth.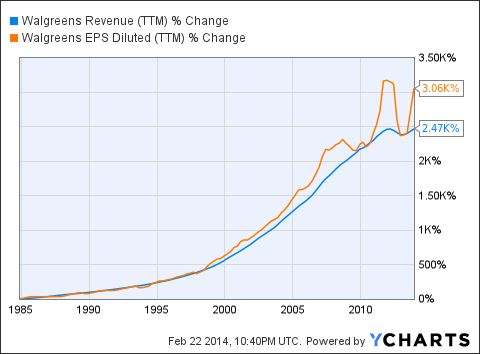 Since 2001 revenue and EPS growth at Walgreen has been 9.5% and 10.6% CAGR respectively. A management dedicated to improving efficiencies and maximizing shareholder returns has led to better than average margins.
| | | |
| --- | --- | --- |
| | Stock | Ind Avg |
| Price/Earnings TTM | 23.3 | 20.1 |
| Price/Book | 3.1 | 2.8 |
| Price/Sales TTM | 0.9 | 0.7 |
| Rev Growth (3 Yr Avg) | 2.3 | 5.6 |
| Net Income Growth (3 Yr Avg) | 5.4 | 14.4 |
| Operating Margin % TTM | 5.7 | 5.9 |
| Net Margin % TTM | 3.7 | 3.4 |
| ROA TTM | 7.6 | 6.9 |
| ROE TTM | 14.2 | 13.8 |
| Debt/Equity | 0.2 | 0.4 |
When it comes to returning wealth to shareholders, the company is famous for its consistently growing dividends. For 38 consecutive years Walgreen has raised its dividends, by 14.48% CAGR. In the last 5 years dividend growth has accelerated to 22.4% annually, although the last increase was 17%. The payout ratio now stands at 41%, indicating the future rate of dividend growth will have to track closer to earnings growth to remain sustainable.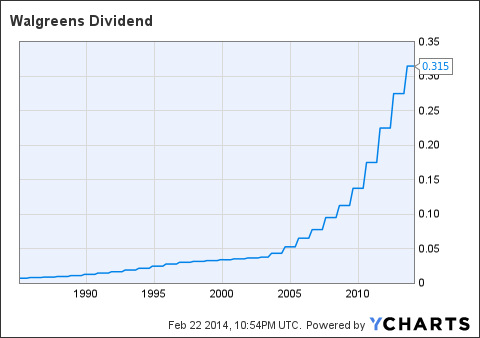 As the dividend has grown so has the share price. This has made Walgreen one of the best long term investments of the last half century.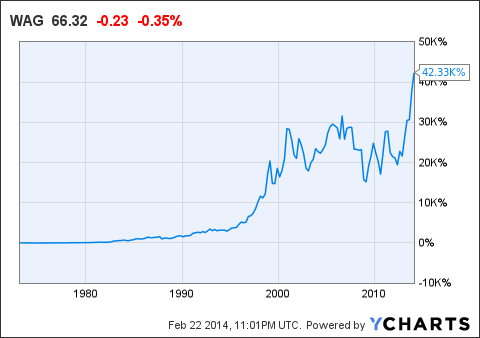 Since 1970, WAG has had total returns of 15.1% CAGR, rising to 18% CAGR if dividends were reinvested. That means that a $10,000 investment in Walgreen in 1970, if dividends were reinvested, would be worth $12.23 Million today. To show just how important dividend reinvestment is, had one not reinvested dividends, then that same $10,000 would only be worth $4.223 Million.
With an aging population, in the US and Europe expected to hit 1.1 billion by 2020, the future of the pharmacy business is sure to be strong. With management's diversification efforts to expand into every corner of consumer healthcare, Walgreen is likely to benefit greatly from this growth and long term investors along with it.
However, that being said, it is always important to note not only the caliber of the business you are buying, but the price, as well. After all, WAG rose 59% in 2013, doubling the rate of one of the stock market's best years in history. So we must ask if Walgreen is a good buy at this price and what returns could we expect from it going forward.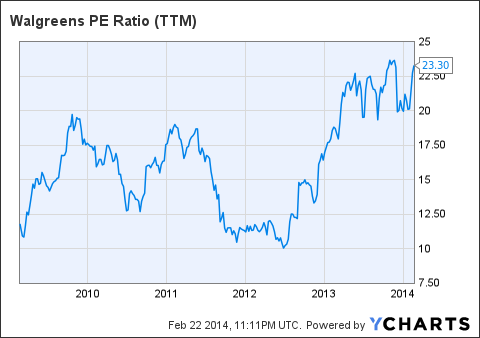 As seen in the above graph, Walgreen's PE ratio has increased as strongly as its dividend. The 5 year historical PE is 17.71, yet the stock currently trades at 31.5% premium to this historical valuation.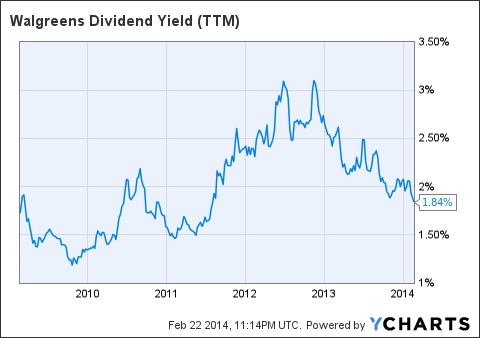 Yield as well has fallen as the price has risen so quickly. The average 5 year yield is 2.5%, though the current yield is 1.84%, indicating the stock is at an 18% premium on yield.
If we use a discounted cash flow model to analyze Walgreen's fair value, we see things aren't so bleak. By using the current EPS of $2.86, 5 years estimated EPS growth of 13.66% and a 10% 12 year growth rate after that (Walgreen's historical EPS growth rate), discounted by the stock market's 1871-2013 CAGR of 9%, we get a present day fair value of $91.33, with a 27% margin of safety. Using reverse DCF analysis we see that, at the current price, the market is anticipating just 6.3% EPS growth over the next 5 years- a number that the company should easily beat.
So it seems that Walgreen does represent a good buying opportunity, but what returns can we expect over the next 5 years from today's historically elevated, (if still 27% undervalued) prices?
We can model 5 year total returns two ways. One is treating the business as a growth stock. Take the $2.86 in current earnings, model 13.66% growth over 5 years to reach a 2018 EPS of $5.41 and multiply it by the historical PE of 17.72 to reach a share price of $95.74. Now add in $9.63 in anticipated dividends, (modeling the 38 year historical dividend growth rate of 14.5% to take into account an anticipated slowdown in dividend growth to match earnings) and we get a total share value of $105.37 5 years from now. This represents a 9.7% CAGR, jumping to 12.2% CAGR if dividends are reinvested.
Another way to model the company is a pure dividend growth stock. As explained earlier, the dividend growth rate will have to match earnings to keep the payout ratio from climbing so high as to threaten management's future expansion plans. Anticipating the same 38 year dividend growth rate over the next 5 years yields a payout ratio of 45.8%, still sustainable and 2018 annual dividends of $2.48. Using the 5 year average yield of 2.5% and anticipating regression to the mean, we get an anticipated 5 year price of $99.2. Add in the dividends, and we get a 5 year total share value of $108.83, representing a total return of 10.4% CAGR and rising to 13.2% CAGR if dividends are reinvested. So, investors buying Walgreen at today's historically elevated prices can still anticipate 12-13% CAGR returns, which are 22-33% better than the stock market's historical returns.
That is not to say that all investors should immediately run out and purchase Walgreen stock. I would recommend, however, that all Dividend Growth Investors put it in their watch lists in case the price comes down to closer to its historical valuation price of $50. At that price, I would recommend the stock to all investors, given that the anticipated 5 year total return becomes 16.6% CAGR, rising to 18.1% CAGR with dividend reinvestment.
Technical analysis shows massive support at $60.86 and even stronger support at $59. This plus mildly bullish short term signals indicate the price is not likely to fall much lower than $60 anytime soon.
For investors interested in Walgreen, I would recommend the Motley Fool strategy of buying in thirds. Purchase 1/3 of your intended position now, and then wait to see if you can add to the position at better prices later on. This strategy can alleviate the fear that a quality company will never seem cheap and will just keep heading upwards forever. By buying in thirds, an investor can participate in the stock's rise, while still profiting long term from future corrections and reversions to more historical valuations.
In summary, upon review of its future potential for earnings and dividend growth, I feel Walgreen is a wonderful company with a strong wind in its sails. The aging and large scale expansion of the world's medical industry over the coming decades should provide the company with many years worth of continued growth in sales, earnings and dividends. This in turn will fuel total returns that will easily beat the market's historical returns, by as much as 50-60%.
Disclosure: I have no positions in any stocks mentioned, and no plans to initiate any positions within the next 72 hours. I wrote this article myself, and it expresses my own opinions. I am not receiving compensation for it (other than from Seeking Alpha). I have no business relationship with any company whose stock is mentioned in this article.