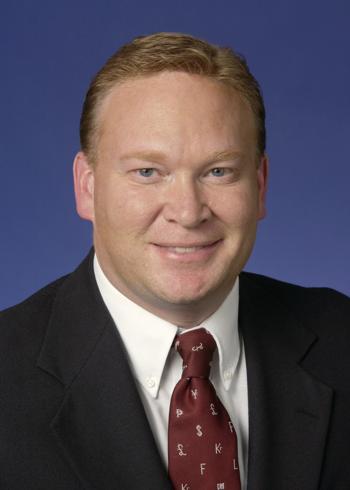 Stephen Biggar is Managing Director and Global Director of Equity Research at Standard & Poor's responsible for "Buy," "Hold," and "Sell" recommendations on nearly 2,000 North American, European, and Asian securities.
H.L.: Does the nearly $1 trillion European Union bailout package for Greece and the other eurozone countries that risk default do enough to avoid a global fiscal catastrophe?
S.B.: The core problem is that it's a short term fix but not a long-term solution. It's another bailout in a series of bailouts, and the trillion-dollar package must be paid for at some point.
They've accumulated too much debt over decades. That's what got Greece and the other countries into this problem. The spending picture has to come under control, and the austerity and spending reduction measures that have to be put in place are exactly the things the people are protesting about.
So it's pretty clear that it will be extremely difficult to put through those sorts of measures in whatever shape or form. The average citizen is not of the mindset that they are the result of the overspending.
If you look at what governments like Greece have tried to do over the last decade or so, you have a lengthy period in which you're overspending your resources. Then the past governments of Greece just tried to kick the can down the road. The U.S. is doing that as well. You over-stimulate and over-spend your way through an issue. But Greece is part of a large eurozone and they can't depreciate their currency to try to grow their way out. They can't lower interest rates on their loan, because that's up to the European Central Bank. They're not a large exporting country, and they don't have the flexibility that a stand-alone country has.
The $140 billion rescue package from the eurozone countries (approved before the trillion-dollar rescue fund) will get Greece through another couple of years, but the problem still exists. Unless they make harsh changes in terms of spending and raise taxes it's only temporary.
The market concern is the contagion: Whose finances are next on the list? Is it Spain? Is it Italy? Is it Portugal? Is It Ireland?
The question rolling around right now is "Can the eurozone stick together?" They have such disparate economies and governments. It's very challenging to have a coordinated policy. That's the "topic du jour." Was the eurozone a good experiment? In cases like this, how do you handle it when a member is failing? To date it has not been handled all that well, but because of the support mechanisms they have, the governments will find a solution. Cooler heads will prevail.
H.L.: Was the stock market reaction to eurozone problems an exaggerated panic?
S.B.: The market tends to shoot first and asks questions later, so it's appropriate to put a greater risk component on market valuations. When the S&P 500 was at 1,200-plus, the market was not assuming a fallout from Europe. It was baking in a lot of good news. Corporate profits were stronger than expected. Retail sales were doing well. We had a topping of unemployment, and it started going down, coupled with a low-interest rate environment. I hesitate to use 'priced for perfection,' but clearly the market was looking for those same positive trends to continue.
But for those that felt it needed a pause, they found several reasons: sovereign risk, an uptick in unemployment Friday, weak retail sales, those all came up all at once to blow the market down. At 100 points lower it is more appropriately pricing risk. Was the sell-off needed? The markets are correct in adjusting to a greater worldwide risk situation.
H.L.: What do you think of Monday's 405-point rise in the Dow?
S.B.: Today's market is looking at the short-term fix but not the hangover effect of the bailout. What typically happens is it will go back to focus on growth -- or lack thereof in the economies and interest rates and risk levels. So I think we're in for tough sledding still. But the market will find its footing.
The good news here is that from a fundamental perspective, this should not derail earnings to any great extent. You still have the low-interest rate environment that is favorable for equities. We've gotten a few months of positive job creation, and those will provide the underpinnings for the market.
H.L.: Is a short correction ahead?
S.B.: A few weeks ago the S&P 500 peaked at 1217, and we were down over 9 percent at around 1,110 on Friday, so we've already experienced something of a correction. How much more will it go? Because of the underpinnings I mentioned the downside will be more limited. Two years ago we couldn't say that. Unemployment trends were worsening. So were retail sales and corporate profits, all the opposite of those underpinnings I mentioned. The market needs to find its footing. We've been saying it will be in the 1,080 to 1,100 range. If we get there we could get a bounce. Once we're off 10 percent we're likely to see a little bit of support.
H.L.: How long will it take before the market rebounds?
S.B.: The market likes to do things quickly, so I assume we'd get there within a few weeks. It's not going to take a few months. It's not very far away. Because of the increased volatility we could get there pretty quickly.
H.L.: Would you put your money in stocks now or stay in cash on the sidelines?
S.B.: We recommend diversification, not necessarily market-timing. From an allocation perspective, we're 60 percent equities, with 45 percent U.S. and 15 percent foreign equities. The rest would be 25 percent bonds and 15 percent cash. Cash at 15 percent is slightly higher than you'd expect, because we recommend keeping your powder dry and getting in the market at better price levels.
Disclosure: No positions