Twenty-First Century Fox, Inc. (NASDAQ:FOX) reported total revenue that grew 15% Y/Y in the second quarter. But the core operating margin contracted as the company reinvested revenue into operations and as costs increased. Excluding the acquisition of Sky Deutschland AG, revenue increased 6.3%. FOX may continue to grow total revenue in the mid-to-high single digits.
Recently, Comcast (NASDAQ:CMCSA) offered to buy Time Warner (TWC) for $45 billion. Should the acquisition close, it should have a moderate adverse impact on FOX's results from operations. The deal would limit FOX's pricing power in negotiations with the content distributors. On the other hand, FOX has a number of competitive offerings, including FOX News, NFL games, and MLB games.
The outlook for FOX remains positive even as the company faces increased competition from Netflix and other Internet video streaming services. FOX should be able to generate sizable returns on equity in the coming years. Consequently, it is more likely than not that FOX is undervalued by 25%.
Recent Developments
Its peers outperformed FOX in terms of Oscar nominations. Time Warner Inc.'s (NYSE:TWX) Warner Bros. unit, and Sony Corp's (NYSE:SNE) Columbia Pictures and Sony Pictures Entertainment units were the outperformers. Viacom Inc.'s (NYSE:VIA) Paramount Pictures unit deserves an honorable mention with 13 nominations.
The U.S. Supreme Court agreed to consider the legality of online-video service Aereo Inc.
In January, FOX entered into an agreement to acquire an additional 31% interest in the YES Network for about $680M and to fund roughly $160M of additional upfront costs on behalf of YES Network. As FOX will have an 80% controlling interest, YES Network will be consolidated into the results of operations. YES Network is the home of the world-class organization known as the New York Yankees, or Bronx Bombers, who have won a MLB record 27 World Series Championships. YES is also the home of the NBA's Brooklyn Nets.
Business Summary
21st Century Fox is the world's premier portfolio of cable, broadcast, film, pay TV and satellite assets spanning six continents across the globe. Reaching nearly 1.5 billion subscribers in 100 local languages every day, 21st Century Fox is home to a global portfolio of cable and broadcasting networks and properties, including FOX, FX, FXX, FS1, Fox News Channel, Fox Business Network, Fox Sports, Fox Sports Network, National Geographic Channels, Fox Pan American Sports, MundoFox and STAR; film studio Twentieth Century Fox Film; and television production studios Twentieth Century Fox Television and Shine Group. The company also provides premium content to millions of subscribers through its pay-television services in Europe and Asia, including Sky Deutschland, Sky Italia and its equity interests in BSkyB and Tata Sky.
Comcast Corp, the No. 1 U.S. cable operator by subscribers, offered to buy Time Warner Cable, No. 2 by subscribers, for over $45 billion. The deal would give more clout to Comcast in its negotiations with content providers, such as FOX. The horizontal integration of the cable operators reduces FOX's pricing power and ultimately should adversely impact the future results from operations. This comes as the cost of the average cable bill rises faster than income.
FOX reported a 15% increase in total revenue for the second quarter; the increase was mostly attributable to the inclusion of Sky Deutschland AG in the Direct Broadcast Satellite Television segment and partly attributable to the $366M increase in revenue from the Cable Network Programming segment. Total revenue excluding Sky Deutschland increased a healthy 6.3%.
| | | |
| --- | --- | --- |
| Segment OIBDA Margin | 2012-12 | 2013-12 |
| Cable Network Programming | 39% | 35% |
| Television | 16% | 13% |
| Filmed Entertainment | 18% | 14% |
| Direct Broadcast Satellite Television | 6% | 2% |
| Other, Corporate and Eliminations | 46% | 19% |
| Total Segment OIBDA | 23% | 19% |
The OIBDA margin of all of the operating segments, excluding other, corporate eliminations, decreased during the three months ending in December. Generally, segment revenue growth resulted in lower OIBDA. Additionally, SKY Italia and Sky Deutschland, part of Direct Broadcast Satellite, have a combined 8.4 million subscribers.
On a consolidated basis, income from continuing operations declined substantially (11%). The core operating margin declined from 22% in the year-ago quarter to 19% in the most recent quarter with core operating income declining from $1.59B to $1.53B. The decline is mostly attributable to a significant increase in operating expenses, which management attributes to investments in operations.
The company appears to have ample liquidity, as cash was 67% of current liabilities at the end of the second quarter. The financial leverage was 3.02, and debt was 50% of capital. FOX has limited business risk and consequently can employ financial leverage. The solvency position is solid as Moody's rates the firm's senior unsecured obligations "Baa1."
During the second quarter, there were an estimated $788 million of accruals, but the quality of earnings was relatively good. Cash collected from customers during the quarter was $7.35B with a revenue-cash collected from customers ratio of 1.11, which was mostly attributable to an increase in accounts receivable.
Risks
The share price is likely to remain volatile and investors could lose a portion or all of their investment.
Investors should judge the suitability of an investment in FOX in light of their own unique circumstances.
A decline in the global economic growth rate and/or a decline in the pace of economic growth in the United States could adversely impact the results of operations and the share price.
Competition in product development and pricing could adversely impact performance.
Incorrect forecasts of customer demand could adversely impact the results of operations.
This section does not discuss all risks related to an investment in FOX.
Portfolio & Valuation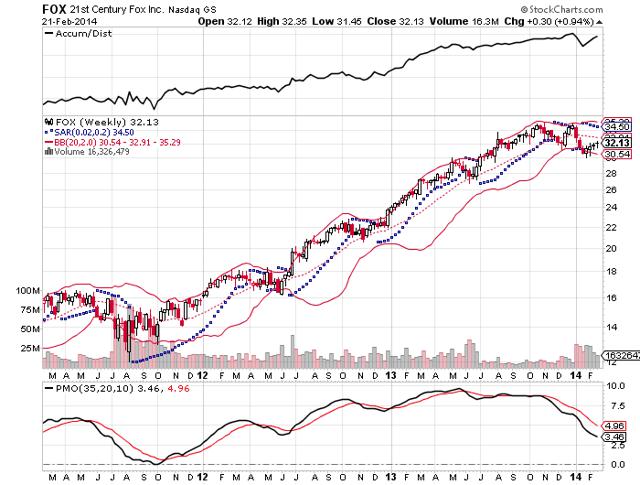 FOX is in an intermediate term bear market, which is part of a bull market of primary degree. While the A/D line suggests investors are accumulating shares, there are significant latent signs of weakness, such as the declining PMO. Simply stated, investors should expect a range bound or traders market during 2014.
Given the relatively recent separation of the businesses into two independent, publicly traded companies, the analysis of the share price and return distribution would be limited to a few months of data. Consequently, in my opinion, the analysis is not meaningful with less than 52-weeks of data available.
Under the base case scenario, shares of FOX are worth $40.20 with an optimistic valuation of $55.66, and a pessimistic valuation of $24.74. Thus, under the base case scenario, FOX is 25% undervalued. But under the pessimistic valuation, FOX is 23% overvalued. Given the fundamentals of the business, including but not limited to the business risk and financial risk, at $32 per share, FOX is an attractive investment.
Disclosure: I have no positions in any stocks mentioned, and no plans to initiate any positions within the next 72 hours. I wrote this article myself, and it expresses my own opinions. I am not receiving compensation for it (other than from Seeking Alpha). I have no business relationship with any company whose stock is mentioned in this article.