Executive summary
VYM and SDY are often cited as superior dividend investment vehicles, but their income returns have trailed a portfolio of individual stocks since 2009.
VYM and SDY have outperformed the portfolio of individual stocks in total returns, with a gap appearing in 2013 after nearly identical returns in 2009-2012.
_________________________________
Introduction and Background
Over the past few months, a few writers and commenters have suggested that certain "dividend" ETFs are better investments than dividend growth portfolios constructed of individual stocks. My public Dividend Growth Portfolio [DGP] has been criticized for underperforming certain ETFs.
I created the DGP and put it out for public examination and comment, so I welcome the comparisons. Two ETFs have been mentioned several times as better investments: Vanguard High Dividend Yield Index ETF (NYSEARCA:VYM) and SPDR® S&P® Dividend ETF (NYSEARCA:SDY).
As it happens, in 2012 I wrote a series of articles on dividend ETFs, and in one of those articles, I reported on SDY and VYM. At the time, I concluded that neither was as good a dividend growth portfolio as what I and many other investors create for ourselves from individual stocks. Given the recent repeated mentions of those two ETFs, I decided to revisit them and see what the facts are.
Goals
I will state up front that whether you think one investment is "better" than another comes down to your goals. Critics of dividend growth investing tend to overlook this, deny it, or ridicule it.
The contrast in goals in these discussions has become stark: In one corner is a goal like mine, which is to build, over time, an income stream that is "enough" and grows faster than inflation. The end game is to be able to live off that income stream (along with other sources of income) in retirement.
In the other corner is total return. That goal is to build, over time, the most wealth possible. Retirement is then funded by that wealth in varied ways, including selling assets.
The total return goal is often regarded as universal. Many investors, and seemingly most advisors, want only to consider total return when discussing return. It is presumed that every investor invests solely to become as wealthy as possible. Statements to that effect are often absolutist in nature, with other goals being rejected outright.
Well there's the kicker, it's all about the total return in the accumulation phase. Income is either a way to manage risk or contribute to total return. The only thing that matters in the accumulation phase is total return, and then how much money (portfolio value) you will have to eventually purchase income and perhaps also harvest some of the assets. [Source: "VYM Increases Its Dividend 20%: ETF Portfolio Increases Its Lead Over The Stock Pickers," by contributor "Cranky."]

Managing income is only useful if it leads to 'better' total return in the accumulation phase. Or of course it can be a risk management tool. [Source: Comment by Cranky on the above article.]

It is however quite simple to look away from the facts by asserting that your objectives are different from what the ETFs enable you to achieve, and that your goals are such that they could be achieved only by picking DG stocks. [Source: Comment by "varan" on the above article.]
Despite the comments above, not everyone is investing for total return. I, for one, am trying to optimize cash flow and build an income stream step by step for the future. That income stream will be used to cover living expenses in retirement.
I am not sure why I should need to defend my goal against stark assertions that I should have a different goal, nor against ridicule that I created my goal as a refuge against facts. I have stated my objectives consistently for several years now, but I have never tried to force them onto anyone else. If someone else feels that I should have different goals, that is their issue, not mine.
I have certainly presented a case in favor of dividend growth investing, and I have presented what I call myths about it. In fact, the very first myth I discussed concerned total return.
Myth #1: The only sensible goal in investing is total return

Some investors and investment advisors do not believe that the pursuit of dividends is a worthwhile goal. Rather, they have stated, the only valid goal of investing is total return….

I think that the main source of the myth of total return exclusivity is that many investors and advisors presume that the way everyone will fund retirement is through withdrawals. In this context, "withdrawals" is synonymous with liquidations. You sell assets to create synthetic income....The perspective of dividend growth investing is different. Creating growing dividend income is a valid goal by itself. Dividends are important in their own right, not only as a component of total return.

This perspective is a genuine paradigm shift. It allows one to foresee the possibility of funding retirement exclusively or primarily through organic income rather than through the repeated sale of assets. Rising dividends can be seen as a significant source of retirement income. This income perspective creates a sharp contrast with the withdrawal presumption, because if you receive money in the form of dividends, you do not have to sell your stocks to receive it….

Since the eventual goal is to fund retirement as much as possible from the dividends themselves, [dividend growth investors] see accumulation driven not so much by a goal of maximum total wealth as by maximizing the dividend rights that one owns by the time they retire….[D]ividend growth investors can switch over to retirement mode simply by stopping the reinvestment of dividends, and instead taking them as rising retirement income.
So in summary, I offer the proposition that investors can validly have different goals - not to shield themselves from the facts, but as genuine alternatives suitable to each individual.
With that background in mind, let's look now at the facts about VYM and SDY as investment portfolios.
VYM - Vanguard High Dividend Yield Index ETF
Sources of Information: Morningstar, Vanguard, FTSE, Big Charts Historical Quotes
Year Introduced: 2006
SEC Yield: 3.1%
Expense ratio: 0.10%
Turnover: According to the prospectus, VYM's turnover rate in its most recent fiscal year was 11%. Turnover impacts the costs of owning the fund:
The Fund pays transaction costs, such as commissions, when it buys and sells securities (or "turns over" its portfolio). A higher portfolio turnover rate may indicate higher transaction costs and may result in more taxes when Fund shares are held in a taxable account. These costs, which are not reflected in annual fund operating expenses,…reduce the Fund's performance.
ETF Summary: Vanguard states that these are the objectives of VYM:
Seeks to track the performance of the FTSE® High Dividend Yield Index, which measures the investment return of common stocks of companies characterized by high dividend yields.
Provides a convenient way to track the performance of stocks with histories of above-average dividend yields.
Follows a passively managed, full-replication approach.
ETF Methodology: A word is in order here about "passive management." The actual investments held by any ETF change over time. VYM, for example, turned over its holdings 11% in a recent year. Sometimes investors and advisors get tangled into knots debating "active" vs. "passive" investing, unable even to agree on what the terms mean.
Let's ignore the labels and look at what goes on. With VYM, there are two layers of management: FTSE provides the index upon which VYM is based, and Vanguard seeks to track its performance. Since Vanguard itself is not directly selecting stocks, that allows Vanguard to truthfully state that VYM "follows a passively managed, full replication approach." Vanguard, the fund manager, does not pick stocks, they just follow the index.
So to find out how the stocks in VYM are selected and turned over, you have to turn to FTSE itself, which provides the index. I tried to do that, but I was unable to find a specific fact sheet for the High Dividend Yield Index. It is nested within higher-level FTSE indexes, like Russian dolls.
But I discovered a good number of relevant facts.
FTSE Group has worked with Vanguard to create a series of FTSE High Dividend Yield indices to serve as the basis for High Dividend Yield Index Funds. The indices consist of stocks that are characterized by higher than average dividend yields. They follow ground rules that are set for the umbrella FTSE Global Equity Index Series, within which all the other indices are nested.
In 2014, FTSE will move to a semi-annual review process (March and September) from their current annual reconstitutions. The company says that this will allow it to achieve a better balance between targeting accuracy of index representation and on-going turnover. The next (and final) annual review will be in March 2014. Then they will begin their new semi-annual schedule in September. FTSE notifies its clients (in this case Vanguard) in advance to allow them to prepare for the trades involved following each review.
FTSE literature refers to a U.S. High Dividend Yield Index, and I presume that this is the index that Vanguard follows for VYM, since the ETF contains no foreign stocks. REITs are removed, because income from them does not qualify for favorable tax treatment. Also removed are stocks that are not forecast to pay a dividend during the next 12 months. The remaining stocks are ranked by annual dividend yield and placed in the index until the cumulative market capitalization of the index's stocks reaches 50% of the total market cap of the larger universe of stocks.
FTSE says that the index methodology holds the potential of durable high yields from solid companies, "with lower weightings to companies that have high yields because of low or falling share prices." I include that quotation, because as a general matter the index is cap-weighted. The quote makes it sound like they adjust the weights of certain stocks that many dividend growth investors would call "accidental high yielders," meaning that their yield has gone up because their price has dropped. According to Morningstar Premium, the final result is that the index contains the highest-yielding third of the U.S. market ex-REITs.
I will leave it to readers to decide whether the index reflects passive or active management. To me, it clearly involves human-created rules and guidelines, stock selection, target weighting, periodic rebalancing, portfolio turnover, rejection of certain types of securities, and lopping off many members of the defined universe. Dividend growth investors do all of these things on a regular basis, for which we are sometimes derided as "stock pickers." The only differences with VYM seem to be scale and who does them. But I digress.
Now back to Vanguard's "passive" fund. The fund attempts to replicate the index by investing all, or substantially all, of its assets in the stocks that make up the index, holding each stock in approximately the same proportion as its weighting in the index. The fund is essentially fully invested at all times; currently it has 99.7% of its assets in stocks and the tiny remainder in cash.
The types of stocks in the fund are shown by the following graphic from Morningstar. The fund is almost completely invested in large (and giant) capitalization stocks that fit Morningstar's definition of the value style. All holdings are U.S.-based.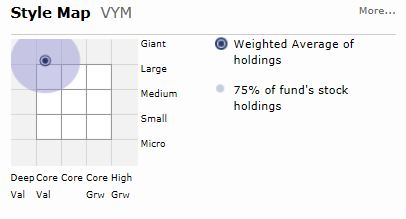 Number of stocks: 379
Fund total net assets: $10.1B
Net assets of ten largest holdings: 34.1%
Largest holdings: The following 10 stocks comprised 34.1% of total assets as of the end of January.
1. ExxonMobil (NYSE:XOM)
2. Microsoft (NASDAQ:MSFT)
3. General Electric (NYSE:GE)
4. Johnson & Johnson (NYSE:JNJ)
5. Wells Fargo (NYSE:WFC)
6. Chevron (NYSE:CVX)
7. JPMorgan Chase (NYSE:JPM)
8. Procter & Gamble (NYSE:PG)
9. Pfizer (NYSE:PFE)
10. AT&T (NYSE:T)
Distributions: As I have repeatedly found with "dividend" ETFs, information about distributions can be surprisingly hard to find. Vanguard, for example, shows distributions for only the past couple of years. Morningstar has them annually going back to 2009.
But discovered a double-secret way to get individual quarterly distributions going back further. If you view Morningstar's performance chart, they have little symbols along the bottom for distributions. If you hover your cursor over each symbol, a little box pops up with the date and amount of the distribution. You can draw the chart back to VYM's inception and thus get all of the distributions one by one as far back as the chart covers the ETF. Here is an example.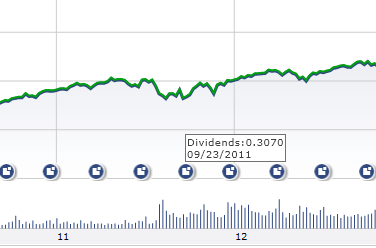 From the pop-up box, you can see that VYM made a dividend distribution of $0.307 on 9/23/11 . I used those pop-ups to get the raw numbers for the calculations later in this article. (Actually, the date shown is the ex-div date. I had to use these for reinvestment purposes, since I could not find enough information for both funds to use actual payment dates. For VYM, the ex-div dates seemed always to be one week before the payment dates.)
Other than bare numbers, there is almost no discussion about distribution performance on Morningstar or in the marketing literature or prospectuses for these ETFs. Insights into performance or graphs of performance are limited to total performance or price-only performance.
VYM distributes quarterly. Here are the annual distributions for the past six years, along with yield and percentage comparisons that I calculated. "Yield for the Year" is calculated as the distributions for the year divided by VYM's price at the beginning of the year.
| | | | | |
| --- | --- | --- | --- | --- |
| Year | Dividend Distribution | Yield for the Year | Year-over-Year Change | Cumulative Total Change from 2008 |
| 2008 | $1.443 | 2.8% | | |
| 2009 | $1.168 | 3.5% | -19% | -19% |
| 2010 | $1.091 | 2.9% | -7% | -24% |
| 2011 | $1.327 | 3.1% | +22% | -8% |
| 2012 | $1.593 | 3.5% | +20% | +10% |
| 2013 | $1.749 | 3.5% | +10% | +21% |
All distributions have been dividends (no capital gains distributions or return of capital). Distribution amounts vary by quarter, so no valid trend implications can be drawn from a single distribution.
I emphasize that last fact, because the title of the article cited earlier highlighted VYM's most recent quarterly 20% increase. That increase was actually 22% quarter-over-quarter, and it signifies nothing significant unless you are only interested in the single quarter involved. VYM's total increase for 2013 was 10%. In fact, for the last four years, VYM's pattern has been to increase the dividend each quarter during a year, but then drop it in the first quarter of the following year.
As you can see, if VYM were a company, it would not qualify for David Fish's Dividend Champions document ("CCC"). VYM has not yet compiled a track record of five consecutive years of distribution increases. After its inception late in 2006, it cut its annual distribution in 2009. After another cut in 2010, it has now registered three consecutive years of increases through 2013.
Total performance: Here is how Vanguard depicts performance on VYM's website: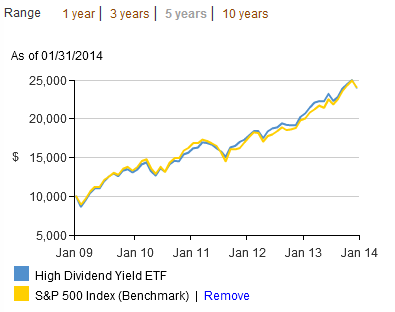 In this chart, I selected 5 years, because the 10-year option distorts the comparison. (The reason being that the graph has data for S&P 500 for all 10 years, but VYM started in 2006. I saw no way to start the graph on the inception date of VYM.) I cannot tell from this chart's labels whether it shows price only, price + dividends, or total return with dividends reinvested. My guess is that it shows price only.
My favorite tool for reviewing ETF performance is ETFreplay, because it displays both price-only return and total return with dividends reinvested. The latter is the security's true total return for an investor that is reinvesting dividends. The following chart is for the five calendar years 2009-2013, matching time-wise with the chart above.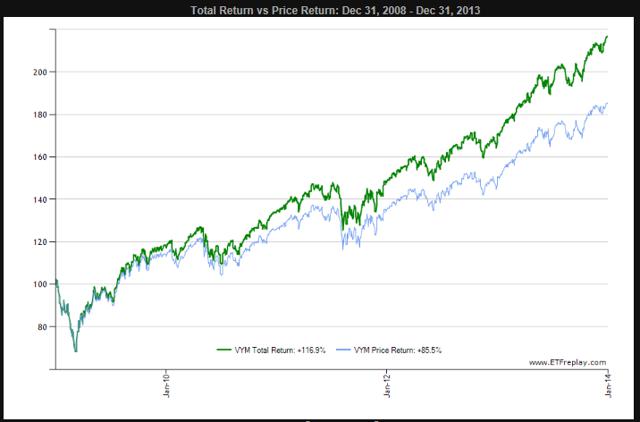 Both VYM's total return and price-only returns shown on the chart match what I hand-calculated from the quarterly distribution numbers and reinvesting them at the closing price on the date shown in the pop-up box. As you can see, reinvesting dividends had a significant impact on VYM's total return, which for the five years ending 12/31/2013 was an impressive 116.9%.
SDY - SPDR® S&P® Dividend ETF
Sources of Information: Morningstar, State Street Global Advisors, S&P Dow Jones Indices, Big Charts Historical Quotes
Year Introduced: 2005
SEC Yield: 2.33%
Expense ratio: 0.35%
Turnover: 44% (That is not a typo.)
ETF Summary: The SPDR® S&P® Dividend ETF, before expenses, seeks to closely match the returns and characteristics of the S&P High Yield Dividend AristocratsTM Index.
That index, in turn, is designed to measure the performance of the highest dividend yielding S&P Composite 1500 Index constituents that have followed a managed-dividends policy of consistently increasing dividends every year for at least 20 consecutive years.
The index is not cap-weighted. Rather, it is weighted by indicated annual dividend yield, with quarterly rebalancing. The qualifying universe is reviewed once a year in January, at which time companies can be tossed out if their calendar year dividends did not increase from the prior year, if they no longer meet market cap requirements, or for other reasons.
The index methodology also includes minimum market capitalization and liquidity criteria, as well as buffers to reduce turnover at index rebalancings. Modifications are made to stock weights to ensure no stock represents more than 4% of the index, and to enhance index basket liquidity at each quarterly rebalancing.
Historically, "Dividend Aristocrats" was synonymous with 25-year increase streaks, but now it means 20 years. Morningstar Premium has this to say:
At the end of June last year, Standard & Poor's overhauled SPDR S&P Dividend's SDY index for the better. The…Index used to demand 25 years of dividend growth and was fairly liberal about letting in small-cap stocks, so you saw oddball holdings like United Bankshares (NASDAQ:UBSI) rubbing shoulders with household names like Wal-Mart (NYSE:WMT). The problem was that as the fund grew into the billions, its trades started to affect stock prices. The financial crisis also winnowed the eligible universe to a very narrow group. To fix these problems, S&P relaxed the index's dividend-growth screen, now requiring only 20 years of annual dividend increases, and it upped the minimum market capitalization to $2 billion from $500 million. And it now holds all eligible constituents instead of the 60 highest-yielding.
Note the similarities and differences between this index and the Dividend Champions. SDY now requires only 20 consecutive years of dividend increases, which is a looser requirement than the Dividend Champions, which still requires 25 years (and has identified 105 stocks that qualify). Some of SDY's stocks would therefore be in the Dividend Contenders section of the CCC (10-24-year streaks). Further restricting the universe, a stock must be in the S&P 1500 to be in this index, which is not a requirement to be in the CCC. Also, there is a "high yielding" requirement for SDY, while the CCC includes all stocks that meet the increase minimum streaks, no matter what their yields are. Both compilations include REITs (you will recall that VYM excluded REITs).
ETF Methodology: State Street passively matches the components of the underlying S&P index. Like VYM, SDY is essentially fully invested, with just 0.20% in cash.
As you can see from the following style map, SDY's stocks are not as large nor extremely value-oriented (per Morningstar) as VYM's, but SDY is still in the Large Value category.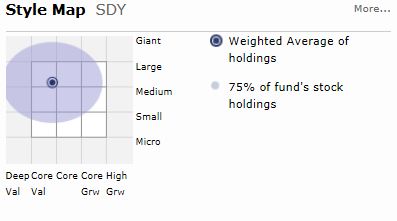 Number of stocks: 95
Fund total net assets: $12.3 Billion
Net assets of ten largest holdings: 20.4%
Largest holdings: The following 10 stocks comprised 20.4% of total assets.
1. HCP (NYSE:HCP)
2. AT&T
3. National Retail Properties (NYSE:NNN)
4. Consolidated Edison (NYSE:ED)
5. People's United Financial (NASDAQ:PBCT)
6. McDonald's (NYSE:MCD)
7. Federal Realty Investment Trust (NYSE:FRT)
8. Kimberly-Clark (NYSE:KMB)
9. Sysco (NYSE:SYY)
10. AbbVie (NYSE:ABBV)
Distributions: SDY distributes quarterly. Here are the annual dividends for the past six years, along with yield and percentage comparisons that I calculated.
Year

Dividend

Distribution

Yield for the Year

Year-over-Year Change

Cumulative Total Change from 2008

2008

$2.21

4.0%

2009

$1.73

4.3%

-22%

-22%

2010

$1.64

3.5%

-5%

-26%

2011

$1.74

3.3%

+6%

-21%

2012

$1.91

3.5%

+10%

-14%

2013

$1.64

2.8%

-11%

-26%

2013 cap gains

$1.23
In addition to its income distribution in 2013, SDY made a capital gains distribution of $1.23 in December. It was composed almost entirely of short-term capital gains ($1.19 / $1.23). That is not treated as "income," because it was not a dividend.
The capital gains distribution is the same as if an investor makes changes in his or her portfolio, such as rebalancing. He or she would realize capital gains or losses. Gains would be recirculated back into the portfolio through reinvestment, so they impact future total returns. (Morningstar correctly shows only the income amount in its pop-up box.)
As you can see, SDY would not make the CCC document either. SDY has never had a five-year run of dividend increases. In fact, it has cut its dividend three times in the past six years.
I have not seen an authoritative reason for the capital gains distribution in 2013, but I can take a guess. We saw earlier that VYM is cap-weighted and reconstituted annually. Those factors minimize the ETF's internal trading, because the stocks naturally weight themselves as they change in value. But SDY is yield-weighted and rebalanced four times per year. Those factors lead to a lot more trading by the fund. We saw that SDY's turnover is running at 44%, which would strike most dividend growth investors as unusually high. I suspect that the high level of trading created a situation that forced SDY to make capital gains distributions last year.
Here is how Morningstar depicts the past five years' distributions by SDY. Income is shown in green, the capital gains distribution in blue.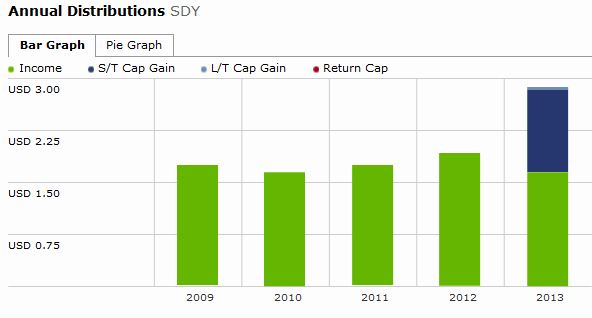 Total performance: I was unable to find a performance chart in State Street's or S&P's literature about SDY. Here is ETFreplay's chart.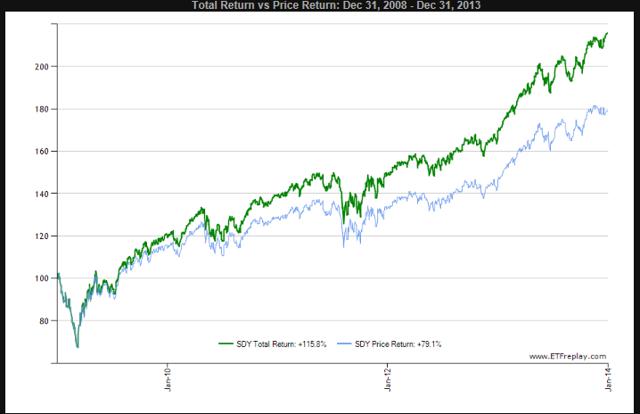 Here, my hand calculations differ slightly from the chart's for total return. I come up with 115.4% compared to the chart's 115.8%. The difference is negligible now, but if it remains and compounds over time, it could become significant. In any event, as with VYM, reinvesting dividends has had a pronounced impact on SDY's total return. For the five years ending in 2013, the total return was 115.4% (by my calculations).
Comparisons to My Dividend Growth Portfolio
Now we have the facts needed to compare the two ETFs to my Dividend Growth Portfolio.
Rather than "normalize" everything to a hypothetical starting value of $10,000 (as is often done), I used the actual value of my portfolio at year-end 2008 as a starting value for all three portfolios. Obviously, fractional shares of the ETFs would have been required to hit the exact dollar amount at the end of 2008, which is $36,533.
The following table accounts for the income enhancement that comes from dividend reinvestment.
| | | | | | | |
| --- | --- | --- | --- | --- | --- | --- |
| Year | VYM Dividends Received | Change from Prior Year | SDY Dividends Received | Change from Prior Year | DGP Dividends Received | Change from Prior Year |
| 2009 | $1288 | | $1590 | | 1568 | |
| 2010 | $1242 | -4% | $1562 | -2% | 1799 | +15% |
| 2011 | $1554 | +25% | $1713 | +10% | 1960 | +9% |
| 2012 | $1926 | +24% | $1945 | +14% | 2179 | +11% |
| 2013 | $2183 | +13% | $1722 | -11% | 2582 | +18% |
| TOTAL | $8193 | | $8532 | | $10,088 | |
| CAGR 2009-2013 | 14.1% | | 2.0% | | 13.3% | |
Here are the dollar amounts in chart form.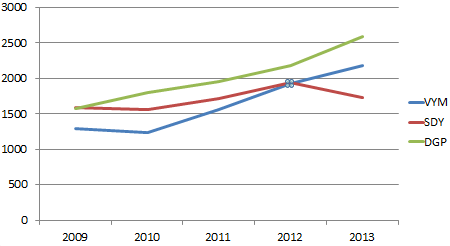 My interpretation of this data is that my Dividend Growth Portfolio is doing exactly what I want it to do. Dividend increases each year have been positive, and the CAGR for dividends from the portfolio has been 13.3% from 2009 to 2013. That is well ahead of inflation.
Neither ETF would have attained my central objective, although VYM looks like a far better choice than SDY. VYM's total income has remained well below the DGP's each year, but its CAGR is slightly better. Of course, that relationship could change in 2014. It has changed twice in four years already.
I find it hard to explain SDY's erratic income results, especially since it owns only stocks with 20-year dividend increase streaks. The decrease in 2013 is especially difficult to understand, as 2013 was a banner year for stock dividends. SDY's payout in 2009 was actually slightly more than the DGP's, but by 2013 it had fallen 33% behind.
Turning to total returns, I compiled the following data from my hand calculations. This includes the reinvestment of quarterly dividends from the ETFs at the closing price on the date shown in the pop-up box for each payment. In my Dividend Growth Portfolio, I accumulate dividends and reinvest them when they reach $1000.
For purposes of this comparison, the starting value of each portfolio is the same: $36,533 at the beginning of 2009 (i.e., the final value of 2008).
| | | | | | | |
| --- | --- | --- | --- | --- | --- | --- |
| End of Year | VYM Value | % Change | SDY Value | % Change | DGP Value | % Change |
| 2008 | $36,533 | | $36,533 | | $36,533 | |
| 2009 | $42,803 | +17% | $43,551 | +19% | $41,706 | +14% |
| 2010 | $48,890 | +14% | $50,586 | +16% | $48,647 | +17% |
| 2011 | $54,045 | +11% | $54,195 | +7% | $56,128 | +15% |
| 2012 | $60,902 | +13% | $60,485 | +12% | $59,107 | +5% |
| 2013 | $79,223 | +30% | $78,676 | +30% | $70,485 | +19% |
| TOTAL | | +117% | | +116% | | +93% |
| CAGR 2009-2013 | | +16.7% | | +16.6% | | +14.1% |
Here are the results in chart form.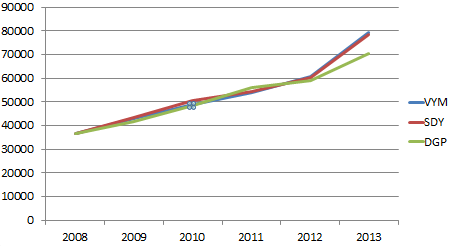 As you can see, the three portfolios turned in almost identical total returns in 2009-2012. In 2013, the two ETFs significantly outperformed the DGP. Over a longer period, I expect the three portfolios to deliver approximately the same total returns, although of course no one can foresee the future. It remains to be seen whether the gap that formed in 2013 remains, widens, or shrinks as the years go by.
Disclosure: I am long MSFT, JNJ, CVX, PG, T, MCD and KMB. I wrote this article myself, and it expresses my own opinions. I am not receiving compensation for it (other than from Seeking Alpha). I have no business relationship with any company whose stock is mentioned in this article.