This morning Allstate Corp (NYSE:ALL) filed a prospectus for a perpetual preferred issue. The preferred has many of the same characteristics of other financial preferred stock, but could help diversify an investors preferred stock portfolio within the financial sector. The details of the preferred are:
Allstate is primarily engaged in the property-liability insurance and life insurance business. Customers can access Allstate products and services such as auto and homeowners insurance through approximately 11,600 exclusive Allstate agencies and financial representatives in the United States and Canada, as well as through independent agencies, contact centers and the internet. Allstate is the largest publicly held personal lines insurer in the United States and the 2nd largest personal property and casualty insurer in the United States on the basis of 2012 statutory direct premiums earned according to A.M. Best. In addition, according to A.M. Best, it is the nation's 17th largest issuer of life insurance business on the basis of 2012 ordinary life insurance in force and 24th largest on the basis of 2012 statutory admitted assets.
Before we can determine the relative value of Allstate's proposed preferred, we have to determine how they stack up against their peers. The peers chosen for this are MetLife (NYSE:MET), Hartford Financial Services (NYSE:HIG) and Prudential Financial (NYSE:PRU). A snapshot of this comparison is:

From the above table, we can draw the conclusion that Allstate is comparable to this peer group, therefore a comparison between their preferred stock is appropriate. It is worth noting that the company has lead their peer group in return on assets, return on equity and the business metric combined ratio (expense ratio and loss ratio combined).
Having established the peer group is appropriate, we can then compare this proposed preferred stock to Allstate's existing issues as well as their peers' issues:

The above table indicates that my "expected dividend rate" on the proposed preferred (guidance is 6.625% - 6.75%) is only a couple basis points cheap to their existing Series C and Series D preferred and barely cheap to higher rated securities of the Met and Prudential.
Does the equity market show that your preferred dollars are in good hands with Allstate?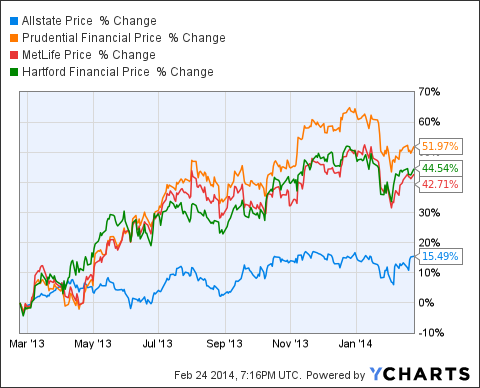 ALL data by YCharts
Over the last year, it does not appear that the equity market thinks they warrant the valuation.
Bottom Line: At a 6.70% or lower, I would not be inclined to add this new preferred unless it was for diversification reasons or I could come out of one of their existing preferreds at a premium (stripped basis) and into this preferred at a discount. The company is solid and there is some yield in the preferred, but I would want a 6.75% or higher to add this position.
Disclosure: I have no positions in any stocks mentioned, and no plans to initiate any positions within the next 72 hours. I wrote this article myself, and it expresses my own opinions. I am not receiving compensation for it (other than from Seeking Alpha). I have no business relationship with any company whose stock is mentioned in this article.