I recently wrote about Hercules Offshore (NASDAQ:HERO) and detailed why it appears significantly undervalued and poised for a rebound from oversold levels. In just the past few days, a couple of interesting developments have occurred which continue to support the thesis that this stock is undervalued and probably near rock-bottom levels. Since my last article, another significant insider buy has been reported, the company has issued a fleet status report for February, and stock has continued to build a base which I believe is preparing the shares for a rebound back over $5 soon. Let's take a look at these points now:
1) This stock is oversold and cheap when you consider the price to earnings ratio, the book value of $5.08 per share and other factors. One sign that the market seems to be ignoring (for now) is the repeated recent insider buying (from multiple insiders). My last article detailed some of the insider buying, but in the past few days there has been another significant buy of 50,000 shares by Steven A. Webster (a director). These shares were purchased at about $4.58 each and this transaction was filed on February 18, 2014. This follows up on other recent buys from Mr. Webster as well as by another insider. When multiple insiders are repeatedly buying a stock that appears cheap and oversold, it is often a sign that the pullback has gone too far. Shareholders who are selling at these levels as multiple insiders are buying, could be making a big mistake not just because of the insider buying but also because the stock is cheap on a fundamental basis. The other reason I think investors who are selling now are making a big mistake is because the shares are oversold and a sharp rebound could be imminent. When compared to other companies in the oil sector, this stock also appears very undervalued. For example, McDermott International, Inc. (NYSE:MDR) is expected to earn 41 cents per share in 2014, and it trades for nearly $9. Key Energy Services (NYSE:KEG) is expected to earn just 18 cents per share in 2014 and it trades for $8.50. Nabors Industries (NYSE:NBR) is expected to earn $1.13 per share in 2014, and it trades for $22. All of these stocks are trading for about 20 times earnings or more. Meanwhile, Hercules Offshore is expected to earn 61 cents per share in 2014 (and 74 cents in 2015), and it trades below $5! This is a price to earnings ratio of just around 8 times earnings, which is way too cheap in a market full of stocks trading for twice that much or more. With this cheap valuation, it's easy to see why multiple insiders are loading up on this stock now. It's important to remember that most insiders typically receive stock options and often already hold significant stakes. When you see insiders who already have plenty of stock use their own money to buy more, there is only usually one reason for that: significant upside potential.
2) As the chart below shows, this stock is in the process of building a solid base around the $4.50 to $4.80 per share level. It also shows that the Relative Strength Index or "RSI" is at just 33, which indicates this stock is oversold. As most investors know, stocks often are bid up too high and become overbought when investors are euphoric. Stocks also become oversold and get pushed to bargain levels when investors are overly pessimistic in the short-term. Buying oversold stocks in fundamentally strong companies can be very rewarding because there is often a rebound in the coming days and weeks. This is what I am seeing for Hercules Offshore. Once the temporary supply of cheap shares from disappointed investors is absorbed, the stock will naturally gravitate higher. This type of contrarian buying opportunity was available to investors when Genworth (NYSE:GNW) and Bank of America (NYSE:BAC) were being dumped by overly bearish investors for $5 per share not that long ago. Now these stocks trade for about triple that level at about $15 per share. It's worth noting that insiders at Genworth and Bank of America were also buying shares when those stocks traded at just about $5. If you want to buy cheap, it can really pay off to buy when other investors are giving up their assets at bargain basement prices. Especially when insiders are buying those assets as well.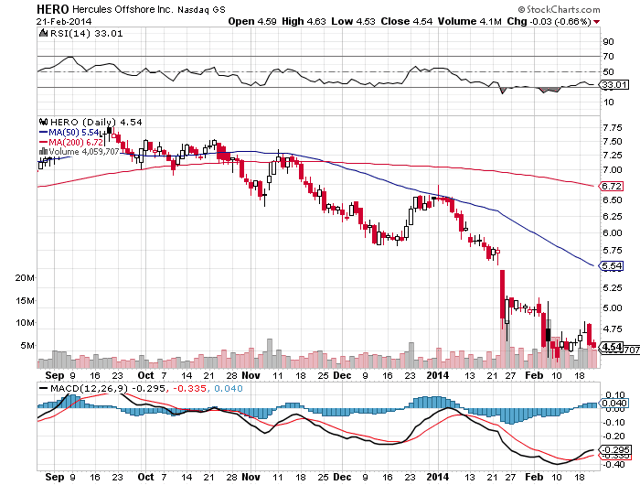 3) Just after my last article on Hercules Offshore, the company released a fleet status report, dated February 19, 2014. There were a number of positive developments in the report which included solid utilization rates in the liftboat business as well as new contracts: The "Hercules Resilience" is being sent out soon for 45 days at a rate of $161,000 to $163,000 per day. The "Hercules Triumph" has been signed to start in April at a rate of $214,000 to $216,000 per day. The deals for Resilience and the Triumph (both super-A class jackup rigs) are significant in terms of revenues, although there were also other contracts announced as well. Some investors may have been disappointed that a multi-year deal has not been announced yet for the Triumph and Reslience when the fleet status report was released. However, I believe that deal will still come soon based upon comments made by the CEO in the Q4 conference call transcripts published by Seeking Alpha on February 6, 2014, which reads:
"Since acquiring these rigs, we have placed the Triumph on a high dayrate, short-term contract in India. While we missed on a few long-term opportunities earlier in the year, primarily because we were too bullish on pricing, I believe that we are now close to securing a multiyear opportunity for one of the rigs. The main contract terms have been agreed to, and we are hopeful that we can finalize the contract within the next month. If we are successful securing this work, startup is expected sometime during the third quarter of 2014, at a dayrate in the low $200,000 levels."
Since the time frame for these contracts was estimated for start-up in the third quarter of the year, the multi-year contract potential still remains strong, especially as only about two weeks have passed since the conference call and the newly published fleet status report. Another positive worth noting from the conference call transcripts is that the company has a $1 billion revenue backlog and "strong liquidity". Later in the conference call, John T. Rynd, (the CEO) reiterated his confidence on the prospects for the Triumph and Resilience which is another reason why multi-year contract deals could come soon. He states:
"Internationally, we're in very good shape. Very confident on the 2 Discovery rigs, on the Triumph and the Resilience. Wish we could say more, other than that we are very comfortable and very confident on positive resolutions on those opportunities we're working on."
In summary, there just has not been enough time passed between the conference call and the fleet status report for the major contract(s) to be signed, but that does not mean they are not coming soon. With the 50-day moving average at about $5.50 and the 200-day moving average at around $6.70, this oversold stock could easily rebound back over $5 per share in the short-term. It could then go onto much higher levels as investors take notice of the cheap valuation that insiders are taking advantage of now. News on a multi-year contract could also be announced soon and act as a significant upside catalyst. Investors waiting for a major deal to be announced before buying are likely to miss a chance to buy at these low levels. Furthermore, Hercules Offshore has been considered to be a takeover target in the past, and with a currently low valuation, it might be very attractive to suitors now. Longer-term, the various analyst price targets of $7, $10 and even $11 per share (as detailed in my last article), imply very significant upside potential. The bottom appears to be in for this stock. With a potential rebound from oversold levels coming, and what could be the strong possibility for major new contract(s) being announced, the chance to buy below $5 is an opportunity that investors should not pass up.
Here are some key points for Hercules Offshore:
Current share price: $4.62
The 52 week range is $4.38 to $7.96
Earnings estimates for 2014: 61 cents per share
Earnings estimates for 2015: 74 cents per share
Annual dividend: n/a
Data is sourced from Yahoo Finance. No guarantees or representations
are made. Hawkinvest is not a registered investment advisor and does
not provide specific investment advice. The information is for
informational purposes only. You should always consult a financial
advisor.
Disclosure: I am long HERO. I wrote this article myself, and it expresses my own opinions. I am not receiving compensation for it (other than from Seeking Alpha). I have no business relationship with any company whose stock is mentioned in this article.