Seldom will I advise or write about short-term speculative opportunities in the market, but today, I find myself compelled by the seemingly exceptional asymmetric risk/reward surrounding Transocean Ltd. (NYSE:RIG) going into Wednesday's (2/26/2014 after hours) earnings release. I have already expressed my position regarding the company's fundamental value in a previous article. Now, approaching the earnings release, the offshore contract driller appears positioned for a potentially strong earnings beat while, at the same time, fortified against significant negative price movement in all but the most unlikely of outcomes.
The following effort will be directed toward building a case for the preceding claim. If the case is persuasive as far as you are concerned, the summary will present advice for profiting from our mutual conclusion.
Past Four Quarters:
| | Q4 '13 | Q3 '13 | Q2 '13 | Q1 '13 | Q4 '12 |
| --- | --- | --- | --- | --- | --- |
| EPS Actual | TBD | $1.37 | $1.11 | $0.93 | $0.91 |
| EPS Consensus | $0.72 | $1.07 | $1.08 | $1.00 | $0.82 |
| Surprise | TBD | 28% | 2.8% | (7%) | 11% |
| Price/Share Before | ~$44.00 | $48.68 | $48.68 | $52.26 | $52.19 |
| Price Reaction (1-day) | TBD | 7.74% | (0.20%) | (0.63%) | 1.61% |
| Price Reaction (3-day) | TBD | 13.74% | (1.77%) | (1.38%) | 1.80% |
From this brief table, there are a few takeaways: (1) This quarter's EPS consensus stands out as quite low comparatively. (2) Transocean's current stock price is also relatively low. (3) This stock, like many concerns, appears susceptible to substantial short-term volatility when faced with a considerably surprising earnings report. (4) Actual EPS has climbed in each of the past four consecutive quarters.
Price Action Since Q3 '13 Earnings: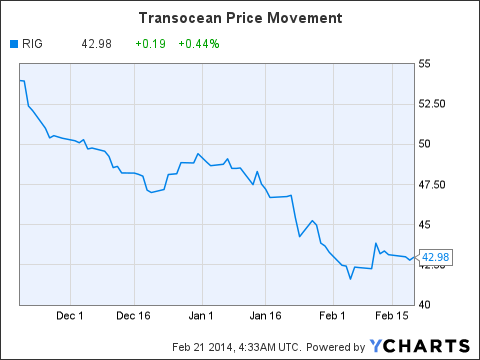 (Source: YCharts)
The above chart illustrates Transocean's plunge in share price of more than 20% over the past three months. A surprising trend considering the company's third quarter 28% earnings beat and its pattern of escalating quarterly returns. Even before the decline, Transocean was being valued by the market as if it would experience no growth at all. Now, the market has further punished the company, dropping its quotation to reflect a dying enterprise with negative future growth.
What's Going On:
A slew of analysts have come forth since the new year, revising industry estimates lower, citing decreasing dayrates induced by excess rig capacity. UBS analyst Angie Sedita reasoned in her downgrade note:
"We believe there could be potential near-term excess capacity for ultradeepwater rigs in 2014 given a substantial number of newbuild rigs entering the market in a short span of time, as well as a bit sluggish demand in some regions (Brazil, West Africa). Long-term we believe demand is strong and the market will absorb the rigs over time."
For some time in January, these revisions bordered on fear mongering, culminating with Barclay's January 28th suggestion that there could be an additional 35% plunge in the shares of companies in the industry. At the time, most ultra-deepwater drilling companies had already experienced a greater than 10% decline.
The material slump in shares of Transocean and other deepwater drillers is almost entirely due to fears surrounding potential yet unrealized excess capacity, which would give way to dwindling dayrates. In the absence of this whirlwind of fear, shares of Transocean could very likely be trading in the mid 50s or higher. It is important, therefore, to determine whether the analyst's assumptions are overdone, accurate, or not harsh enough.
Analyzing The Analysts:
The Barclay's analysts cited their own model which, under certain conditions, precipitated a 38% decline in 2015 EPS. Although the analysts concede the cyclical nature of the possibly reduced earnings, they postulated an even greater percentage share price decline. This is an odd proposal considering the fall in share price is generally mitigated, rather than exacerbated, by cyclical shortcomings. Nevertheless, Barclay's analysts estimated a bearish price target of approximately $29.00 per share (reached by discounting the day's quotation by 35%). Interestingly, in August of 2012, the same analysts published a price target of $77.00 per share.
Since newbuild ultra-deepwater drilling rigs have far-out lead times, much of the projected excess rig capacity has been in production for a extensive amount of time. If this was foreseeable so long ago, why the sudden drastic change now?
I find it practically impossible to understand or follow the seemingly whimsical predictions of sell-side analysts who often completely reverse course in a matter of a few months. By category, they are fickle, devious, and often flat-out incorrect; it is wise to be skeptical of their conclusions. However, while their incentives are rarely aligned with ours, we cannot dismiss their claims due only to lack of trust.
Other Indicators:
If crippling excess supply actually exists, the first to feel the effects would be deepwater rig builders. Newbuilds are contracted many months in advance. Therefore, any expectation of long term oversupply should lead to a noticeable reduction in new orders. In the most recent earnings call, National Oilwell Varco's (NYSE:NOV) COO, Clay Williams addressed this matter directly:
"First, deepwater drilling rigs; following 26 floater drilling equipment package wins by NOV in 2013, much has been written lately about falling demand in 2014. We certainly concur that fewer E&P tenders for deepwater drilling rigs lately in the face of 39 un-contracted floaters to come to market in the next few years, should point to a more restrained outlook for newbuild deepwater rig demand in 2014. The only problem is we just don't see it yet.

Those who know most about the market continue to place orders. Demand actually looks to be holding up well so far and we expect rig technology book-to-bill to land close to 1 or maybe even exceed 1 for the first quarter. We're off to a good start in 2014."
This statement was later expounded on by Fool.com contributor Matthew DiLallo in his article, "This Market Might Not Be as Bad as Investors Fear." Through analysis of future supply and demand, he concludes that the long-term crux is actually a vast undersupply of rigs. This is illustrated in the following chart published by Seadrill (NYSE:SDRL):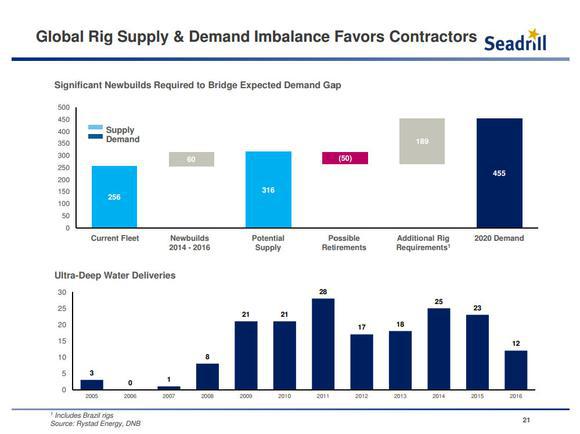 Any decline in dayrates triggered by short-term softness in demand and/or near-term excess capacity should be mitigated by the long-term industry outlook. The expectation of healthy future demand will provide deepwater drillers leverage when negotiating dayrates for current and future contracts.
Company Outlook:
When compared to Q3 2013, Transocean has guided for across-the-board (High Spec Floaters, Midwater Floaters, and Jackups) dayrate increases in both Q4 2013 and Q1 2014. Transocean produced the following charts illustrating projections for dayrates and out-of-service days: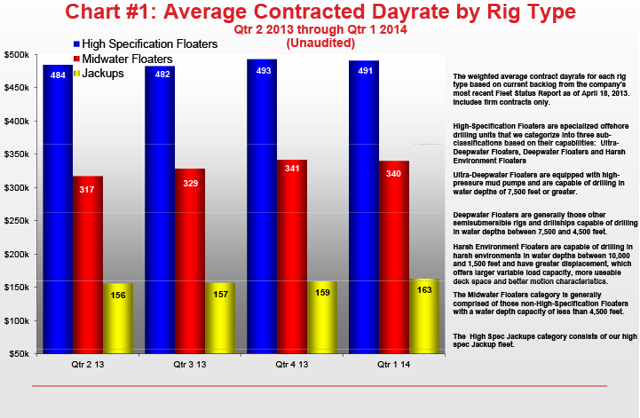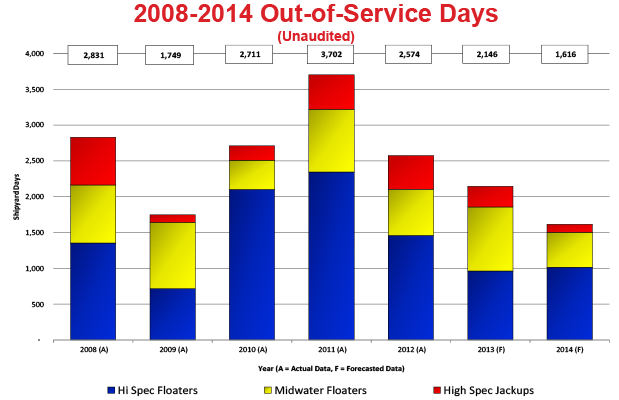 These statistics reflect the company's expectation of higher dayrates and lower out-of-service days for the end of 2013 continuing into 2014.
In addition, Transocean released further metrics at its Analyst/Investor Day Presentation on November 21, 2013, indicating the health of its business. Here are two immensely significant graphs:
Backlog By Year (2013 shows only what remains of the 4th quarter):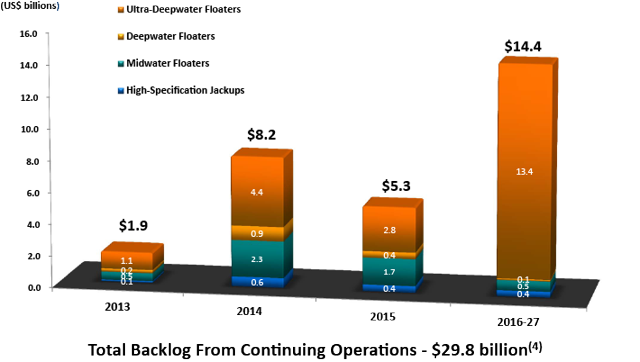 Committed Fleet By Year: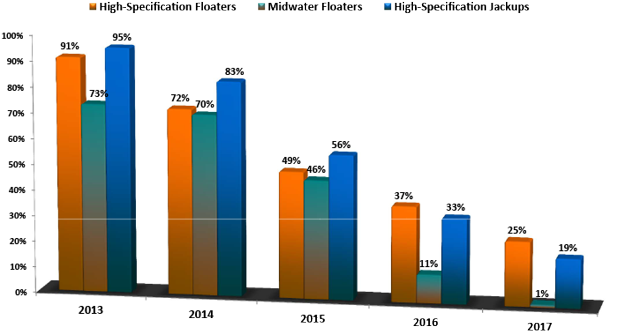 These charts imply that Q4 of 2013 is set to realize particularly high utilization rates. Furthermore, the 2014 backlog shows strength, with 83% of the highest-yielding dayrate rigs already under contract. This was published in November (the numbers were finalized October 16th); since that time these figures are likely to have improved.
Fourth Quarter Floor:
Using information regarding already booked contracts, I have attempted to calculate a fourth quarter conservative outcome.
Sixteen days into the fourth quarter, there were contracts remaining for $1.9 billion. Since this is a conservative estimate, I will assume that Transocean conducted NO business for the first 16 days of the quarter. Further, I will simulate no Q4 contract wins or other added revenue after this date.
Assessing Q3's gross profit margin of 41.7%, we infer $792.3 million gross profit from the $1.9 billion in contracts. Proceeding by subtracting Q3's full SG&A cost, $357 million, we arrive at $452.3 million operating income. Despite sequential reductions in interest expense, we subtract last quarter's $142 million, bringing the figure to $310.3 million before tax. Using a 19% tax rate (again carried over from the third quarter), net profit comes to $251.3 million. Assuming that the company did not buy back or issue a substantial number of shares, we are left with $0.70 EPS.
This improbable figure represents only $0.02 per share downside to current Wall Street expectations. I expect a combination of additional revenue and cost control measures to produce significantly superior results.
Other Deepwater Rig Concerns:
Several competitors have already reported Q4 earnings, and predictably, many of them meet or beat expectations. Here is a quick list of some of the results:
Notable names yet to report:
Seadrill Limited: Reports Tuesday, February 25th.
Rowan Companies PLC (NYSE:RDC): Reports Thursday, February 27th, the day after Transocean.
Pacific Drilling SA (NYSE:PACD): Reports Tuesday, February 25th.
Seadrill's Tuesday report will be especially noteworthy for Transocean shareholders. Look for shares of both companies to make a strong move in the event of a surprise in either direction.
Technicals: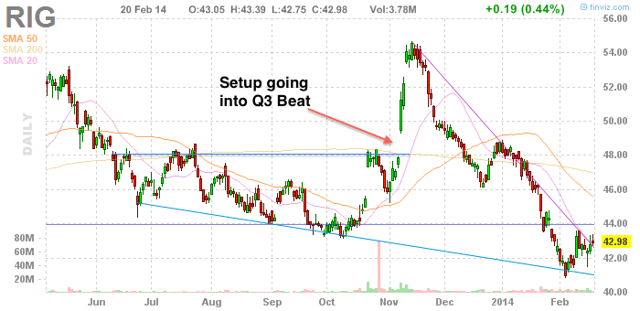 This Financial Visualizations graphic highlights a pattern leading up to a significant Q3 earnings beat. This pattern appears to be re-emerging just below resistance at 44.00. Breaking though this level on a strong quarterly report could rapidly propel the security. To be fair, an extremely poor outcome and a move below support at around 41.00 could send the stock into a tailspin.
Summary:
As I've said before, it is my belief that Transocean has a very bright future. Moreover, the shares seem to present a considerably favorable short-term risk/reward proposition. Various considerations, many of which were discussed above, shed doubt on the justification for the extent of despondency besieging Transocean stock.
If you agree with this conclusion, here are a few ways to take advantage:
(1) Conservative investors should purchase shares and/or write "in the money" put options with short expirations. In the case of writing puts, you are essentially buying shares at a slightly cheaper price. Make sure you only write as many puts as shares you are willing to purchase. Regardless of the result, this is a buy and hold strategy. Leave yourself with plenty of cash reserves to average down in the event of a major decline.
(2) Aggressive speculators can exploit this opportunity buying March 22nd 44.00 and/or 43.00 call options, trading at 0.87 and 1.30, respectively. This is a high-risk proposal, as these options could easily end up worthless. If you choose to go this route, only speculate with capital you are prepared to lose. I will not estimate your potential returns, but if you can stomach the risk, this might be an attractive strategy. A decision to pursue this plan should be made before Seadrill reports on Tuesday.
As always, it is critical that you conduct your own research. Some of the suggestions herein present tremendous risk. If you do not fully understand the reasoning behind an investment or speculation, you should not participate.
Disclosure: I am long RIG, NOV, SU, BRK.A. I am also long RIG March 44.00 Calls. I wrote this article myself, and it expresses my own opinions. I am not receiving compensation for it (other than from Seeking Alpha). I have no business relationship with any company whose stock is mentioned in this article.