To identify potentially attractive investment ideas, The Applied Finance Group (AFG) usually uses a combination of proprietary variables to develop a focused group of potential buy ideas that meet criteria based on valuation, economic performance, management quality, and earnings quality. Although this set of investment criteria has proven successful in generating buy ideas, AFG's valuation on a standalone basis has consistently been able to identify mispriced securities and investment opportunities that outperform their chosen benchmark.
Several times over the last year ValueExpectations.com has released lists of companies narrowed only by the valuation properties of the company using AFG's Value Score. In the near future we will highlight all of the "valuation-only screen" company lists released on VE since November 2008 and see how much value our valuation variable creates in the screening process.
Listed below are the top 10 companies in the S&P 500 (excluding Financials) based on AFG Value Score alone. These companies look the most attractive from a valuation perspective relative to the rest of the S&P 500 index.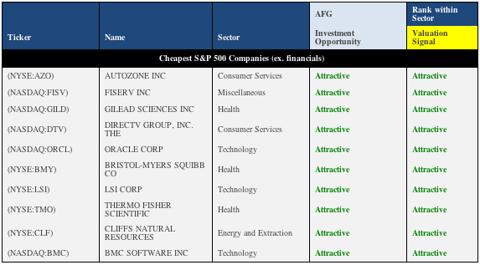 A closer look at LSI Corp.
LSI Corp. (NYSE:LSI) currently looks undervalued according to The Applied Finance Group's (AFG's) default valuation model. LSI has a Value Score of 97, meaning it ranks in the top 97th percentile of companies in the AFG universe in terms of valuation attractiveness. We have confidence in this value score because historically AFG has tracked the company very well, with an accuracy score of 93. Companies AFG identifies as undervalued have proven over time to be more likely to outperform companies with an unattractive default AFG valuation rank. Based on these factors, LSI looks well positioned to outperform.
LSI Corp. (NYSE:LSI) Intrinsic Value Chart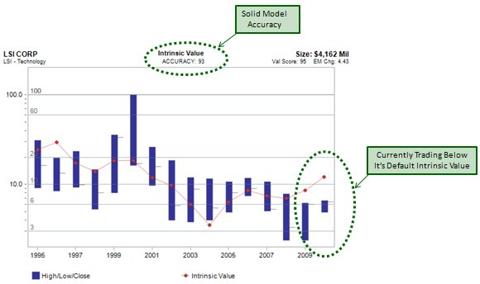 How to Read AFG's Intrinsic Value Chart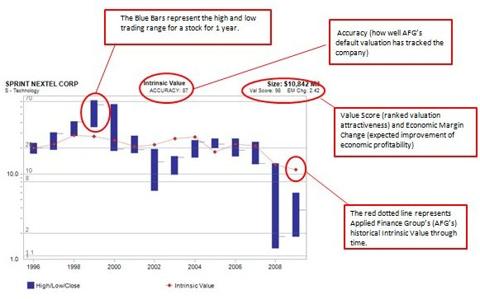 Source: EconomicMargin.com
Applied Finance Group's Value Score defined - A score which represents the ranked percent to target (deviation between stock's current trading price and AFG's current default target price) or attractiveness (upside) relative to the universe. A Value Score of 100 is the most undervalued and 0 is the most overvalued company in the universe.
To stay updated on companies AFG believes are attractive investment opportunities register here.
Disclosure: None