Quicksilver Resources Inc. (NYSE:KWK) posted first quarter 2010 earnings of 20 cents per share, above the Zacks Consensus Estimate of 15 cents and up 27% from last year's earnings of 16 cents.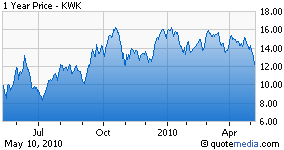 Total production averaged 318.4 million cubic feet of natural gas equivalent per day (MMcfe/d) (down 4%) in the quarter. The increase in production was driven by higher volumes from the Fort Worth Basin. The production volumes in the quarter comprised roughly 77% natural gas, 21% natural gas liquids (NYSE:NGL) and 2% crude oil and condensate.

Total realized prices during the quarter improved 14% to $7.03 per Mcfe, driven by increased prices for oil, natural gas and NGLs. The average realized oil, NGL and natural gas prices in the quarter were $71.36 per barrel (up 107%), $31.19 per barrel (up 48%), and $7.44 per thousand cubic feet (Mcf) (up 6%), respectively.

Total revenues in the quarter increased 20% year-over-year to $222.2 million, with net natural gas, natural gas liquids (NGL) and oil sales of $201.6 million (up 10%). The 10% increase was driven by an increase in the average realized price per thousand cubic feet of natural gas equivalent (Mcfe) on lower production.

During the quarter, the company incurred $36.0 million toward production expenses, up 12% year-over-year, primarily due to higher Canadian costs related to higher exchange rate and costs associated with operating new wells at the Horn River project. Unit production expense increased $0.18 per Mcfe to $1.26 per Mcfe during the quarter.

Furthermore, production and ad valorem taxes in the quarter doubled to $0.30 per Mcfe and general and administrative expenses increased 24% to $0.72 per Mcfe. However, depletion, depreciation and accretion expenses in the quarter decreased $0.37 per Mcfe to $1.63 per Mcfe.

The company generated net cash provided by operating activities of $65.8 million in the quarter, down from $149.4 million in the same period last year. The company's long term debt in the quarter increased $83 million to $2.5 billion. As on Dec 31, 2009, the company had $601 million of cash and equivalents.

Quicksilver lowered its expected 2010 capital program to roughly $510 million, reflecting reduced planned drilling and completion activities in the Fort Worth Basin. The company also lowered its production guidance in the range of 360-370 MMcfe/d in 2010, an increase of approximately 11%-14% from the 2009 average daily volumes.

For the second quarter of 2010, the company expects production volumes of roughly $350–$360 MMcfe/d. The company expects production, gathering & processing, and transportation expenses in the range of 55–60 cents per Mcfe, 15–20 cents per Mcfe and 40–45 cents per Mcfe, respectively. Production taxes, per Mcfe, are expected in the 25–30 cents range. G&A and DD&A expenses are expected to be 65–70 cents per Mcfe and $1.50–$1.55 per Mcfe, respectively.

Additionally, the company has hedged about 68% of its expected total production for the remainder of 2010. About 65% of Quicksilver's natural gas for the rest of 2010 is hedged through collars at a floor price of $7.40 per Mcf. The company also has in place fixed-price swaps at a price of $33.47 per barrel for about 85% of its NGL production for the rest of 2010.