Executive summary:
MediciNova has an important proof-of-concept catalyst on the horizon for its lead compound, MN-166, or Ibudilast as a treatment for opioid dependency.
Ibudilast has already been shown to have effect in the treatment of methamphetamine addiction exacting $23B annually from the U.S. economy relative to crime, lost work productivity and healthcare.
Already having received "fast-track" status in this indication, MediciNova is now in consultation with the FDA to advance this molecule as quickly as possible into commercialization.
MediciNova also recently received a milestone payment equaling eight months of operating capital for its contribution to Genzyme's gene therapy treatment in Parkinson's disease which should relieve downward pressure on the stock.
_________________________________
Biotechnology companies are by and large birthed through a slow process involving decades of time and millions of investor dollars along the way. If you're holding long through that process it can be almost unbearable waiting for a catalyst that never seems to come. Rather than begrudging dead money, investors sell at a loss or wait for months before an established exit point is reached.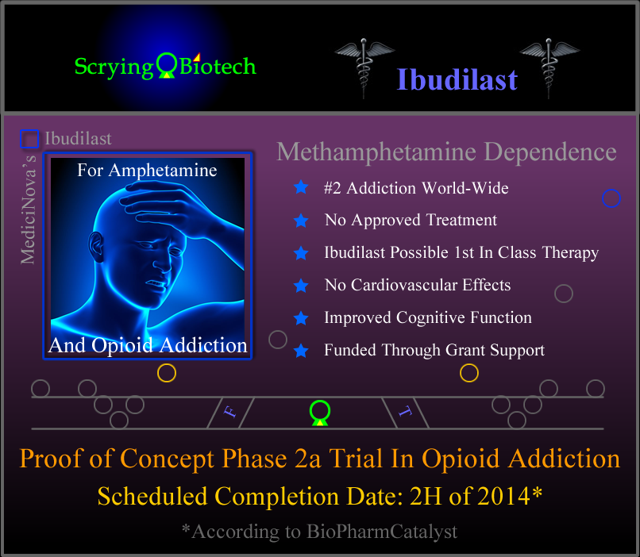 This has certainly been the case with MediciNova (MNOV), a small biopharmaceutical company headquartered in La Jolla, California and having only 17 employees. From the company's well designed website, we have this brief introduction.
MediciNova, Inc. is a publicly-traded biopharmaceutical company focused on acquiring and developing novel, small-molecule therapeutics for the treatment of diseases with unmet medical needs with a specific focus on the U.S. market. Through strategic alliances primarily with Japanese pharmaceutical companies, MediciNova holds rights to a diversified portfolio of clinical and preclinical product candidates, each of which MediciNova believes has a well-characterized and differentiated therapeutic profile, attractive commercial potential and patent assets having claims of commercially adequate scope.
The 1st three rules of biotechnology investing after having made a selection: timing, timing, timing.
The goal of every downstream biotechnology investor should be to win at a game that is rigged against you. There are a myriad of ways to do this, but timing a trade based upon the evolution of the company and the behavior of its chart are crucial aspects. I therefore, do the following things to optimize my chances of success.
Avoid inception events - IPOs.
Identify companies that are on the verge of passing their gestation periods.
Carefully analyze the stock chart for patterns of selling behavior.
Initiate positions in those that are on the cusp of watershed moments that give birth to growth.
Develop a post-purchase profit strategy and execute it.
Please bear in mind however, that I'm a patient investor. I don't think in terms of weeks or months but rather whole quarters and if the company is right, half and whole years.
The graphic below is an abbreviated snapshot of the MediciNova product pipeline snagged from the company website.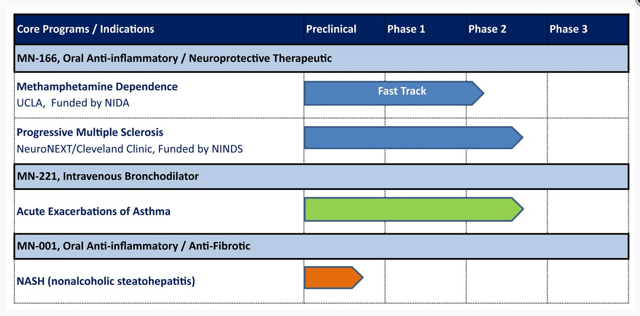 Though MediciNova rightfully claims that they have three principal compounds providing value to their pipeline, I'm going to overlook two of these, not because they fail to provide value - they do, but rather because one of them offers disproportionate opportunity.
MN-001 for Nonalcoholic Steatohepatitis may be the most powerful asset MediciNova possesses, but it's in a stage of developmental infancy. And MN-221, although surviving a near-fatal setback while continuing to forge ahead, simply doesn't rise to the market potential that MN-166, or Ibudilast portends.
So we're going to talk about Ibudilast - the crown jewel of the company, appreciated by both academic researchers and the FDA as a potential first-in-class treatment for methamphetamine addiction. It has the potential in fact, to be equally effective in the treatment of opioid and alcohol abuse. Collective approval in all three market indications could bring in billions of dollars in annual revenue.
Why has the share price been so quick to rise and fall?
Before we examine this compound for its perfection and flaws, we first need to address three notable events that would have pushed the stock well beyond its current price were it not for the secretive vehicles of financing identified in a prescient article now almost a year old by PropThink, which is well worth a peruse.
The one-year company chart below shows the effects of a sweet arrangement for both MediciNova and Aspire Capital which allowed the latter to purchase shares on the cheap and flip them for immediate profit behind the scenes.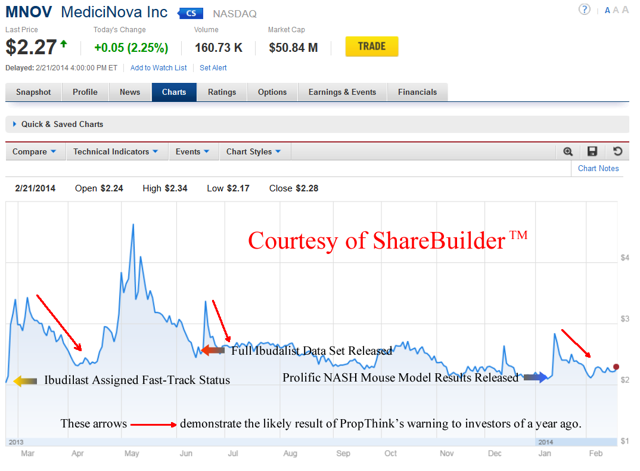 Here are the events that would have easily had the stock moving up in multiples rather than down incrementally had the agreement not been made.
On February 25, 2013 Ibudilast is granted fast-track status by the FDA for the treatment of methamphetamine dependence. Of all agency designations this is perhaps the most important as it points to an unmet medical need and a possible shortened timeline to commercial approval.
On June 18, 2013 data from the study that inspired fast-track approval is released indicating that Ibudilast may, according to Dr. Steven Shoptaw, Ph.D., act by reducing methamphetamine's neurotoxic inflammation and attenuating other actions contributing to dependence.
Then on January 14th of this year, MN-001 demonstrated a slew of statistically significant results in a NASH mouse model that revealed probability values compared to vehicle of less than 0.01 relative to significant reductions in both fibrosis area and liver hydroxyproline content, as well as the down regulation of MCP-1, CCR2 mRNA, Collagen type 1 and TIMP-1 mRNA expression levels.
But perhaps, catching my attention more so than any of these events was an 8k filing by the company the day before the January 14th NASH press release that went essentially unreported on most financial sites.
In it we learned that MediciNova had on January 10, 2014 received a $6M milestone payment from Genzyme Corporation for its contribution to their gene therapy program in Parkinson's disease. This to me is significant on two levels.
It provides further validation of the science under-girding MediciNova's enterprise.
It relieves downward pressure on the stock price by providing the company with 8 months of dilutive-free financing.
This year's phase 2a readout of Ibudilast in opioid dependency has implications far beyond proof-of-concept in opioid addiction.
Ibudilast is a novel alternative to most addiction therapies in that it isn't a substitute prescription opioid. Rather, it's classified as a phosphodiesterase inhibitor, which is a drug that blocks one or more of the five subtypes of enzyme phosphodiesterases, or PDEs. The most famous of these is Viagra, which blocks PDE5, an enzyme which regulates blood flow to the penis.
Ibudilast has activity at PDE4 and PDE10, which essentially offers two features that make it attractive to addiction therapy researchers.
It crosses the blood-brain barrier suppressing glia activation which offers a wet blanket or neuroprotective effect to agitated brain cells.
It has the ironic property of offering an enhancement to analgesia, or the "getting high" effect which allows abusers to use less drug while at the same time reducing the development of tolerance, or dependency.
Better still, it appears to have no negative cardiovascular side-effects and can be taken safely for relatively long periods of time.
A fascinating video interview conducted by Rex Graham of the San Diego Biotechnology Connection with the aforementioned, Dr. Steven Shoptaw reveals the excitement surrounding this compound that convinced the FDA to assign Ibudilast fast-track status in the methamphetamine addiction space. What follows are some of Dr. Shoptaw's most illuminating thoughts from that conversation.
We were able to document that under 15mg and 30mg of methamphetamine, we were able to see the expected rises in heart rate and blood pressure but that there was no increase at all on those parameters of 20mg or 50mg twice daily of Ibudilast.

That means that we can take this medication to community knowing that by and large, most of our safety concerns are answered.

But we got a kicker with this. And that was that we actually tested neurocognitive function at the beginning and end of the trial. At the beginning, all subjects scored significantly lower than published norms on the tests that we measured.

At the end, we saw that 100mg - 50mg twice daily of Ibudilast compared to placebo actually improved the time in which they could complete a task of continuous performance and actually reduced the number of perseverative errors, which means the number of common errors that people were making.

We took this to mean that medication was actually helping people to pay attention better which goes back to one of the primary goals we were talking about - and that is that people don't feel good in their brain when they stop using methamphetamine.

This is one indication that this medication may be working by improving attention.
After running down a long list of other compounds the researchers at UCLA have experimented with unsuccessfully over a span of many years, Dr. Shoptaw had this cautionary word about Ibudilast's promise.
So the idea that on an 11 patient study we got a significant finding with the attention and continuous performance tasks makes us gleeful. It makes us very happy. And it also makes us very sober because we have to do it again. And the hardest thing to do in science is to repeat ourselves.
And this to me, is what makes the now under-way trial in opioid dependency so very important to the company and its investors moving forward. Not only because it would be confirmatory of a larger scope of application for Ibudilast therapy, but because it would favorably affect FDA representatives who are now in consultation with MediciNova over Ibudilast's path forward in amphetamine addiction.
The opioid dependency trial was referred to in this 2012 annual report filed in early 2013.
Investigators at Columbia and the New York State Psychiatric Institute recently commenced a NIDA funded, double blinded, placebo controlled, Phase 2a clinical trial to determine the effect of MN-166 for the withdrawal treatment of patients addicted to prescription opioids or heroin. This trial is expected to proceed through mid-2014 and, assuming a positive outcome, is expected to be followed by a Phase 2 trial for opioid dependence.
I visited the clinical trial's website to view the structure of this study, having already seen how a poorly composed trial can compromise its goals. Nektar's (NASDAQ:NKTR) phase 2 trial of NKTR-181, a non-addictive opioid substitute for persons with chronic pain, failed to implement a rigorous daily review of patient impressions leaving that to a "daily journal" which was often sporadically attended to.
MediciNova's phase 2 test in opioid dependency employees the Short-Form McGill Pain Questionnaire now utilized in the pivotal phase 3 NKTR-181 study. I found all other aspects of the trial structure to be comprehensive.
Is Ibudilast a one-pill solution for all forms of addiction including alcoholism?
On August 25th of last year, a mere 6 months ago, MediciNova announced that the National Institute on Alcohol Abuse and Alcoholism (NIAAA), part of the National Institutes of Health, would fund a clinical trial of Ibudilast for alcohol dependence. (I hope you're noticing a tendency here - that most Ibudilast trials are funded through partnerships with the U.S. government.)
They further stated that the study would be led by Dr. Lara Ray, Ph.D., Associate Professor, Department of Psychology, Department of Psychiatry and Biobehavioral Sciences, and the UCLA Brain Research Institute. The following is her comment in the press release:
Emerging research in the field of alcohol dependence has identified some of the same molecular and cellular targets that have been implicated in drug addiction. These targets appear to be affected by Ibudilast and are worthy of pharmacotherapy development for alcohol addiction. The combination of the preclinical, NIAAA-sponsored alcohol dependence studies, along with the encouraging clinical development progress in drug addiction and other neurological conditions, provides a solid foundation for our initial clinical research. We are pleased to partner with NIAAA and MediciNova to help move forward the testing of MN-166 as a novel treatment for alcoholism.
According to MediciNova, completion of these proof-of-concept phase 2 trials will lead to a partnership with big pharma.
From the very same 2012 10-K noted above, we have the following paragraph regarding MediciNova's follow-up intentions to phase 2 results.
Our goal is to strategically partner with one or more leading pharmaceutical companies to complete late stage product development and successfully commercialize our products. We develop and maintain relationships with pharmaceutical therapeutic area leaders. Upon completion of proof-of-concept Phase 2 clinical trials, we intend to enter into strategic alliances with leading pharmaceutical companies who seek late stage product candidates, such as MN-221, to support further clinical development and product commercialization.
It should be noted that this document was written before fast-track status was given to Ibudilast and I believe having received it makes the possibility of partnering ever more viable for the company.
This is yet another reason why the upcoming results in opioid dependency take on amplified importance.
In keeping with my desire to provide a painfully honest view of every investment opportunity, here is the negative side of the ledger.
Part of my due diligence is to check the total executive compensation of the company to see if it's in line with other biotechnology enterprises at a similar stage of development. While Chief Scientific Officer, Kirk Johnson Ph.D., Chief Business Officer, Michael Coffee and Chief Medical Officer, Kazuko Matsuda M.D., Ph.D., receive standard remuneration, President and Chief Executive Officer, Yuichi Iwaki M.D., Ph.D., is at the high end of the spectrum for a company with a market cap of only $51M.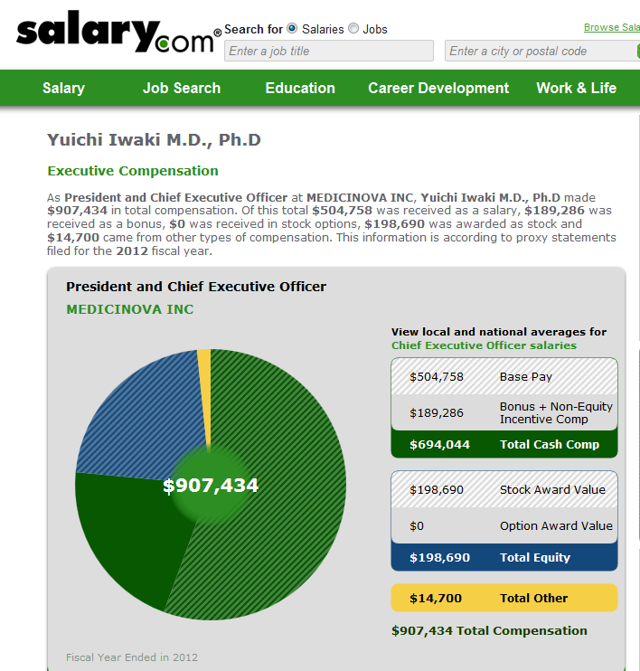 Because a full 28% of this is in the form of stock compensation, a more bullish and less cumbersome method of payment, I'm inclined to look beyond it.
Another issue that you'll find critics addressing is the slow advancement of the company pipeline. While I would agree that the pace has been more tortoise than hare, I would also note that the company has been sophisticated in its approach to pipeline development in having various subsidiaries of the National Institutes of Health pay for the lion's share of trial costs.
I've made a reasonably good case for accelerated advancement of the pipeline through the FDA's assignment of fast-track status and the company's preparedness to advance partnership discussions as these phase 2 trials are completed.
A third criticism that you'll hear, I find to be prejudicial and therefore completely unfair. Some folks will undoubtedly suggest that these drug addiction trials are flawed from the get-go for two reasons.
The involvement of social scientists and psychologists in the assessment process doesn't lend itself to accurate methods of scientific discipline.
The treatment population is too erratic to advance a reliably controlled study.
Both arguments are predicated upon a bias against mental health professionals and their ability to do their work constructively. In the end, the work already accomplished and valued by the FDA with the assignment of fast-track status disproves this abundantly nonsensical argument.
And then there are those who will ask, "who will pay for this drug" once it's commercially approved?
This again reveals an incredible ignorance of the world-wide, drug dependent population which spans every socio-economic, ethnic and political divide. Essentially, we all pay for the substance abuse of our fellow man. Governments recognize this, and once commercialized, the market will assign a fair price to Ibudilast, as it does to every medicinal therapy.
And finally, a more valid criticism that I have is that the company does a relatively poor job of communicating its promise to prospective shareholders. Just take a second look at that pipeline graphic from the company's website. There's no mention of the critically important near-term trial catalyst in opioid addiction that will read out later this year. Nor is their any indication of the alcohol addiction study that their PR addressed so beautifully.
In this day and age, these gaffes of omission foster an unnecessary silence that all too often plays into the hands of large hedge funds who are able to manipulate the stock share price in the absence of a better brand of messaging.
In Conclusion
Please don't mistake my honest critique of MediciNova as indicative of reservation or lack of enthusiasm on my part. I believe it to be the second most overlooked stock, company and compound in the biotechnology sector of the stock market.
I think you can clearly see the confluence of investigational research that is driving Ibudilast into the forefront of drug dependency treatment. Ignoring the possible milestones that lie ahead and their felt impact on both FDA perception of the drug and MediciNova's ability to partner its asset is a mistake that I'm not prepared to make.
With 23.9 million Americans (9.2% of the total population) using illicit drugs (NIH 2012), 2.4 million abusing prescription drugs (National Survey on Drug Use and Health 2010), 10,817 public and private drug and alcohol treatment centers nationwide, and 23.1 million people ages 12 and older having sought treatment in 2012 - a number that could double under the Affordable Care Act - it's clear to see that the market opportunity is there.
The critique PropThink made of MediciNova's financing strategy over the past year, although accurate in its assessment of impact on shareholder value, was a bit over-blown. When a company is in its gestation period of development, the last thing it needs is to have to conduct dilutive secondary offerings at low share prices that place them near the brink of Nasdaq delisting.
Entering into common stock purchase agreements such as the one with Aspire Capital is as unfortunate as it is demonstrative of MediciNova's interest in self-preservation. And I like companies that take care of themselves. In the end, they win. And therefore, so do I.
Recognizing the company's pragmatism in this regard, my strategy will be to purchase shares of MediciNova and sell them shortly after news events which trigger higher prices. I'll then pocket the profits and buy back a position equal to my initial investment after the shares slide back to support.
Once the company convinces me that their self-confidence is in tact by funding through vehicles that are demonstrably less detrimental to shareholder value, I'll be more inclined to let my investment ride.
Always be well...
Disclosure: I am long MNOV. I wrote this article myself, and it expresses my own opinions. I am not receiving compensation for it (other than from Seeking Alpha). I have no business relationship with any company whose stock is mentioned in this article.
Additional disclosure: Any information or opinion expressed herein may not be true, accurate or correct and it does not constitute any suggestion to buy, sell, hold or adopt any investment strategy for this stock or any stock that may be mentioned. Reliance upon information in this article is at the sole discretion of the reader. The sole purpose of my article is to entertain by providing information the accuracy of which is as good as the public sources it was derived from. Do not act on anything I have written. Rather, do your own due diligence and consult an investment professional before making any investment decision. Acting on what any one writer, including me has imparted to you is foolish at best. I have no better access to resources or gift of opinion formulation than you do. I sometimes make mistakes. There are a myriad of things, which can happen in lieu of any forward-looking statement I have made. Any stock featured or mentioned in an article I compose is subject to all manner of influences, which can change its value in dramatic fashion upwards or downwards. These events can be of a wide variety not limited to news related occurrences, managerial decisions, trial failures, stock manipulations and so on. I make every effort to declare positions I have in stocks I cover or mention in an article but reserve the right to move in and out of said investments at my own discretion based upon the wisdom of doing so. I implore you to do your own due diligence, invest at your own considerable risk attaining the just reward your efforts have wrought. And always be well.