The world's population is projected to reach 9.7 billion in 2050 from the current level of 7.1 billion. With the increase in population, demand for food will also rise. According to Food and Agricultural Organization (FAO) projection, food production will need to increase by 70% by 2050 to meet the world's food needs.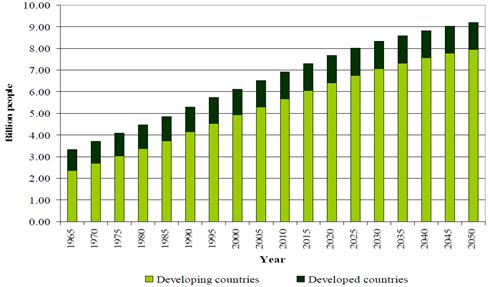 Due to rising food demand, demand for agricultural inputs such as high yielding seeds, pesticides and fertilizers will increase in the coming years. This will benefit Monsanto Company (NYSE:MON), the world's largest producer of genetically engineered seeds. Monsanto produces leading seed brands and develops biotechnology traits that assist farmers in controlling insects and weeds, and provides other seed companies with genetic material and biotech traits.
Monsanto operates in the Agricultural chemicals industry. The global agricultural chemicals market is forecast to surpass $329 billion by 2015. The bio-seeds market will increase from $15.60 billion in 2011 to $30.21 billion in 2018. The U.S. farm economy and crop markets are mature, with cultivation of corn the largest use for agricultural chemicals. Most of the growth in global nutrient use will come from countries in Asia and Latin America, as these regions' rising populations and income levels boost the need for grain production. The company has a strong presence in countries like Brazil, China and India, and this gives them an edge over its competitors.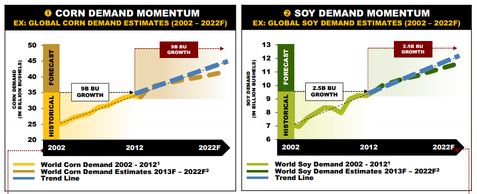 Source: Monsanto
Monsanto has diversified its operations both product wise and geographically. It has two business segments: Seeds & traits and Agrochemicals. In the first quarter of FY2014, the company generated more than 53% of its sales from Seeds & traits segment. In this segment, it derived more than 65% of its revenue from corn seed sales and nearly 17% from soybean seed sales.
Over the past decade, Corn and Soybean demand has increased by 9 billion bushels and 2.5 billion bushels, respectively. According to Monsanto projections, corn demand will increase at least 500 million bushels per year, while soybean demand will increase at least 200 million bushels per year over the next decade. The increase in Soybean and corn demand will help the company to improve its top and bottom lines.
Monsanto spends 9%-10% of its sales in research and development ((R&D)) effort every year. The company concentrates the vast majority of its research and development efforts on new biotech traits, elite germplasm, breeding, new variety and hybrid development, and genomics research. Monsanto knows that new innovations can open up more markets for the company. They will remain the leader in farming technology because of the importance of R&D.
One risk associated with Monsanto is that it has been criticized by many environmental groups for its work with genetically modified organisms and other controversial products. Over the past few years, a large number of lawsuits are filed against the company, and this trend may continue in the future. Further lawsuits in the future could disrupt the company's operations and affects its profitability. However, if investors are willing to accept this risk, it should be at the center of the agricultural revolution.
Another good reason to invest in the stock is because its quarterly dividends increased from $0.24/stock in 2009 to $0.43/stock in 2013, suggesting that Monsanto will have a brighter future. In the last three years, Monsanto returned more than $4 billion to its investors through dividends and buybacks. With more than $4 billion in cash, it has the ability to pay dividends for at least four years.
To meet the food demand, food production needs to be increased. To increase food production, increasing the use of agricultural machinery is important. Agricultural mechanization increases productivity of land, improves quality of produce, and reduces loss of produce. World demand for agricultural equipment is expected to increase 6.7% annually through 2016 to $173.5 billion. This will benefit Deere & Company (NYSE:DE), one of the world's largest agricultural equipment maker. Deere has two business segments: the Agriculture & Turf segment, and the Construction & Forestry segment. It derives roughly 80% of the total sales come from the agriculture segment, with the remainder via construction & forestry. As the global leader in agricultural equipment manufacturing, Deere is well positioned to benefit from growing agricultural equipment demand.
Most of the future population growth will come from developing countries. Deere is increasing its efforts in the emerging markets. They predict that revenues coming from outside the U.S. and Canada will increase to 50% of total revenues, up from 37% currently. Deere has great growth opportunities in emerging markets such as China, Brazil and India. The company is investing heavily in these countries, and intends to invest further in the coming years.
China will provide great growth opportunities to Deere, as the country need to boost food production when the population rises. Most of the future demand for agricultural products is expected to come from China and India. Agricultural equipment sales in China are forecast to grow 10%-15% a year over the next decade as the country's agriculture sector becomes more mechanized and diversified.
Deere has a loyal customer base. There are two reasons customers are loyal to the Deere brand. First, the John Deere brand has a very positive reputation for creating quality products and providing excellent customer service. Second, if a person already owns John Deere equipment, they are likely to stick with the brand because the parts are more compatible with each other compared to other brands.
Like Monsanto, Deere also spends heavily on its research and development. Research and development is how Deere differentiates itself from its competition. The company aims to continually innovate in order to increase farmers' efficiency. Fuel efficiency is always a major part of this in order to save farmers money. Recently, Deere has increased its focus on GPS systems and computers that can help farmers be as accurate as possible in their planting and harvesting.
Deere is also paying a healthy dividend to its investors. Between 2009 and 2013, the company has increased its quarterly dividend from $0.28/stock to $0.51/stock. Due to excellent growth opportunities in the international market, they will keep its investors happy for years to come. Its dividend payout ratio is only 22%, which leaves lots of room for further growth. With $3.5 billion in cash, it has the ability to pay dividends for at least three years.
Bottom Line
Both Monsanto and Deere are rapidly expanding their presence in emerging markets where they have opportunities to enhance their business. Both the companies spend heavily in research and development as they know that innovation of new products is important for future growth. Another good reason to invest in these stocks is that they are paying a nice dividend to their investors. In my opinion, both the stocks are attractive investments for long-term investors.
Disclosure: I have no positions in any stocks mentioned, and no plans to initiate any positions within the next 72 hours. I wrote this article myself, and it expresses my own opinions. I am not receiving compensation for it (other than from Seeking Alpha). I have no business relationship with any company whose stock is mentioned in this article.