One thing is for sure regarding Facebook's (NASDAQ:FB) purchase of WhatsApp: it signaled a desperate move regarding the future of social media. The social media giant is now faced with not only a teenage problem, but also a clear indication that it is unable to design the next hip app. The Q413 earnings call less than a month ago focused heavily on the Messenger product that it has now spent $19 billion to replace. Facebook is now stuck buying hot apps in an area where a new one might pop up every week considering the large prize on the line.
In a huge irony, Facebook slumped after going public following the purchase of Instagram for $1 billion and revealing a huge mobile problem. Now that Facebook has resolved the mobile problem, but identified a major teenage problem, the market appears satisfied with the company spending $19 billion on another company with virtually no revenue. The stock even sits at a 52-week high with investors apparently satisfied that eyeballs will eventually lead to revenues.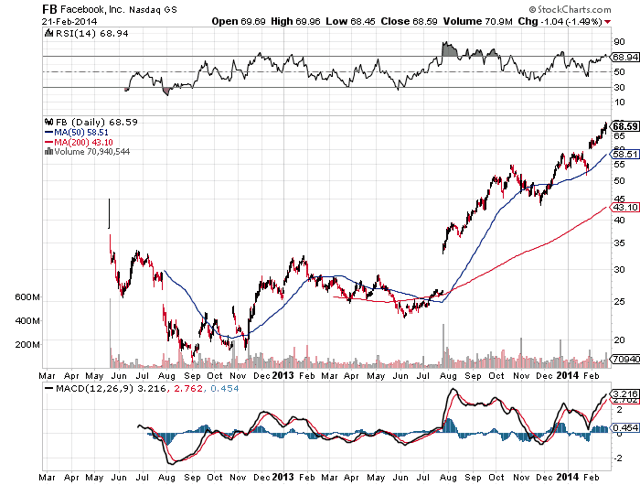 What Facebook Got
On February 19, Facebook agreed to pay roughly $19 billion in order to acquire WhatsApp, a rapidly growing cross-platform messaging company. The value is comprised of approximately $16 billion for investors made up of $12 billion worth of Facebook shares and $4 billion in cash. The other $3 billion comes from restricted stock units granted to WhatsApp's founders and employees that only total 55. For those keeping score at home that amounts to an average of $54 million per employee on the restricted stock alone.
WhatsApp offers the following:
Over 450 million people using the service each month.
70% of those people are active on a daily basis.
Messaging volume equals the entire global telecom SMS volume.
Currently adding more than 1 million new registered users per day placing it on a path to connect 1 billion people.
What WhatsApp does is provide basically free Internet messaging to users who subscribe to the service. The app requires an Internet connection to send and receive messages and pictures. According to the blog, as long as the phone isn't roaming and the user has not exceeded data limits, messaging over WhatsApp doesn't cost extra. Though, the service suggests using Wi-Fi connections when possible.
Naturally, the first concern has to be whether the user base would still use the service if it weren't free or cost only $0.99 after the first year. In addition, the mindset for the deal by Zuckerberg is the inherent massive value in any business that can connect that many people. The once scarcity value of connecting that many people will eventually disappear especially considering we're talking about two potential examples here: Facebook and WhatsApp. Not to mention, the increasing ease of doing that in a globally connected world where the massive population in Asia now has Internet access via mobile phones.
The rationale for the WhatsApp purchase - 450 million users. The estimate is that the company made $20 million in revenue last year so Facebook is paying for the eyeballs and not the business model making it a scary sign of a repeat of the Internet bubble. On the quick calculation, WhatsApp is worth $42 per user, Facebook trades at around $145 per user and Twitter (NYSE:TWTR) at around $130 per user.
Forgotten Instagram
The Instagram deal has suddenly become an almost forgotten piece of the ever-expanding Facebook puzzle. Even though the deal is going on 2 years old, the company is only now starting to attempt ads on Instagram. Even if WhatsApp reaches 1 billion users will the price tag of $19 billion be worth it? At least Instagram only cost $1 billion and has a smaller hurdle to pay for that valuation.
Professor Aswath Damodaran presents a great point on the valuation metrics of WhatsApp. In order to justify a $19 billion price tag, the company should have pre-tax income of $2.2 billion. With a 10% required return and a five-year waiting period, the income would need to reach nearly $4.4 billion. At this point, revenue targets that high appear lofty.
The attempts by Facebook to pay over $3 billion for SnapChat and now purchase WhatsApp further question the sanity in the sector. Instagram was a major hit service yet WhatsApp has already surpassed its 150 million active users. In two years, WhatsApp may not even be the leading messaging service. Not to mention, the popularity of the services seems to roll with the free tag attached. Will any service that charges fees or loads up on ads have long-term viability when the next hot app is ad-free?
Even prior to the WhatsApp purchase, Instagram had become a forgotten piece of the puzzle at Facebook. Ironically, Facebook didn't even provide the active users for the service on the Q413 earnings call and actually failed to provide the number when directly asked by an analyst. The Messenger product was actually mentioned an equal amount of times by Zuckerberg in his opening remarks about the quarter. Instagram had already taken a back seat and won't continue to shine if it loses the attention of the executives whom are clearly focused on the messaging space.
Moving Towards World Domination
The scary part is that Facebook appears intent on dominating the way users connect via mobile. It has moved beyond a goal of benefiting the world by connecting users to controlling any platform that appears threatening to its long-term success. While potentially wise from a business point of view, it can be dangerous with users.
The mission according to the investor relations website:
Facebook's mission is to give people the power to share and make the world more open and connected. People use Facebook to stay connected with friends and family, to discover what's going on in the world, and to share and express what matters to them.
One reason Facebook paid $19 billion was in an effort to thwart Google (NASDAQ:GOOG) from buying the service. The desire to prevent other companies from connecting people appears greater than the desire to actually better the world by connecting people. The first sub-header of the announcement states it all:
Acquisition accelerates Facebook's ability to bring connectivity and utility to the world.
Last I checked, the world didn't need Facebook to bring connectivity to it. WhatsApp was doing just fine connecting people. Facebook is now about dominating the world and not making the world more open. It is actually becoming closed to only the Facebook way.
With Facebook, the impact to users moving to SnapChat for messaging and Twitter for social media is a snap with minimal disruption and clearly no financial cost.
Andrew Busey on re/code actually thinks this world domination makes WhatsApp a cheap valuation at $19 billion. He sees the valuation very attractive for the next-generation messaging system at a fraction of the cost of AT&T (NYSE:T) or Verizon (NYSE:VZ). My problem with this scenario is that WhatsApp grabbed users, but it hasn't figured out how to grab highly profitable users. It might undercut the business of AT&T and Verizon, but it doesn't provide any value by practically giving away the service. Naturally, the risk to my theory is that WhatsApp figures out a way to turn those users into revenue streams above the $0.99 while not losing them to other free services.
Conclusion
Facebook continues to grow market cap without actually growing the revenue pie. It now has two major acquisitions under its belt that don't generate any meaningful revenue. The stock will have a value approaching $200 billion after issuing nearly 230 million shares for this transaction. Ironically, it just signaled that it has an inability to design hot apps and a massive teenage problem by overpaying for WhatsApp on any solid fundamental basis. And don't tell me the "heading to 1 billion users" speech because we all know that's no longer becoming a scarcity or a means of valuation.
In reality, Facebook is quickly moving toward attempting to dominate social media instead of the mission of connecting the world. Users will quickly find alternative services to ensure that Facebook doesn't control every facet of their social world. This news appears good for Twitter, SnapChat and other independent social sites. The attempts to dominate the social world will continue to foster the "uncool" theme of Facebook and all its properties. The teenage issue is proving to have been the tip of the iceberg yet the market hasn't figured it out. With momentum still on the side of the longs, the stock is impossible to short for now. Long-term though, Facebook won't be able to buy users who may abandon the service quicker than the deals can close.
Disclosure: I have no positions in any stocks mentioned, and no plans to initiate any positions within the next 72 hours. I wrote this article myself, and it expresses my own opinions. I am not receiving compensation for it (other than from Seeking Alpha). I have no business relationship with any company whose stock is mentioned in this article.
Additional disclosure: The information contained herein is for informational purposes only. Nothing in this article should be taken as a solicitation to purchase or sell securities. Before buying or selling any stock you should do your own research and reach your own conclusion or consult a financial advisor. Investing includes risks, including loss of principal.