Micron Technology (NASDAQ:MU) has been one of the best performers in the technology sector - the stock has gained over 200% during the last twelve months. Year-to-date, the gain for the stock has been more than 15%. The company is a leading provider of advanced semiconductor system solutions. Main business products include DRAM, NAND flash and NOR flash memory along with other semiconductor solutions. Its products are inputs to a number of industries including computing, consumer, networking and automotive, industrial, embedded and mobile products.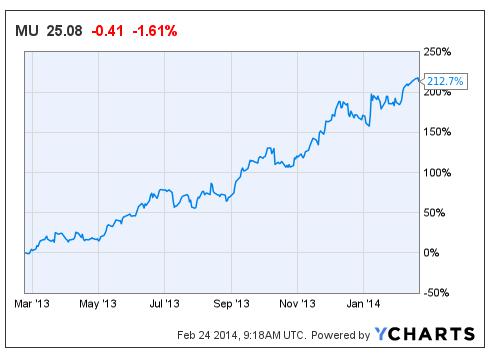 Industry Dynamics and Business Model
Micron technology works in a highly competitive semiconductor manufacturing industry with major competitors like Samsung (OTC:SSNLF), SanDisk (SNDK) and Toshiba (OTCPK:TOSBF) sharing the same space. The industry is marked by one primary defining characteristic, i.e. decreasing average selling price for the product over time due to improved product development, and capacity expansion by competitors.
In an environment of decreasing average selling price, topline growth is mainly a function of volumetric growth, offsetting the adverse impact of decreasing average selling price. Bottom line growth is further driven by a decrease in marginal production cost, outpacing a decrease in average selling price in order to generate sustainable margins going forward.
Solid Execution of Business Model
To drive the point home, it is imperative to assess the marginal impact of the above mentioned business drivers. Average selling price for DRAM (major business segment) has decreased 39% in 2011 compared to the preceding year, 45% in 2012, and 11% in 2013. Volumetric growth in FY13 has been substantially more than the decrease in average selling price to clock in an aggregate increase in top-line of 10% compared to the decline of 6% in the preceding year. Overall, margins have expanded quite dramatically in FY13 as opposed to FY12. Gross margin has increased to 20% in FY13 from 12% in FY12, and net margin went up to 13% compared to negative 13% in FY12.
Net sales growth has been driven primarily by its DSG business division, which contributed about 40% to the top line. The segment grew at 31% in FY13 due to the increase in volumetric sales. However, the growth was partially offset by decreasing average selling price. The segment posted an operating profit margin of 4% in FY13 compared to negative margin of 18% during the last year - the margin improved due to improved manufacturing and cost reduction. The WSG division's performance has bottomed out in FY13 with a mere 3% growth in the sales, yet maintained its position in the product portfolio by contributing 13% to the topline. WSG sales of mobile DRAM are expected to increase substantially in FY14 on the back of an acquisition of Elpida. The ESG division also contributed 13% to the topline, though it increased 13% on a Y-o-Y basis on the back of expanded customer base driving volumetric growth.
DRAM has improved its standing in overall sales by contributing 48% to the topline as opposed to 39% in FY12 - this has been primarily driven by volumetric growth partially offset by declining selling prices with an aggregate net increase of 37%, while other products have shown less impressive performance.
With respect to market concentration, the computing division has increased its contribution to the topline to 30% in FY13 compared to 25% in FY12, while mobile, consumers and solid state have contributed 15% each. The mobile division is expected to post rapid growth going forward due to recent acquisition of Elpida.
China remains the most important market for Micron with total sales of $3.78 billion in FY13 posting a growth of 28% and contributing about 42% to total sales. This was followed by the U.S. which accounted for about 17% to the topline and grew at an impressive rate of 20%. Going forward, China will remain the key market for Micron given the organic growth prospect that the Chinese technology consumer base provides.
Quarterly profitability assessment
It is interesting to note how profitability has improved quite drastically in the last two quarters in FY13, especially the 4Q (even after adjusting for a gain on Elpida). Operating income has steadily increased on Q-o-Q driven by both an increase in volumetric growth and a decrease in marginal cost per product, resulting in expanded gross margin.
First quarter of 2014 has been a testimonial to Micron's strategic acquisition of Elpida. On a Y-o-Y basis, quarterly performance has been nothing short of astronomical with major key financial numbers all heading north. Net sales grew a whopping 120% (42% on Q-o-Q basis) along with 490% growth in gross profit, suggesting substantial additional delta generated by net sales and cost of goods sold. Gross margins improved to 32% as opposed to 12% in the first quarter of 2013, and operating profit clocked in at 14% as opposed to negative 5% in same period last year, all this adding to net margin of 9% compared to negative 15% in the first quarter of last year.
DRAM, the primary revenue driver for Micron, increased sales revenue by 69% in the first quarter of 2014 on a Q-o-Q basis, primarily supported by higher volumetric growth led by its acquisition of Elpida. The DSG business segment, the largest, managed to increase sales by about 200% Y-o-Y, in addition to operating profit margin improvement to 24% as opposed to negative 19% for the same period last year. Furthermore, DSG grew its footprint in terms of contribution to the topline by increasing its share to 44% from 33%. WSG division revenue grew by a whopping 300% along with significant improvement in operating profit margin (first quarter 2014: 17%, first quarter 2013: -24%) - it also managed to increase its contribution to the topline from 14% to 26%. NSG and ESG division revenue grew moderately at 20% and 9%, respectively, with lower contribution to the topline. Cash flows from operations in the first quarter clocked in at $1.51 billion as opposed to $236mn for the same period last year, depicting a better business performance. It is imperative to realize that revenue growth is led by balance sheet expansion (acquisition) financed through a mix of debt and equity.
Valuation
Micron's stock price performance over the last one year has been impressive with the stock gaining over 200%. The price performance is broadly justified given Micron's improved business fundamentals. The stock currently trades at a trailing P/E ratio of 15.5 while Samsung is trading at 5.7, SanDisk trades at 25 and Toshiba at 22.92. From a relative valuation perspective, Micron still looks cheap especially after taking into account earnings growth going forward due to a strategic acquisition of Elpida.
Conclusion
Taking into account the growth in the business segments and the future growth prospects, I believe Micron is set to have another great year. As I mentioned above, the acquisition of Elpida is expected to drive future growth for the company, and most of its business segments and geographic areas are expected to post strong growth figures. It can again prove to be one of the best technology stocks over the next twelve months.
Disclosure: I have no positions in any stocks mentioned, and no plans to initiate any positions within the next 72 hours.
Business relationship disclosure: I have no positions in any stocks mentioned, and no plans to initiate any positions within the next 72 hours. IAEResearch is not a registered investment advisor or broker/dealer. This article was written by an analyst at IAEResearch and represents his/her personal opinion about the companies mentioned in the article. The article is for informational purposes only and it should not be taken as investment advice. Investors are encouraged to conduct their own due diligence before making an investment decision. I am not receiving any compensation (other than from Seeking Alpha) for this article, and have no relationship with the companies mentioned in the article.