"I hold it true, whate'er befall;
I feel it, when I sorrow most;
'Tis better to have loved and lost
Than never to have loved at all." - Alfred Lord Tennyson, 1850
In mid-2013, I decided that MLP investing was a major component of the energy sector and a must-own for income investors. With the corporate structure of passing income off to unit-holders in the form of required distributions, as well as the need for and stability of energy infrastructure, I found MLPs similar to real estate investment trusts (REITs), yet slightly more confusing to own due to a required tax-form called the K-1.
Upon further review, I quickly learned that direct MLP ownership was not the most efficient way to own diversified exposure to this high-yield category. I soon published my first MLP article, arguing that the $7 billion+ ALPS Algerian MLP ETF (NYSEARCA:AMLP), was the best investment in the space.
The next big realization I had was that closed-end funds, also known as CEFs, offered a better value in the space versus their peers (open-end/mutual funds and exchange-traded products such as ETFs and ETNs).
I read more information on Seeking Alpha, which showcased that my favorite holding, AMLP, was actually a poorer choice that I thought due to an inefficient tracking of its MLP index. The fund's heavy cash balance, due to tax-liability issues, accounted for nearly 10% of the fund at the time.
The foremost expert that I have yet to find in the ETF/ETN arena, Ron Rowland, called upon investors to make the easiest buck in MLP-land by shorting the AMLP fund in a pair trade, which takes advantage of the tracking-error disadvantage the ETF holds versus the ETN index peer UBS ETRACS Alerian MLP Infrastructure Index ETN (NYSEARCA:MLPI).
The following chart outlines the MLPI/AMLP pair trade over the past 12-months. Also to note, if you look at the YTD, 1-month, 3-month, 2-year, 5-year, etc. chart, you will find this trade has worked.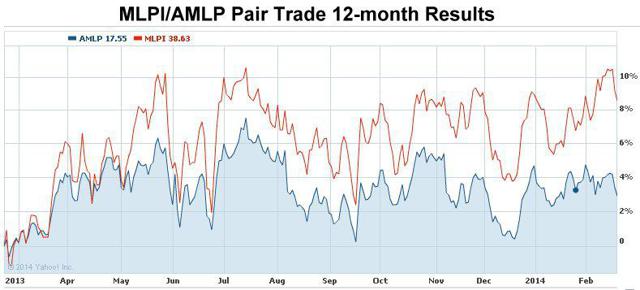 In looking at the 5-year chart, the long-term profit on the Rowland easy-money trade looks quite remarkable.
In my opinion, the Rolwand MLP pair trade remains the most obvious, practically-guaranteed long/short trade that any hedge fund would be insane not to take advantage of. As an author however, understood that I am not a hedge fund manager and, like most investors, am looking to make money the old-fashioned way (long-only).
In short, I learned that the bottom line was that whether an investor is a big fish or a small fry, going up against big money here wasn't the best idea. I said goodbye to my affair with AMLP and dove into more research.
The Next Best Thing - Diversified Monthly MLP Income
The fact remains that trying to sell the average investor on shorting stocks, even if the opportunity is as large and free-spirited as the Rowland MLP pair trade, is about as easy as convincing them to take part in the annual polar bear plunge. It's probably not going to happen, unless of course they are one of the few very eccentric people in this world.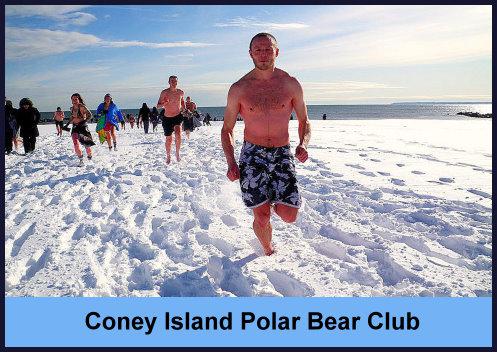 In late December 2013, I compared the Kayne Anderson MLP Investment Company (NYSE:KYN) with a new CEF entrant, the Neuberger Bergman MLP Income Fund Inc. (NYSEMKT:NML), as well as the AMLP ETF. In short, I found NML, which was a new, $1 billion MLP fund, to be the best value of the pack and it immediately became my new top MLP fund choice.
I concluded that since NML was trading at a discount, offered monthly dividends and had sufficient trading volume and market size to perform well, that it was a better deal than KYN, which was coming in at a 16%+ premium to NAV.
I went as far as to suggest a pair trade that would short KYN for a long-NML position. In the article, I stated
"..the (NML/KYN) pair (trade) may holster an arbitrage opportunity for investors who see an increase in demand for monthly distributions and/or believe that complimentary premium/discount ratios among these two peers is warranted."
Here are the results of this trade since December 26, 2013, the first trading day after the article ran.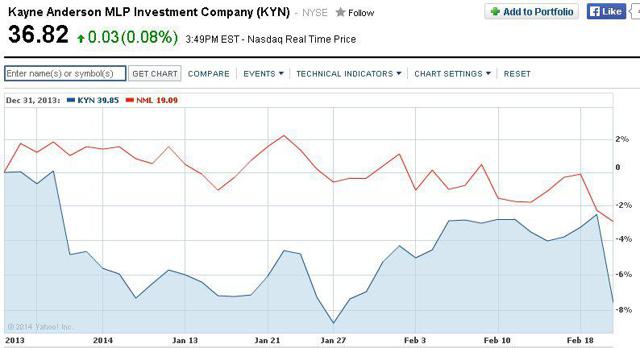 Rowland's easy money trade during the same time period also worked, however the return was much less.
Clearly the easy money trade continues to win, albeit by a smaller amount than the NML/KYN trade. I think of Rowland's trade as one with a bond level of risk, where the NML/KYN pair trade was not guaranteed income but a great play that ended up working well on a thesis that made sense.
For those who did employ the NML/KYN trade, the total return results from December 26, 2013 to February 20, 2014 was an 8-week profit of 4.24%, which comes out to 27.56% annualized.
As noted previously, I do not employ long/short tactics and understand that this trade, as well as the Rowland MLP pair trade, are written for a select group. Unfortunately for long-only investors, the total return on the NML trade from December 26, 2013 to February 21, 2014 was -0.69%, while the popular MLP index ETF AMLP returned 1.18%.
At this time I would recommend ending the NML/KYN pair trade and take profits as I've learned that a new, better thesis will play out over the long-term that will present KYN as the "best of breed" MLP fund moving forward.
For for those who bought NML and/or own AMLP, another MLP CEF or any single MLP holding, I'd recommend to sell and replace the position with KYN immediately.
A New Thesis - Why KYN Long Is The Best MLP Trade Now
While the NML monthly dividends, as well as a large discount to NAV and "K-1 free," efficient access to a well-managed, diversified MLP basket made the Neuberger Berman CEF a compelling choice, as stated above I now recommend investors close out the NML/KYN pair trade (or sell NML) and go long KYN.
At first glance it appears that NML is a better fund than KYN. The KYN dividend yield is only 6.65% compared to NML's 6.83%, while the premium to NAV of KYN is 5.2% versus a negative 7.7% for NML.
Chart: NML appears to be a better MLP fund versus KYN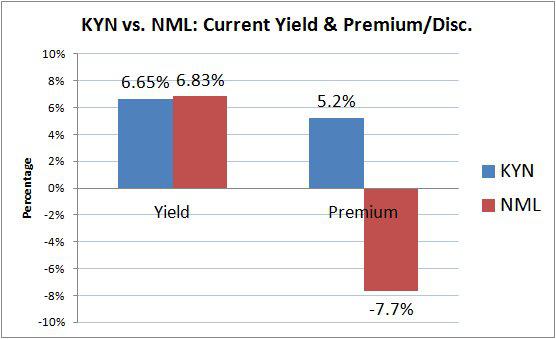 In other words, MLP fund investors are currently paying a 5%+ premium for KYN and selling NML for nearly 8% below NAV. Upon further research, I learned that due to KYN's superiority in the MLP fund space, the premium divergence between these two funds is completely warranted and that a ~5% premium on KYN's NAV is a very attractive entry price.
The Best MLP Fund In The Universe
When it comes down to it, there is a reason that investors are paying a premium for KYN. Due to industry dominance, top management, the top MLP investment/research team, fund size and historical performance KYN is arguably the best diversified MLP fund in existence.
In addition to this, due to a short-term divergence from historical premium levels KYN is a compelling buy. Long-term income investors, as well as MLP investors, would be smart to take advantage of market timing to purchase KYN over the next two trading days.
Why KYN?
To repeat my thesis from above, KYN dominates the MLP fund management industry, they have the best managers in the business, the investment team is top-notch, the fund size is the largest in the managed MLP fund business and historically speaking, KYN is a top performer.
In the land of MLP investing, Kayne Anderson is the leading firm with ~$25 billion under management, which includes $17 billion in MLPs and midstream companies as of December 31, 2013.

KYN, as their leading fund, has over $5.2 billion in AUM (not including leverage), which ranks it as the largest, actively-managed MLP fund in 2014 according to the MLP analytics site MLPData.com.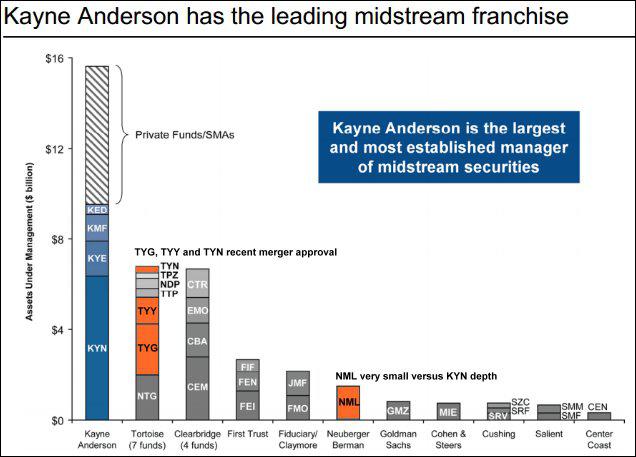 The second-largest MLP advisor is Tortoise Advisors, however due to a recent merger agreement the largest Tortoise CEF, the Tortoise Energy Infrastructure Fund (NYSE:TYG), is set to acquire two smaller Tortoise CEFs, the Tortoise Energy Capital Corp. (NYSE:TYY) and Tortoise North American Energy Corp. (NYSE:TYN).
This showcases how the second-runner in MLP land has to revamp their business strategy in order to compete with KYN. This merger agreement has thrown inventors into a tailspin, as the leading Tortoise MLP CEF TYG has recently lost momentum, as seen through the historical NAV premium shifting to a discount.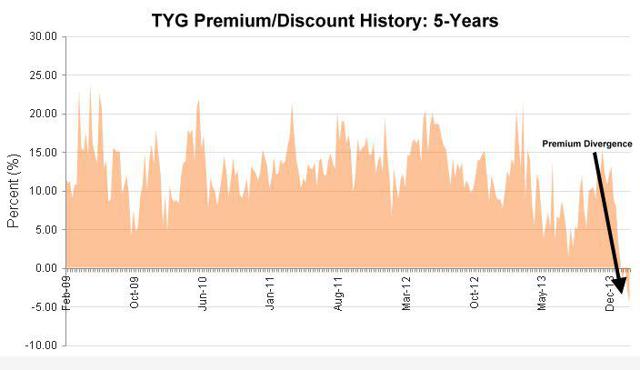 The premium weakness of the funds TYG is acquiring have gained momentum, which could establish a reason that TYG has also become weak since the merger agreement was established. For example, the TYY premium weakness can be traced back to the summer of 2013.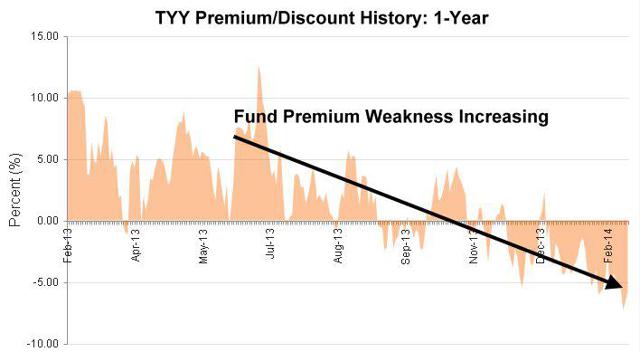 Due to the Tortoise CEF merger and the negative premium momentum in its smaller-funds, Kayne Anderson can seen as not only a front-runner due to AUM levels but also a leader and a harbor of safety as Tortoise funds comes under pressure.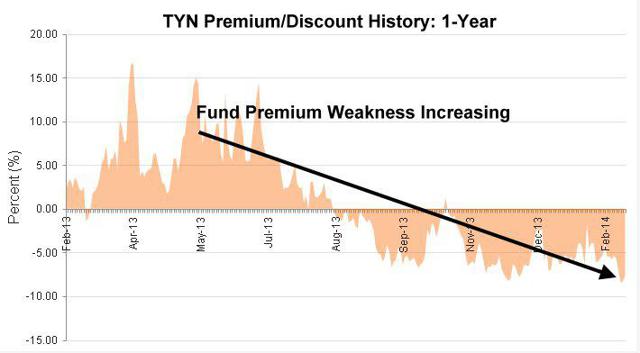 The decrease in aggregate Tortoise fund premiums may be positive for front-runner Kayne Anderson, which may be seen as a bay of MLP safety.
The management at Kayne Anderson is likely the most compelling reason to invest in the firm's public funds, as well as the foundation behind KYN's historical premium and industry-leading performance.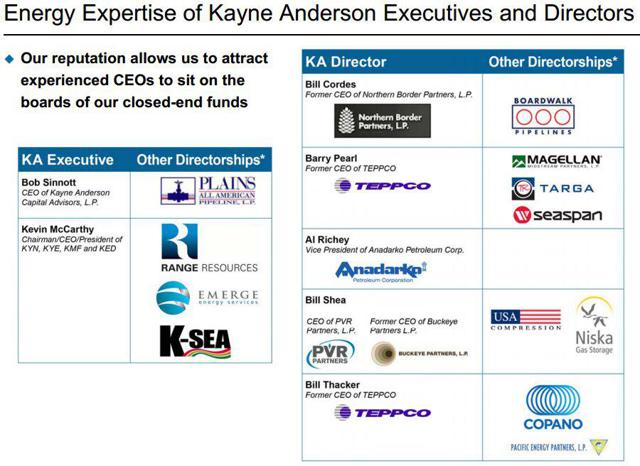 A quick look at the executive team, as well as the directors of Kayne Anderson showcase a team of industry-leading officials who have a collective pulse on the U.S. energy market.
What stands out to me first is Kayne director Bill Cordes, who is also a director over at Boardwalk Pipeline Partners, LP (NYSE:BWP). I'm not sure how much money this saved Kayne Anderson but from my research, NML lost ~$40 million as BWP tanked due to cash flow problems this year. As of December 31, 2013, BWP was a top 10 holding of NML and accounted for ~5% of the fund.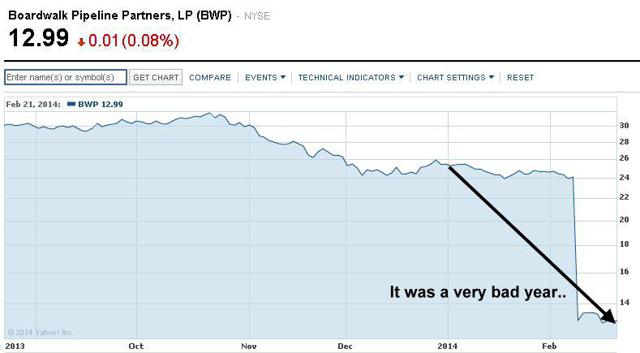 For BWP, investors may already agree that 2014 will be seen as a very bad year. Lucky for Kayne Anderson, they had very minor exposure through KYN. As of November 30, 2013, KYN had ~$500k in BWP stock, which would account for ~0.008% of the fund. That's less than one-hundredth of one percent exposure for KYN, which can be attributed to the Kayne Anderson team decision-making process.
In searching the top holders of BWP Kayne Anderson is actually nowhere to be seen. NML manager Neuberger Berman was the second-largest institutional holder however, as noted by the year-end statistics on YAHOO! Finance.
Second-place in MLP-managed AUM, Tortoise Advisors, as well as the third-runner in MLP fund management dominance, ClearBridge Investments, are splashed all over the board with managed funds that held BWP. As advisors, they are both in the TOP 5 institutional holder list. The passive MLP index ETF, AMLP, was the largest holder with the most exposure to BPW.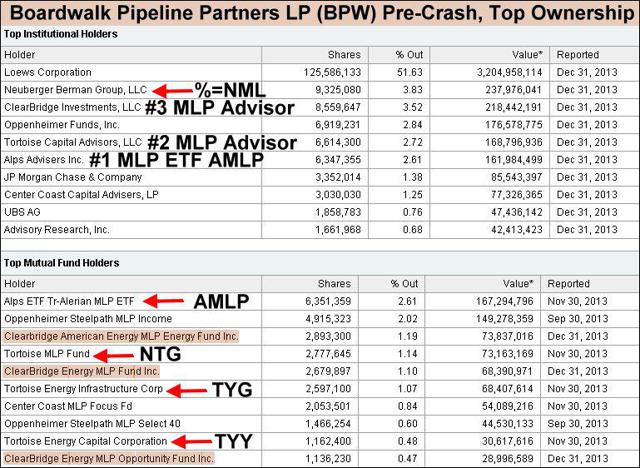 As the top MLP advisor in terms of assets under management, Kayne Anderson has the breadth to perform industry-leading research without breaking the bank.
According to the Kayne Anderson 2014 Company Presentation, their current team consists of 24 CEF managers as well as 9 analysts on the research team that contribute to the Kayne CEF decision-making process.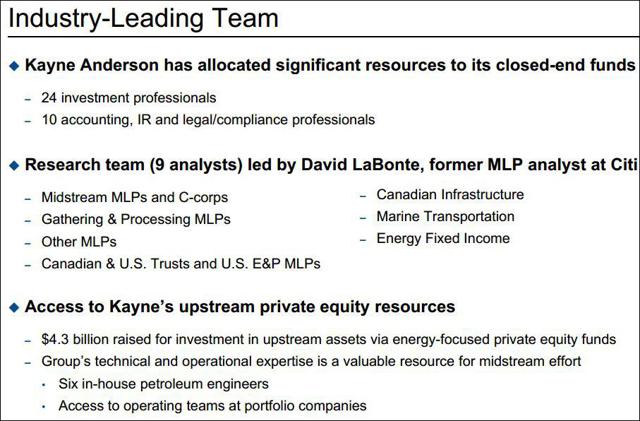 As the largest MLP managed fund, KYN holds $6.4 billion in assets (as of December 31, 2013), which includes $1.7 billion in leverage (26.6%).
The next-largest funds are ClearBridge Energy MLP Fund (NYSE:CEM), NTG, TYG and NML in CEF-land, according to MLPData.com. As noted previously, all four of these funds had significant exposure to BWP.
MLP CEFs With Over $1 Billion In Net Assets Under Management

Over the past five years, KYN has out-performed its closest CEF peers. According to CEFConnect.com, KYN outperformed the MLP category four out of the past five years, with 2009 an exception with the fund gaining ~83% in NAV versus an ~84% category average.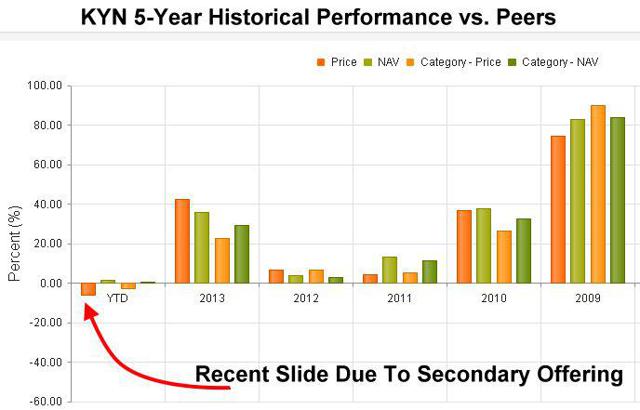 The KYN fund has slid YTD as Kayne Anderson announced a secondary stock offering February 20, 2014, at $37.05, when shares had been trading just under $39. This caused the shares to slide in the $36-and-change range after the announcement.
As seen in the one-year performance, KYN had a remarkable price return lead versus peers leading up to the secondary. As such, the gap has lessened however KYN still remains the top 1-year performer.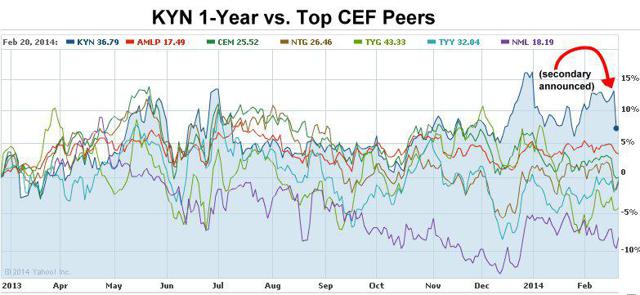 Short-Term Premium Divergence
The short-term price divergence due to the secondary offering has created a market-timing opportunity for MLP investors looking to get in on the top MLP fund at a below-average premium.
Over the past year, KYN has generally traded with a premium between 5% and 15%, with a 52-week average ~9%. Just before the secondary, KYN was trading at an average premium closer to 10%.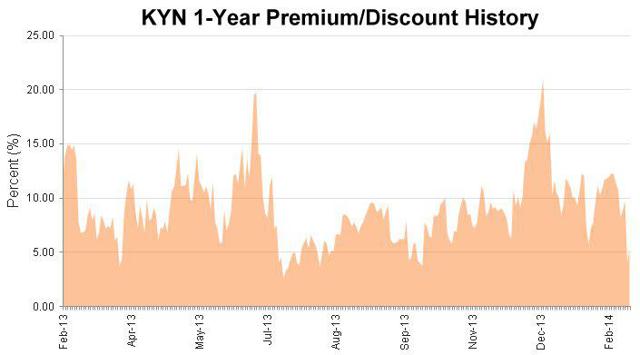 Due to the secondary offering of KYN shares at a ~5% premium to NAV, which was about 5% below then-current pricing, the shares dropped ~5%.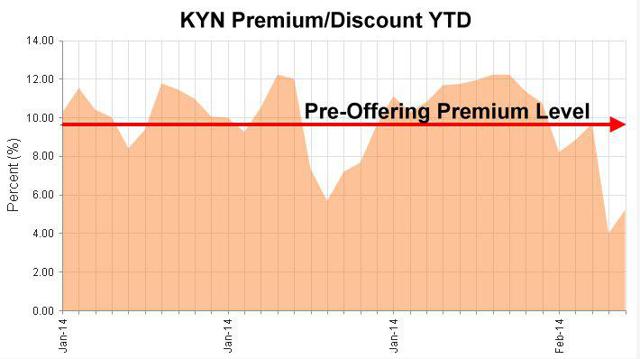 Over the past 5-day time period, KYN has dropped ~5%, which underperformed the AMLP index ETF dramatically.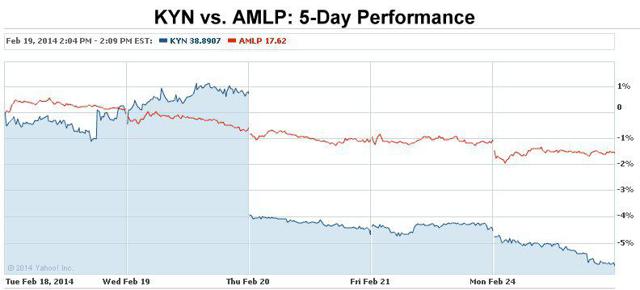 The secondary offering is set to close on February 25, 2014. The size of the offering is ~$285 million at a price of $37.05 per share. On February 24, 2014, the shares closed down 1.39% at $36.27. This represents a discount of 2.1% to the secondary price that will have raised a ~$285 million war chest for the fund.
Conclusion
KYN is the top MLP managed fund in terms of size, leadership and performance. The fund was able to skip through the BWP disaster unscathed while its top competitors all had major exposure.
Due to the secondary price offering set to close on February 25, 2014, there is a short-term market timing opportunity to buy KYN at a smaller premium than average, as well as at a price below the secondary offering.
For investors looking to gain MLP access without the K-1 tax headache, the price is right at ~$36 per share. This opportunity will not last long, as the ~$285 million war chest that KYN will gain access to, which equates to ~$360 million at the fund's current leverage ratio, will push up NAV as funds as general MLP demand will increase.
Other factors for short-term price improvement include secondary investors propping up a price below their purchase level as well as the likelihood of the KYN premium reverting to its 52-week mean of ~9%.
Disclosure: I have no positions in any stocks mentioned, and no plans to initiate any positions within the next 72 hours. I wrote this article myself, and it expresses my own opinions. I am not receiving compensation for it (other than from Seeking Alpha). I have no business relationship with any company whose stock is mentioned in this article.