So far, 2014 has included more angst about emerging markets, a large (and temporary) spike on volatility, a sharp rally in bond prices, and an impressive (counter-trend) rally in gold. Through all the excitement, the dollar index (NYSEARCA:UUP) has just plodded along. In fact, it closed Monday exactly where it ended 2013.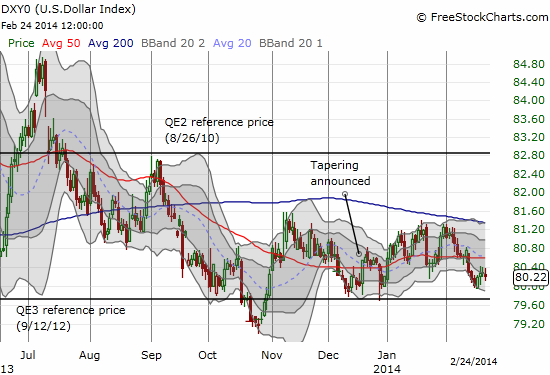 A tightening trading range for the U.S. dollar index
In an aptly titled segment called "What's stopping the dollar?", Hard Currency (form the Financial Times) explored why the dollar has defied 2014 analyst expectations for a rally. Matt Cobon, head of rates and currencies at Threadneedle Investments, explained that the economic data have been so far a bit softer than expected. However, the U.S. dollar is also not selling off on these data because expectations remain set at above trend growth. Even major central banks still maintain this view (like the Bank of Canada). The holding pattern is also seen in the S&P 500 which Monday pulled back from fresh all-time highs to close just under its closing all-time high, a level visited four times already this year.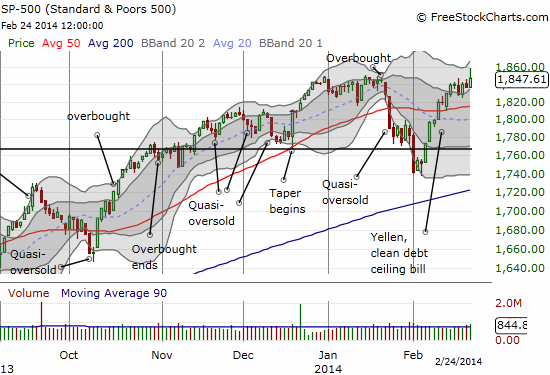 The S&P 500 has generated a high number of signals as it has churned heavily through and around all-time highs
Source for charts: FreeStockCharts.com
The tightening trading range on the U.S. dollar defies attempts to do anything beyond the broadest set of correlations to other financial instruments. Sure the S&P 500 and the U.S. dollar share similar endpoint year-to-date patterns but in between they exhibit important distinctions. The overall placid nature of the dollar index - a mere 1.3% range this year and little more since the end of October, 2013 - may underline the fundamental bias of the market that supports current buy-the-dip strategies. To demonstrate this subtle possibility, I follow the year-to-date paths for the U.S. dollar index, the S&P 500, and AUD/JPY (the Australian dollar (NYSEARCA:FXA) versus the Japanese yen (NYSEARCA:FXY)).
Earlier this year, I had pointed to the surprising resilience of the Australian dollar versus the Japanese yen. I claimed that a break from its extended trading range might provide a strong trading signal, especially to the downside. A breakdown finally came on January 23rd as the S&P 500 (NYSEARCA:SPY) tumbled quickly from overbought conditions. Weaker-than-expected economic data from China provided an opportunity for sellers to gain a stranglehold on market sentiment. The dollar index also dropped, but it only moved from the top of its recent trading range toward the bottom. In less than two days the move ended. AUD/JPY stabilized along with the S&P 500. When the S&P 500 fell out of a brief consolidation about a week later, the sell-off was NOT confirmed by either the U.S. dollar or AUD/JPY. The U.S. dollar had already meandered back to the top of its trading range and barely budged in response. AUD/JPY swung widely to a 5-month low but very quickly bounced back.
In other words, it may be that, for now, correlation matters much less than non-confirmation.
As the market scrapes at the same overbought levels that proved to be a ceiling on January 23rd, I find myself once again watching the dollar index for subtle clues. I will take sharp notice if the dollar index somehow manages to break the lower part of its trading range on, for example, poor economic data: such a move would mark a dramatic change in existing trading patterns. Stay tuned… (I track these signals in more detail in my semi-regular "T2108 Update").
Be careful out there!
Disclosure: I am short SSO. I wrote this article myself, and it expresses my own opinions. I am not receiving compensation for it (other than from Seeking Alpha). I have no business relationship with any company whose stock is mentioned in this article.
Additional disclosure: Short SSO through put options. Also in forex, I am net long the U.S. dollar, long AUD/JPY. Long GLD.