Back last century, in 1978 to be exact, Mick Jagger and Peter Tosh recorded a reggae version of the song titled "Keep on Walking, Don't Look Back." This could be the battle cry of Exelon (NYSE:EXC) shareholders. Looking back over the past few years, shareholders have been battered by declining earnings, declining dividends, and declining share prices. It is tough to make a buck when your capital shrinks and the income from one of the largest "defensive" companies is slashed. However, if you are willing to look past some extreme shortcomings over the past few years, EXC could be an interesting investment.
The key to understand the demise of shareholder value lies in the short-term nature of its regulated pricing scheme based on an auction process. EXC future is at the whims of the merchant power markets in the Northeast and Midwest, even as it struggles to grow its regulated distribution business. Unlike its peers in other parts of the country utilizing 20-yr Power Purchase Agreements PPA, EXC sells the vast majority of its merchant power through the PJM auction process in rolling three-year timeframes. With the decline in natural gas pricing coupled with stagnate to declining demand, power markets throughout the country have been weak, especially in the Northeast. A decline in natural gas fuel prices coincided with a build out of gas-fired generating facilities to partially replace retiring coal-fired units. The price of electricity in EXC's market is greatly influenced by power producers using natural gas and the beneficial impact of rising prices are usually delayed by three years due to hedging and the auction process.
The fortunes of EXC lie in the performance of the natural gas market. There is a strong correlation of electricity pricing and natural gas pricing as shown by the EIA graph below. Comparing the Day Ahead Electricity graph with spot prices for natural gas in the Northeast for the seasons 2012/2013 and 2013/2014 reveals very similar pricing patterns.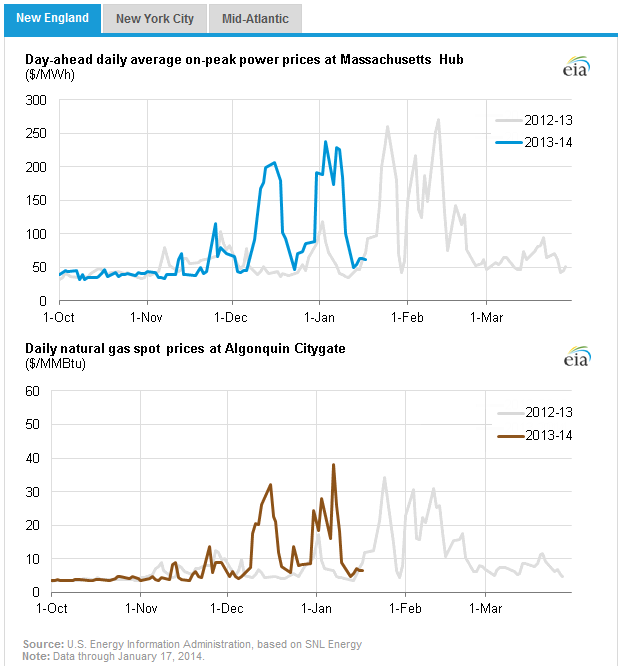 Since natural gas peaked in price in 2005 and 2008, the cost to generate electricity from gas has fallen from over 8.00 cents per KW hour to 3.4 cents in 2012. The following graph outlines the production costs in the US by fuel type, going back to 1995. Published by the Nuclear Energy Institute, the graphic's estimated total production costs including fuel costs, operations and maintenance costs, and does not include indirect costs. The data is based on FERC filings and is updated as of May 2013.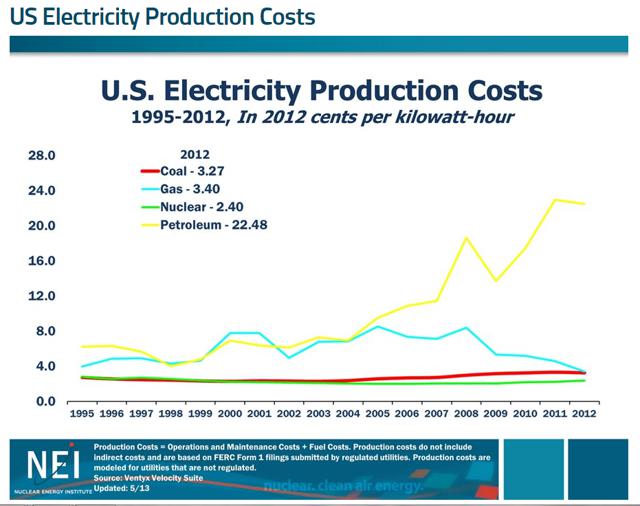 The investment thesis for buying or even holding EXC is based on a rebound of natural gas pricing positively impacting earnings over time that will allow for both a rising dividend and an increase in share price.
Further evidence of the correlation of EXC and natural gas can be seen in price charts going back to June 2008: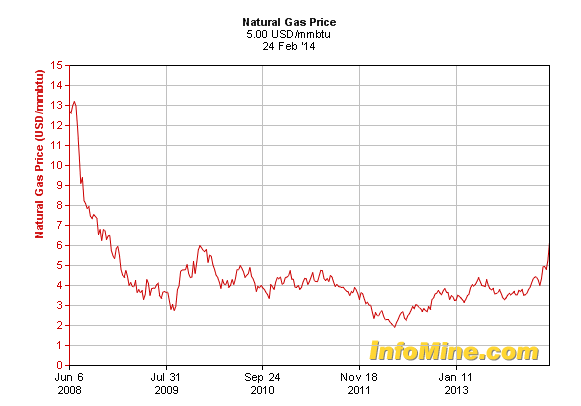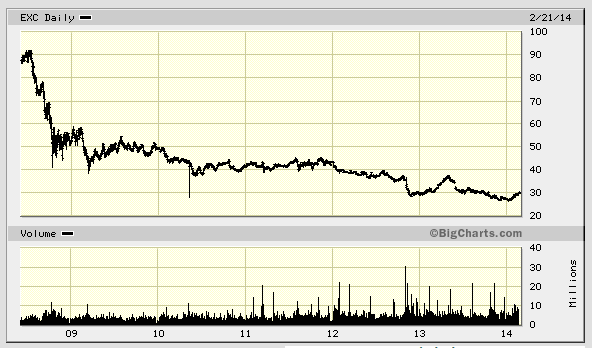 The recent spike in spot natural gas prices is not yet playing out in the futures market. Below is a chart of the futures contract price for one-, two-, three- and four-years out, March 2015 to March 2018. The graphs begin at the initiation of the contract on the CME on a monthly basis.
March 2015 Contract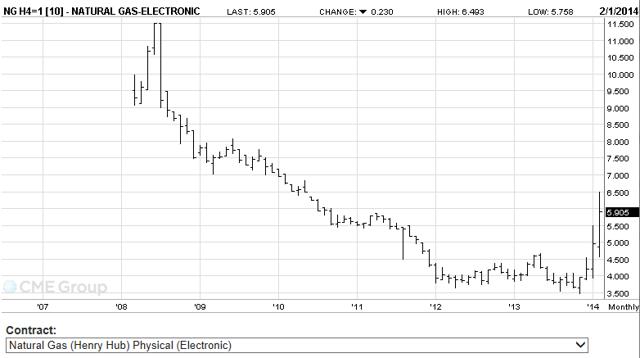 March 2016 Contract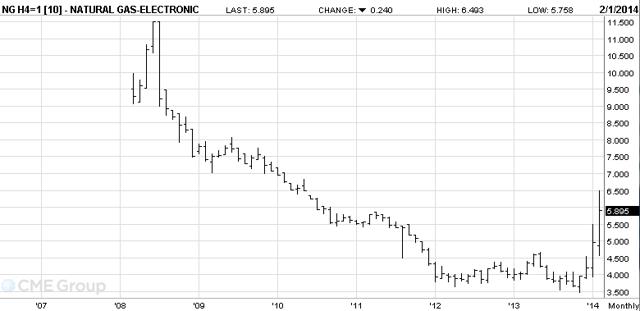 March 2017 Contract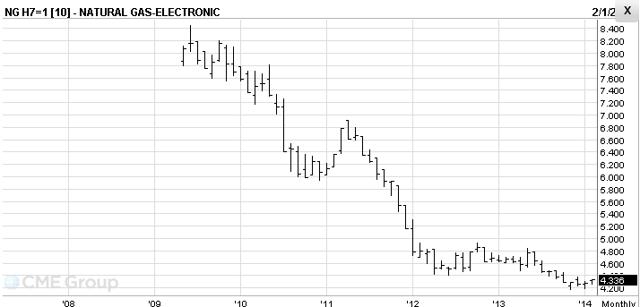 March 2018 Contract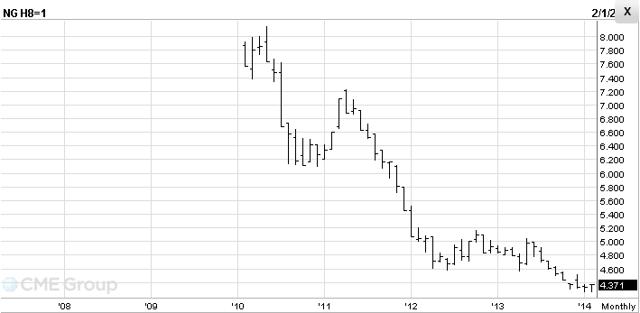 While the one- and two-year contracts are reacting positively to the current spot price spike, the other contracts are not, at least not yet. If the spot market stays strong into the summer months, the farther out futures should begin to move higher.
If you are a believer in natural gas prices rising over the next two years, the cost to generate electricity in the Northeast and Midwest will increase as well. With a rising electricity market price will come rising profits at EXC as the spread between production costs for natural gas vs. nuclear increases.
Exelon investors need to appreciate that around 50% of earnings come from its merchant power business, ExGen, and a rebound in earnings, dividend, and share prices will follow the fortunes of this segment. Management gave guidance in 2014 of between $2.25 and $2.55, with a midpoint of $2.40, or about the same as 2013 EPS of $2.50. 2015 EPS are estimated at $2.35, and another flat earnings year. Due to the 3-yr rolling auction pricing structure of the PJM, higher fuel costs will not begin showing up in contract prices for another few years.
However, as the market turns higher for natural gas and begins to be reflected in the futures market, the risk premium required by gas-fired merchant power producers will increase. This will lead the electric commodity market price higher.
If natural gas stays between $4.50 and $5.00, earnings at EXC could equal those in 2010 and 2011,resulting in earnings of around $3.50 per share range. However, it may not be until 2017 for EXC to see this level of earnings due to the time lag of the PJM auction pricing and management's current hedging policy. Exelon's program involves hedging of the electricity commodity risks for anticipated generation, typically on a ratable basis over a three-year period. The proportion of expected generation hedged as of Dec 31, 2013, is 91%-94% for 2014, 62%-65% for 2015, and 30%-33% for 2016.
EXC is one of the largest utilities in the US. It delivers electricity and natural gas to 6.6 million customers in the East and Midwest. It owns 11 nuclear power plants and 34,000 MW of generating capacity in seven states. In total, EXC produces 22% of all nuclear power generated in the US and 4% of all electricity generated in the US.
Exelon has the heft and size to regain its previous preeminence as one of the top creators of return on invested capital ROIC in the sector. However, the exposure to regulated businesses has grown and this segment offers lower allowed returns and ROIC than merchant power typically produces. As the spread between costs and commodity market prices grows, ROIC expansion should again amply reward investors.
Share prices have rebounded about 13% since my previous article on EXC was published last Dec. EXC could rebound more over the next year, based on the gyrations of the futures price of natural gas.
On Feb 6, 2014, Capital Research and Management Company filed 13G with SEC disclosing an 8.9% ownership of EXC with its holding of 76.1 million shares. Capital Research is the largest holder of EXC stock. The position's value at $31 a share would be around $2.3 billion. Other large institutional holders of EXC stock include Franklin Resources at 6.6% and State Street at 5.5%. Combined, these three own 21% of shares outstanding. Over the past two years, both institutions and mutual funds have been adding to EXC share counts. Below is a graph of holdings courtesy of Morningstar.com

During the 4th quarter of 2013, Morningstar is reporting net purchases by institutions of 18 million shares and mutual funds of 20 million shares. In addition, it appears insiders increased their ownership in the fourth qtr. of 2013.
However, numbers reported by nasdaq.com offer a different opinion with net insider sales of 370,000 shares over the past 12 months, and the "buys" of 2013 were solely from executing stock options for management: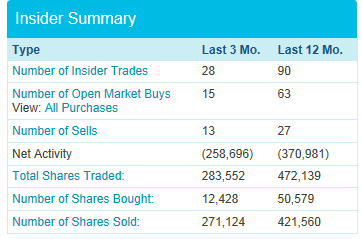 If investors believe natural gas pricing will rise over time, EXC could be an ancillary wager on this movement. However, one would need to take the advice of Smokey Robinson, The Temptations, Peter Tosh, and Mick Jagger to "Keep on walkin' and don't look back." Patient investors may see a 30% share price appreciation along with collecting a 4.1% dividend along the way. However, they certainly may feel like the closing lyrics as the song fades away:
How far you been walkin' now
About 100 miles
You still got some more to walk
I know, I got a little more to go
I'm gettin' kind of tired but I got to keep on walkin'.

I'm walkin' barefoot, you know
Keep on walking.

You've got to walk and don't look back.
Authors Note: The song was written in 1965 by Smokey Robinson and Ronald White, and recorded by rival Motown group, The Temptations with Paul Williams as the lead vocal. It was brought back to life by Mick Jagger and Peter Tosh in 1978. YouTube video links of each performance are found here (Jagger/Tosh) and here (Temptations). For the old-timers, enjoy your walk down memory lane.
Author's Note 2: Please review important disclaimer in author's profile.
Disclosure: I am long EXC. I wrote this article myself, and it expresses my own opinions. I am not receiving compensation for it (other than from Seeking Alpha). I have no business relationship with any company whose stock is mentioned in this article.