When it comes to growth companies and stocks, I like to look at names that provide GAARP - growth at a reasonable price. In today's market, names that provide high levels of growth are being rewarded with valuations that look a bit lofty. Some of these valuations get to the point where they are just out of control. One great example of this is apparel retailer Under Armour (NYSE:UA). While the company may be the best name in terms of growth potential for this space, that doesn't always mean the stock is worth the price of admission. Today, I'll detail why the short case appears for this name due to valuation.
Past results and current estimates:
Under Armour is a great growth story. The company has been consistently growing revenues and earnings in recent years, and that growth is expected to continue for the next couple of years. In the table below, I've shown 2011-2013 results and where analysts expect this year and next to be. You can see all of Under Armour's income statement and balance sheet numbers in the most recent 10-K filing.

*Numbers are current analyst estimates.
Again, I am not questioning the growth story of this name. I'm questioning what you have to pay for it. Under Armour reported Q4 results about a month ago, and it was a huge blowout. However, since that report, the stock has gone from $85 to $115. The stock might have gotten a bit ahead of itself. Right now, the current analyst estimate for 2014 revenues is $2.88 billion. That's ahead of the company's guidance for $2.84 billion to $2.87 billion. Yes, this is a company that has continued to beat estimates and raise guidance. However, investors currently have to bet on more huge beats and guidance raises. Those two items may not be enough, because with the stock's huge run lately, investor expectations may be to the point where Under Armour can't win. Just because results beat estimates doesn't mean the stock will rise if it is already priced in.
The Olympic controversy:
Under Armour got beaten up in the press because the company was behind the speedskating suits for the US Olympic team. The US team failed miserably in the recent Winter Olympics. There were serious questions asked about whether the suits were the cause of the bad performance. Under Armour's CEO defended the company recently, and the company signed a deal with the Olympic team to provide suits for the next eight years.
I don't think you can necessarily point to the suits as the problem. There were other questions about training from the athletes, as well as how the suits were tested prior to these Olympic games. You might be able to make the argument that the suits were a problem because the team didn't use them properly. I agree that the company itself may have received too much blame for this problem. However, after a dip in the stock on this initial controversy, the stock has raced to new highs. So while the company may be receiving negative press for this, the stock has gone the other way. We'll see if results are impacted at all over the next few quarters, but I doubt they will be in any significant way.
Balance sheet comparisons:
The two names discussed most when it comes to Under Armour are Nike (NYSE:NKE) and Canadian apparel retailer lululemon (NASDAQ:LULU). These three names have very different fiscal years, so I'll try to compare them as best as I can for the given periods. The first comparison I want to make is a balance sheet one. In the following table, I've compared these three names' balance sheets as of the most recently reported quarter for each. For the most recent lululemon balance sheet, click here, and for the most recent Nike balance sheet, click here.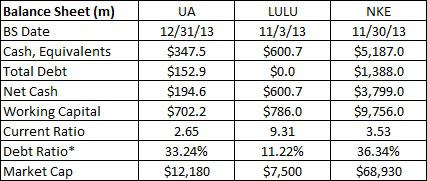 *Liabilities to assets ratio.
First, I want to point out that none of these names are in any financial trouble. The balance sheets are all in decent shape, and lululemon actually has a balance sheet in tremendous shape. This is one area where Under Armour could use some improvement, however. Despite having a much larger market cap and much larger revenue base than lululemon, Under Armour has the lowest cash position, net cash position, working capital balance, and current ratio. In fact, the net cash position as a percentage of market cap for Under Armour is just 1.6%, compared to 5.5% for Nike and 8.0% for lululemon. Again, Under Armour is not in any financial trouble, but it has the weakest balance sheet of these three names. For investors looking for things like stock buybacks or future acquisitions using cash, Under Armour is in the worst position to do these things. Having a weaker balance sheet than its competitors is one reason why I really don't like the valuation of Under Armour, which I cover in the next section. Additionally, Under Armour shareholders are getting diluted further by the quarter, and I don't see that stopping anytime soon. The diluted share count (used to determine EPS) was up by more than 2.9 million shares in the last two years (almost 3%), and the company is forecasting another rise of 1-2 million shares this year. Nike offers a buyback currently, and I think lululemon might have a buyback soon too. I don't see one for Under Armour in the next couple of years.
Growth and valuation comparisons:
Now we get to the real meat of the argument. Under Armour is the best of these three names in terms of expected growth, but you are really paying a premium here. In the table below, I've compared these three names in terms of expected growth and current valuations for the given fiscal year. You can view current estimates for lululemon here and Nike here.

The first thing that really hits you is the price to earnings gap. Under Armour trades at nearly three times the other two names on a P/E basis. Sure, Under Armour provides more growth potential according to analysts, but is that worth three times the price? I would argue no, especially given the weaker balance sheet. Also, Nike offers a dividend to investors and is buying back stock. There is also the potential that lululemon may start buying back stock given the recent fall in shares. When lululemon reports in the next couple of weeks, I'll be looking to see if a buyback is announced, especially given the strong balance sheet. Buybacks and dividends can offset growth, making Nike and lululemon appear much better on a P/E basis at current prices. The P/E gap has widened tremendously since last summer, when I covered these names in mid-June. At that point, LULU traded at 26.3 times fiscal year earnings for the year ending in January 2015, and Under Armour traded at 32.6 times calendar 2014 expected earnings. Yes, LULU's growth story has taken a hit and Under Armour's looks a bit more impressive, but the valuation change seems a bit extreme.
Then we have the curious price to sales argument. In my above mentioned article, LULU traded for 4.9 times sales and UA traded for 2.3 times (for the periods mentioned at the end of my P/E discussion). Now, Under Armour trades at a premium on price to sales. Maybe Under Armour should not have traded at a 53% or so P/S discount last June, but now it trades for a premium. Add in the huge P/E premium you are paying, and this stock does not seem worth it currently. If Under Armour was offering a substantial amount of growth, perhaps double what is expected currently, these valuations would look a lot better. But Under Armour rose 23% after earnings and has run another $10 plus since then. That premium appears to be out of control right now.
A pullback on technicals:
I wanted to bring up some technical factors briefly, because I think they might show a pullback is coming. In the chart below, you can see Under Armour against its bollinger bands. In the past six months, you can see a number of distinct pullbacks when the upper band is hit. Now that the stock has calmed down a bit as we get further away from earnings, the band range should continue to narrow a bit. I could see this stock meeting the upper band if we see shares rally another couple of bucks. That would seem to provide a decent short opportunity.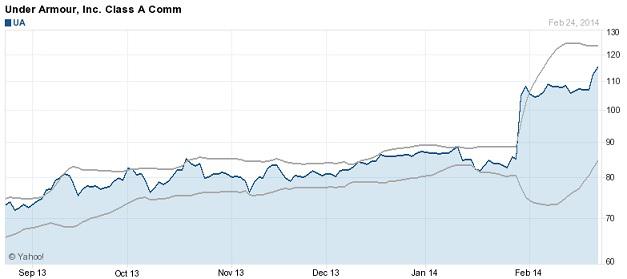 (Source: Yahoo! Finance)
Additionally, if shares were to start falling, you wouldn't see too much support from the moving averages. While both are still on the rise thanks to the recent rally, the 50-day moving average sits around $93 currently and the 200-day is near $77.
Final thoughts:
Under Armour is a tremendous growth story as a company, but that doesn't make this a winning stock. As you saw in the chart above, the stock has run tremendously, and shares are up 35% since the latest earnings report. That has pushed the valuation to a point where I believe it is out of control, and investors might want to consider a short position if shares keep rallying. Under Armour provides growth, but so do its competitors, and they trade at much more reasonable valuations, especially on a P/E basis. Under Armour also has the weakest balance sheet of the three names I discussed today. Should the markets pull back, Under Armour may be the first name to be hit, and the mean/median analyst price targets are about $10 or so below current levels. Again, this isn't a short idea based on anything the company is doing wrong (nothing illegal), it is all about valuation. For investors believing this market will correct in the short-term, a short position may be warranted at the upper bollinger band until this name gets closer to $100, and the valuation gets a little better. Then we can evaluate these names again.
Disclosure: I have no positions in any stocks mentioned, and no plans to initiate any positions within the next 72 hours. I wrote this article myself, and it expresses my own opinions. I am not receiving compensation for it (other than from Seeking Alpha). I have no business relationship with any company whose stock is mentioned in this article.
Additional disclosure: Investors are always reminded that before making any investment, you should do your own proper due diligence on any name directly or indirectly mentioned in this article. Investors should also consider seeking advice from a broker or financial adviser before making any investment decisions. Any material in this article should be considered general information, and not relied on as a formal investment recommendation.