Not that it seems to matter much these days, but has anyone noticed the earnings per share growth estimates for the first quarter? It's understandable if you haven't. After all, it's hard to take one's eyes off a stock market that gained as much as 6.3% in only nine sessions like this one did between February 5 and February 19.
Yet, while stocks have been rallying in recent weeks, the first quarter consensus EPS growth estimate has continued to come down. At the start of the year, it stood at 4.4%. Today it sits at just 0.9%, according to FactSet.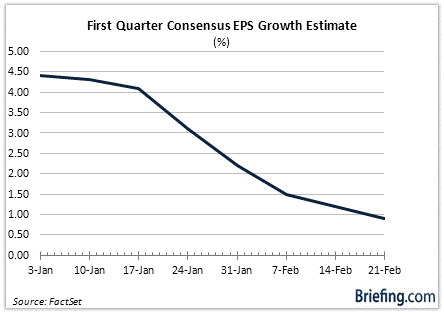 The stock market sure doesn't seem to care about the downward revision - or at least not as much as one might think.
The fact that the S&P 500 could rally 6.3% in nine sessions (7.7% for the Nasdaq) validates the idea that earnings continue to take a back seat to the thinking that the Fed isn't going to tighten the screws unnecessarily with its monetary policy and that earnings prospects will be brighter six months from now.
Wash, Rinse, Spin
The complacent view toward downward earnings revisions has been cultivated by a "wash-rinse-spin cycle" when it comes to earnings. Earnings per share growth estimates typically start on a high note and then get revised down during the quarter to a point that they becomes easier to beat when the actual results are released.
Voila! You go from a bothersome trend of lowered earnings estimates to an optimistic-sounding reporting period.
The fourth quarter was yet another case in point.
Last June, fourth quarter earnings per share were expected to be up 11.8%. At the end of September, they were expected to be up 9.6%. At the end of December, they were projected to increase 6.3%. With the reporting period nearly complete, the blended earnings growth rate for the fourth quarter is 8.5%, according to FactSet - a number that is not as high as initially expected, but one that is ultimately spun as stronger than expected.
To be fair, 8.5% earnings per share growth is decent growth, especially with blended revenue growth up just 0.8% [or 2.1%, excluding Prudential's (NYSE:PRU) results]. Share buyback activity has helped propthings up, but that's another issue. Our aim today is to identify why the stock market refrains from getting too worked up too soon by lowered earnings per share growth estimates.
The Great Excuse
The first quarter is another unique period when it comes to EPS growth estimates and the market's (in)attention to those estimates.
Revisions have accelerated with the updated guidance from companies reporting their December quarter results, yet analysts have also been moved to cut estimates on the basis everyone seems to be cutting first quarter growth expectations these days: winter weather that has been so severe this year that it can't be properly accounted for in normal seasonal adjustments.
It is the great excuse - and one we don't completely buy, as regular readers of The Big Picture know. One more disproof was provided in the latest week when it was reported that existing home sales in the West, which had no connection to the polar vortex, declined 7.3% in January.
We digress.
We can see ahead to mid-April already -- when the first quarter reporting period begins-- and the willingness to excuse disappointments as a weather issue. Where things could get sticky is if economic data in the interim remains soft and continues to expose the fact that the first quarter slowdown isn't just because of the showdown with Mother Nature.
For now, though, the EPS growth glass continues to be seen as half full even if it has been emptied a good bit for the first quarter.
For the full year EPS, growth is expected to be up 9.0%. Incidentally, that growth estimate has been revised down from 10.5% at the start of the year.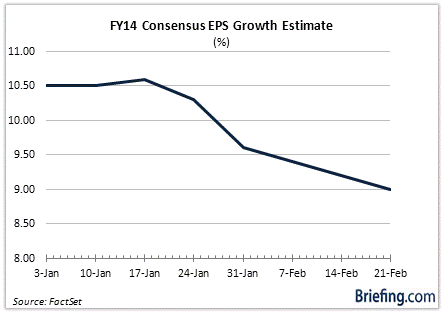 What It All Means
Market participants have grown accustomed to seeing EPS growth estimates lowered and are not prone to overreact in a broad market sense for several reasons:
They are cognizant that EPS growth continually comes in better than lowered expectations
Earnings, while weak at times, are still growing; and
With interest rates at the zero bound and the Fed regularly noting its intent to support a pickup in growth with accommodative policy, there is a persistent belief that revenue and earnings growth prospects will improve
In considering the first quarter revisions, market participants appear to be embracing the severe winter weather as another factor in the tolerable mix.
When will downward earnings revisions register more acutely again? Probably not until the Fed is out of the QE way or there is an actual decline in EPS growth that can't be written off as a result of bad weather.
Other considerations could register eventually. For now, downward earnings revisions continue to be heard only as background noise against the market's harmonious, and unbending, refrain that easy monetary policy and less restrictive fiscal policy will invite stronger earnings growth in the quarters ahead.
Disclosure: I have no positions in any stocks mentioned, and no plans to initiate any positions within the next 72 hours. I wrote this article myself, and it expresses my own opinions. I am not receiving compensation for it. I have no business relationship with any company whose stock is mentioned in this article.