Executive summary:
Defense cutbacks will likely be good for many defense companies' earnings.
Defense stocks have rallied on the news of military cutbacks.
The cost savings outweigh the loss of sales, resulting in a counter intuitive benefit to defense contractors.
___________________________
I've written many articles highlighting my favorite investment theme, fiscal policy investing. Fiscal policy is the dog that wags the tail. Understand the dog and the movements of the tail start to make sense. While my efforts are usually to tie fiscal policy driven by "climate change" legislation to investment ideas, today the headlines are pointing out another opportunity for fiscal policy investing, military spending cuts.
President Obama announced a new military strategy on Thursday that will cut the Pentagon budget by hundreds of billions of dollars over the next decade...The new military strategy includes $487 billion in cuts over the next decade. An additional $500 billion in cuts could be coming if Congress follows through on plans for deeper reductions.
The cuts seem to make the investment theme clear, sell defense contractors. Because it is too early to point to headlines, the President's/Defense Secretary Hagel's speech is still happening as I write this, that however will most likely be the wrong investment strategy.
Back in the 1990's when I first started developing my investment themes and concepts, I was in the US Navy and then President Clinton was dramatically cutting back military spending. As a young student of the markets I thought military contractors would be devastated by the military cutbacks. It turned out that I was wrong on an epic scale, and I learned one of the most valuable lessons I've ever learned about investing. Things aren't always as obvious as they seem, and quite often the markets act in counterintuitive ways. Because of that lesson, every time I see what looks like a sure bet in the market I ask myself, "what am I not seeing?"
What I missed back in the 1990's is that a large chunk of a defense contractor's expenses are R&D. When military spending is growing, you have to always be developing the next "new new thing." That costs an absolute fortune to these defense contractors to remain on the cutting edge. Back in the 1990's after the cuts were announced the first thing the defense contractors did was eliminate large amounts of their R&D spending and earnings exploded. The defense contractors, at least the ones I tracked, all did extremely well after the defense cuts. The defense contractors simply annuitized their existing product line. Sure we weren't going to be getting as many new high tech gadgets in the future, and our National security may have been weakened, but that didn't matter to the earnings of the defense contractors. They shot through the roof. A similar event occurs in the drug industry. Anytime the threat of socialized medicine raises its ugly head, drug makers simply cut back R&D. Profits for drug makers soar, but society gets fewer new drugs in the future.
The following graphic from a video shot in real time shows how defense contractors are loving the news of a military cutback.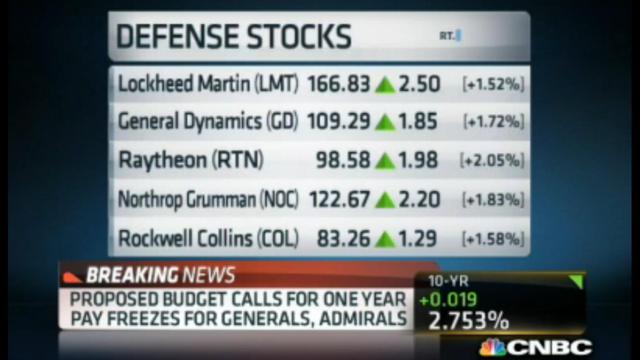 Lockheed Martin (NYSE:LMT), General Dynamics (NYSE:GD), Raytheon (NYSE:RTN), Northrop Grumman (NYSE:NOC) and Rockwell Collins (NYSE:COL) are all up on the news of military cutbacks. While there are certain to be some companies that will be hurt, I would anticipate the industry as a whole should benefit from military cutbacks. I know that sounds completely backwards and illogical, but that is what has happened in the past, and is likely to happen going forward.
A portfolio approach is probably best to play this theme, and there are multiple ETFs that make it possible:
iShares Dow Jones US Aerospace & Defense ETF (BATS:ITA)
PowerShares Aerospace & Defense ETF (NYSEARCA:PPA)
SPDR S&P Aerospace & Defense ETF (NYSEARCA:XAR)
Disclaimer: This article is not an investment recommendation or solicitation. Any analysis presented in this article is illustrative in nature, is based on an incomplete set of information and has limitations to its accuracy, and is not meant to be relied upon for investment decisions. Please consult a qualified investment advisor. The information upon which this material is based was obtained from sources believed to be reliable, but has not been independently verified. Therefore, the author cannot guarantee its accuracy. Any opinions or estimates constitute the author's best judgment as of the date of publication, and are subject to change without notice. Past performance is no guarantee of future results. For my full disclaimer and disclosure, click here.
Disclosure: I have no positions in any stocks mentioned, and no plans to initiate any positions within the next 72 hours. I wrote this article myself, and it expresses my own opinions. I am not receiving compensation for it (other than from Seeking Alpha). I have no business relationship with any company whose stock is mentioned in this article.