"But I'm going to stand my ground. Obviously, I feel very strongly about our device, so anybody who wants to intrude into our space, we have a very loyal customer base. You can rest assured that BlackBerry is not going to back down."

-John Chen, BlackBerry CEO, to CNBC this morning
BlackBerry (NASDAQ:BBRY) is coming out of the bell on a run today, Tuesday.
I wrote an article yesterday citing that the Canadian based phone maker could be on the verge of a technical breakout and if today's pre-market levels can hold throughout the day, it's likely that we're going agree that the stock has officially started upward again.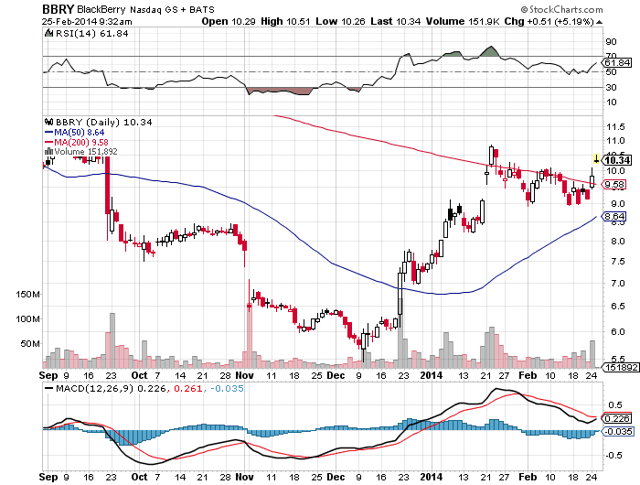 There is a couple headlines stirring again this morning for John Chen's BlackBerry. First, early this morning, BlackBerry announced a new phone, the BlackBerry Q20.
The look and feel of the device is meant to go "back to the BlackBerry basics" and it'll deliver a traditional QWERTY keyboard, as well as the trackpad. This comes after yesterday, when it was pointed out that BlackBerry was going to bring back its "tool belt" buttons on all of its phones. The Globe and Mail reported:
These enterprise users were the core of the BlackBerry business but became less of a priority during the company's failed attempt to compete in the consumer market dominated by touch-screen Apple and Android phones.

Discarding the belt was one of many changes the company made with BlackBerry 10, alienating long-time devotees, contributing to high product returns and exacerbating a three-year decline in handset sales. Many BlackBerry customers instead opted for older, more familiar phones like the Bold, even though the Internet browsing experience and availability of apps was inferior to that offered on the new platform.

"We missed one step, which was to educate the market up front" about how different the BlackBerry 10 devices were from its past smartphones, Mr. Chen said. "We [thought] that if we built it, everybody will love it."
Re/code.net talked about the coming Q20, which BlackBerry is going to use to go after emerging market Indonesia, as the company had disclosed that it would weeks ago. The phone is priced under $200.
The first of the new devices, a 3G model code-named Jakarta, will cost less than $200 unsubsidized and go on sale in Indonesia in April. An LTE version will follow, CEO John Chen said at an event at Mobile World Congress in Barcelona. That phone, to be sold as the Z3, is an all-touch device being made by Foxconn.

"We have 100 percent confidence in BlackBerry," Foxconn Chairman Terry Gou said at the event.

A second phone, the BlackBerry Q20 (though Chen calls the BlackBerry Classic), will have a more traditional keyboard and trackpad and is due out before the end of the year. It will also be made by Foxconn "unless they price it too high," Chen joked.

Chen also said there are some more premium products in the works. "We do have a few high-end devices that we are working on, but I am unable to show you and share with your right now," Chen said.
Also this morning at the Mobile World Congress, BlackBerry announced that Daimler AG (OTCPK:DDAIF) and Airbus (OTCPK:EADSF) were both adopting BlackBerry products. This is strong news after the disappointment of the Army ditching BlackBerry and looking into using Android products. Perhaps decisions like that will be reconsidered in the future as BlackBerry begins to bring its name back to prominence.
Chen, who was all smiles when he talked to CNBC earlier this morning, jokingly said that if he was offered $19 billion for BBM, he would take it.
Well, that's a load off of my shoulders.
Chen's comments to CNBC this morning were exactly what shareholders would likely want to hear. "I work for the shareholder", Chen said when asked about what price he would sell BBM for.
Chen also came out in his comments and stressed that the company's strategy is going back to the customer base, reengaging them, and then continuing to grow and generate cash from things like QNX and BBM. It seems that those two are big parts of where Chen thinks the company's growth will come from. I tend to agree with him.
Sellers are stepping in a bit, pushing BlackBerry to around $10.25 currently, but it's still up over 4% today. There is going to be a point, I'm not sure if we're there just yet, that BlackBerry is going to cross $210 and leave it behind for good. Today marks another foray into the stock poking its head above $10, which is now the second time it's happened since Chen's earnings comments last December.
I liked Chen's demeanor this morning when he was poked with questions from CNBC. He doesn't seem to have any reservations about talking about the good, bad, and the ugly regarding the company, and that's the kind of levelheadedness and humility that current BlackBerry shareholders are going to need in order to turn this company around full bore.
I remain long BlackBerry - best of luck to all investors.
Disclosure: I am long BBRY. I wrote this article myself, and it expresses my own opinions. I am not receiving compensation for it (other than from Seeking Alpha). I have no business relationship with any company whose stock is mentioned in this article.