Executive summary:
Live Nation (NYSE:LYV) reports solid full-year 2013 results, and provides bullish guidance for 2014.
Free cash flow ("FCF") generation continues at fast pace, indicating significant operating leverage in the business.
Roll out of Ticket Master+ allows Live Nation to capture the secondary ticket market.
_______________________
Shares of Live Nation have gone on an incredible run since the start of 2013, appreciating some 140% over that time frame. After the full-year 2013 earnings report and conference call after the market close on February 24, 2014, I think shares are still undervalued given the growth and margin expansion opportunities before Live Nation.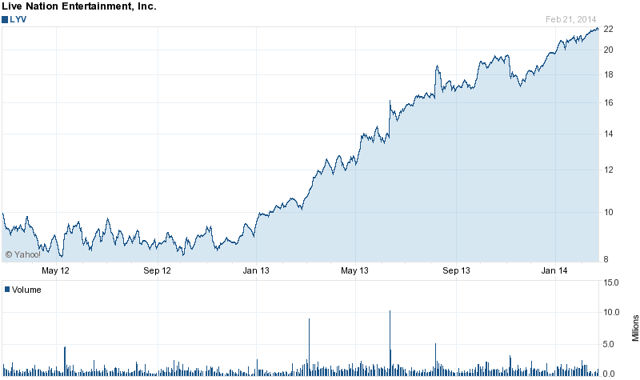 The Live Nation Ecosystem
Live Nation is made up of three principal businesses, all of which complement each other and create the Live Nation ecosystem around live music events. The three businesses include:
Live concerts; revenue up 17% year-over-year.
Ticketing; revenue up 2% year-over-year. 2013 included significant investments in Ticket Master+, a new platform to sell tickets in the secondary market.
Sponsorship and advertising; revenue up 15% year-over-year.
A good illustration of the value proposition comes from a recent slide deck from the Liberty Media Investor Day presentation. [Note: Liberty Media (LMCA) owns about 22% of Live Nation, which can be increased to a maximum of 35% based on an agreement with Live Nation.]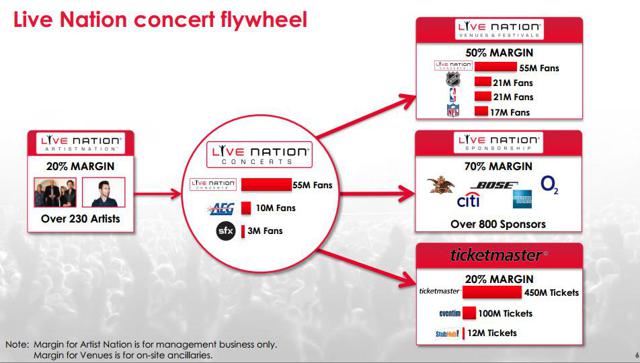 As one can see, Live Nation controls the value chain for live music production from artist management, to ticketing, to owning and operating live music venues. On top of that, Live Nation is able to leverage its growing fan base by selling sponsorship and advertising services. This is a high-margin income stream at 70% margins, and presents an excellent growth opportunity. Sponsorship revenue was up 15% year-over-year, including 26% growth in digital advertising on various Live Nation internet properties. Given Live Nation's sites generate 34 million monthly unique visitors, there is significant room to monetize that sort of traffic. I understand Live Nation has 750 sponsors with high renewal rates given the niche target audience Live Nation serves.
New Growth Driver, The Secondary Market
To further leverage the Live Nation ecosystem, the company is expanding into an adjacent category: the secondary market for tickets. This is a big market, estimated to be $4 billion annually, and Live Nation currently has little market share. I expect that to change as Live Nation rolls out Ticket Master+ and leverages its brand name. In my view, this will also be a high-margin business, effectively acting as a "toll collector" on ticket sales through its Ticket Master+ platform.
According to CEO Michael Rapino made a very insightful comment on a conference call last March (transcript courtesy of Seeking Alpha):
So as you look at the world of pricing that's going to evolve over time, secondary is going to be the catalyst to change pricing. And going back to your point, what you see in the marketplace right now from a team or an artist, for 30 years they didn't know who was scalping on the corner and weren't quite sure what the ticket was going for, but they know they were selling a primary. The Internet brings Stubhub and others bring some light. Content owners start seeing online, "Geez, that ticket is going for $600, and I'm selling it for $200." At first, it's like, "That's bad. That's fraud. That's Napster. That's Napster," to now that's, "How do I get that $600? Because I've got salaries or buildings or trucks to pay for?" So you've seen over last 2 years the content side, the artists, the teams, the NFL looking at the secondary as another pricing scale, if you want to call it, that they have to participate in. So we believe in, let's call it, 5 years from now, there will be less of what's called secondary and primary. And there'll just be smart content pricing their product from lower maybe in the back to higher in the front to meet the market needs. But they will not allow $4 billion to live outside the ecosystem when they're investing in the arena, the sports team, the artist, the production, the show. As no one would allow $4 billion to live outside the ecosystem. So first step you've seen is a lot of artists and teams, VIP Ticketing, upscaling the front row, looking to participate in secondary through our NFL Exchange. I think most of the industry is eyeing that $4 billion and looking for tools to monetize it, whether increase the primary ticket at the front, whether they also participate in the exchange of tickets. That will be the hot button the teams and content owners will want to be part of. That's why we're launching our integrated platform in July, which brings these 2 together and let the content start participating and controlling and also more importantly, getting the data from these purchases.
I tend to agree. The market for secondary tickets is becoming more transparent as these sales move online. Rather than allowing ticket scalpers to realize margin on high-demand tickets, I think we will be moving more towards a real-time auction model for live event tickets, allowing content owners to benefit from supply/demand for its events.
This, in my mind, is a big opportunity for Live Nation over the next several years, if it can capture a large percentage of secondary ticket sales working in conjunction with the content owners.
Business Results, Non Cash Charges Mask Growing Free Cash Flow
To illustrate the scale and capital light nature of Live Nation's business, a good indicator is FCF growth. In 2013, Live Nation generated $300 million in FCF, up from $276 million and $203 million in 2012 and 2011, respectively. That is significant FCF generation (up 50% in two years), and management is guiding for annual 40 to 45% FCF increases over the next couple of years.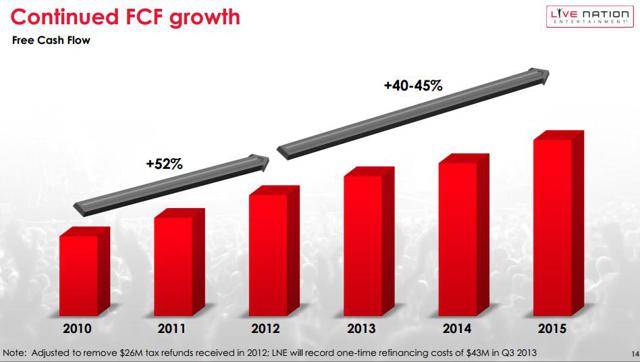 Given the low double digit revenue growth and the operating leverage in this model, I suspect Live Nation will generate ~$400 million in FCF in 2014, pricing the business at about 11x estimated forward FCF, and 14.3x last twelve months' FCF. Based on the growth profile, I think 15x forward FCF is an appropriate multiple. Using that indication of value, I am valuing Live Nation at $30 per share, or about 35% higher from here.
Yes, Live Nation does have debt (although net debt is negligible given the cash balance). But the growth in cash flow supports the leverage, and should amplify equity returns over the next couple of years. Moreover, Live Nation refinanced its debt in August, significantly extending the maturities and reducing interest rates, saving Live Nation $12 million in cash interest costs. If we apply a 15x multiple to those interest savings, the refinance increased the value of the equity by $180 million.
Conclusion
Live Nation is the clear market leader in the live music category.
Given the current valuation, Live Nation trades at about 15 times 2013 FCF and 11x 2014 FCF (estimated). I continue to believe that cash flow generation will increase disproportionately relative to revenue growth on account of the high-margin, incremental revenue streams Live Nation is rolling out via Ticket Master+ and sponsorship and advertising, both on site and digitally.
Live Nation appears on track with its 3-year growth turnaround plan it laid out in early 2013 to significantly increase margins.
Given the size of the global live concert/festival market, the moat developing around Live Nation's value proposition and the margin expansion opportunities, I think shares could be worth up to 15x forward FCF, or about 35% higher than the current $22 quote.
Accordingly, I have a $30 price target on shares of Live Nation and I expect the shares to pop tomorrow after today's solid earnings report and guidance.
Disclosure: I have no positions in any stocks mentioned, but may initiate a long position in LYV over the next 72 hours. I wrote this article myself, and it expresses my own opinions. I am not receiving compensation for it (other than from Seeking Alpha). I have no business relationship with any company whose stock is mentioned in this article.