On Saturday, February 22, Barron's wrote what was widely considered a seriously bearish article on the Kinder Morgan group (Kinder Morgan Energy Partners (NYSE:KMP), Kinder Morgan Inc (NYSE:KMI), and Kinder Morgan Management (NYSE:KMR). As a result, all of these stock fell off a cliff during yesterday's trading session, with both Kinder Morgan Energy Partners and Kinder Morgan Management falling 5% and Kinder Morgan Inc declining 3%.
Barron's article is basically a rehash of Hedgeye's infamous September 2013 presentation
***For a fuller review of the Barron's piece please see my earlier article published on Monday
The two principal arguments made by Barron's were as follows:
Kinder Morgan Energy Partners' growth prospects are limited due to its IDR payment requirements to Kinder Morgan Inc
Kinder Morgan Energy Partners is understating its maintenance capex to inflate distributable cash flow ("DCF")
Much of the article questioned Kinder Morgan' DCF sustainability as well as its capacity for future growth. Later on in the piece, Hedgeye energy analyst Kevin Kaiser noted that "Kinder Morgan's valuation is crazy," further arguing that each of the stocks could see nearly 40% declines from current prices.
These points should sound extremely familiar as they are essentially the same ones made by Hedgeye during its short attack on the Kinder Morgan group back in September 2013. Indeed, even Deutsche Bank noted that the Barron's report contains "old inaccuracies."
That being said, Barron's is levying serious charges on Kinder Morgan, especially considering this article was their front cover story.
Kinder Morgan's response is brilliant, yet has received very little media attention
Barron's contacted Kinder Morgan with a few questions before publishing its article. However, Kinder Morgan noted that many of its important responses were not incorporated into the article.
Fortunately, Kinder Morgan has made available its own response to the Barron's allegations. Below is a summary of these responses and what it means for investors in Kinder Morgan.
Maintenance Capex
First, let us look at Kinder Morgan's explanation regarding its maintenance, or sustaining, capex versus growth capex.
Basically, Kinder Morgan noted that its maintenance capex is not understated. Rather, it is stated consistent with its partnership agreement.
Kinder Morgan' partnership agreement is very clear on this point. It is defined specifically as "maintenance capital expenditures as capital spent to maintain an asset without increasing its capacity or throughput."
While Hedgeye may argue otherwise, Kinder Morgan may not and cannot simply change this fundamental agreement on a whim. Indeed, it has been in place since before Kinder Morgan was even a public company.
Kinder Morgan is not a company to cut corners, especially considering any pipeline leaks would result in significant environmental related costs. In addition, Kinder Morgan's maintenance capex hardly represents all of the expenses associated with safely running pipeline and midstream infrastructure. The company has repeatedly noted that many of its maintenance costs are baked directly into operating expenses.
It seems very apparent that Kinder Morgan is not inflating its cash flows given that both operating expenses and sustaining capex are deducted when calculating DCF figures.
Furthermore, Hedgeye's claim regarding Kinder Morgan's maintenance expenses per mile versus other midstream MLPs is fundamentally flawed as this is simply not an apples to apples comparison. Kinder Morgan noted that the differences between pipeline sustaining costs vary greatly given their age, diameter, compression, size, utilization rate, etc. The only factor which may be relevant is in regards to pipeline safety, which in the case of Kinder Morgan, it actually outperformed the industry average for 29 out of the 31 comparable comparisons in 2013.
IDR payments to KMI
Kinder Morgan also addressed the issue regarding IDR payments to Kinder Morgan Inc. While these payments may hamper Kinder Morgan ability to grow, it has not really shown.
The company mentioned that it has been in the "high splits" (50% of new incremental DCF going to the GP) since 1997. Yet, Kinder Morgan Energy Partners has still managed to post a compounded annual total return of 23% since 1996.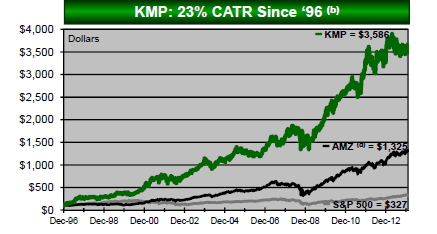 Indeed, Hedgeye's analysis seems to be discounting Kinder Morgan's footprint and the associated synergies provided by it. Unlike many other midstream MLPs, its investment grade rating provides it with a competitive cost of capital compared to peers. In addition, Kinder Morgan nationwide presence also allows it to build out infrastructure where it's needed, oftentimes with a very attractive ROI.
Furthermore, Kinder Morgan has over $14B worth of organic capital projects in its backlog. These projects are over 90% fee-based and are projected to provide accretion on a DCF per unit basis once completed.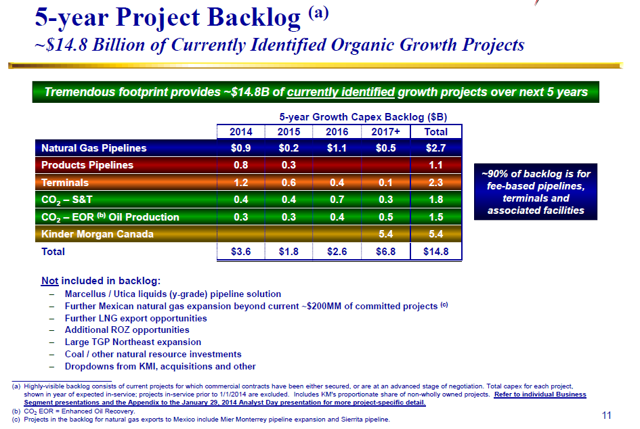 Rich Kinder backs up the truck on Kinder Morgan Inc shares
Late on Monday, it was revealed that Kinder Morgan CEO Richard Kinder had purchased 200K shares of Kinder Morgan Inc for $6.4M. This follows a similar 100K share purchase for $3.3M only a few days earlier. Rich Kinder is now estimated to own nearly $8.10B worth of Kinder Morgan Inc stock versus just $26M of Kinder Morgan Energy Partners.
Some have argued that the smart money is shifting away from KMP. However, I would argue that this is simply not the case. Rather, Kinder Morgan Inc is a leveraged play on Kinder Morgan Energy Partners.
Shares of Kinder Morgan Inc are just as much of a play on the success of Kinder Morgan Energy Partners compared to units of the MLP itself. Indeed, the vast majority of Kinder Morgan Inc' cash available for dividends comes via the GP IDR payments. By buying shares of Kinder Morgan Inc, Mr. Kinder is banking on the future success of the MLP.
Conclusion
The simple fact is that Kinder Morgan will directly benefit from the increases in supply and demand for energy in North America. Yes, many investors in the stock will prefer to sell first and ask questions later.
However, investors in Kinder Morgan clearly need to avoid the noise surrounding the stock. While the day-to-day gyrations in the stock price are worrisome, they do not mean anything in terms of the long-term fundamental outlook for the company.
Disclaimer: The opinions in this article are for informational purposes only and should not be construed as a recommendation to buy or sell the stocks mentioned. Please do your own due diligence before making any investment decision.
Disclosure: I am long KMI. I wrote this article myself, and it expresses my own opinions. I am not receiving compensation for it (other than from Seeking Alpha). I have no business relationship with any company whose stock is mentioned in this article.