Executive summary:
Wal-Mart's has underperformed in recent years.
FY 2014 results were very disappointing.
Dividend increase of 2% just isn't enough to convince me.
_________________________________
On February 20th, Wal-Mart (NYSE:WMT) announced their 4th quarter and full year results. Revenue was up by 1.6% YoY, but higher costs caused the company's operating profits to be 3.1% lower than in 2013. Wal-Mart's free cash flow has dropped from $12.69 billion in 2013 to only $10.14 billion in 2014, while diluted EPS was down by 2.8% and reached $4.88.
A great article was written here on SeekingAlpha by Albert Alfonso two days before the results for fiscal year 2014 came in. In it, he states:
"Assuming a 15% increase to the dividend, Wal-Mart's forward yield is close to 3.00%."
A 15% increase seemed reasonable at the time, given Wal-Mart's dividend growth over the past 6 years. The most recent dividend increase had been somewhat disappointing at only 8.9% but WMT has had some amazing dividend growth in recent years. In fact, the company more than doubled its dividends between 2007 and 2013.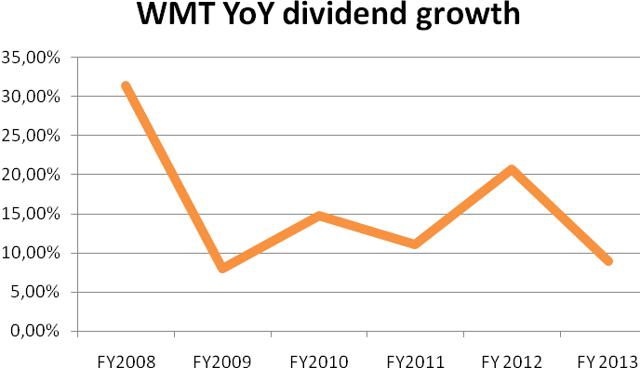 Then, Wal-Mart announced their next dividend increase. The dividend for fiscal year 2015 will be $1.92 or $0.48 quarterly. That's an increase of only 2% or $0.01 per quarter. Wal-Mart's current yield is now only 2.62%, which is a lot lower that its competitor Target Corporation (NYSE:TGT) which now yields 3.06%.
Wal-Mart has continuously underperformed the S&P 500 (NYSEARCA:SPY) over the past years despite massive share repurchases and growing revenue. It has also underperformed Target over the past 5 years despite TGT's stock dropping by over 11% YTD.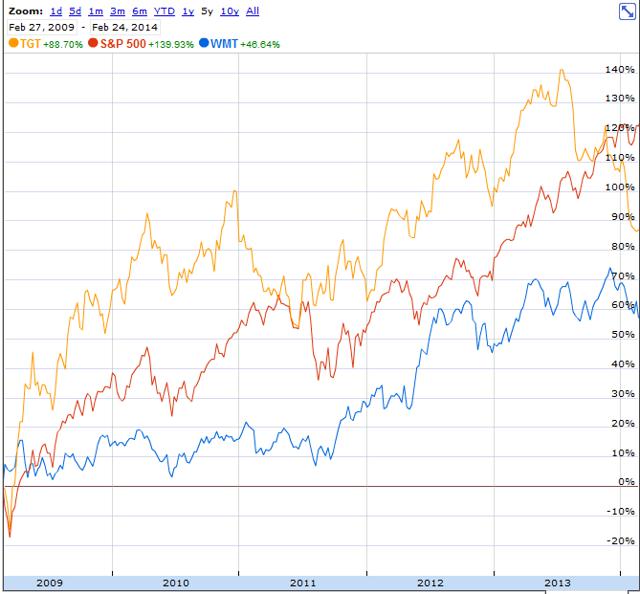 (Graph from Google Finance)
Analysts expect Wal-Mart's revenue to reach $5.37 in the current fiscal year, giving the company a forward price to earnings ratio of 13.7, which is close to its competitor Target which is currently trading at 13.5 times expected earnings. Wal-Mart is trading at a slight discount to its historical p/e. Between 2008 and 2013, Wal-Mart has traded at an average price to earnings ratio of 14.3.
So far we have found that while Wal-Mart has underperformed both the S&P500 and its competitor Target, it's still trading close to its historical p/e ratio's and pretty close to TGT on a forward basis, despite disappointing results for the recently ended fiscal year and a dividend increase of only 2%.
One question remains: will Wal-Mart increase its dividends by double digits like it did in previous years or is the recent 2% increase a sign of things to come?
The first thing I'd like to look at in order to answer this question is Wal-Mart's share repurchases. In order to keep the EPS growing, Wal-Mart buys back a lot of its own shares. In fact, the number of shares has decreased by over a billion in the past 10 years. In the most recent fiscal year, the company spent $6.7 billion to buy back 89 million shares for an average price of approximately $75 per share. While these share repurchases do increase EPS, spending billions on repurchases just to keep the EPS growing and analysts happy, means there is little room for dividend increases, especially when we consider the fact WMT plans to build 115 new stores in fiscal year 2015. The guidance for capital expenditures for FY 2015 was recently raised from a range of $11.8-12.8 billion to $12.4-$13.4 billion. These high additional costs lead me to believe WMT's next dividend increase will be just as disappointing as its most recent one. For a company with a dividend yield of only 2.6%, a dividend growth rate of 2% just isn't good enough. I'm staying away from WMT for now.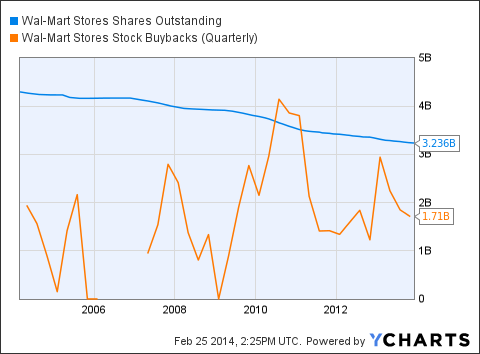 WMT Shares Outstanding data by YCharts
Disclaimer: I am not a registered investment advisor and do not provide specific investment advice. The information contained herein is for informational purposes only. Nothing in this article should be taken as a solicitation to purchase or sell securities. Before buying or selling any stock you should do your own research and reach your own conclusion. It is up to investors to make the correct decision after necessary research. Investing includes risks, including loss of principal.
Disclosure: I have no positions in any stocks mentioned, and no plans to initiate any positions within the next 72 hours. I wrote this article myself, and it expresses my own opinions. I am not receiving compensation for it (other than from Seeking Alpha). I have no business relationship with any company whose stock is mentioned in this article.