I have long maintained that Google's (NASDAQ:GOOG) search engine, responsible for 86% of its revenue, is in danger. Yet search market pundits always point to Google's consistent market share as sufficient proof of their continued dominance: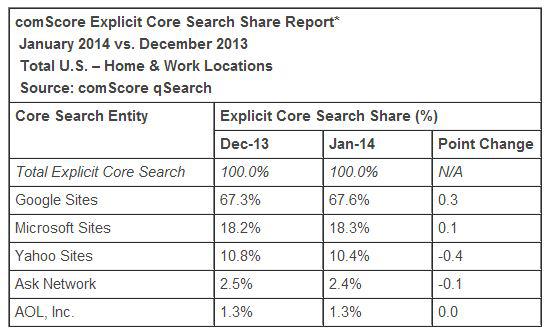 I certainly don't disagree with the above chart. Google has been consistently beating Microsoft (NASDAQ:MSFT) and Yahoo (YHOO), their only two (somewhat) competitors, and Ask.com & AOL's (NYSE:AOL) search numbers probably don't even make their way onto Larry Page's desk in the morning. I've written that DuckDuckGo is making waves, but it looks like they have an extremely long crawl ahead of them. Blekko has gotten some buzz in the past, but again, their trail seems to be mired and muddled in the very far away and slow moving future.
So, what is it that should be worrying Google?
Evolution of Search
Forget for a moment the Microsoft promotion of search maven Satya Nadella to CEO, and hold that thought about the recent revelations of Yahoo CEO Marissa Mayer's secret search projects named Fast Break and Curveball. Google has held off Microsoft and Yahoo for long enough. It's two or three other companies, not currently in the comScore rankings, that Google needs to worry about.
Facebook (NASDAQ:FB) and Twitter (NYSE:TWTR). Oh, and Apple (NASDAQ:AAPL) too.
If you just rolled your eyes, that's fine, but that's probably because you glossed over the following recent developments: Mark Zuckerberg all but announced that Facebook is developing a search engine, Twitter bought a search technology company, and Apple bought a social media search platform. Do you sense a pattern?
It seems rather clear that the evolution of search is such that the traditional search engine means less and less, as social networks continue to grow. Sure, Google may continue to dominate the comScore rankings well into the future, but if those rankings don't include a gigantic portion of another sort of search- social, then what's the point?
Facebook's Search Intentions
Two years and four months ago, Mark Zuckerberg stated that Facebook was working on search:
"Search engines are evolving to giving you a set of answers...Facebook is pretty uniquely positioned to answer a lot of questions people have...These are queries you could potentially do on Facebook if we built it out,...At some point we'll do it...We have a team working on search."
And now, just a few weeks ago, Zuckerberg stated that Facebook will compete directly against Google in search. In 2014.
Google knows this, and the late-to-the-game Google+ social platform is proof that Google is worried. Social search is eating into standard search, and it makes sense: A Facebook user who wants to know what people think about a new Italian eatery in his city, the contact info for a reliable locksmith, or whether or not Kanye West's new album is worth buying- these are all things that would have been typed into a traditional search engine in the past.
And now?
A user is much more likely to use Facebook instead of Google for those. Whether it means updating a Facebook status and requesting the above info, OR using Facebook's new Graph search, it would seem to be that Facebook simply has more relevant and therefore useful data for a user seeking pertinent and more personal information.
Now, now, I know what you're thinking. You will reply with the following statistics: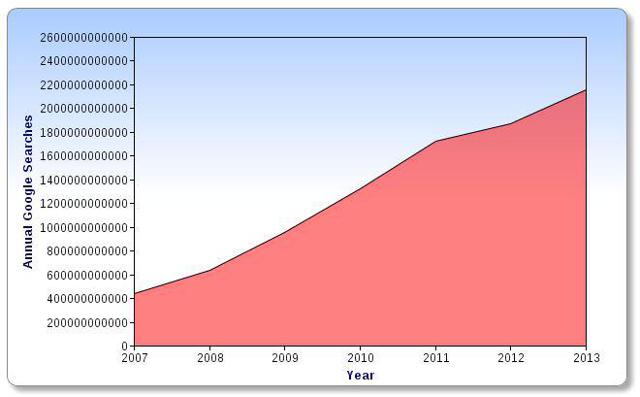 Sure, Google searches have grown tremendously over the years. But so has social media, and I will counter with this impressive statistic: Facebook users share 2.5 billion pieces of content per day. And on top of that, the number of active Facebook users is growing at a staggering rate: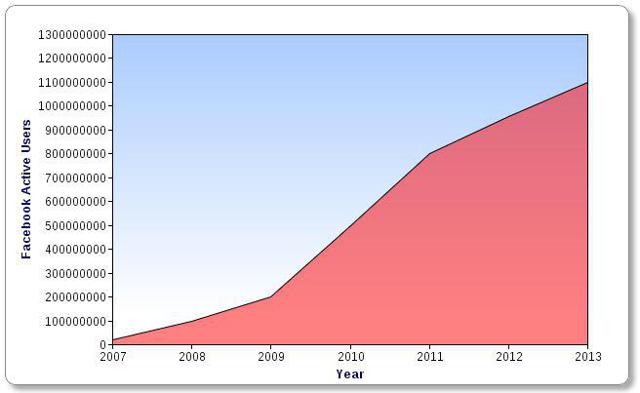 The growth of social media combined with the direction toward and through the avenue of search is rather jarring. It's rather clear to me that in response to Facebook's growth (not MySpace nor Friendster), Google rushed out Google+, but clearly missed the boat on social media and ultimately social-style searches. But what about Twitter?
Global Social Search
I'd argue that the one thing that Twitter has over Facebook's head is global reach, at the cost of privacy. What this means is that a Facebook user might dip into his or her personal network of 750 Facebook friends and find information, or perhaps join a public Facebook group with another 2000 members, and get information there. But Twitter has no such limits. A user can simply Tweet what he is looking for, and unless the Tweet is protected, is now open for the world to see and comment on. Twitter is essentially a crowd sourcing search engine.
So, what Facebook offers in protected privacy, Twitter offers a much wider gamut of people who can aid in any search request. (It would make sense for Google to start aggressively incorporating social elements into their search, as Bing is smartly doing).
That is not to say that the globally-strong Twitter is missing out on the local, more private aspect that Facebook offers. Spindle, the company that Twitter recently purchased, infuses the local element that users desire, by keeping users abreast of geographically relevant information and happenings.
(The funny thing about Twitter is that people are nervous about its slow crawl into huge revenues. I argue that as social search eats into traditional search, the real value of Twitter will explode. Granted, it's $405.5 million in 2013 revenue is just a fraction of Google's $57.86 billion, but the true value, i.e. how much it would cost to buyout Twitter, would easily be half of that.)
Apple Is Biding Its Time ... For What?
Investors are wary of Apple's growth for one main reason- it's reliance on churning out hardware. iPhones and iPads are impressive, investors say, but ultimately lack the more sexy and limitless future that search and social media offer. Search, social media, and all cloud-related services is where Wall Street thinks an infinite pile of money is waiting, and infinite is more than $7.5 billion, Apple's profit in Q4, 2013.
So what is Apple doing about this? Are they starting a social media platform? No. Are they starting a search engine? Absolutely, and they already have. I pointed out the surreptitious Siri strategy here. But what really caught my eye was Apple's acquisition of Topsy, which is a Twitter search and analytics company.
After taking a look at Topsy, I realized immediately, that simply put, it is a new age search engine. "New age" meaning it searches Twitter, a huge bank of (social) data. On some level, Topsy is equivalent to Facebook's Graph search, but the difference is that because Twitter is a public platform, Topsy can operate independently from Twitter, and therefore allow a company like Apple to spread its tentacles throughout Twitter. And since Twitter is the only true social media competitor to Facebook (not including Pinterest), acquiring Topsy was an ingenious move by Apple to gain a hold in the social media world, which, as I argued above, is really the search world.
So instead of hurriedly rolling out their own Google+ style platform, Apple seems to be focusing on mobile search (NASDAQ:SIRI), and getting a foothold of valuable and searchable data through Twitter.
Wait, Microsoft Hired Who?
Microsoft's promotion of Nadella to CEO was a brazen move within the world of search. With Bing sputtering at around 18% of the search market (not even including social media), Microsoft has been at a cross roads of sorts. Should they keep dumping more money into Bing?
Microsoft is currently losing $2 billion a year in search, while Google brings in $25 billion. Sheesh. At what point does Microsoft throw in the towel? Former potential CEO candidate Stephen Elop had said he would consider selling Bing, but with Nadella now in charge, a former VP of search, I don't see him selling it.
Does that mean that Bing is going to hunker down and continue on in this bloody mess of a pyrrhic victory for 2nd place in a search market that isn't even including true search engines like Facebook and Twitter?
Bing is showing a willingness to be more cutting edge with some of their newer integration of social media into their search results, and if Google lags in that, they might be able to snag some of that $25 billion a year search pie that Google is reveling in.
I had written off Microsoft as a search contender a few years ago, but I'm willing to give them a year with the promotion of Nadella.
Marissa Mayer Has Fish to Fry
Much has been said about Marissa Mayer's quietly tumultuous last years at Google, in the sense that she seemed to have been demoted, with no real (public) understanding or reason given.
I've always felt that Mayer jumped at the opportunity to run Yahoo, namely to revive its search division, as a way of perhaps sticking it to her old bosses at Google, and of course to show her value.
While the details of the secret code-named search projects are sketchy, Mayer publicly spoke about her desire for Yahoo to get into 'contextual search', which essentially takes cues (driving, walking, at home) and uses them to personalize a search. Obviously this veers into the mobile element, but it is still a valuable asset of search.
That is why it was so quietly interesting when Yahoo acquired Aviate, for $80 million, just a few weeks ago. Wall Street didn't seem to care, but the implications seem to be huge. Aviate organizes the layout of the home screen for Android users depending on what they are doing at the time. This provides a direct avenue into contextual search.
Of course, this is all moot for the short term, since Yahoo is still stuck in its sour grapes search deal with Microsoft. The industry is back and forth as to whether Yahoo can get out of the deal.
Additionally, Yahoo has been in a steady decline in their search market share rankings for a while now, and there has been no indication that the bleeding will stop, despite solid business prospects and an 8 year high of the stock price.
Can Google Protect Itself?
Google is spreading itself pretty thin these days, with so many different ventures. Wall Street likes that though, as every project ostensibly points toward a new stream of income, and seems to give them a pass on missed estimates. The question, though, is whether or not Google will remain true to its core: search. Because if search crumbles, then Google will too.
Disclosure: I have no positions in any stocks mentioned, and no plans to initiate any positions within the next 72 hours. I wrote this article myself, and it expresses my own opinions. I am not receiving compensation for it (other than from Seeking Alpha). I have no business relationship with any company whose stock is mentioned in this article.