Volatility has come back in a big way and depending on your outlook that could be an alarming or exciting development. Monday, we looked at stocks that may suit the needs of defensive investors who believe that the market may be headed for a downward slide (Daily Screen: Need Shelter from the Storm?). However, if you view last week as a blip on the radar and you believe the European debt crisis is overblown, then you are likely viewing the current climate as a buying opportunity. For those investors, we have screened for large and midcap stocks that were upgraded this week.
Specifically, we are looking for stocks that are over $1B in market cap and were upgraded this week to either Greatly Undervalued or simply Undervalued according to the Ockham methodology. Of the 44 results, we will discuss some of the most noteworthy findings below.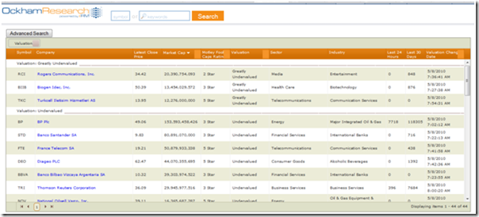 Only three stocks were upgraded to our most bullish stance of Greatly Undervalued this week, they are; Rogers Communications (NYSE:RCI), Biogen Idec (NASDAQ:BIIB), and Turkcell (NYSE:TKC). Each of these stocks for one reason or another is trading at a steep discount to historical norms of both price-to-sales and price-to-cash earnings. All of these stocks are showing fundamental improvement and growing earnings, yet that improvement has not yet been reflected in the price.
Although we obviously see those stocks as deeply undervalued at the current price, it seems that perhaps the most interesting stocks were upgraded this week to Undervalued from Fairly Valued. Some of these stocks have been in the news a lot and may provide an attractive return if you believe the current headwinds to their stock price are overblown. First, we must remind readers that our methodology is quantitative in nature and looks at the valuation in relation to price and fundamentals factors. So, in no way are we making the statement that the situations plaguing these stocks have been fully price in. However, if as an investor you feel confident that the market has overreacted, these stocks are priced attractively compared to historical norms.
Among the stocks that we recently upgraded is BP PLC (NYSE:BP), and over the last month BP has been spending millions of dollars trying to contain one of the worst oil spills in recent history. As a result their stock has been dragged down nearly 20% in just the last month, which of course may or may not be justified. Only time will tell what the cost of this disaster will finally be, and ultimately which company will be at fault will surely be played out in court over the next few years. However, if you are among those that think the nearly $40 billion in market cap that BP has lost in under a month is too excessive, it might be a good stock to take a chance on. The key to this speculative play is do you believe that the company will be able to shield its dividend from any cuts, if so, investors can bank on the nearly 7% yield until this disaster is long in the rearview. We think that at this price level it may be a risk worth taking for a long term position.
Alternatively, we upgraded another interesting set of stocks that have been in the news a lot recently. European banks such as Banco Santander (STD), Banco Bilbao (BBVA), and even National Bank of Greece (NBG) were all upgraded to Undervalued this week at Ockham. Of course, over the weekend the ECB announced a nearly $1T bailout for European nations dealing with crippling sovereign debt. The package was unprecedented for the central bank as they pledged to buy up struggling debt and even government bonds, a step they were publically opposed to until very recently. Now, it appears the ECB will step in on behalf of these European banks to enable them to unload some of that risk from their balance sheets. Each of these banks has dropped more than 30% year to date, and may have substantial upside simply from an ECB-assisted stabilization.
There is no doubt that we have not heard the last of either the oil spill or the European debt issues, but if you think that the market overreacted in these circumstances look for these stocks to benefit. The old market adage says the time to buy is when there is blood on the streets. Again, and we cannot say this enough, we are not endorsing speculation based on this piece alone, but after conducting your own research, if you think the market has overreacted in either case our valuation shows these stocks are priced attractively. It's easy to see why these stocks have been dragged down recently, but investors with a bullish outlook could certain find some Beta in stocks at the center of controversy.