There we are. Excitement and momentum seem to take over the debate over the structural shift in BlackBerry's (BBRY) business model. While Chen and his boys plan the next strategic moves and are busy trying to turn around the company, BlackBerry now starts to attract a lot of short-term traders who want to benefit from the momentum in BlackBerry shares.
Long-term investors (I mean those investors who intend to hold BlackBerry until it reaches its intrinsic value of $17-18 per share if not more even if it takes a couple of years) will certainly be unnerved at some point by the short-term hype surrounding the company. Many traders who now come on board and chase the stock price add to short-term volatility which is not in the interest of long-term shareholders. Disappointment will inevitably strike, especially those investors who need the market to pay them.
BlackBerry has another strong day today and is currently quoting at $10.78 -- up around 10% while shares marked an intra-day High at $10.83 so far. Much excitement over a BlackBerry Long position now comes from investors who believe the $10 or $11 mark is particularly important. The reality is: It isn't. Not the $8 or $10 or $12.50 mark. Whether BlackBerry trades at $10 or $12 is totally irrelevant -- at least for those investors who intend to hold BlackBerry for the long-term turnaround.
Investors aiming to capture the full reversion of BlackBerry's mispricing could care less about whether BlackBerry's share price reaches $10 this week or next week: You don't turn a tanker like BlackBerry around in a matter of month and better operating and financial results will trickle in over many quarters if not years. Developing an Enterprise business model will take substantial time and effort and the implementation of such business plan will unlikely be smooth. Setbacks in execution and in BlackBerry's share price should surely be expected.
While I have substantial exposure to BlackBerry (both in terms of shares and call options), I think a short-term mindset is about to take over investors once again. BlackBerry investors should be careful to not expose themselves to cognitive/behavioral biases now that BlackBerry produced two strong trading days with high percentage share gains. It has been empirically proven that investors extrapolate current share gains into the future (researchers call this the representative biases/overconfidence bias) -- and that is likely going to hurt investors. Turnarounds in share prices are never linear and investors should not make the mistake to extrapolate current growth rates in BlackBerry's share price.
While about 10% of my portfolio has BlackBerry exposure, as a long-term investor I prefer a slow and steady recovery that remains largely unnoticed by mainstream investors. A quick rebound in share price is rarely sustainable.
(Source: Finviz,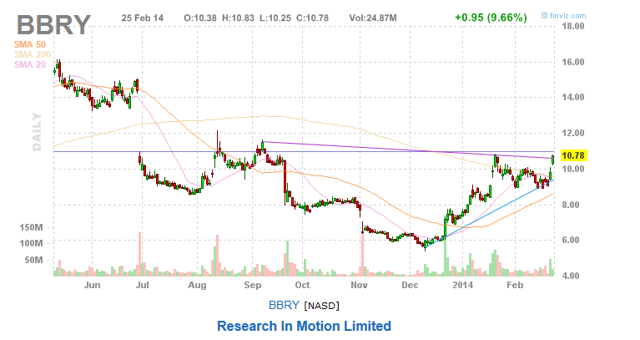 Conclusion
BlackBerry delivered a series of good news in 2014 which includes potential real estate transactions, an initiative to reduce production costs and increase efficiencies in its hardware unit, QNX exposure with respect to BlackBerry's Ford (NYSE:F) partnership (BlackBerry's commercial operating system QNX has the potential to become the industry standard for powering in-car technologies) and potentially explosive growth in BBM users. In addition, let's not forget that BlackBerry benefits from the endorsement of two high-profile investors: Prem Watsa and Daniel Loeb.
BlackBerry can still be classified as a distressed equity investment - not so much because of financial distress but because its business model is transitioning while mainstream investors remain largely skeptical. The process of recovery is long-term in nature - both for the company and for its share price. I would urge investors not to get too excited over BlackBerry's recent share gains and carefully examine whether they are extrapolating BlackBerry's share price growth as this often leads to poor investment decision-making. Investors who adopt a long-term mindset, though, should do well with a BlackBerry investment no matter whether the current share price quotes above or below $10 in the fourth week of February 2014.
Disclosure: I am long BBRY, F. I wrote this article myself, and it expresses my own opinions. I am not receiving compensation for it (other than from Seeking Alpha). I have no business relationship with any company whose stock is mentioned in this article.