(Editors' Note: This article covers micro-cap stocks. Please be aware of the risks associated with these stocks.)
Benjamin Graham, the father of value investing, created a metric for investing known as the "Net Current Asset Value" or "NCAV". The calculation is simple: Current Assets minus Total Liabilities. The purpose of this metric is to identify securities which are hovering at or below liquidation value. If the NCAV is greater than the current market cap, the suggestion is that if the company decided to liquidate, it could use its most liquid assets to pay off all debt holders and actually have money left at the end for shareholders to net a gain. These situations are indeed rare, since logically it does not make much sense for ending operations to be a profitable outcome for shareholders. But most of the time, these companies are very small and not followed, which allows the irrational pricing to exist. The purpose of NCAV is to greatly minimize the downside of an investment, so that any positive news will send the stock back to a reasonable valuation. The sweet spot is when the NCAV is above the market cap and the company is profitable.
Stocks that meet the NCAV greater than market cap criterion often do have issues which give them reason to be valued so low, such as cash burn or high potential for fraud. I created a screen based on NCAV and mostly tried to stick with U.S. equities to limit the potential for fraud. Additionally, I made sure that the market cap was above $10 million to ensure enough liquidity to make an investment. I also used a high level view to filter out any very obvious red flags. In the table below you will see the results from the screen:

Below I will add some color to the stocks from the screener with an NCAV at least 25% greater than the current market cap.
1. Zuoan Fashion Limited (ZA)
Zuoan Fashion Limited designs, manufactures, and distributes fashion casual menswear and is located in Beijing, China. I realize I said I would stick mostly with U.S. equities, but this stock is extremely interesting. If there is no fraud behind this security, it should rocket upwards. The most surprising piece of information is that it is not a reverse-merger, it actually had its IPO through reputable means as TBirdman explains here, he also provides excellent additional insight. Not only is ZA profitable, making $3.8 million in the most recent quarter, but it also generated free cash flow of $12.7 million. The real kicker is that ZA has $215.8 million in cash and cash equivalents. If ZA paid off all of its debt holders with cash and burned its other assets, there would still be a 176% return to shareholders from the remaining cash. Even with a high WACC of 19.6%, if you value ZA through the Discounted Cash Flow Method, it is easily valued above $8 per share. The major fear in the market must be fraud and that is has issued no dividend despite the large cash hoard.
2. American Lorain Corporation (NYSEMKT:ALN)
American Lorain Corporation is involved in the design, manufacturing, and sale of various food products. American Lorain Corporation is profitable, but is posting considerable negative free cash flow in the recent quarters. However it has plenty of working capital to sustain losses with 88% of its market cap in cash providing for a nice cushion. For further insight and analysis please read Dutch Trader's article here.
3. Coast Distribution System Inc. (NYSEMKT:CRV)
Coast Distribution System Inc. is a leading supplier to Recreational Vehicle, Towing, and Outdoor Power Equipment retailers across North America. When using NCAV as a valuation approach, it is best to see the bulk of current assets in cash as it is the most liquid form of current assets. For CRV, the bulk of their current assets are actually in inventory which can be a negative sign. But, higher inventory levels are expected in this type of industry. What it comes down to is how the company manages the inventory. As you can see in the graph below, over the last four quarters CRV has actually been improving its inventory turnover and therefore contributing to free cash flow improvement: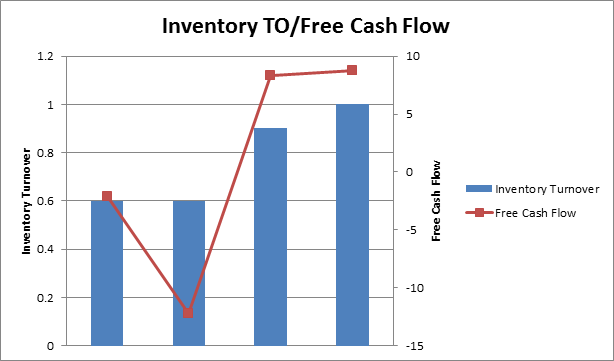 CRV has struggled with relatively high debt loads, but over the past four quarters have been reducing that number. Additionally, after digging through the 10-Q one will find CRV uses an operating lease agreement to secure its facilities and it represents a substantial fixed expense. This stock could double if the explained burdens do not hold it down.
4. Internet Patents Corporation (PTNT)
Internet Patents Corporation is involved in the patent licensing business. Currently the company sits on $32 million in cash and cash equivalents representing 150% of its market cap. Total liabilities come in at only $1.2 million. It also sports a burn rate of between $400,000 and $500,000 per quarter which gives them about 4 years until they hit their market cap in cash. So what is the company doing about it since they had no revenue in the past few quarters? It is waiting on litigation to payout for patent infringement with six companies which it filed against in 2012. Additionally, they have a large loss carry forward to shield them from taxes on any payout from litigation.
5. Peerless Systems Corporation (NASDAQ:PRLS)
Again, I deviated slightly from a rule (no stocks below $10 million in market cap), but PRLS is a fairly simple breakdown. It has $11 million dollars in cash, no debt, and free cash flow between $170 thousand and $1 million over the last four quarters. Given that the company is trading below its residual cash value and is managing to generate positive free cash flow, hopefully the market will recognize the irrational pricing and PRLS will hit a major upside.
6. Natuzzi SpA (NYSE:NTZ)
NTZ designs, manufactures, and markets leather and fabric-upholstered furniture worldwide. Recently it has racked up losses while blaming the macroeconomic environment. The burn rate is substantial, but it still remains 28% under the NCAV value. Profitability and free cash flow has always been sporadic for NTZ, but if the macroeconomic environment improves, so should the stock price.
7. Emerson Radio Corporation (NYSEMKT:MSN)
MSN is another rare profitable NCAV stock. Much of its current assets are in cash, cash equivalents, and marketable securities, making up approximately 97.6% of its market cap. The greatest risk posed to MSN is the pending restructure proposal as mentioned in their 10-Q. This risk has been present for some time and is explained very well by Brice Harper here. If the resolution to this issue is in favor of MSN, the stock should see a nice pop.
It is important to remember that like all other securities, these as well have inherent risk and should be only a fraction of anyone's overall portfolio. Whether you subscribe to "safety in numbers" and decide to buy the whole basket of stocks, or believe you can put all of your eggs safely in one basket, you should still conduct further research before investing. Please check back with me as I intend to follow the progress of these securities as they make their way closer to NCAV and beyond.
Disclosure: I have no positions in any stocks mentioned, and no plans to initiate any positions within the next 72 hours. I wrote this article myself, and it expresses my own opinions. I am not receiving compensation for it (other than from Seeking Alpha). I have no business relationship with any company whose stock is mentioned in this article.