Executive summary:
Now the FB deal is not so shocking.
What are the MMs saying now.
Is there a future for the heliograph, signal flags, or WesternUnion?
Today's look at FB price range forecasts.
_________________________________
I'm no expert on social networking. But I have used both a telephone and a keyboard, and know which makes communication easier. Especially from a touch-screen.
Each has its advantages and its place. But having only one to use, instead of either or both, does make one wonder about $19 billion - even when artfully composed of various funny-money varieties.
So now the audio cat is out of the bag and telephony might have been a hidden (or at least not quickly apparent to us S-N non-experts) part of the deal. But the market-makers seemed to have it well within their grasp.
What has the broadened perspective done to the evolved outlook among the cognoscenti? Here's the latest for Facebook (NASDAQ:FB):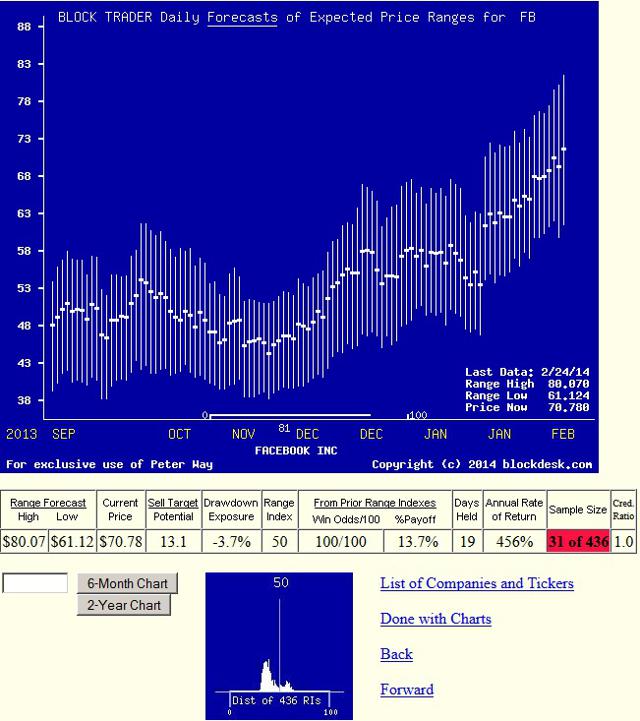 The Monday, 2/24/14 end of day [eod] forecast is displayed at the lower right of the block trader forecast [BTF] picture, as well as at the left of the data line beneath the BTF. Sell target is the percent change from that earlier $70.78 eod price to the top of the forecast range of $80.07, a +13% gain if realized.
The red block in the data line tells that in the 436 market days of FB's existence where market-maker hedging of firm capital (put at risk temporarily to facilitate client trades) provided price range forecasts, there were 31 days like Monday, that produced an evenly-balanced outlook where 50% of the price range expected lay below the market quote (the definition of the Range Index.)
In those prior 31 instances when a next day's eod cost-price position was held either until it reached its forecast sell target or 3 months of trading days had elapsed - whichever came first -- 100% of the time those experiences were profitable, generating gains at a +13.7% scale. The average period of time it took in the 31 experiences was 19 market days, a day short of four calendar weeks. The average experience, if it could be end-for-end repeated (about 13 times in a year) would have gained at an annual compound rate of +456%.
This is not a forecast, merely a calculation of what has actually happened in the past under expectation circumstances similar to those presented on Monday. It could happen again, it might not, either better or worse. But at least you know something about how investors and speculators have behaved with this issue in its relatively limited (1 ½ years) past.
The small blue thumbnail at the bottom of the picture gives an idea of how MM forecasts for FB have varied in terms of their Range Indexes over some 436 days. It shows that far more times the outlook has been for a smaller part of the forecast range to be below the contemporary market quote than is the case at present.
Such lower Range Index experiences might normally be considered stronger future price change expectations than the present ones. Still, the present picture seems quite appealing. The operative caveat is that the history to date is limited, and the competitive environment is early in its development.
Disclosure: I have no positions in any stocks mentioned, and no plans to initiate any positions within the next 72 hours. I wrote this article myself, and it expresses my own opinions. I am not receiving compensation for it (other than from Seeking Alpha). I have no business relationship with any company whose stock is mentioned in this article.