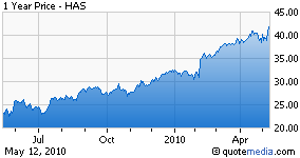 As quoted from Hasbro (NASDAQ:HAS) press release:
Hasbro Inc. is a worldwide leader in children's and family leisure time and entertainment products and services, including the design, manufacture and marketing of games and toys ranging from traditional to high-tech. Both internationally and in the US, its PLAYSKOOL, KENNER, TONKA, ODDZON, SUPER SOAKER, MILTON BRADLEY, PARKER BROTHERS, TIGER, HASBRO INTERACTIVE, MICROPROSE, GALOOB and WIZARDS OF THE COAST brands and products provide what the company believes to be the highest quality and most recognizable play experiences in the world.
While the press release sounds more like the old company your father liked, which made all the Milton Bradley and Parker Brothers board games all of us Boomers played with as kids, a closer look says this isn't so. The new Hasbro knows how to use TV and movies to market their goods. They are using the Discovery Kids Channel to promote the characters in their games as program characters the kids will watch. They also have multi-year licensing agreements with Marvel Entertainment (MVL) to market toys based on Iron Man 2, Captain America and Thor movies that are being released soon.
Wall Street continues to increase their sales and earnings estimates, and has 9 buy and 6 hold recommendations published. They are expecting sales to increase 3.0% this year and 7.10% next year. The earnings projections are what catches my eye, with EPS growth estimated to be increase by 5.20% this year and 18.40% next year as well as maintain a 5-year compounded growth rate of 10.00%.
Barchart's technical indicators signal a buy on 13 of its 13 indicators for a 100% buy signal. The stock has appreciated 8.59% in the last month with 8 new highs in the last 20 trading sessions and 4 for 5 in the last week. The stock trades around 40.80 with a 50 day moving average of 38.75.
I can't believe the investor sentiment over on Motley Fool, where CAPS members think the stock will beat the market by a vote of 1493 to 52. The more experienced All Stars are in agreement 469 to 16. Fool notes that business columnists have had positive articles about the stock 16 to 0.
This stock has the points I look for:
Recent price momentum with a Barchart technical buy signal of 100%
Wall Street buy opinions with projections of increases in sales and earnings
A high investor sentiment
Disclosure:
No positions