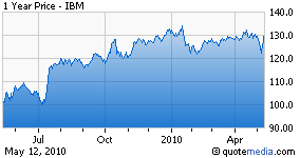 If they're paying attention, this should send the "lazy-bears" into a tizzy. By that, I mean those who get hysterical about the market's rise, without inspecting why it's rising.
In an investor briefing Wednesday, IBM outlined their path to earning $20 per share by 2015.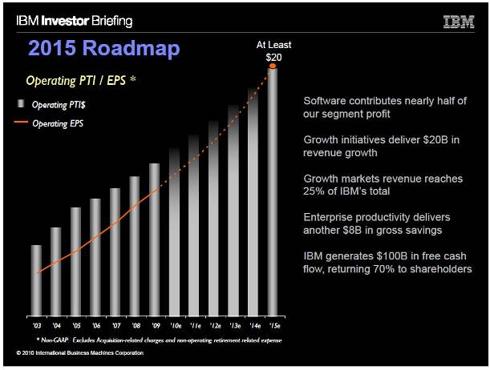 (Click to enlarge)
It should be noted that some of this EPS increase will be from using Free Cash Flow to reduce shares outstanding - that's not increasing profitability, it's financial engineering.
That said, twenty bucks is twenty bucks. IBM trading at a trailing PE of 15, plus cash per share, would send the stock to well over $300 in five years time ... and folks, IBM is 9% of the Dow Jones Industrial Average. This is why DJIA has big upside in the years ahead, and why Jeremy Grantham is right on when he predicted in his last GMO quarterly letter (pdf) that "high quality" large caps will be the best performing asset class over this period.
Personally, I think IBM is wildly undervalued at 10x 2011 earnings and 13x 2009's numbers, but whining gets you nowhere. Part of the reason IBM's earnings multiple stays low is the investment community's worry about the law of large numbers. It's tough to do $100 billion in sales in a year, and then go out and do it again the next. Add in the difficult (to say the least) fiscal outlook for governments and private firms worldwide, and skepticism is warranted.
I think the biggest misconception comes from the "peak profits" group, who expect corporate profit margins to "revert to the mean." This group underestimates the ruthlessness with which IBM will slash expenses (people) to maintain and grow margin. IBM's free cash flow yield of 8-12% (the higher numbers being 2011/12ish) is multiples higher than their borrowing rate, which is usually a little bit over treasuries. I've owned shares for over a year, and continue to think they offer among the best risk-adjusted return opportunities in the market.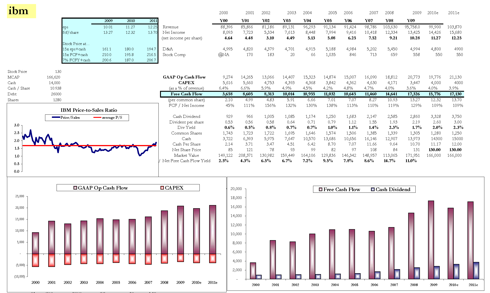 (Click to enlarge)
Disclosure: Author long IBM