Executive summary:
After years of falling revenue and earnings estimates for Silver Wheaton, the trend is about the reverse with higher gold and silver prices.
ETF outflows have stopped and reversed in 2014, which had the largest effect on declining gold demand in 2013.
Silver Wheaton's 2017 production goal of 42.5 million silver equivalent ounces and a silver price of $24.2 (UBS estimate) may lead to a share price above $50.
_________________________________
Gold, silver and Silver Wheaton (SLW) have finally broken their downtrends. Gold and silver are trading above their 200 day moving average line for the first time since February 2013. They have been trying to find a bottom ever since the FED announced that it will start tapering its massive monetary stimulus. I suggested that it may be time to consider purchasing Silver Wheaton in early January, when the price was $21.33. I believe that the recent rise in gold and silver might just be the beginning of their recovery, and this translates into more upside for shares of Silver Wheaton.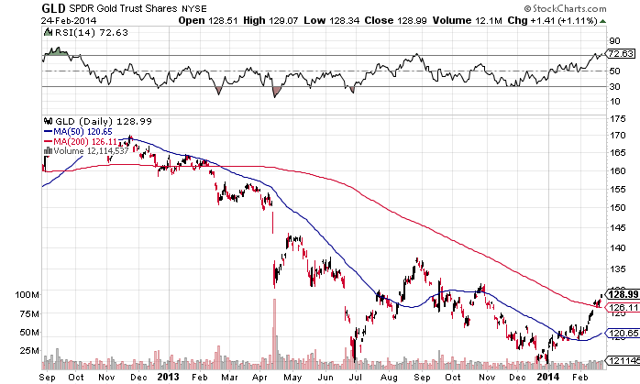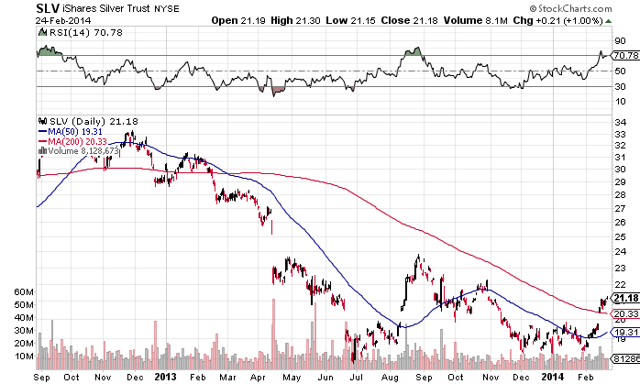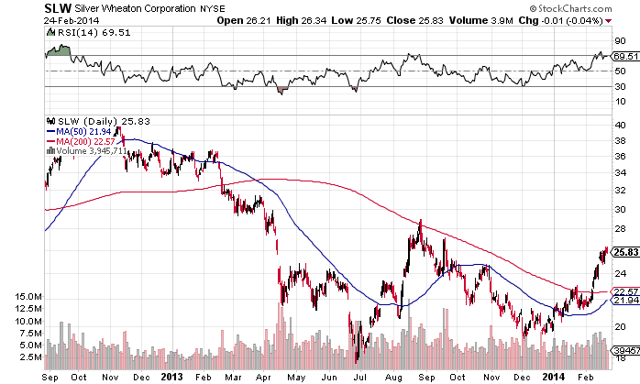 Source: Stockcharts.com
Demand trends
2013 showed two opposite trends in gold demand. Physical demand was strong, with annual demand of 3,756t, a 21% increase valued around $170 billion. On the other hand, this was offset by strong ETF outflows, which resulted in 15% lower total demand, according to Gold Demand Trends. Net outflow from ETFs in 2013 was 881t, the only segment which saw negative demand, as opposed to declining demand in some areas, and strong demand in the physical market.
The outflow from SPDR Gold ETF (NYSEARCA:GLD), the largest gold ETF, has apparently stopped this year, with a year-to-date inflow of $22.7 million, according to etf.com. The outflow in 2013 from the fund was $25 billion. iShares Silver Trust (NYSEARCA:SLV) had an inflow of $127 million this year. Since fund outflows had the most adverse effect on gold demand last year, it is positive to see that the trends seem to be reversing, at least judging from the largest ETF on the market.
With gold and silver prices higher, Silver Wheaton's revenue and earnings estimates might finally reverse higher
A sustainable bottom and higher prices of gold and silver will ultimately lead to higher revenue and earnings expectations for Silver Wheaton. Earnings and revenue estimates have been trending down since late 2012, when a precipitous drop in gold and silver started. With gold and silver prices at their 3-month highs, those trends may finally reverse higher. Silver Wheaton continues to be in a good position to leverage the higher prices of gold and silver, since the company is expected to continue to increase the silver equivalent production in the next three years. At the same time, the rising production will limit the downside, as it will partially offset a potential decline in spot prices. Although the 2017 production goal has been reduced due to delays at Pascua-Lama, Silver Wheaton is expected to increase the silver equivalent production from 33.5 million ounces in 2013 to 42.5 million ounces in 2017. A substantial rise in gold and silver spot price produces significant leverage for Silver Wheaton, and higher production would lead to higher earnings and revenue for the company.
I believe that Silver Wheaton should once again outperform gold and silver prices if they continue to rise. Silver Wheaton expects 2017 silver equivalent production around 42.5 million ounces, which is 27% higher than the estimated production for 2013. In the table below, you can see Silver Wheaton's P/E chart when gold and silver prices were rising. Given the expected production growth, it would be enough if gold and silver prices are stable for Silver Wheaton to be trading at a higher valuation. Once the company is back into the expansionary phase, we can expect Silver Wheaton to trade at a P/E between 30 and 40, as was the case in the expansionary phase in the 2004-2008 period. If the price of silver stays at the current level of $21, we can expect 2017 revenue around $900 million, and earnings around $1.30, assuming no operating leverage on higher revenue. On the other hand, UBS estimates that silver's spot price in 2017 will be $24.2, which translates into revenue around $1.03 billion, and earnings around $1.60 (if the net margin stays at the level of 2013, but it would be likely higher). Silver Wheaton's expansionary phase valuation would bring the share price between $39 and $52 if silver stays around $21, and between $48 and $64, if UBS estimates for a price of $24.20 are realized. However, both models assume no operating leverage, which Silver Wheaton will likely achieve, as the company's costs stay roughly the same.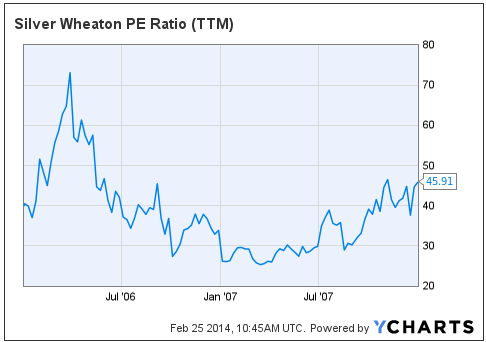 Source: Ycharts
This is just an example which points out the growth potential of the stock if silver's spot price stays the same or rises 13% to UBS' price target of $24.2. However, if we get to a higher level of inflation as a result of global monetary expansion in recent years, Silver Wheaton's potential will be greatly enhanced. If the average price of silver goes beyond $24.2, we get a much higher price during the expansionary phase.
On the other hand, the "crisis" pricing for Silver Wheaton (shown in the chart below) was between 15x and 25x EPS, as was the case for the most of the time since the gold and silver price decline started in late 2012. Given the current EPS estimates for 2014 and 2015, this translates into a price range of $14 to $25. And given that the TTM P/E is currently 20, we may have 20% upside left if the "crisis" pricing remains and if there is no P/E expansion to the previously mentioned 30 to 40 range.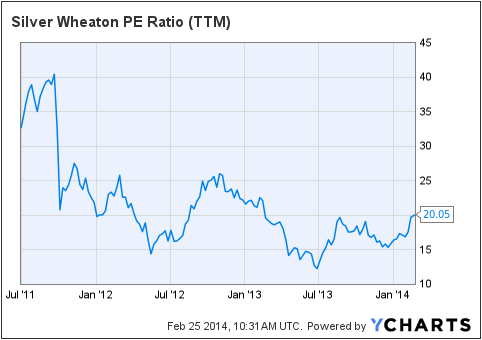 Source: Ycharts
Conclusion
2014 seems to be a much better year for gold, silver and Silver Wheaton so far. With positive ETF flow data year-to-date, which has been mostly responsible for falling demand for gold in 2013, the situation might be stabilizing and reversing, with the prices of gold and silver finally trading above their 200 day moving average lines. This bodes well for Silver Wheaton, which will benefit from recovering gold and silver prices in the future. As the massive global monetary stimulus eventually translates into higher precious metal prices, Silver Wheaton's share price might easily double from the current price by 2017. Based on the last two year's P/E range, Silver Wheaton may have 20% short-term upside left.
Disclosure: I have no positions in any stocks mentioned, but may initiate a long position in SLW over the next 72 hours. I wrote this article myself, and it expresses my own opinions. I am not receiving compensation for it (other than from Seeking Alpha). I have no business relationship with any company whose stock is mentioned in this article.