One of the great myths of modern times is that China is now full of middle class people with Western levels of consumption. Nothing could be further from the truth.
Annual per capita incomes have certainly soared over the past two decades. But the main impact has been to lift people out of absolute poverty, not to create a middle class on the Western scale. Thus official data shows
Average per capita urban incomes were $4769 in 2013 (Rmb29547) versus $447 in 1993
Average per capita rural incomes were $1276 in 2013 compared to $160 in 1993
Equally important is that around half of the population now lives in cities compared to only a quarter in 1993
But clearly, even average urban incomes are nowhere near Western definitions of middle class.
So why has there been so much confusion over this issue?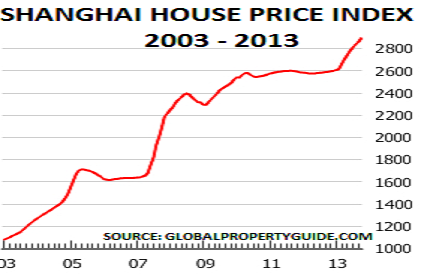 The answer lies in the 'wealth effect' that has taken place as a result of the lending bubble discussed last week. This has inflated property values to an extraordinary extent, as shown by the Shanghai existing home price index chart from 2003:
Home prices have risen exponentially over the period
They continued to rise after the financial Crisis of 2008
This highlights how the government used easy credit to maintain economic growth.
The problem, however, is that wealth effects are essentially Ponzi schemes. Those who join early get paid out with cash from those who join the party at a later stage. But eventually economic reality breaks through, as there is nobody left to join.
This seems to be the case in China today:
City centre apartments in Shanghai are now selling for $7550/sq metre (Rmb 47k/sq m; $700/sq ft.)
Even apartments outside the centre sell for nearly half this amount
Average prices are 29 times average earnings - several times the US subprime peak
Clearly, these prices are unaffordable on normal calculations of prices versus earnings. They only work when governments are prepared to supply low-cost credit with few questions asked about repayment, as in the US subprime era. In China, this 'wealth effect' based on a property bubble has meant that millions of urban residents have appeared to become middle class.
But in a Ponzi scheme, there has to be a new buyer able to afford to buy the property, each time the existing owner wants to cash out. This becomes impossible once the tap supplying new credit is turned off:
Property transactions, always a leading indicator for prices, fell 31% in Shanghai in January versus 2013
Inventories of completed but unsold apartments in urban areas were 42% of annual completions in December
The National Bureau of Statistics reported "Tightening credit conditions and easing pressures from housing inventories also helped home sales to drop, which in turn eased the home price rises further in some cities"
Another concern about the housing market is that ownership is very concentrated, as China Spectator has noted:
"The richest 1% per cent of urban households is also estimated to own around 30% of all real estate assets in the country. Using 2010 values, the richest 1% of households (2.1 million out of about 530 million households) own 40-50% of the country's $US10.5tn real estate and financial assets".
This doesn't sound like a story that will end well, if the new government continues to cut back on the lending bubble.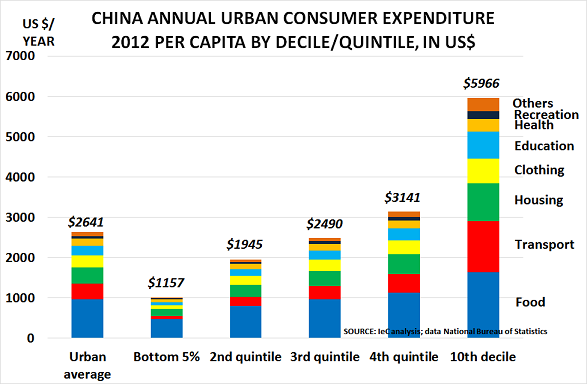 Instead, consumer demand will be based on the chart above. This shows government figures for annual per capita urban consumer expenditure in 2012:
Average spend was $2641: food spend was $957 (blue), housing was $412 (red), transport $389 (green), clothing $289 (yellow), education $251 (light blue)
The poorest 5% spent $1157: food was $472, housing $173, clothing $93, education $79 and transport $78
Even those in the top 10% spent only $5966: food was $1635, transport $1263, housing $939, education $672, clothing $622
Of course, many investors may decide to assume that recent history will repeat itself, and that any sign of a slowdown will cause the government to 'blink' and launch another mega-stimulus package to maintain the wealth effect. But given the increasing risk level associated with China's lending bubble, it would seem prudent to also develop a Plan B, on the basis that the new leadership might carry through on its policies.
Failing to prepare for this possibility could result in a nasty shock. China's economy will be quite different when, not if, urban spending becomes based on income again, and loses the benefit of the wealth effect.
The big losers will be companies offering luxury and so-called 'affordable luxury' items. A new report by Fortune Character Institute suggests China's consumers bought 47% of all global luxury goods in 2013. It says sales growth slowed sharply to just 3% for domestic purchases, which totaled $28bn.
But Chinese tourists also spent $74bn outside the country. Two-thirds of visitors to Hong Kong, half of those visiting Europe, and one in three of those visiting the USA bought luxury items during their visits. Whilst the Shenzhen customs bureau estimate 20,000 daigou (parallel traders) regularly cross the border to Hong Kong to buy luxury items on behalf of Chinese residents.
Plus, of course, Chinese buyers have played a major part in boosting house prices in major cities around the world.
Disclosure: I have no positions in any stocks mentioned, and no plans to initiate any positions within the next 72 hours. I wrote this article myself, and it expresses my own opinions. I am not receiving compensation for it. I have no business relationship with any company whose stock is mentioned in this article.