RealPage (NASDAQ:RP) provides software for revenue management and other related services for managers of rental housing. After noticing that the stock had dropped over 20% in after hours trading following the release of the latest earnings numbers, I decided to listen in on the earnings conference call. I wanted to understand whether RP's troubles had anything to do with changing economic conditions in the rental market or whether they could be extrapolated out to housing in general. The final word on that is still uncertain, but I found the report interesting anyway.
A shortfall in "organic" on-demand revenue growth is RP's main headline from fourth quarter earnings. Not only did the year-over-year growth of 12% miss the company's target of 20-25% by a wide margin, but also RP warned on financial performance for the year. The fourth quarter miss ended thirteen straight quarters of 20%+ year-over-year growth since RP's IPO. RP noted that three of the main negative factors impacting the business are likely to turn-around by this year's fourth quarter.
A product transition from its traditional MyNewPlace product to a new version is occurring faster than expected. The company said the new premium product is growing "nicely" despite the attrition it experienced with the traditional listing service.
RP's salesforce did not grow enough to meet the company's revenue objectives. Sales reps only expanded by 12% and bookings per rep did not grow enough to overcome the shortfall. RP experienced higher churn than usual. The scaling issue is a concern because a need for proportionate scaling of a salesforce is not typically a path to sustainable revenue growth. The company will need to figure out how to achieve more efficiencies.
RP reorganized its implementation team, putting "fewer faces" in front of customers. This change appeared to impact the ability to convert on the backlog. RP remains committed to the longer-term benefits of this reorg.
The company expects the back half of the year to deliver a recovery in revenue growth. The company is of course confident that it can recover via better hiring (and retention?) of sales reps and new product launches featuring sophisticated analytics. Guidance for the full year remains below target. Here is the complete guidance from the Seeking Alpha transcript:
"…we expect our organic revenue growth to fall below our long-term target operating model of 20%, 25% in the first half of 2014, but improve in the second half of 2014.

Looking at the first quarter ended March 31, 2014, we expect the following; non-GAAP total revenue in the range of $101 million to $102 million, reflecting total growth of 14% to 15% and suggest on-demand organic growth of 13% to 14%. Adjusted EBITDA in the range of $24 million to $24.5 million reflecting growth of 16% to 19%; and non-GAAP net income in the range of $11.8 million to $12.1 million or $0.15 to $0.16 per diluted share.

For the full year ended December 31, 2014, we expect non-GAAP total revenue in the range of $440 million to $450 million, reflecting total growth of 16% to 19% and suggest on-demand organic growth of 15% to 18%.

Adjusted EBITDA in the range of $105 million to $110 million reflecting growth of 16% to 21%; and suggest adjusted EBITDA margin that is flat to up 60 basis points compared to the full year 2013. And non-GAAP net income in the range of $51.1 million to $54.1 million or $0.65 to $0.69 per diluted share."
RP also expects to spend about $30M on capital expenditures. This is down 10% from 2013 when expenditures were a little higher than expected due to IT spending for on back-end technology improvements, disaster recovery initiatives, investments in developer productivity.
I was most interested in RP's description of how a slowdown in leasing velocity impacted its business; leasing velocity accounts for about 18-19% of RP's on-demand revenue (not clear whether this is organic or all-inclusive). RP was not clear on how or when this negative impact will turn around. According to RP, rental managers emphasized renewals over resident churn in the fourth quarter despite "record levels of occupancy…driven by extraordinary levels of demand and inadequate supply, especially in the middle market assets as the majority of new construction is high-priced Class-A properties." Under these conditions, RP expected rental managers to prefer to sign new renters at higher lease rates. Instead, they chose to renew. RP also implied that these renewals occurred without rent hikes. This is a very odd combination of dynamics, and RP noted its in-house economist cannot explain these events. Assuming no data errors, I am guessing managers are expressing some level of pessimism about future conditions, preferring to lock in existing and known tenants than to risk the unknown of new tenants. Still, I also find it strange that in aggregate they decided they could not generate higher rents under existing tight economic conditions. RP's projections assume the lower lease velocity will continue.
During Q&A an analyst asked for a comparison between the current drop in velocity and a drop that occurred in 2011′s fourth quarter. At that time, RP blamed seasonality. RP explained now that the drop was a permanent one but velocity has since stabilized. So, I am thinking it is possible that velocity is in a more long-term, albeit choppy, decline.
Needless to say, I will be watching RP much more closely in coming quarters to see how this issue of leasing velocity unfolds. I will be particularly keen to understand any broader economic implications.
One large criticism of RealPage is its penchant for acquisitions as a source of revenue growth (thus the breakout for organic growth in its financial reporting). Famous financial skeptic Herb Greenberg counts 26 acquisitions since 2002. I am most interested in how many deals have happened after the IPO, but Greenberg does not provide a general timeline. The company noted THREE acquisitions just since the end of the fourth quarter costing a net $16.8M (small companies!). During Q&A, RP acknowledged its acquisitive nature but noted that it has not done a big deal in a very long time. I could not tell whether that was a warning or reassurance!
RP's latest acquisition is Bookt, providing RP's first entry into the vacation rental market. Analysts on the call of course wanted metrics to compare the vacation rental business to RP's existing business. Bookt only had $1M in revenue (I assume annualized). RP likes the vacation rental business because of its high velocity - 16 rentals a year on average per property according to Bookt's InstaManager database. However, the ARPU (average revenue per user), looks much less than RP's standard business: $150+ versus a maximum of $350 on conventional properties utilizing all of RP's services and products. RP also gets some international exposure with 21% of bookings in Europe and 23% in other non-US locales.
Speaking of critics, RP has plenty. Short interest is 11% of the float as of January 31st. The shares short of 5.12M shares is near the historic high around 5.49M shares set in the summer of 2012. The stock plunged over 22% in reaction to the earnings disappointment, so there should be a lot of happy bears. I decided to take a flyer on the company's improvement trajectory for 2014 and buy shares here. (Also note that Seeking Alpha contributor Don Dion has already nailed his short thesis as explained in "Real Page - My Highest Conviction Short For 2014- Price Target Is $16.75.")
Here is the current weekly chart. Note how RP burst out the gate strongly with a post-IPO rally lasting the remainder of 2012. Since making that all-time high, the stock has settled into a wide trading range from $16-27. The stock has had three distinct rallies since 2012. With some luck, today's washout is the beginning of the next rally phase.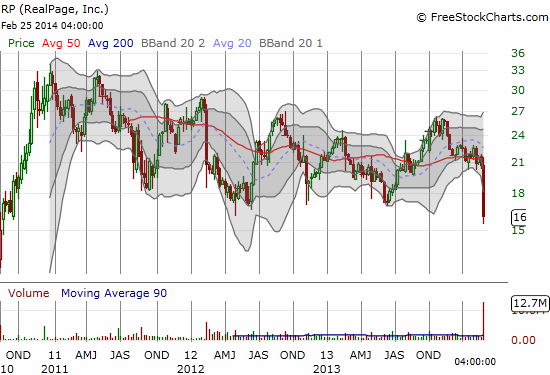 A post-earnings plunge to the bottom of the current trading range
Source: FreeStockCharts.com
Disclosure: I am long RP. I wrote this article myself, and it expresses my own opinions. I am not receiving compensation for it (other than from Seeking Alpha). I have no business relationship with any company whose stock is mentioned in this article.